Destin is one of the most popular fishing destinations in the world thanks to the abundance of fish that inhabit the surrounding waters. This city is known as the "world's luckiest fishing village" which is likely due to the warmer water temperatures and everything from backwater grass beds to offshore reefs. Destin was founded by fishermen who discovered the geography of the area held a variety of desirable fish. Destin is located only 20 miles from the edge of the continental shelf bringing some of the most sought after fish remarkably close to shore.
With a diverse list of fish to target and mild weather throughout the year, Destin is an incredible place to take a fishing trip. However, having so many fish to choose from makes it hard to decide what to target but we've got you covered. If you're planning a trip to Destin, here are the seven most popular fish to target while you're there.
(1. Red Snapper
Deep sea fishing in Destin should immediately make you think of red snapper season. Destin is one of the Gulf's most productive honey holes during the short-lived season. With easy access to deep Gulf waters and plenty of nearby structure, Destin is a sure bet for both state and federal red snapper fishing. Reefs, rigs, and wrecks are sitting in deep water just off the coast. This environment is the perfect place to find huge snapper and other reef fish.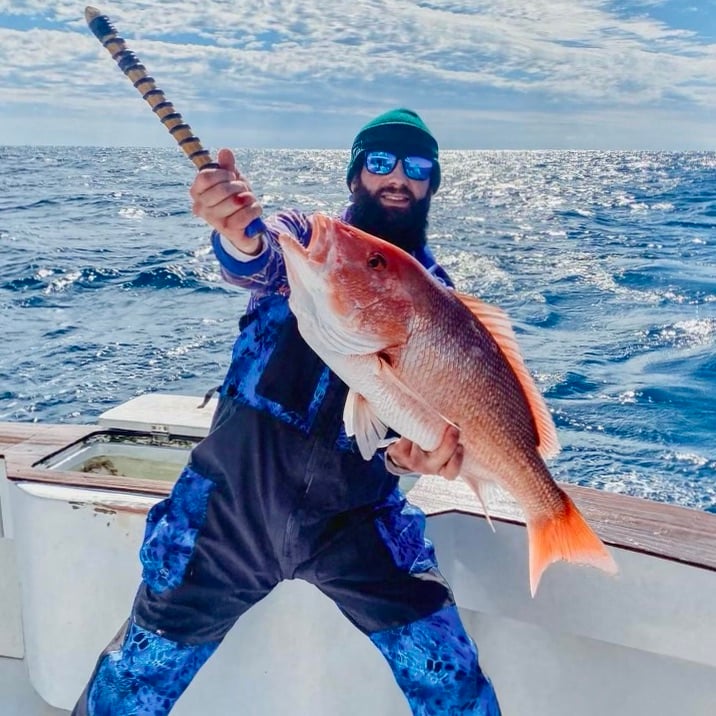 The red snapper is one of, if not the most, highly sought-after game fish in the Gulf of Mexico. These fish can grow into giants reaching 40 inches long and weighing as much as 50 pounds. Pull one of these hefty fish away from a reef or off the bottom and you'll know why people love red snapper fishing. This fish grows big, puts up a fight, and tastes delightful, what's not to love?
Destin has one the largest fleets in the country which gives you plenty of boats and captains to choose from. If you're going to Destin, a red snapper trip is something you won't want to miss.
(2. Grouper
The rich Gulf waters that feed Destin and the Emerald Coast create the perfect home for a variety of grouper. Some species of grouper like gag grouper will inhabit shallow waters not far from shore. Key areas are grass beds, holes, and ledges which provide these fish with shelter or a place to ambush prey. Reefs in 50 to 300 feet of water hold the most popular grouper species including red, black, and gag.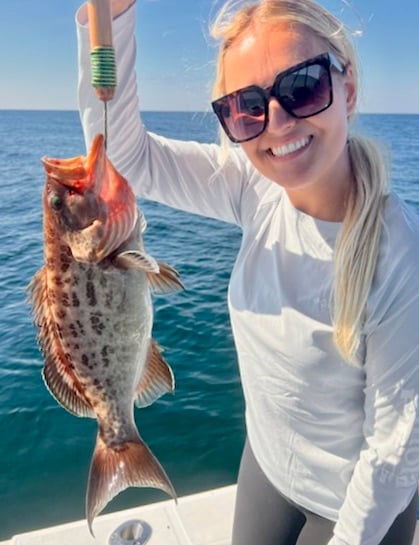 Similar to red snapper, grouper are stout predators that ambush prey and scavenge for easy meals. The large mouth and powerful gills of a grouper create a vacuum that sucks prey into their mouth in the blink of an eye. When a grouper crushes your bait it's an unmistakable feeling thats sure to give you a rush.
Bottom fishing and in some cases deep dropping are the most effective methods to catch grouper. While artificial lures and baits can work, natural baits are particularly more effective for these fish. With most grouper inhabiting various structures, their most common food sources are crustaceans, fish, and occasionally squid.
(3. Amberjack
The greater amberjack got the nickname "reef donkey" because of the tenacious fight they put up. No other reef fish hits as hard, runs as fast, or otherwise tests an angler quite like the amberjack does. These powerful brutes live amongst many of the same reefs and other offshore structures that are commonly inhabited by snapper and grouper species.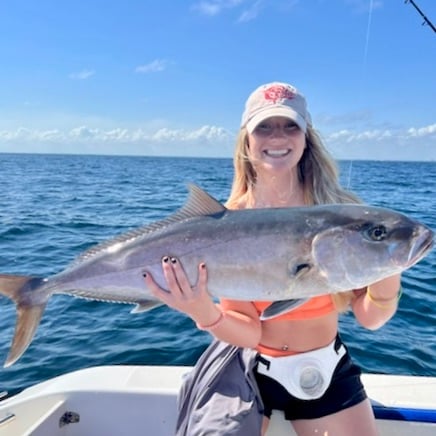 While amberjack are tough, they're also huge and fairly handsome fish. Generally, amberjack are olive colored with a large head and a distinct dark stripe that runs from their snout to their tail. While they commonly reach 40 pounds in areas like Destin that have plenty of food sources year-round, amberjack are capable of growing up to six feet long and 200 pounds. Just like snapper and grouper fishing, amberjacks can be targeted by bottom fishing near offshore structures with live or cut bait.
(4. Mahi Mahi
The mahi mahi, also commonly called dorado or dolphin, is a fish with a unique appearance that can be found in large numbers just off the coast of Destin. They are brightly colored blue, yellow, green and often have spots or other patterns found on their body. Mahi mahi typically weigh 15 pounds but the largest fish can be nearly seven feet long and well over 80 pounds.
The best mahi mahi fishing on the Gulf Coast of Florida is concentrated near the panhandle because it's closest to the continental shelf where pelagic species come to feed on balls of baitfish. Mahi form big schools and use their speed and numbers to chase down prey. When one of these fish crushes a plug behind the boat, it's explosive. Mahi mahi move into Destin waters in the spring when water temperatures begin to rise. Trolling for mahi in the Florida gulf is one of the most action-packed trips money can buy.
(5. Marlin
Blue marlin are one of the true treats when going past the shelf for pelagics. Destin's offshore waters are known as a haven for giant marlin and other sportfish which draw in anglers from June to October for a chance at the fish of a lifetime. The Continental shelf is famous for holding baitfish and massive pelagic species. While big marlin are caught on the shelf every year, once you travel 50 miles or more offshore from Destin, you reach remote areas like The DeSoto Canyon. These harder to reach spots offer your best shot at a trophy marlin.
(6. Redfish
Redfish are abundant year round residents in Destin waters. These handsome fish get their name from their bronze to copper color that covers everything except their belly and a black spot or spots near the tail. Redfish are remarkably strong and have the ability to peel line off a reel even with plenty of drag. While a redfish may not jump like a marlin or battle like a bluefin, for their size, they put up a bullish fight that is every bit as stout. Landing a redfish is a rewarding experience on its own, but their appeal extends beyond the water as they're also delicious table fare.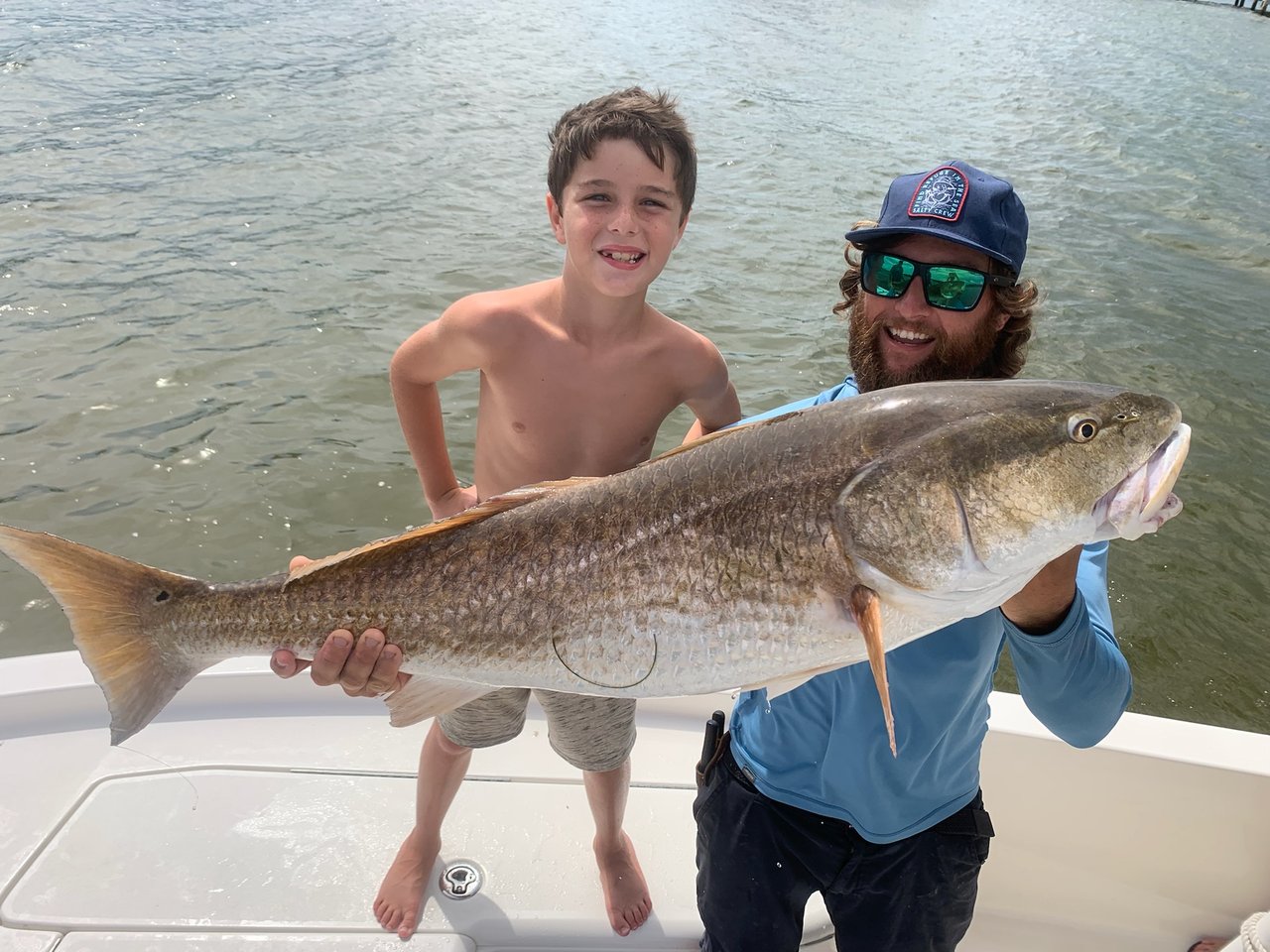 Redfish in Destin are great year-round targets thanks to their ability to thrive in various water temperatures. Success can be had with a variety of tackle when targeting Destin inshore species. Whether you want to cast artificial lures in backwater channels, dropping jigs on shallow structure, or bottom fishing live bait the redfish in Destin are ready to bite. A large redfish is considered to be anything over 30 inches and are commonly referred to as bull reds. These larger fish live in deeper nearshore waters but flood back into inshore waters to spawn every fall. These fish are almost guaranteed to provide rod bending action, big smiles, and full stomachs.
(7. Cobia
Cobia have half a dozen nicknames and distinct looks which make them easy to identify. They have big, slightly flat heads with an olive to grey upper body and will occasionally also sport a stripe down the sides. Cobia also have pointed ridges in front of their dorsal fin, and lack a swim bladder which most other fish have. Their odd qualities don't stop there. While most fish have a preferred habitat, cobia are known to wander the ocean from shallow inshore bays to well beyond the 100-fathom curve.
Destin possibly has the best cobia fisheries in the Gulf and hosts several tournaments for these fish every year. In Destin, cobia have two distinct seasons: one in April, and another that falls sometime from September to October. Cobia are strong and fight hard even after being hauled up to the boat several times. They are also exceptionally tasty fish that are sometimes called "lemon fish" thanks to their mild, firm, and flaky meat.
Fishing in Destin
Destin offers world-class opportunities to catch some of the biggest, tastiest, and most popular fish in the Gulf. Whether you want to troll more than 50 miles offshore for a grander marlin or stalk shallow bays and sight cast for bull reds, book your next fishing trip with the best Destin fishing charters today.