Where Can I Fish In Port Aransas
If you are planning on going to Port Aransas, then fishing should be at the top of your list for fun things to do during your stay. Whether you are visiting this Texas island destination with friends, family or others, there is a style of fishing that will match the needs of your group.
What is Captain Experiences?
We're on a mission to Unlock the Outdoors for everyone. With thousands of Damn Good Guides across the US and beyond, our platform makes booking quality, vetted guides quick and easy.
Check out our trips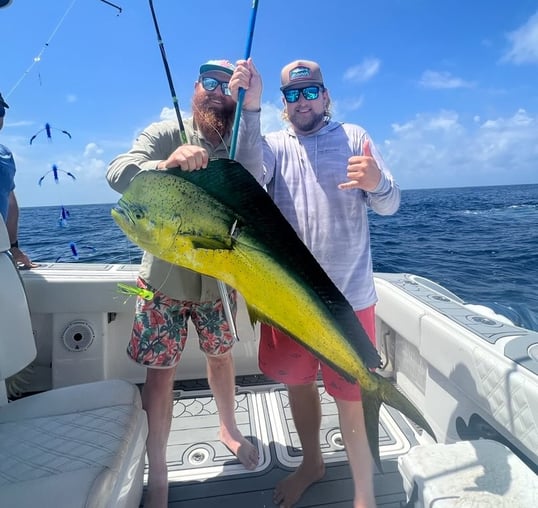 What Types of Fishing Excursions Are Available in Port Aransas
Port Aransas, or Port A as it is known to the locals and frequent visitors, offers a variety of fishing opportunities to anglers of all skill levels. Some of the many options for your Port A fishing adventure include:
(1. Deep sea fishing on a private charter
(2. Bay fishing with a personal fishing guide
(3. Surf fishing along the miles of beachfront
(4. Jetty fishing (from a boat or on foot)
(5. Bay fishing on a large party boat
(6. Deep sea fishing on a large party boat
(7. Kayak fishing on nearby flats
(8. Pier fishing in the channel or surf
(9. Fly fishing from a skiff
(10. Flounder gigging at night
With so many opportunities to catch a fish along the middle of the Texas coast, it is no wonder that everyone enjoys visiting Port Aransas. The only tricky part is deciding what you want to do. Here are some tips to help you find the fishing excursion that is best for your party.
Deep Sea Fishing on a Private Charter
Deep sea fishing is at the top of many people's bucket list for things to do while visiting Port Aransas. Species that you might catch offshore from Port A include red snapper, mahi mahi, wahoo, amberjack, kingfish, blackfin tuna, and many more. There is no better way to enjoy the blue waters in style than to hire a private charter to take you and your party fishing. Given the size of the boats that go offshore, a private deep sea fishing charter is most economical when you can share the costs with others. However, the price is worth it for a chance of landing a big fish on a special occasion like that once in a lifetime family vacation or entertaining clients during a business retreat. Captain Experiences offers a great selection of private deep sea fishing charters for your angling enjoyment in Port A.
Bay Fishing with a Professional Guide
If you want the private fishing charter adventure on a slightly smaller scale, then bay fishing with your own personal fishing guide is the way to go. The typical inshore bay fishing boat is 18 to 26 feet in length and can accommodate 1 to 6 people. That size is just about perfect for a small group of friends or an average-sized family. With bay fishing in Port A and the surrounding waters, you will likely be targeting redfish, speckled trout, black drum, sheepshead, flounder, and more. There are a variety of fishing styles for both beginners and experienced anglers. Your fishing guide will help you along the way. Most guides provide all the fishing equipment that you will need for a successful day on the water. Bay fishing is extremely popular, and trips can be taken in just a few hours or last all day. At Captain Experiences, we would love to help you find an inshore bay fishing guide the next time you visit Port Aransas.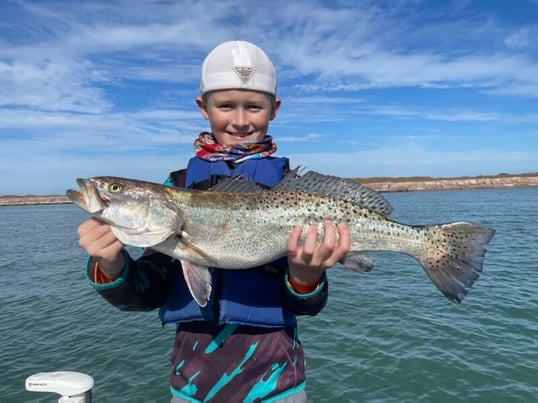 Surf Fishing along the Beach
Port Aransas is a beach town, and it has miles of public beaches that are accessible to everyone. Driving along the beach is permitted in many places, but make sure that you purchase a beach parking permit to avoid being ticketed. Many of the same fish that can be found in the bay are also caught in the surf when the conditions are right. Speckled trout, redfish, sharks, jacks, whiting, and even the occasional pompano can make an appearance along this stretch of the Texas coast. You really never know what you might catch while fishing the surf. Because the types of fish that you can catch in the Port Aransas surf vary in size, you will need to bring the right tackle to match your target fish species. Shark fishing and speckled trout fishing require two different techniques, so do your homework and make sure that you are prepared for the fish that you are hoping to catch.
Jetty Fishing in Port Aransas
Whether you are hiring a fishing boat charter or walking the jetty rocks on your own, Port Aransas has two excellent jetties that are easy to access. Fishing the jetties is popular at all times of the year, and many of the inshore bay fishing guides take their anglers out to the jetties if the conditions are right for catching fish. Fishermen can also reach the south Port A jetty by car. It is easy to park and walk the rocks to find an available fishing spot. Another option that is unique to Port Aransas is the Jetty Boat, which shuttles anglers across the channel to the more remote north jetty on San Jose Island. If you venture to the north jetty, then make sure that you bring all the equipment and supplies that you will need for a day at the coast. There are no commercial services such as stores or restaurants on San Jose Island.
Bay Fishing on a Large Party Boat
Port Aransas offers a few large party boats that can accommodate 40 or more people for a half-day or longer fishing trip. The bay fishing party boat charter is an affordable option for getting on a boat if you don't have a large enough group to share a private inshore charter. However, there are some limitations when it comes to the locations and species of fish that you will catch on these large bay fishing party boats. The boats are big and heavy, so they can take the waves of the jetties or channels with little trouble. However, these boats will not be able to go shallow. You will be fishing deeper water. Although specks and reds can certainly be caught from these boats, other species such as sand trout, croaker, drum, and sheepshead are the more likely targets.
Deep Sea Fishing on a Large Party Boat
There are also several large party boats that take large groups of people miles offshore for deep sea fishing out of Port Aransas. You can reserve a ticket on one of these large party boats at a couple of locations along the Port A marina. Some of these trips may last 12 hours, and other trips can take the entire weekend. A variety of choices are available to anglers, and the types of fish that you can catch will vary depending on the length of your trip and the time of year that you go fishing. Red snapper are almost always a favorite target species of the big party boats. Kingfish, sharks, tuna, and more can be caught at certain times of year depending on the duration of your party boat adventure.
Kayak Fishing Near Port Aransas
If you are looking to kayak fish while you are visiting Port A, that is also an option. The Port A Marina accesses deep water and is not a suitable launching point for kayakers. However, the waters a few miles away in the communities surrounding Port Aransas offer some excellent opportunities for kayak fishermen. Rockport is less than 20 miles away from Port Aransas, and Aransas Pass is even closer. Both Rockport and Aransas Pass have access to flats that kayakers dream of fishing. Redfish, speckled trout, and flounder are the preferred species for most kayak anglers. Captain Experiences can assist you in finding a kayak fishing guide in the communities surrounding Port Aransas.
Pier Fishing in a Channel or the Surf
Right in the middle of Port Aransas beach is the Horrace Caldwell Pier that allows anglers easy, convenient access to fishing. The Corpus Christi Ship Channel that connects the City of Corpus Christi with the Gulf of Mexico runs along the edge of Port Aransas, and there are a few shore and pier fishing opportunities along the channel as well. Fishing from a pier or the shore is a great option if you don't have the chance to get out on a boat. Although your ability to pursue fish in multiple locations is limited, with a little patience you can wait for the fish to come to you. The same key species such as redfish, trout, and drum that can be caught from a boat are also within range of the popular fishing piers and shorelines in the Port Aransas area.
Fly Fishing from a Skiff
Fly fishing is at its best when you can get into the skinny water of a back lake or the flats with a smaller, lightweight boat such as a skiff. Like with kayak fishing, your best fly fishing opportunities near Port Aransas may require a short drive. Rockport and Aransas Pass both offer safer, shorter boat rides to the most desired fly fishing waters. Redfish are the key species for fly fishermen, who will be hoping to see a tail break the surface or spot the large fish cruising the shallow grass flats before sight casting just where the fish is likely to swim. Speckled trout, black drum, and other species can also be caught during a day of fly fishing. To find a fly fishing guide in one of the communities a short drive from Port Aransas, just search the opportunities available at Captain Experiences.
Flounder Gigging after Dark
If your days in Port Aransas are too busy for fishing, then you may still be in luck. Flounder gigging is a nighttime activity in which you ride at the front of a flat bottom boat with special lights designed to shine into the water. When you see the right-sized flounder along the bottom of the shallow bay, you gig the flounder with a sharp pointed spear to capture the flat fish. This is a unique adventure that most anglers never get the opportunity to enjoy. Port Aransas and the surrounding communities such as Aransas Pass both have flounder gigging opportunities for anglers. To book a nighttime fishing adventure that you won't soon forget, look on the Captain Experiences website to find out which guides offer this fishing excursion.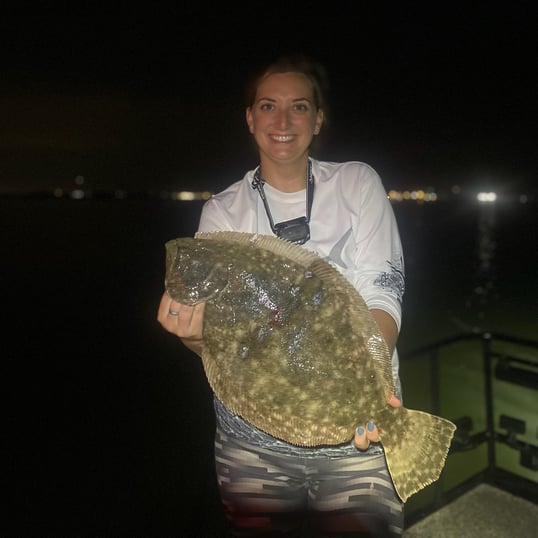 Port Aransas Fishing Opportunities
It is no wonder that Port Aransas is a top destination for anglers of all types. From deep sea to shallow flats, there is a chance for everyone to catch the fish of a lifetime. Professional guides are available to take anglers of all skill levels on a variety of fishing excursions. Captain Experiences offers a great selection of highly rated fishing guides available for charter.