4.94 / 5 Average Review Score
Team of Experts Available 24/7
Licensed and Insured Guides
Recently Booked Hunting Trips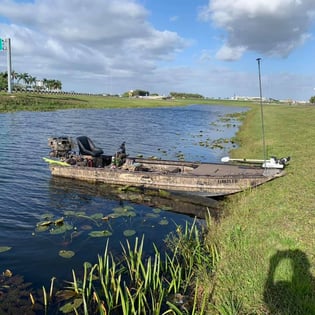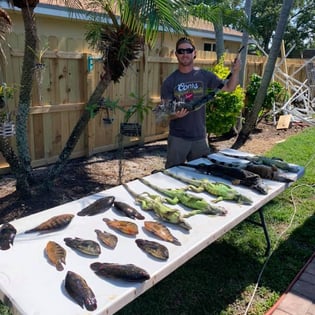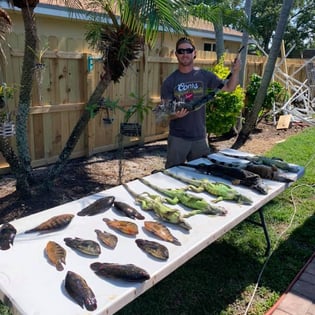 Fish till your heart's content and pop iguanas along the way on this full day Peacock Bass/Iguana hunt Combo trip with Captain Mike down in Fort Lauderdale. Peacock Bass are gorgeous prize fish that battle hard on the line, which should make for an exciting adventure! Everything is provided on these trips: Rods, Reels, Tackle, Bait, Airguns, Blow Guns, Bowfishing Setups (if requested), Fishing Licenses, Cooler, Ice, Water. For these combo Iguana/Peacock Bass adventures you will meet up with Captain Mike at the boat ramp within 20 minutes of Fort Lauderdale with your party of up to 4 people. Once you meet up, Captain Mike will go over important safety rules as well as gun and firearm information. From there you will load up on the 18' Pro Dive Skiff and travel down a canal system (loaded with iguanas) to head to the fishing grounds. These canal systems are so full of iguanas that you hardly need to focus on hunting them. This is the beauty of the Combo trip, you can fish for Peacock bass till your heart's content, and if you see an Iguana pop up in front of you, you can put down the fishing rod and Captain Mike will create a safe shooting situation so you can make the shot with one of the many methods available. He offers airgun or blow gun, bowfishing setups, as well as rod and reel with a noose! All you need to bring on this trip is snacks and water and appropriate clothing. The meat will be quartered and bagged for you free of charge at the end of your adventure, and yes, Iguanas are delicious! Read More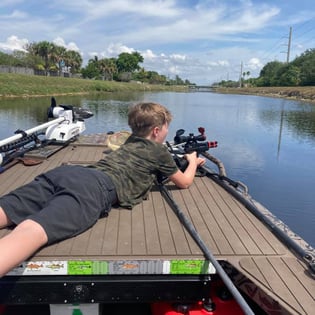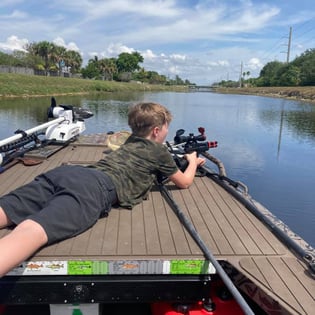 On this epic Florida hunting trip, you'll spend the day exploring the canals and waterways near Fort Lauderdale while shooting invasive species like Green Iguanas and Egyptian Geese! These big lizards exoctic geese are a real problem in South Florida. Help the ecosystem while having a blast and potting your share of this exotic species with Captain Michael. Before your invasive-hunting adventure, you will meet up with Captain Mike at the boat ramp within 20 minutes of Fort Lauderdale with your party. Once you meet up, Captain Mike will go over important safety rules as well as air rifle information. From there, you will load up on his 18' Pro Dive Skiff and head into the canals. These canal systems are so full of Iguanas that you hardly need to focus on hunting them. Captain Mike will create a safe shooting situation so you can make the shot with one of the many methods available. He offers airgun, blow gun, or even rod and reel with a noose! All you need to bring on this trip is snacks and water and appropriate clothing. The meat will be quartered/breasted and bagged for you free of charge at the end of your adventure, and yes, Iguanas are delicious! Read More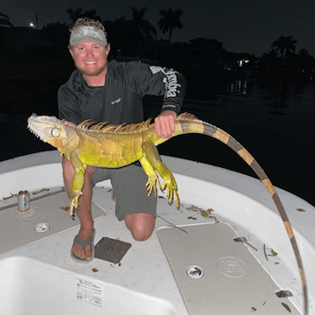 If you've never been iguana hunting here in Cape Coral, FL, then you've been missing out! This type of hunt is a blast. It's great for beginners, and good for the environment; iguanas are invasive here in Florida, and the ecosystem will thank you for bagging a few! Plus, iguanas are actually great eating! On this trip, you'll be exploring the inland canal system on board Captain Roland's 21' Tidewater bay boat. You'll be keeping your eyes peeled to spot iguanas, then potting them with air rifles. You're also free to jump out and grab them! This trip is a great time, and super flexible; you can get out there in the AM, PM , or at night. Book a trip now and experience this unique type of Florida hunting! Read More
Top Types of Trip
Top Targeted Species
Everything to Know About Booking a hunting trip
What are the best hunting trips?
Our guides are rated a 5 out of 5 based on 9692 verified reviews on Captain Experiences.
All guides on Captain Experiences are licensed, insured, and vetted by our team. You can access their reviews, click through trip photos, read bios to get to know them, and preview trip details like species, techniques, group sizes, and more.
What types of hunting trips are common?
Duck hunting is the most popular for hunting as well as hog hunting, alligator hunting, and upland hunting.
The most commonly sought after species for hunting are: 1. blue-winged teal, 2. green-winged teal, 3. wigeon, and 4. northern pintail.
The most common hunting techniques are shotgun hunting, hunting from a blind, and rifle hunting but decoy hunting and calling are popular as well.
How much does a hunting trip cost?
hunting prices can range anywhere from an affordable $90 to $3,000 and up, but the average price for a half day trip hunting is $1,223. The average price for a full day trip hunting is $3,345.
What month is best for hunting?
The most popular season for hunting is fall, and most hunters book their trips 34 days in advance.
Where can I look through all Captain Experiences trips?
See here to browse all the trips we offer.
Recent Reviews of Captain Experiences
Top Hunting Guide Locations
Top Targeted Hunting Species
;