4.94 / 5 Average Review Score
Team of Experts Available 24/7
Licensed and Insured Guides
Recently Booked Fishing Charters In North Carolina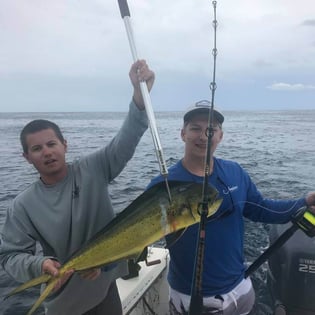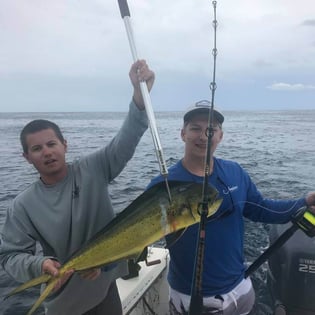 Head out with Captain Jordan for an awesome day out on the water! You will be fishing from a custom-rigged 26 ft C-Hawk, Equipped with the latest electronics package and safety gear, and provides a comfortable and quick ride to the fishing grounds. As a second-generation fisherman, fishing is in Captain Jordan's blood and the proof is in the pudding when you hop aboard his boat. Launching from Wrightsville beach, Captain Jordan specializes in a variety of nearshore and offshore gamefish including Bluefish, Spanish Mackerel, Sailfish, Wahoo, Mahi Mahi, Amberjack, King Mackerel, and an assortment of bottom fish. You are welcome to bring snacks and drinks. Children of all ages are welcome. Starting times are flexible and custom charters are available to meet your needs. Read More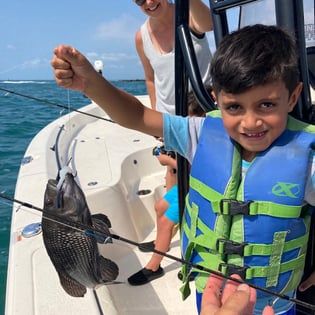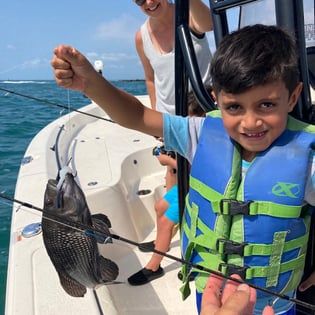 Looking for a fun-filled fishing trip for the kids near Wilmington, NC? Look no further than this kid-friendly charter! Captain G's mission is to provide a fantastic experience for kids between 4 and 13 years old. Although adults can fish too, he'll prioritize catering to the kids' needs and making sure they have the time of their lives. On this trip, you'll head up to 2 miles offshore, where you'll use light tackle to bottom fish and catch a variety of species. Catch and release is a must on this trip, so we can preserve the fish population and the ecosystem. Our goal is to keep the kids engaged and excited throughout the trip, so expect to be busy with all the catches they'll reel in! We promise to make this a memorable experience for everyone involved, with plenty of laughter and fun on board. So, whether your kids are experienced anglers or beginners, our specialized charter is the perfect choice for a day of fishing that they'll never forget. Book your trip today and let us show your kids the time of their lives! Read More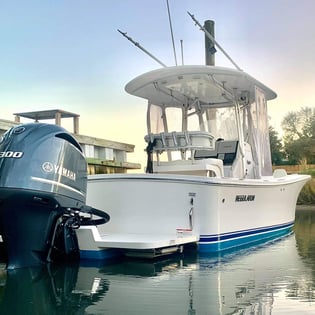 Launch aboard a 23' Regulator with Captain Dave for an epic nearshore adventure out of the Wilmington area. Captain Dave welcomes up to 4 guests aboard his safe, fast, and comfortable boat and is ready to take you and your party to some of North Carolina's finest game fish. Get ready to chase Kingfish, Cudas, Bluefish, Redfish, or even head a little further offshore for some Mahi and Bonito when the conditions are right. Off the southern coast of North Carolina. there is a lot of nearshore and inshore bottom fishing available as well as trolling the nearshore and further offshore waters. The fish you catch is yours to keep if you wish, Captain Dave will clean them for you at the end of your trip. Captain Dave will provide all the gear and bait you'll need, along with licenses, ice and water as well, the only things he recommends you bring are your favorite snacks and drinks, your sun protection, and your kids if you'd like as well! Read More
Top Types of Trip in North Carolina
Top Targeted Species in North Carolina
Half Day and Full Day Fishing Trips in North Carolina
Everything to Know About Booking a Fishing Charter in North Carolina
What are the best fishing charters in North Carolina?
Our guides in North Carolina are rated a 5 out of 5 based on 9688 verified reviews on Captain Experiences.
All guides on Captain Experiences are licensed, insured, and vetted by our team. You can access their reviews, click through trip photos, read bios to get to know them, and preview trip details like species, techniques, group sizes, boat specs and more.
What types of fishing charters are common in North Carolina?
Deep Sea fishing is the most popular in North Carolina as well as inshore fishing, nearshore fishing, and river fishing.
The most commonly sought after species in North Carolina are: 1. redfish, 2. speckled trout, 3. spanish mackerel, and 4. flounder.
The most common fishing techniques in North Carolina are light tackle fishing, trolling, and bottom fishing but live bait fishing and drift fishing are popular as well.
How much do North Carolina fishing charters cost?
in North Carolina prices can range anywhere from an affordable $225 to $3,000, but the average price for a half day trip in North Carolina is $512. The average price for a full day trip in North Carolina is $1,085.
What month is best for fishing in North Carolina?
The most popular season for fishing in North Carolina is summer, and most anglers book their trips 45 days in advance.
Do I need a North Carolina fishing license and what are the bag limits in North Carolina?
If you're thinking about a saltwater trip, you're in luck! Our saltwater fishing tours in North Carolina don't require you to purchase a fishing license – your group is covered by your boat's captain. For freshwater trips, you'll still need to purchase a license. See here for more information on fishing licenses, bag limits, and fishing season regulations in North Carolina. When in doubt, your fishing guide will always know the right rules and regulations.
Recent Reviews of Captain Experiences
North Carolina Fishing Calendar
| Species | January | February | March | April | May | June | July | August | September | October | November | December |
| --- | --- | --- | --- | --- | --- | --- | --- | --- | --- | --- | --- | --- |
| Amberjack | Great | Great | Great | Great | Great | Great | Great | Great | Great | Great | Great | Great |
| Barracuda | Good | Good | Great | Ideal | Ideal | Ideal | Ideal | Ideal | Great | Good | Good | Good |
| Bigeye Tuna | Good | Good | Good | Good | Great | Ideal | Ideal | Ideal | Great | Good | Good | Good |
| Black Drum | Ideal | Ideal | Ideal | Ideal | Ideal | Ideal | Ideal | Ideal | Ideal | Ideal | Ideal | Ideal |
| Blue Marlin | Fair | Fair | Fair | Good | Great | Ideal | Ideal | Ideal | Ideal | Great | Good | Fair |
| Bluefin Tuna | Ideal | Ideal | Great | Fair | Fair | Fair | Fair | Fair | Fair | Great | Ideal | Ideal |
| Bluefish | Ideal | Ideal | Ideal | Ideal | Ideal | Ideal | Ideal | Ideal | Ideal | Ideal | Ideal | Ideal |
| Cobia | Fair | Fair | Fair | Great | Ideal | Ideal | Ideal | Great | Good | Good | Fair | Fair |
| Crappie | Good | Good | Great | Ideal | Ideal | Ideal | Great | Good | Good | Good | Good | Good |
| False Albacore | Great | Great | Great | Great | Great | Great | Great | Great | Great | Great | Great | Great |
| Flounder | Fair | Fair | Good | Good | Good | Great | Great | Ideal | Ideal | Ideal | Great | Good |
| Kingfish | Good | Good | Good | Great | Great | Ideal | Ideal | Ideal | Great | Good | Good | Good |
| Mahi Mahi | Good | Good | Good | Great | Ideal | Ideal | Ideal | Ideal | Great | Great | Good | Good |
| Redfish | Ideal | Ideal | Ideal | Ideal | Ideal | Ideal | Ideal | Ideal | Ideal | Ideal | Ideal | Ideal |
| Sailfish | Good | Good | Good | Good | Good | Great | Ideal | Ideal | Ideal | Great | Good | Good |
| Spanish Mackerel | Good | Good | Good | Great | Great | Ideal | Ideal | Ideal | Great | Good | Good | Good |
| Speckled Trout | Ideal | Ideal | Ideal | Ideal | Ideal | Ideal | Ideal | Ideal | Ideal | Ideal | Ideal | Ideal |
| Tarpon | Good | Good | Good | Good | Great | Ideal | Ideal | Ideal | Ideal | Ideal | Great | Good |
| Wahoo | Good | Good | Good | Great | Ideal | Ideal | Ideal | Ideal | Ideal | Ideal | Ideal | Great |
| White Marlin | Fair | Fair | Fair | Fair | Good | Great | Ideal | Ideal | Ideal | Great | Good | Fair |
| Yellowfin Tuna | Great | Great | Ideal | Ideal | Ideal | Ideal | Great | Great | Great | Ideal | Ideal | Ideal |
Top Fishing Charter Locations in North Carolina
The Best Places to Fish in North Carolina
Top Targeted Fishing Species in North Carolina
Top Fishing Techniques in North Carolina
;