4.94 / 5 Average Review Score
Team of Experts Available 24/7
Licensed and Insured Guides
Recently Booked Fishing Charters Near Swan Quarter, Nc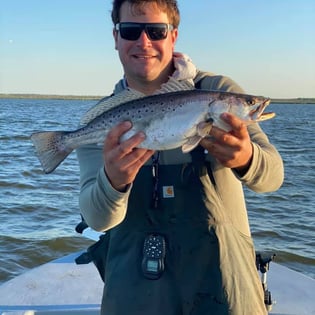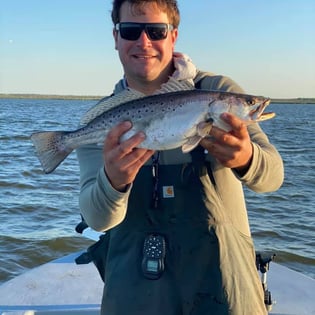 If been reeling in some empty lures lately, it's time to mix things up! Captain Grey is an expert when it comes to fishing off of Swan Quarter, NC, and knows how to consistently put his clients on fish. Whether you're chasing big Redfish or going after Speckled Trout, you'll have a blast casting and retrieving in these clear waters. There's a reason that Redfish are America's most popular saltwater sportfish! They're great fighters, get big quickly, and taste terrific on the grill, fried, or in about a thousand other ways. On this trip, you'll be throwing a variety of baits and lures under popping corks to draw bites. When that fish is on, get ready! Redfish make great runs and are an exciting challenge for anglers of all levels. Captain Grey runs his trips aboard a 23' Coastal Flats flats boat that's ideal for fishing shallow inshore water. Here, the grass attracts crabs, shrimp, and other prey for big Reds, making it a perfect place to catch a record. This boat also sports a Suzuki 140 HP outboard, an Ipilot Trolling Motor, a 8′ Power Pole Blade, Garmin 7 flush mounted and a Simrad 7, and multiple live wells. Read More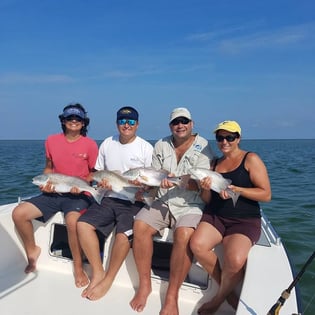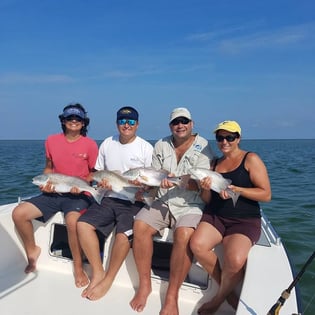 Get ready to explore the inshore and nearshore waters off of Hatteras, NC with Captain Aaron! This trip is perfect for those looking to tackle the classic North Carolina inshore sportfish—Redfish, Spotted Trout, Black Drum, and Flounder—as well as some hard-fighting nearshore species such as Cobia, Spanish Mackerel, and King Mackerel. This trip is a perfect opportunity to practice your cast and retrieve with a variety of different lures and baits. In particular, Cobia are perfect sightcasting fish, because they like to hang out near the water's surface, and are as fun to catch as they are delicious to eat. You'll get off the dock aboard your guide's 24' KenCraft—an ideal type of vessel for fishing everything from flats to estuaries to nearshore structure. Captain Aaron will come prepared with everything you need for a great day, including top-of-the-line rods, reels, bait, and tackle. He's an expert in these waters and will do everything he can to get you hooked up on a personal best! Bring along proper clothing, sunscreen, and a pair of polarized sunglasses to maximize your time on the water. Read More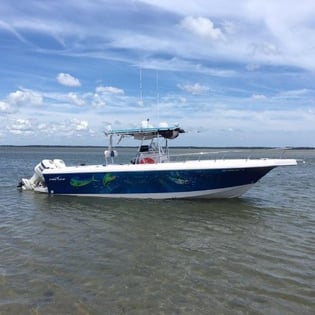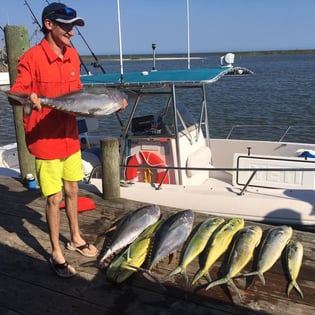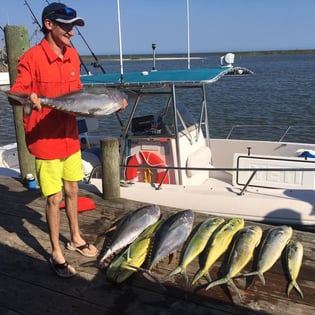 If you're looking for some exciting offshore fishing, complete with screaming reels and giant fish, you've come to the right place. Captain Justin's Gulfstream Special trip is a must for avid anglers looking to hook up on big-league sportfish, including species such as Tuna, Dorado, Marlin, and Sailfish. The Gulfstream is a major trans-Atlantic current that runs from the Gulf of Mexico all the way to Europe. It carries warm weather, rain, and tons of nutrients across the Atlantic. This combination of factors attract tons of bait, which in turn lure giant fish with the promise of a feeding frenzy. If you've never fished this unique and challenging underwater environment, there's no better opportunity. You'll employ a range of techniques and plenty of gear to catch these trophy species, and when one takes the bait—get ready for the fight of a lifetime! On the morning of the trip, you'll head out on Captain Justin's 27' ProLin center console. She's powered by twin 25-HP Suzuki engines, so you'll be out to the fishing grounds in a hurry. On the way, you'll troll for species such as Cobia and Mahi—both great fighters and delicious eating fish to boot! Once you're out deep in the blue, you'll troll at different depths to attract various species of fish. When a big Sailfish or Tuna whacks that bait, be ready! Captain Justin will be prepared with everything you need for a blue-ribbon day, including rods, reels, bait, tackle, and most importantly, his years of experience hunting champion pelagic predators. To make the most of your experience on the water, make sure to bring Polarized Sunglasses, Weather-Appropriate Clothing, Hat, and Sunscreen. Get ready to have a blast! Read More
Top Types of Trip in Swan Quarter
Top Targeted Species in Swan Quarter
Half Day and Full Day Fishing Trips in Swan Quarter
Everything to Know About Booking a Fishing Charter in Swan Quarter
What are the best fishing charters in Swan Quarter?
Our guides in Swan Quarter are rated a 5 out of 5 based on 9688 verified reviews on Captain Experiences.
All guides on Captain Experiences are licensed, insured, and vetted by our team. You can access their reviews, click through trip photos, read bios to get to know them, and preview trip details like species, techniques, group sizes, boat specs and more.
Another popular city nearby for booking a charter is Cedar Island.
What types of fishing charters are common in Swan Quarter?
Deep Sea fishing is the most popular in Swan Quarter as well as inshore fishing, nearshore fishing, and flats fishing.
The most commonly sought after species in Swan Quarter are: 1. redfish, 2. speckled trout, 3. cobia, and 4. bluefish.
The most common fishing techniques in Swan Quarter are live bait fishing, light tackle fishing, and trolling but bottom fishing and artificial lure fishing are popular as well.
How much do Swan Quarter fishing charters cost?
in Swan Quarter prices can range anywhere from an affordable $250 to $1,900, but the average price for a half day trip in Swan Quarter is $600. The average price for a full day trip in Swan Quarter is $1,155.
What month is best for fishing in Swan Quarter?
The most popular season for fishing in Swan Quarter is summer, and most anglers book their trips 54 days in advance.
Do I need a Swan Quarter fishing license and what are the bag limits in Swan Quarter?
You're in luck! Our fishing tours in Swan Quarter don't require you to purchase a fishing license – your group is covered by your boat's captain. See here for more information on bag limits and fishing season regulations in Swan Quarter.
Recent Reviews of Captain Experiences
★★★★★

Captain Grey was outstanding. Under typically iffy December conditions on Pamlico Sound he put us into trout and drum. I've fished with 4 other charters over the past decade in the Carolinas and Captain Grey was best.

James G. with Grey D. of Swan Quarter, North Carolina
;