4.94 / 5 Average Review Score
Team of Experts Available 24/7
Licensed and Insured Guides
Recently Booked Fishing Charters Near San Diego, Ca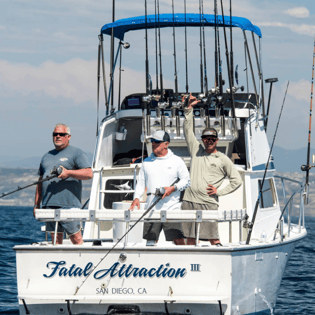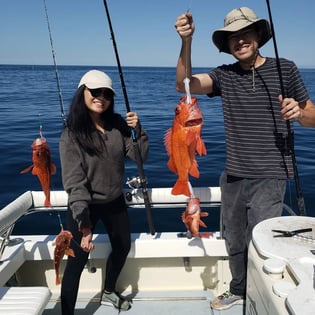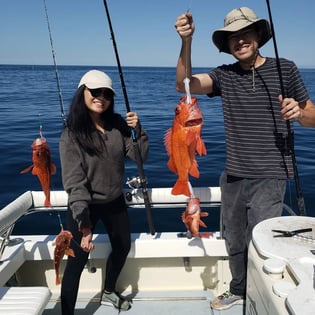 Hop on board with Captain Shaun and prepare for an action-packed day of inshore fishing in San Diego! The San Diego inshores are home to plenty of reefs and kelp beds that support a great fishery. On this 6-hour trip, Captain Shaun will cruise you along San Diego's pristine coastline to beautiful shallow waters in Point Loma, Mission Bay, and up to La Jolla. You'll be going after several exciting species such as Barracuda, Calico Bass, California Sheephead, Lingcod, Rockfish, Sculpin, Vermillion Snapper, and Yellowtail Amberjack. You'll be targeting these fish using light tackle, heavy tackle, bottom fishing and trolling depending on what you want to do or what you want to catch. If you have a method or fish in mind, just let Captain Shaun know and he'll get you set up! Captain Shaun fishes aboard a 30' Blackman Billfisher that can hold up to 4 guests. Powered by a 200 HP Volvo Penta engine , this vessel will have no problem traversing the beautiful San Diego coastline! She comes complete with GPS, Fishfinder, a Flybridge, Live Bait Well and an Ice Box to store your catches. Also on board is a Restroom, Bed, Kitchen, Refrigerator and Multimedia System to make you feel at home on your trip. Captain Shaun will provide all rods, reels, bait, tackle, ice, small snacks and water. All you need to bring is a California Fishing License for 16 and older, as well as sunglasses, sunscreen, a hat and any food or drinks you might want. There's a cooler provided on board to store your food and drinks. Book your trip today with Captain Shaun! Read More
The inshore water of the San Diego bay is a saltwater angler's paradise. Get out there and discover these diverse fishing grounds with Captain Kevin, and put your fishing skills to the test! On this trip, you'll be able to target a diversity of inshore and nearshore species, making this a great trip for people who want to do it all! You'll drift and bottomfish for Pacific Barracuda, White Seabass, Halibut, and more. These fish are fun for anglers of all levels, and are excellent eating as well! Because there are so many species to target, you'll mix it up with several different fishing techniques. Depending on the season, weather, and your fishing preferences, Captain Kevin will make sure that you're equipped with the right gear and tackle to get the job done. You'll be out there aboard Kevin's 36' Grand Banks center console. With twin Ford engines sporting a combined 480 horsepower, you'll get out there fast and spend more time fishing! Everything you need for an epic day will be provided; all you need to bring is sun protection, your California Fishing Licenses, and a smile. Read More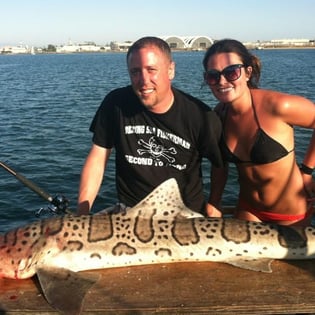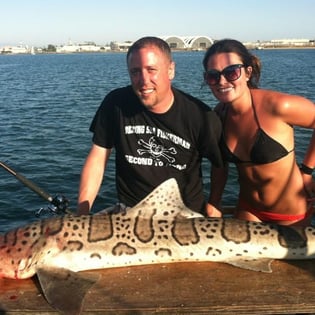 Explore the inshore nearshore waters of the Pacific Ocean aboard one of the fastest, sleekest boats in San Diego on this trip with Captain Nathan! The cold, rich Pacific currents that flow along California's coast make San Diego an angler's paradise. The inshore and nearshore water here supports a superb marine ecosystem with tons of species, all of which you can go after with Captain Nathan. You'll be targeting Halibut, Barracuda, Rockfish, and Bonito—a smaller relative of the Tuna that puts up a fun fight. Each of these species occupies a different niche: Halibut lurk on the bottom, Barracuda patrol the middle of the water column, Rockfish hang out on the reefs and rocks, and Bonito inhabit the topwater looking for small prey. Naturally, you'll use different techniques to target these species, including trolling, bottomfishing, trolling, and jigging to pick up bites! Depending on the season, weather, and your fishing preferences, Captain Nathan will make sure that you're equipped with the right gear and tackle to get the job done. Captain Nathan runs a beautiful 42' Hershine sportfisher, made super comfortable for your trip! With live wells, trolling gear, and more, she's the perfect vessel for a fishing adventure. Captain Nathan and his crew will provide all rods, reels, bait, tackle, ice, small snacks and water. All you need to bring is a California Fishing License for 16 and older, as well as sunglasses, sunscreen, a hat and any food or drinks you might want. There's also a cooler provided on board to store your food and drinks! Get out there and enjoy yourself on the beautiful Pacific Coast! Read More
Top Types of Trip in San Diego
Top Targeted Species in San Diego
Half Day and Full Day Fishing Trips in San Diego
Everything to Know About Booking a Fishing Charter in San Diego
What are the best fishing charters in San Diego?
Our guides in San Diego are rated a 5 out of 5 based on 9688 verified reviews on Captain Experiences.
All guides on Captain Experiences are licensed, insured, and vetted by our team. You can access their reviews, click through trip photos, read bios to get to know them, and preview trip details like species, techniques, group sizes, boat specs and more.
What types of fishing charters are common in San Diego?
Deep Sea fishing is the most popular in San Diego as well as nearshore fishing and inshore fishing.
The most commonly sought after species in San Diego are: 1. yellowtail amberjack, 2. rockfish, 3. yellowfin tuna, and 4. halibut.
The most common fishing techniques in San Diego are trolling, bottom fishing, and heavy tackle fishing but light tackle fishing and artificial lure fishing are popular as well.
How much do San Diego fishing charters cost?
in San Diego prices can range anywhere from an affordable $850 to $3,000 and up, but the average price for a half day trip in San Diego is $1,300. The average price for a full day trip in San Diego is $2,158.
What month is best for fishing in San Diego?
The most popular season for fishing in San Diego is summer, and most anglers book their trips 44 days in advance.
Do I need a San Diego fishing license and what are the bag limits in San Diego?
See here for more information on fishing licenses in San Diego, bag limits for target species, and fishing season regulations in San Diego. When in doubt, your fishing guide will always know the right rules and regulations in San Diego.
San Diego Fishing Charters Overview
San Diego is a renowned year-round fishery, boasting one of the largest sportfishing fleets in the nation. With a variety of fishing options available, San Diego Bay is an ideal location for beginners, offering a range of fish species such as California Halibut, Spotted Bay Bass, and Bonefish. For those seeking a more challenging experience, offshore fishing charters provide the opportunity to catch Yellowtail, while long-range fishing charters offer the chance to catch big game such as Tuna and Dorado.

San Diego's charter fleet is primarily located in local boat landings, including Fisherman's Landing, Point Loma Sportfishing, H&M Landing, and Helgren's Sportfishing. However, it is important to note that anglers aged 16 or older must purchase a California fishing license to fish in San Diego, with the exception of ocean fishing piers.
Deep Sea and Offshore Fishing in San Diego
The fleet of offshore and deep sea fishing boats in San Diego is unmatched by any of its kind. Arguably the largest and most modern private charter fleet in the country, there are fishing charter options for groups of all sizes and experience levels.

The seafloor off of San Diego is characterized by banks and deepwater canyons. The seafloor topography and current create a sport fish's paradise. Dozens of bluewater species can be caught offshore, but tuna fishing in San Diego is the most popular by far. Yellowfin and Bluefin Tuna of frightening proportions can be caught in the late spring through early fall when the water temperature rises. Other popular pelagic (oceanic) species including Mahi-Mahi, Wahoo, and Yellowtail Amberjack have been known to grace these waters frequently as well.

While trolling is generally the method of choice for targeting these offshore beasts, kite fishing for tuna is also really popular in San Diego. Kite fishing gives a perfect flying fish imitation as the bait bounces off the surface of the water, suspended from a kite behind the boat. This technique is sure to excite, as most of the bigger tuna are caught using this method, and watching "the eat" on the surface is the memory of a lifetime.

Reaching the prime offshore fishing waters generally takes a full day trip of at least (8-10 hours). At Captain Experiences, we even offer plenty of extended day (10+ hours) overnight, multi day, and even weeklong trips that take anglers south to Mexico to warmer waters.

View All San Diego Deep Sea Fishing Charters
Bay Fishing Charters in San Diego
Not to be overlooked is the inshore fishing in San Diego. The inshore grounds consist of San Diego Bay and north in Mission Bay, and they're every bit as bountiful as the offshore waters. San Diego Bay is 60 feet deep at its max and has shallow mud flats in its south end - giving anglers the opportunity to target a variety of species year round. Just outside of the bay and going north to La Jolla are massive kelp forests teeming with biodiversity and life, giving anglers the opportunity to catch dozens of species in a very special environment.

There is great inshore fishing in San Diego year round, but the winter time tends to be the most dominant. The winter months bring cold waters and wind offshore which slows the bite down. Meanwhile, the inshore bite is just heating up.

Unless you've fished San Diego before, there are some species in the bay that you've probably never heard of, much less seen. White Seabass are the largest of the inshore species, with some growing to over 100 pounds.

Other popular species include the Spotted Bay Bass, Rockfish, California Halibut, and Yellowtail. Cortez Bonefish - almost identical to the Bonefish of the Florida tropics - are bountiful in the shallow southern bay mud flats. Light tackle and fly gear are the weapons of choice while fishing in San Diego Bay.
Popular Types of Fishing In San Diego
San Diego fishing charters offer a variety of options for anglers of all levels. The most common types of fishing charters in San Diego include deep-sea fishing, bay fishing, and offshore fishing.

Deep-sea fishing charters take you out to the open ocean where you can catch big game fish like tuna, marlin, and swordfish. Bay fishing charters are perfect for families and beginners, as you can catch smaller fish like halibut, bass, and sand sharks. Offshore fishing charters are a mix of both, taking you to the edge of the continental shelf where you can catch a variety of fish.

Some of the most common fish to catch in San Diego include yellowtail, tuna, dorado, and halibut. Depending on the type of fishing charter you choose, you may also have the opportunity to catch marlin, swordfish, and even sharks.

San Diego fishing charters often depart from popular landmarks like Mission Bay, Point Loma, and the San Diego Bay. These areas offer easy access to some of the best fishing spots in the region, making them a popular choice for both locals and tourists alike.
Other Things To Do In San Diego
While San Diego fishing charters are a popular attraction, there are plenty of other things to do in this vibrant city. Take a stroll through Balboa Park, home to over 15 museums and beautiful gardens. Visit the world-famous San Diego Zoo or catch a game at Petco Park, home of the San Diego Padres. For a day of family fun, head to LEGOLAND California or SeaWorld San Diego. If you're looking for a more laid-back experience, explore the beaches of La Jolla Cove or Coronado Island. And don't forget to indulge in some delicious Mexican cuisine in the city's vibrant neighborhoods like Old Town or Barrio Logan.
Recent Reviews of Captain Experiences
★★★★★

We had a great time on our trip with Captain Nathan's crew! Noah was our skipper, and Nick was the deckhand. They were both helpful and engaging, and always there to lend a hand. Would definitely recommend for both beginner and experienced anglers!

Elena G. with Nathan B. of San Diego, California

★★★★★

Awesome trip, Captain Sam and his first mate Noah were extremely helpful. Captain had us in a school of bluefin within minutes of stopping. We all met our limit for the day! They cleaned them and bagged them. We got some really awesome pictures! Great trip and would highly recommend Captain Sam.

George D. with Sam S. of San Diego, California

★★★★★

Bobby was our captain and he treated myself, my son and my grandson like we owned the boat. He was very professional and courteous and answered all our questions. He gave us choices which no other service has in the past. This was much appreciated and I plan on returning again.

John P. with Shaun U. of San Diego, California
San Diego Fishing Calendar
| Species | January | February | March | April | May | June | July | August | September | October | November | December |
| --- | --- | --- | --- | --- | --- | --- | --- | --- | --- | --- | --- | --- |
| Barracuda | Fair | Good | Good | Great | Ideal | Ideal | Ideal | Ideal | Ideal | Great | Good | Fair |
| Blue Marlin | Fair | Fair | Fair | Fair | Fair | Fair | Fair | Good | Great | Great | Good | Fair |
| Blue Shark | Ideal | Ideal | Ideal | Ideal | Great | Good | Good | Great | Great | Ideal | Ideal | Ideal |
| Bluefin Tuna | Fair | Fair | Fair | Good | Good | Great | Ideal | Ideal | Ideal | Great | Great | Good |
| Bonefish | Good | Good | Great | Ideal | Ideal | Great | Great | Great | Great | Great | Good | Good |
| Bonito | Good | Good | Good | Good | Good | Great | Great | Ideal | Ideal | Ideal | Great | Good |
| California Corbina | Good | Good | Good | Great | Great | Great | Ideal | Ideal | Ideal | Ideal | Great | Good |
| California Sheephead | Good | Good | Good | Great | Good | Good | Good | Good | Good | Good | Good | Good |
| Cod | Good | Good | Good | Good | Great | Good | Good | Good | Good | Good | Good | Good |
| Halibut | Good | Good | Great | Great | Ideal | Ideal | Ideal | Ideal | Ideal | Ideal | Great | Good |
| Hammerhead Shark | Fair | Fair | Fair | Fair | Fair | Good | Good | Good | Great | Great | Good | Fair |
| Lingcod | Good | Good | Good | Good | Good | Good | Good | Good | Good | Good | Great | Good |
| Mahi Mahi | Fair | Fair | Fair | Good | Good | Good | Great | Ideal | Ideal | Good | Fair | Fair |
| Mako Shark | Good | Good | Good | Great | Great | Ideal | Ideal | Ideal | Ideal | Ideal | Great | Good |
| Rockfish | Not Allowed | Not Allowed | Ideal | Ideal | Ideal | Ideal | Great | Great | Great | Ideal | Ideal | Ideal |
| Striped Marlin | Fair | Fair | Fair | Fair | Fair | Good | Good | Great | Ideal | Great | Good | Fair |
| Thresher Shark | Good | Good | Great | Great | Great | Ideal | Ideal | Ideal | Ideal | Great | Great | Good |
| Wahoo | Fair | Fair | Fair | Fair | Fair | Fair | Fair | Fair | Good | Good | Fair | Fair |
| White Seabass | Great | Ideal | Ideal | Ideal | Ideal | Great | Good | Good | Good | Good | Good | Good |
| Yellowfin Tuna | Fair | Fair | Fair | Good | Good | Good | Great | Ideal | Ideal | Great | Good | Fair |
| Yellowtail Amberjack | Good | Good | Great | Ideal | Ideal | Ideal | Ideal | Ideal | Ideal | Great | Great | Good |
Top Targeted Fishing Species in San Diego
;