4.94 / 5 Average Review Score
Team of Experts Available 24/7
Licensed and Insured Guides
Recently Booked Fishing Charters Near Galveston, Tx
Climb aboard with Captain Meghan and explore the Jetties of Galveston Bay on her 21' Mako! These charters are great for any level of fisherman, and especially for families with children. However, you must be at least five years old to ride this ride! On this trip, you'll target classic Texas sportfish, including Redfish, Speckled Trout, Black Drum, and even Sharks! Once you're off the dock, you'll head 5-6 miles out into the Gulf of Mexico, fishing both the North and South Jetties. These jetties are a perfect place for fish to congregate, so you can expect tons of rod-bending action once you're out there. Captain Meghan's 21' Mako center console can accommodate up to 6 people, so bring some friends! She'll provide all the gear you need, so all you need to show up with is a Texas Saltwater Fishing License, some food and drinks, and an ice box for your catch! Finally, you'll be able to purchase live bait for an additional fee. Captain Meghan and her crew will also clean and fillet your fish for you. We hope you have a good recipe for fish tacos! Read More
Adventure through the West Bay, East Bay, and Trinity Bay with Captain Ralph, a highly touted guide with 40+ years of fishing experience! Stay on the lookout for Redfish, Speckled Trout, and Flounder, three of Texas' most sought-after game fish. You can choose between a 4, 6, and 8-hour trip, depending on how much fishing you want to do in one day. It should be smooth sailing as you navigate the bays in search of the rock piles and jetties where you can find these delicious inshore fish. Captain Ralph can fit up to 6 people on the spacious deck of his 26' center console, so bring your family and friends along for the adventure. The vessel is powered by a 350hp Suzuki engine, which will speed you around the bay complex. You will be fishing with light tackle and live bait stored in the live bait well. There is also a cooler on board where you can store your catch during the trip. You should bring a cooler in your car though to keep the fish fresh on the drive home. Besides a cooler, all you need to bring are some snacks, a valid Texas fishing license, and some good company! Captain Ralph provides all the rods, reels, live bait, and tackle. Be sure to wear appropriate clothing and check the weather in the days before your trip. A hat and sunblock are always a good idea, so you don't get too crispy out on the water. Read More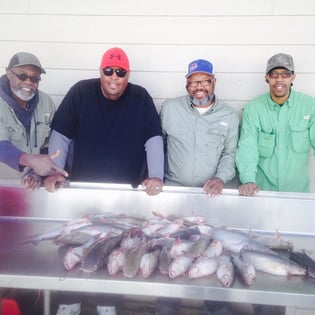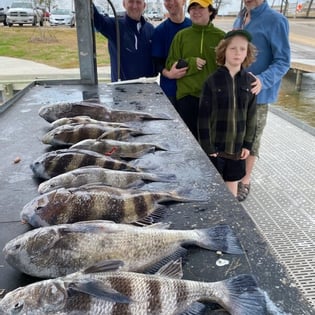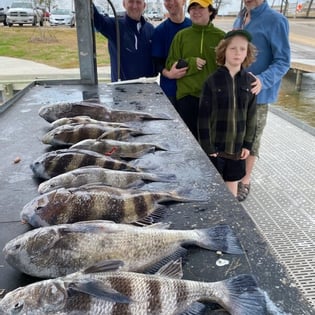 Head out of Galveston for a phenomenal day out on the water with Captain Reggie! On this trip, you'll drift-fish over shelves, underwater structure, and secret "honey holes" that Captain Reggie has identified over his many years fishing the Galveston area. Depending on your goals for the day, you can target Speckled Trout, Redfish, Flounder and Sheepshead—to name just a few. This trip is also a great chance to go for a "Texas Grand Slam" or a "Texas Triple" by catching a Redfish, a Trout, and a Flounder in one day! No matter which species you choose to pursue, Captain Reggie is a pleasure to share a boat with. He's happy to work with box experts and beginners alike, and loves showing "greenhorns" the wonders of saltwater fishing. His knowledge of the Galveston waterways makes him a great captain and an even better teacher, for beginners to experienced anglers! Captain Reggie provides all the rods, reels, tackle, and bait you could possibly need for a successful day slaying the fish. All you need to do is meet Captain Reggie at the dock. Please remember your sun protection, your cooler with snacks and drinks, and your Texas Fishing License. Captain Reggie will take it from there and ensure you have a fantastic day on the water! Read More
Top Types of Trip in Galveston
Top Targeted Species in Galveston
Half Day and Full Day Fishing Trips in Galveston
Everything to Know About Booking a Fishing Charter in Galveston
What are the best fishing charters in Galveston?
Our guides in Galveston are rated a 4.91 out of 5 based on 9635 verified reviews on Captain Experiences.
All guides on Captain Experiences are licensed, insured, and vetted by our team. You can access their reviews, click through trip photos, read bios to get to know them, and preview trip details like species, techniques, group sizes, boat specs and more.
What types of fishing charters are common in Galveston?
Deep Sea fishing is the most popular in Galveston as well as inshore fishing, nearshore fishing, and jetty fishing.
The most commonly sought after species in Galveston are: 1. redfish, 2. speckled trout, 3. flounder, and 4. black drum.
The most common fishing techniques in Galveston are light tackle fishing, bottom fishing, and heavy tackle fishing but live bait fishing and artificial lure fishing are popular as well.
How much do Galveston fishing charters cost?
in Galveston prices can range anywhere from an affordable $90 to $3,000 and up, but the average price for a half day trip in Galveston is $817. The average price for a full day trip in Galveston is $1,377.
What month is best for fishing in Galveston?
The most popular season for fishing in Galveston is summer, and most anglers book their trips 4 days in advance.
Do I need a Galveston fishing license and what are the bag limits in Galveston?
See here for more information on fishing licenses in Galveston, bag limits for target species, and fishing season regulations in Galveston. When in doubt, your fishing guide will always know the right rules and regulations in Galveston.
Galveston Fishing Charters
If you've made it to this page, you've got your priorities in line! Fishing charters in Galveston, TX offer an unmatched breadth of year round fishing opportunities targeting a variety of inshore, nearshore, and offshore fish species for anglers of all skill levels. Let's dive in!
Galveston Inshore Fishing Charters
The most popular fishing in Galveston is undoubtedly bay fishing, or inshore fishing for the Lone Star State slam: redfish, speckled trout, and flounder.

Our Galveston fishing guides love their immediate fishing access to West Bay and San Luis Pass, East Galveston Bay, Trinity Bay up north at the mouth of the Trinity River, and the Houston Ship Channel, a deep channel running from Houston through Galveston Bay, through the Galveston jetties, and out to the Gulf of Mexico.

Leaving from Galveston mainstays like the Galveston Yacht Basin and Galveston Bait & Tackle, your guide will have their pick of the little across these prime fishing spots, all a short run from launch.

Redfish fishing is truly fantastic year-round given Galveston Bay's thriving population of healthy reds. While summer fishing for redfish is Red Hot, the best time to chase reds is August through November as redfish gorge on shrimp, mullet, shad, and crabs ahead of the colder winter months.

Redfish can be caught using live bait, dead bait, artificial lures, and even on the fly in Galveston's shallow backwaters. If requested after bookings, our guides will provide bait to make sure they're chomping on what you're throwing.

Speckled Trout fishing is also world-class across Galveston Bay, and West Bay specifically is quietly becoming one of the best spots on the entire Gulf to catch an elusive 30-inch trout.

Speckled trout feeding habits match the seasonality of redfish, and can be caught year-round with August through September being best.

Another fan favorite in the Galveston area is the flounder. Galveston flounder fishing is truly world renowned thanks to the fall and spring runs where thousands of flounder migrate their way into Galveston Bay and back out to offshore waters.

In addition to these headliner target species, Galveston is home to Black Drum and a wide variety of ferocious shark species. All of the above species congregate to feed at the Galveston jetties, making these 4-hour trips some of our most popular across the board.

View All Galveston Inshore Fishing Charters
Galveston Deep Sea Fishing Charters
If you're looking for a monster tug, excellent table fare, and stories your grandkids will tell their grandkids about, head out on a Galveston deep sea fishing trip tomorrow!

Summers offshore in the Gulf of Mexico offer true adventure – from red snapper fishing June through August, to amberjack season March - May and again from August on, big fish are waiting offshore to put you to the test. Check out our 2023 red snapper season page for more details on limits, dates, and top trips.

The pinnacle of the Galveston deep sea fishing scene are offshore tuna trips. Head 80+ miles out to the Texas offshore oil rigs like Nansen and Boomvang, our troll the fertile waters of the Flower Gardens National Marine Sanctuary in search of Yellowfin Tuna, Blackfin Tuna, Wahoo, and even the elusive Blue Marlin.

These species lurk year-round out there, and you can catch tuna free lining chunk bait and casting topwater lures. There's nothing like a school of tuna bubbling at the surface 100 miles out!

View All Galveston Deep Sea Fishing Charters
Popular Types of Fishing In Galveston
Galveston fishing charters offer a variety of options for anglers of all levels. The most common types of fishing charters in Galveston include bay fishing, offshore fishing, and shark fishing.

Bay fishing charters are perfect for families and beginners, as they take place in the calm waters of Galveston Bay. Expect to catch speckled trout, redfish, and flounder.

Offshore fishing charters are for the more experienced angler, as they venture out into the Gulf of Mexico in search of bigger game fish like tuna, mahi-mahi, and snapper.

Shark fishing charters are for the adrenaline junkies, as they target the apex predator of the ocean. Galveston is home to a variety of shark species, including bull sharks, hammerheads, and blacktips.

No matter which type of Galveston fishing charter you choose, you're sure to have a memorable experience. Some popular landmarks that fishing charters visit include the Galveston Seawall and the Galveston Island Historic Pleasure Pier.
The Best Places To Fish In Galveston
Galveston, Texas is a prime destination for fishing enthusiasts. With its abundance of waterways and diverse marine life, there are plenty of great spots to cast a line. Here are some of the best places to fish in Galveston, whether you're looking to go on a fishing charter or just fish from the shore:

1. Galveston Bay - This large bay is home to a variety of fish species, including redfish, speckled trout, and flounder. Fishing charters are available for those who want to explore the bay's deeper waters.

2. East Beach - This popular beach is a great spot for surf fishing, with plenty of space to cast your line and catch fish like pompano and whiting.

3. Seawolf Park - This park features a fishing pier that extends into the Gulf of Mexico, offering anglers the chance to catch a variety of fish species, including red snapper and king mackerel.

4. San Luis Pass - This narrow channel between Galveston Island and Brazoria County is a prime spot for catching speckled trout and redfish, especially during the fall months.

5. Pelican Island - This small island is a popular spot for kayak fishing, with plenty of shallow waters and oyster reefs that attract fish like redfish and flounder.

Whether you're a seasoned angler or a beginner, Galveston offers plenty of opportunities for fishing charters and shore fishing alike.
Other Things To Do In Galveston
Galveston fishing charters are a popular attraction, but there's so much more to do in this vibrant city. Take a tour of the historic Bishop's Palace or the grandeur of the Moody Mansion. For a fun family day out, head to the Galveston Island Historic Pleasure Pier, featuring thrilling rides and carnival games. If you're looking for a more relaxed experience, visit the Galveston Island State Park for hiking, birdwatching, and beachcombing. For a taste of local culture, check out the Galveston Arts Center or the Grand 1894 Opera House. And don't forget to indulge in some delicious seafood at one of the many restaurants in the area. With so much to see and do, Galveston is the perfect destination for a memorable vacation.
Galveston Fishing Trips Summary
Beginning or expert, inshore or offshore, redfish or red snapper, our Galveston fishing tours offer something for everyone. At Captain Experiences, Galveston is especially close to heart as our official home waters.

2023 should be another banner year for fishing Galveston, and we look forward to helping you book the trip of a lifetime every time. Please reach out anytime at 409-996-2395 to ask away on our Damn Good Galveston Fishing Guides!

Find The Best Fishing Charters Near Me

See you out there,
Jonathan Newar
Co-Founder & CEO
Captain Experiences
Recent Reviews of Captain Experiences
Galveston Fishing Calendar
| Species | January | February | March | April | May | June | July | August | September | October | November | December |
| --- | --- | --- | --- | --- | --- | --- | --- | --- | --- | --- | --- | --- |
| Amberjack | Great | Great | Ideal | Ideal | Ideal | Not Allowed | Not Allowed | Ideal | Ideal | Great | Great | Great |
| Black Drum | Good | Great | Ideal | Ideal | Ideal | Ideal | Ideal | Great | Good | Good | Good | Good |
| Blackfin Tuna | Good | Good | Good | Great | Great | Ideal | Ideal | Ideal | Ideal | Good | Good | Good |
| Blacktip Shark | Good | Good | Good | Good | Great | Ideal | Ideal | Ideal | Ideal | Great | Good | Good |
| Cobia | Good | Good | Good | Good | Great | Ideal | Ideal | Ideal | Great | Great | Good | Good |
| Flounder | Good | Good | Good | Great | Great | Great | Good | Good | Great | Ideal | Ideal | Ideal |
| Hammerhead Shark | Good | Good | Good | Good | Great | Ideal | Ideal | Ideal | Ideal | Great | Good | Good |
| Kingfish | Good | Good | Good | Great | Great | Ideal | Ideal | Ideal | Great | Good | Good | Good |
| Mahi Mahi | Good | Good | Good | Great | Ideal | Ideal | Ideal | Ideal | Ideal | Great | Good | Good |
| Red Snapper | Good | Good | Good | Great | Great | Ideal | Ideal | Ideal | Great | Great | Good | Good |
| Redfish | Great | Great | Great | Great | Great | Great | Great | Ideal | Ideal | Ideal | Ideal | Great |
| Spanish Mackerel | Good | Good | Great | Ideal | Ideal | Ideal | Ideal | Great | Good | Good | Good | Good |
| Speckled Trout | Great | Great | Great | Great | Great | Great | Great | Ideal | Ideal | Ideal | Great | Great |
| Tarpon | Good | Good | Good | Good | Great | Ideal | Ideal | Ideal | Ideal | Ideal | Great | Good |
| Tiger Shark | Good | Good | Good | Good | Great | Ideal | Ideal | Ideal | Ideal | Great | Good | Good |
Other Fishing Charter Locations near Galveston