4.94 / 5 Average Review Score
Team of Experts Available 24/7
Licensed and Insured Guides
Recently Booked Fishing Charters Near Madeira Beach, Fl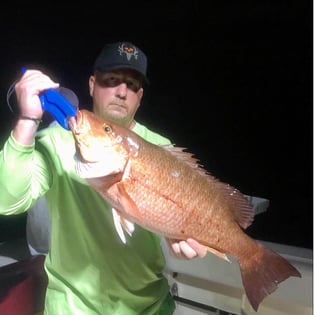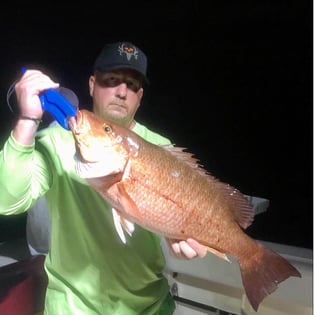 Head out with Captain Keith to explore the nearshore and offshore waters of the Florida Gulf Coast on a 4-hour family excursion, a 6-hour getaway, or an 8-hour adventure! Captain Keith's family excursions provide a great chance for families with children that want to get away for some rod-bending action and get back with some porgy and grunt fillets for dinner. Like all of Captain Keith's trips, the half-day 6-hour adventure is dock to dock in around 6.5 hours. With an approximate 1 hour motor on either end of fishing, you get ~4 hours of fishing action. Typical fish caught out on the offshore reefs and in the deep water include Snapper, Grouper, Kingfish, Grunts, Porgy, Mackerel, Sand Perch, and Sea Bass—all a blast to catch and great to eat! No matter which option you choose, Captain Keith's highest priority is to create an experience that will ensure memories for a lifetime. He and his crew will teach you techniques, provide bait, unhooks, and fillet all the fish you catch at the end of the day, making this trip as low maintenance for you as possible! That being said, you're welcome to get as involved as you'd like with your fishing experience. Whether that's lounging and enjoying the ocean breeze until the reel starts screaming or holding the rod in your hand the whole time helping scout for bait pods and sea life, Captain Keith is more than willing to accommodate! Read More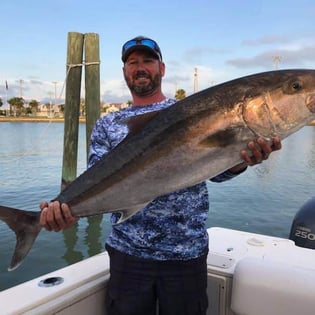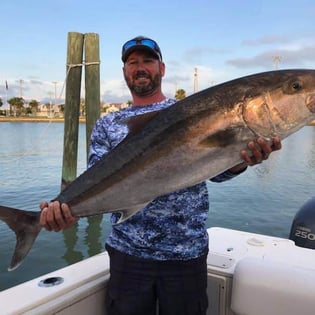 Spend the whole day chasing your next trophy with Captain Keith and first mate Pat! This experienced crew doesn't mess around on these full-day adventures, you're here to catch your next personal best and their goal is to put you on it! This trip is ideal for honing in on the species of your choice and targeting a trophy-sized specimen. Captain Keith and his crew take their customers up to 50 miles offshore on this trip, to the most premier offshore locations to ensure you land your memorable catch! Fish caught on this charter consist of Snapper, Kingfish, Grouper of all kinds, Tuna, Mahi Mahi, Sharks, Amberjack, and many other exciting pelagic species. Captain Keith's highest priority is to create an experience that will ensure memories for a lifetime. The crew teaches, baits, unhooks, and fillets the caught fish, making this trip as low maintenance for you as possible! That being said, you're welcome to get as involved as you'd like with your fishing experience. Whether that's lounging and enjoying the ocean breeze until the reel starts screaming or holding the rod in your hand the whole time helping scout for bait pods and sea life, Captain Keith is more than willing to accommodate! Read More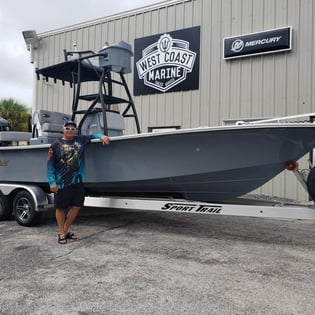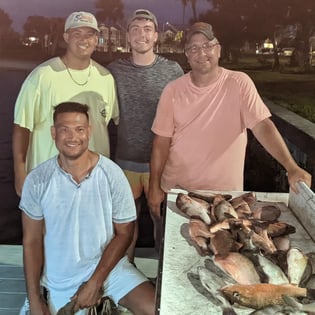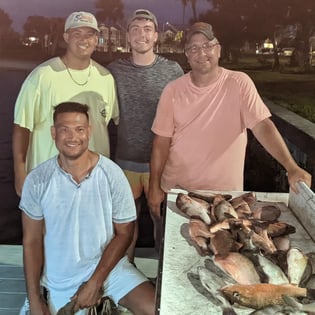 Join Captain Eric for an amazing Tampa Bay fishing experience! Tampa Bay is a world-class fishing destination that features a range of marine habitats and a rich variety of sportfish species, all the way from the backcountry to the deeper waters. Captain Eric has fished this area since 1979, and he has the knowledge, skills and experience to put you on amazing fish, whether that means hitting the ship channel (up to 50ft deep) for Grouper, chumming, and throwing cut bait for Tarpon (Summer months), Snapper, Tripletail, Spanish and King Mackerel, Reds, much more under the Bridges---Tampa Bay really has it all. When you fish with Captain Eric, you'll be totally taken care of aboard his 24' Blazer Bay center console. She's an ideal boat for this area, with a hull profile meant to cut through chop and a shallow draft that allows you to fish the backcountry. She sports a powerful 300-HP Suzuki engine, and is fully equipped with a GPS, fishfinder, live well for your bait, and an ice box for your keepers. Captain Eric is full of tips and tricks to help improve your fishing and send you home with great memories and awesome pictures, plus a delicious dinner! He'll keep your keepers on ice until you're back on the dock, where he'll clean them for you. He also supplies all the gear you'll need, including rods, reels, bait, and tackle. All you need to bring along is proper clothing and sunscreen, and you're in for a terrific trip. Read More
Top Types of Trip in Madeira Beach
Top Targeted Species in Madeira Beach
Half Day and Full Day Fishing Trips in Madeira Beach
Everything to Know About Booking a Fishing Charter in Madeira Beach
What are the best fishing charters in Madeira Beach?
Our guides in Madeira Beach are rated a 4.96 out of 5 based on 9688 verified reviews on Captain Experiences.
All guides on Captain Experiences are licensed, insured, and vetted by our team. You can access their reviews, click through trip photos, read bios to get to know them, and preview trip details like species, techniques, group sizes, boat specs and more.
What types of fishing charters are common in Madeira Beach?
Deep Sea fishing is the most popular in Madeira Beach as well as inshore fishing, nearshore fishing, and flats fishing.
The most commonly sought after species in Madeira Beach are: 1. redfish, 2. snook, 3. gag grouper, and 4. mangrove snapper.
The most common fishing techniques in Madeira Beach are light tackle fishing, live bait fishing, and bottom fishing but trolling and heavy tackle fishing are popular as well.
How much do Madeira Beach fishing charters cost?
in Madeira Beach prices can range anywhere from an affordable $250 to $3,000 and up, but the average price for a half day trip in Madeira Beach is $663. The average price for a full day trip in Madeira Beach is $1,209.
What month is best for fishing in Madeira Beach?
The most popular season for fishing in Madeira Beach is spring, and most anglers book their trips 12 days in advance.
Do I need a Madeira Beach fishing license and what are the bag limits in Madeira Beach?
If you're thinking about a saltwater trip, you're in luck! Our saltwater fishing tours in Madeira Beach don't require you to purchase a fishing license – your group is covered by your boat's captain. For freshwater trips, you'll still need to purchase a license. See here for more information on fishing licenses, bag limits, and fishing season regulations in Madeira Beach. When in doubt, your fishing guide will always know the right rules and regulations.
Madeira Beach Fishing Overview
Madeira Beach is a prime Gulf Coast destination for fishing enthusiasts, offering a variety of fishing charters to choose from. The area is abundant with fish species, including Redfish, Spotted Seatrout, Permit, Flounder, Sheepshead, Snook, Bonefish, Tarpon, Snapper, Grouper, Porgy, Grunt, Tripletail, Hogfish, Mahi Mahi, Sailfish, and Blackfin Tuna.

Fishing charters are led by experienced local captains who are experts in the area's fishing regulations and seasonality. Half-day trips are ideal for a relaxed day out with family and friends, while full-day expeditions are best for anglers seeking impressive catches.

Fishing licenses are not required aboard registered Madeira Beach fishing charters, but solo anglers must obtain their own license ahead of time. It is important to check with your captain for the best time to target specific species, as seasonality varies between state and federal waters and changes year on year. Overall, Madeira Beach is a top destination for both active vacations and top-notch fishing experiences.
Madeira Beach Inshore Fishing
or any angler, just looking at a map of Madeira Beach will cause excitement. For inshore anglers, however, Madeira Beach is a very special place. The biodiverse inshore waters are home to many bucket list species. In the spring and summer months Tarpon swing by on their southbound migration.

They are accompanied by ambushing Snook and Redfish moving into the warmer bay waters. As the waters cool down, Speckled Trout, Flounder, and Grouper species can be expected. Fish the best Madeira Beach fishing spots like Caladesi Island and Honeymoon Island or cruise the bays, backwaters, and bayous for mangrove monsters. Regardless of the time of year, your Madeira Beach fishing charter will ensure that you stay on the bite!
Madeira Beach Offshore Fishing
Just a short boat ride out of the bay will bring you to some highly productive nearshore waters. Deep dropping or trolling around structure will bring Hogfish, Snapper, Grouper, Cobia, and other formidable fighters to our Madeira Beach charter boats.

Schools of baitfish hang out near the mouth of the bay in the summer, so that's a great place to start. There are also plenty of reefs & wrecks always providing a diverse catch to Madeira Beach deep sea fishing charters. For the full-day and extended day offshore trips of 40+ miles out, Kingfish, Tuna, Mahi-Mahi, and billfish can be caught.
Popular Types of Fishing In Madeira Beach
The most common types of fishing charters in Madeira Beach, Florida are deep sea fishing charters, inshore fishing charters, and backcountry fishing charters.

Deep sea fishing charters are perfect for those looking to catch big game fish like tuna, mahi-mahi, and marlin. Inshore fishing charters are great for catching snook, redfish, and trout in the shallow waters near the shore. Backcountry fishing charters are perfect for those looking to catch tarpon, snook, and redfish in the calm waters of the mangroves.

Some of the most common fish to catch in Madeira Beach include grouper, snapper, kingfish, and amberjack.

If you're looking for a Madeira Beach fishing charter, be sure to check out Hubbard's Marina or John's Pass Fishing Village. These landmarks are popular starting points for many fishing charters in the area.
The Best Places To Fish In Madeira Beach
Madeira Beach, Florida is a prime destination for fishing enthusiasts. With its crystal-clear waters and abundant marine life, there are plenty of great spots to cast a line. Here are some of the best places to fish in Madeira Beach, whether you're going on a fishing charter or just casting from shore:

1. John's Pass - This popular fishing spot offers a variety of fish species, including snook, redfish, and tarpon. Fishing charters are available for those who want to venture out into deeper waters.

2. Hubbard's Marina - Known for its deep-sea fishing charters, Hubbard's Marina is a great place to catch grouper, snapper, and other big game fish.

3. Redington Long Pier - This 1,000-foot pier is a great spot for anglers of all skill levels. You can catch a variety of fish here, including snook, tarpon, and Spanish mackerel.

4. Boca Ciega Bay - This shallow bay is a great place to catch redfish, trout, and snook. Fishing charters are available for those who want to explore the bay's deeper waters.

5. Treasure Island Causeway - This causeway offers great fishing opportunities for both shore anglers and those on fishing charters. You can catch a variety of fish here, including snook, redfish, and sheepshead.
Other Things To Do In Madeira Beach
While Madeira Beach fishing charters are a popular attraction, there are plenty of other things to do in this Florida city. Take a sunset dolphin watching cruise, explore the John's Pass Village and Boardwalk for shopping and dining, or visit the Alligator Attraction for a unique animal encounter. For a day of family fun, head to the nearby Treasure Island Fun Center or the Smuggler's Cove Adventure Golf. And of course, no trip to Madeira Beach is complete without a visit to the stunning white sand beaches like Archibald Beach Park or the popular John's Pass Beach.
Recent Reviews of Captain Experiences
★★★★★

We had a great trip with Keith and Nick. My son had a great time and Captain Keith let him drive the boat on the way back. He was thrilled! Nick was so great! Great experience!

Donna I. with Keith N. of Madeira Beach, Florida
Madeira Beach Fishing Calendar
| Species | January | February | March | April | May | June | July | August | September | October | November | December |
| --- | --- | --- | --- | --- | --- | --- | --- | --- | --- | --- | --- | --- |
| Alligator Gar | Ideal | Ideal | Great | Great | Good | Good | Good | Good | Great | Great | Ideal | Ideal |
| Amberjack | Ideal | Great | Great | Great | Great | Good | Good | Good | Great | Great | Ideal | Ideal |
| Barracuda | Fair | Fair | Good | Ideal | Ideal | Good | Good | Good | Ideal | Ideal | Fair | Fair |
| Black Grouper | Ideal | Great | Great | Great | Ideal | Ideal | Ideal | Great | Great | Great | Ideal | Ideal |
| Black Seabass | Great | Great | Great | Ideal | Ideal | Ideal | Ideal | Ideal | Great | Great | Great | Great |
| Blackfin Tuna | Fair | Fair | Good | Great | Great | Great | Great | Great | Great | Good | Good | Fair |
| Cobia | Fair | Fair | Good | Good | Great | Good | Good | Fair | Fair | Fair | Fair | Fair |
| Gag Grouper | Not Allowed | Not Allowed | Not Allowed | Not Allowed | Not Allowed | Good | Good | Good | Good | Great | Great | Ideal |
| Hogfish | Good | Great | Great | Good | Good | Great | Great | Great | Good | Good | Good | Good |
| Jack Crevalle | Good | Good | Great | Great | Ideal | Ideal | Ideal | Ideal | Ideal | Great | Great | Great |
| Kingfish | Fair | Fair | Good | Great | Ideal | Great | Good | Good | Great | Ideal | Great | Fair |
| Mahi Mahi | Fair | Fair | Fair | Fair | Good | Great | Ideal | Ideal | Great | Good | Fair | Fair |
| Mutton Snapper | Great | Great | Great | Great | Great | Ideal | Ideal | Ideal | Great | Great | Great | Great |
| Permit | Fair | Fair | Good | Great | Ideal | Ideal | Ideal | Ideal | Ideal | Great | Good | Fair |
| Red Grouper | Great | Good | Good | Great | Great | Ideal | Ideal | Ideal | Great | Great | Good | Good |
| Red Snapper | Not Allowed | Not Allowed | Not Allowed | Not Allowed | Not Allowed | Ideal | Ideal | Great | Not Allowed | Not Allowed | Not Allowed | Not Allowed |
| Redfish | Fair | Great | Ideal | Ideal | Ideal | Ideal | Ideal | Great | Great | Great | Fair | Fair |
| Sailfish | Fair | Fair | Fair | Good | Good | Great | Great | Good | Good | Good | Fair | Fair |
| Scamp Grouper | Ideal | Ideal | Great | Great | Good | Good | Good | Good | Great | Great | Ideal | Ideal |
| Scup | Great | Great | Great | Ideal | Ideal | Ideal | Ideal | Ideal | Ideal | Ideal | Great | Great |
| Snook | Good | Good | Good | Great | Ideal | Ideal | Ideal | Ideal | Ideal | Great | Ideal | Good |
| Spanish Mackerel | Fair | Fair | Good | Good | Great | Ideal | Great | Great | Ideal | Great | Good | Fair |
| Speckled Trout | Ideal | Ideal | Ideal | Great | Great | Good | Good | Good | Great | Great | Great | Ideal |
| Tarpon | Good | Good | Good | Great | Ideal | Ideal | Ideal | Great | Great | Great | Good | Good |
| Triggerfish | Not Allowed | Not Allowed | Not Allowed | Not Allowed | Not Allowed | Not Allowed | Not Allowed | Not Allowed | Great | Great | Not Allowed | Not Allowed |
| Tripletail | Ideal | Ideal | Ideal | Ideal | Ideal | Great | Fair | Fair | Fair | Fair | Fair | Great |
| Wahoo | Fair | Fair | Fair | Fair | Good | Good | Good | Good | Good | Fair | Fair | Fair |
| Yellowtail Snapper | Great | Great | Great | Great | Great | Ideal | Ideal | Ideal | Great | Great | Great | Great |
Other Fishing Charter Locations near Madeira Beach