4.94 / 5 Average Review Score
Team of Experts Available 24/7
Licensed and Insured Guides
Recently Booked Fishing Charters Near Chokoloskee, Fl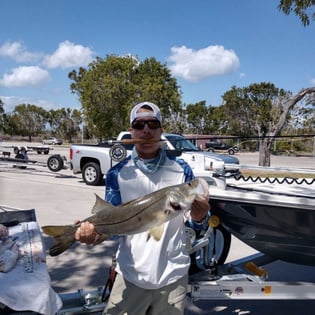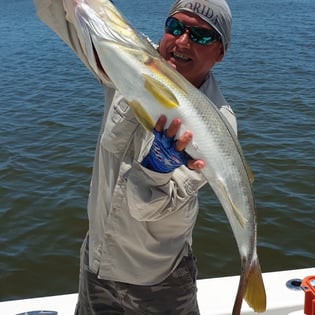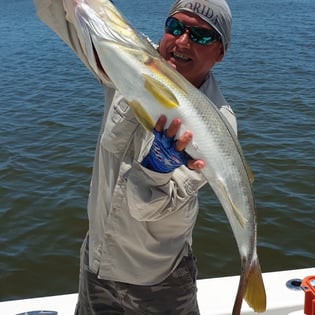 Head out with Captain Ariel (AKA: Captain DJ) to explore the maze of beautiful mangroves, backcountry flats, and shallow-water honey holes that make the Florida Everglades one of the top fishing destinations in the world! On these 4, 6, or 8 hour trips, there are plenty of fish to go after. Your trip with DJ could see you reeling in Redfish, Trout, Snook, Tarpon, Black Drum, Tripletail, and more. With such a variety of species, you will need a mix of quality equipment to get the most out of your day. That's exactly what you get, with the option to spin, jig, pop, drift fish, bottom fish – you can even bring your fly rod along if you want to! Captain DJ's 23' C-Hawk boat was born to dominate these shallow waters. Fresh off the line in 2021, the boat can carry four guests out in comfort and at speed. Captain DJ offers a variety of trip durations to fit any schedule or budget, with four, six, and eight-hour charters at starting times customizable to suit you and your group. Children of all ages are welcome on board, and life vests will be provided for them. All rods, reels, lures, and licenses are included, as is the cleaning and filleting of all your fish. Just bring your food, drinks, sunscreen, and shades. You'll find plenty of excitement already waiting onboard! Read More
Captain Brian runs charters for the love of the sport! Thus, he started his business to share his love and enthusiasm for saltwater fishing with you! With a fishy attitude and a birth of local knowledge, when you head out with Captain Brian you'll have an absolute blast out on the water around Naples and 10K Islands as you chase Snook, Redfish, Jacks, Grouper, and even Tarpon when they're around! Captain Brian runs half-day trips from Friday to Sunday. You can choose to start your trip early in the morning to catch the daybreak bite, head out for an afternoon trip if your looking to sleep in, or head out at dusk to catch the bite as the sun goes down! His 20' Pathfinder is the perfect vessel for maneuvering the beautiful mangroves to find untouched honey holes that hold tons of fish! Up to four people can fish with him, and he will try to get as many lines in the water as possible at each spot! Captain Brian provides all the gear you'll need for a successful day out on the water, from licenses to baiting your hooks! All you need to bring are your favorite snacks and drinks, and Captain Brian will show you a great time fishing Naples inshore waters! Read More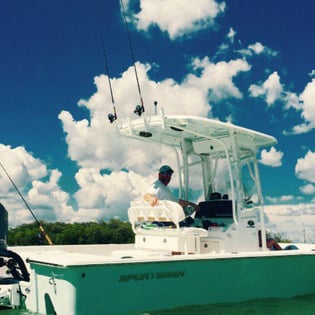 Get ready for an exhilarating fishing experience in one of the most beautiful locations in Florida: Marco Island. On board Captain Chris' 27' Sportsman Masters bay boat, you'll have the opportunity to fish for Redfish, Snook, and Speckled Trout in idyllic natural surroundings! Captain Chris is a seasoned professional who knows all the best spots to find the biggest catches. He'll be with you every step of the way, providing expert guidance and sharing his wealth of knowledge and experience. But it's not just about the fishing; Marco Island is surrounded by stunning scenery, from the lush mangrove forests to the sparkling blue waters. You might even get lucky and spot some dolphins or manatees along the way! Whether you're an experienced angler or a beginner, this fishing trip is perfect for you. With Captain Chris' guidance and the beautiful surroundings, you're sure to have an unforgettable experience on the water. Don't miss out on this opportunity to catch some of Florida's most prized fish and make memories that will last a lifetime. Book your trip today! Read More
Top Types of Trip in Chokoloskee
Top Targeted Species in Chokoloskee
Half Day and Full Day Fishing Trips in Chokoloskee
Everything to Know About Booking a Fishing Charter in Chokoloskee
What are the best fishing charters in Chokoloskee?
Our guides in Chokoloskee are rated a 4.88 out of 5 based on 9637 verified reviews on Captain Experiences.
All guides on Captain Experiences are licensed, insured, and vetted by our team. You can access their reviews, click through trip photos, read bios to get to know them, and preview trip details like species, techniques, group sizes, boat specs and more.
What types of fishing charters are common in Chokoloskee?
Deep Sea fishing is the most popular in Chokoloskee as well as inshore fishing, nearshore fishing, and flats fishing.
The most commonly sought after species in Chokoloskee are: 1. redfish, 2. snook, 3. mangrove snapper, and 4. speckled trout.
The most common fishing techniques in Chokoloskee are live bait fishing, light tackle fishing, and artificial lure fishing but drift fishing and bottom fishing are popular as well.
How much do Chokoloskee fishing charters cost?
in Chokoloskee prices can range anywhere from an affordable $450 to $3,000 and up, but the average price for a half day trip in Chokoloskee is $619. The average price for a full day trip in Chokoloskee is $2,060.
What month is best for fishing in Chokoloskee?
The most popular season for fishing in Chokoloskee is spring, and most anglers book their trips 13 days in advance.
Do I need a Chokoloskee fishing license and what are the bag limits in Chokoloskee?
If you're thinking about a saltwater trip, you're in luck! Our saltwater fishing tours in Chokoloskee don't require you to purchase a fishing license – your group is covered by your boat's captain. For freshwater trips, you'll still need to purchase a license. See here for more information on fishing licenses, bag limits, and fishing season regulations in Chokoloskee. When in doubt, your fishing guide will always know the right rules and regulations.
Popular Types of Fishing In Chokoloskee
Chokoloskee fishing charters offer a variety of options for anglers of all levels. The most common types of fishing charters in Chokoloskee are backcountry, offshore, and nearshore. Backcountry charters take you through the mangrove-lined waterways of the Everglades, where you can catch snook, redfish, and tarpon. Offshore charters take you out to the Gulf of Mexico, where you can catch grouper, snapper, and kingfish. Nearshore charters stay closer to shore and target species like snook, redfish, and trout.

Some of the most common fish to catch in Chokoloskee include tarpon, snook, redfish, trout, grouper, and snapper. Chokoloskee fishing charters often visit landmarks like the Ten Thousand Islands and the Everglades National Park, where you can experience the beauty of the area while reeling in your catch. Whether you're a seasoned angler or a beginner, there's a Chokoloskee fishing charter that's perfect for you.
The Best Places To Fish In Chokoloskee
Chokoloskee, Florida is a prime destination for fishing enthusiasts. With its abundant waterways and diverse fish species, there are plenty of great spots to cast a line. Here are some of the best places to fish in Chokoloskee:

1. Chokoloskee Bay - This shallow bay is home to a variety of fish, including redfish, snook, and tarpon. Fishing charters are available for those who want to explore the area.

2. Everglades National Park - The park's backcountry waters are teeming with fish, from largemouth bass to bonefish. Fishing charters can take you to some of the best spots.

3. Indian Key Pass - This narrow channel connects Chokoloskee Bay to the Gulf of Mexico and is a popular spot for catching snook and redfish. Fishing charters can guide you through the pass.

4. Lostmans River - This remote river is a great place to catch tarpon and snook. Fishing charters can take you deep into the wilderness to find the best spots.

5. Whitewater Bay - This vast bay is home to a variety of fish, including snook, redfish, and trout. Fishing charters can help you navigate the maze of channels and islands to find the best fishing spots.
Other Things To Do In Chokoloskee
While Chokoloskee fishing charters are a popular attraction, there are plenty of other things to do in this Florida city. Take a scenic airboat tour through the Everglades, explore the historic Smallwood Store Museum, or hike through the nearby Fakahatchee Strand Preserve State Park. For a more relaxing day, head to the Gulf Coast beaches of Marco Island or Naples, or indulge in some retail therapy at the Miromar Outlets. And don't forget to try some of the delicious seafood at local restaurants like Havana Cafe or Island Cafe.
Recent Reviews of Captain Experiences
★★★★★

Captain DJ was Awesome! We were catching fish on the first cast, and we caught fish throughout the morning. Great day on the water! I highly recommend booking with DJ. He was very good with the kids. Plenty of room for 4 or 5 to comfortably fish from his boat. I wouldn't hesitate to book with him again.

Benjamin W. with Ariel A. of Chokoloskee, Florida

★★★★★

Our trip was fantastic. Captain DJ knew all the spots and how to fish them. He knew when to move on and switch spots. He always replaced our baits before we even got a chance to ask him. He knew the sandbars and how to avoid them, keeping us safe. He would always deal with the fish we caught. I do not know how he could have made the trip better. He did an excellent job. We caught some great fish while having fun and staying safe!

Maan B. with Ariel A. of Chokoloskee, Florida
Chokoloskee Fishing Calendar
| Species | January | February | March | April | May | June | July | August | September | October | November | December |
| --- | --- | --- | --- | --- | --- | --- | --- | --- | --- | --- | --- | --- |
| Amberjack | Ideal | Ideal | Great | Good | Fair | Fair | Fair | Fair | Fair | Good | Great | Ideal |
| Barracuda | Great | Great | Ideal | Ideal | Ideal | Ideal | Ideal | Ideal | Ideal | Ideal | Great | Great |
| Black Drum | Ideal | Ideal | Ideal | Great | Good | Fair | Fair | Good | Great | Ideal | Ideal | Ideal |
| Black Grouper | Ideal | Ideal | Ideal | Great | Great | Great | Great | Great | Great | Great | Ideal | Ideal |
| Blacktip Shark | Fair | Fair | Good | Good | Great | Ideal | Ideal | Ideal | Ideal | Great | Good | Fair |
| Cobia | Fair | Fair | Great | Ideal | Great | Good | Fair | Good | Great | Ideal | Ideal | Great |
| Gag Grouper | Not Allowed | Not Allowed | Not Allowed | Great | Great | Great | Not Allowed | Not Allowed | Great | Great | Ideal | Ideal |
| Goliath Grouper | Great | Great | Great | Ideal | Ideal | Ideal | Ideal | Ideal | Ideal | Ideal | Great | Great |
| Jack Crevalle | Good | Great | Great | Ideal | Great | Ideal | Great | Great | Great | Ideal | Ideal | Great |
| Kingfish | Ideal | Ideal | Ideal | Ideal | Fair | Good | Fair | Good | Great | Ideal | Ideal | Ideal |
| Ladyfish | Ideal | Great | Good | Fair | Great | Fair | Fair | Fair | Fair | Good | Great | Ideal |
| Mangrove Snapper | Ideal | Ideal | Ideal | Great | Great | Ideal | Ideal | Great | Great | Good | Good | Great |
| Mutton Snapper | Fair | Fair | Fair | Good | Ideal | Ideal | Ideal | Ideal | Ideal | Great | Good | Fair |
| Permit | Fair | Fair | Fair | Good | Ideal | Ideal | Ideal | Great | Good | Good | Fair | Fair |
| Red Grouper | Great | Ideal | Ideal | Great | Great | Great | Ideal | Ideal | Great | Good | Good | Good |
| Redfish | Good | Good | Great | Ideal | Great | Ideal | Great | Great | Ideal | Ideal | Great | Great |
| Snook | Good | Good | Great | Great | Great | Ideal | Great | Great | Great | Great | Good | Good |
| Spanish Mackerel | Ideal | Ideal | Ideal | Great | Good | Good | Good | Good | Good | Good | Good | Great |
| Speckled Trout | Ideal | Ideal | Great | Good | Ideal | Good | Good | Good | Good | Great | Great | Ideal |
| Tarpon | Fair | Great | Great | Great | Ideal | Ideal | Great | Great | Good | Good | Fair | Fair |
| Tripletail | Fair | Great | Great | Ideal | Ideal | Ideal | Great | Great | Great | Great | Good | Fair |
| Yellowtail Snapper | Fair | Fair | Good | Great | Ideal | Ideal | Great | Great | Great | Great | Good | Fair |
Other Fishing Charter Locations near Chokoloskee
;