4.94 / 5 Average Review Score
Team of Experts Available 24/7
Licensed and Insured Guides
Recently Booked Fishing Charters Near New Orleans, La
Head out with Captain Brad for an epic day Exploring the lushes Louisiana marshland chasing down Redfish, Trout, Sheepshead, Black Drum and Flounder that call these abundant tidal waters home. Aboard Captain Brad's 24' Blazer Bay you can expect to use a variety of live baits and artificial bait to attack his favorite honey holes, or stalk his favorite shallow water estuaries to sight fish. Whether you choose a full or half-day adventure you can expect to target Redfish, Flounder, Black drum, and Trout as you explore the beautiful tidal marshes and backwater rivers. Longer trips give you exponentially better odds at catching both more and bigger fish, because you will have more time to explore different areas and find where the bite is hottest. Captain Brad will provide all you need for a great day of fishing the tidal bayous and bay area of the Southern Louisiana waterways including all the tackle, bait, coolers, ice, water, and safety equipment. Everything you could possibly need for a safe, enjoyable, and successful adventure. He will also clean and bag your catch for you at the end of the day. All he recommends you bring is your weather-appropriate clothing, sunscreen, non-marking shoes, snacks, personal beverages of choice. Read More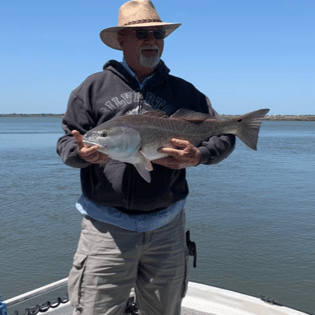 Come aboard for an unforgettable fishing adventure on the beautiful waters of Lake Pontchartrain! Join Captain Mack on his top-of-the-line 22' Triton bay boat as you set out to catch some of the most sought-after fish in the area, including Redfish, Speckled Trout, Sheepshead, and many other exciting species. Captain Mack is a seasoned fishing expert who knows the best spots to catch the big ones, and he's eager to share his knowledge and expertise with you. He'll provide all the gear and tackle you need, so you can focus on reeling in your catch and enjoying the breathtaking views of the lake. As you cruise along the serene waters of Lake Pontchartrain, you'll be surrounded by stunning natural scenery and wildlife. The lake is teeming with fish, so get ready for a thrilling day of angling! Whether you're a seasoned pro or a beginner, Captain Mack will make sure you have a great time and catch plenty of fish. With comfortable seating and state-of-the-art equipment, Captain Mack's boat is the perfect vessel for your fishing adventure. So grab your family, friends, or colleagues and join him for a day on the water that you'll never forget! Read More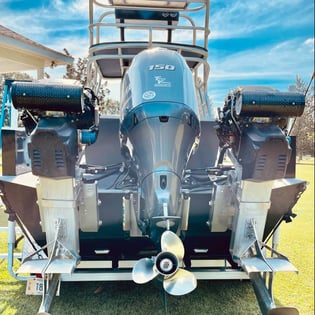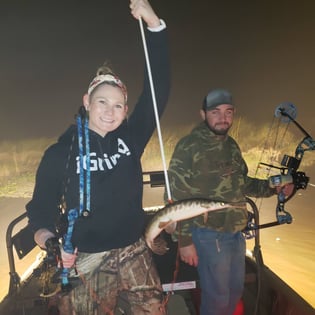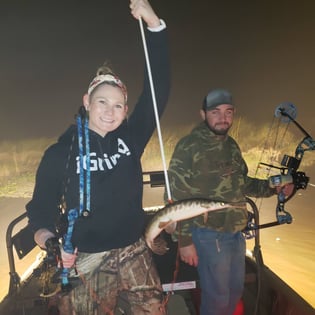 Captain Jarrod and Captain Tate with Fin Hunter Guide Services welcome everyone from children, adults, families and friends who are looking for an adventure to come and join them for a unique nighttime extravaganza just south of New Orleans proper! Both Captain's have been fishing these waters their whole lives and have a thorough understanding of the intricate waterways from Hopedale to Delacroix and everywhere in between. You will be traveling at night in Captain Jarrod's 22-foot custom bowfishing rig through the skinny marshy waters of Southeast Louisiana. You will have the opportunity to shoot redfish, black drum, sheepshead, alligator gar, and the occasional flounder while using a bow and arrow. Though their main focus is Bowfishing. Please dress accordingly and bring any refreshments and snacks you'd like to enjoy on your trip, and an ice chest to store them in. Otherwise, Captain Jarrod and his team will supply the rest of the equipment! Their goal is to make this the best hunting/fishing experience ever. If you are visiting New Orleans and want to experience the Sportsman's Paradise and the real Louisiana Nightlife, book your trip today to experience New Orleans Night Life like you never imagined! Read More
Top Types of Trip in New Orleans
Top Targeted Species in New Orleans
Half Day and Full Day Fishing Trips in New Orleans
Everything to Know About Booking a Fishing Charter in New Orleans
What are the best fishing charters in New Orleans?
Our guides in New Orleans are rated a 4.9 out of 5 based on 9688 verified reviews on Captain Experiences.
All guides on Captain Experiences are licensed, insured, and vetted by our team. You can access their reviews, click through trip photos, read bios to get to know them, and preview trip details like species, techniques, group sizes, boat specs and more.
What types of fishing charters are common in New Orleans?
Deep Sea fishing is the most popular in New Orleans as well as inshore fishing, flats fishing, and lake fishing.
The most commonly sought after species in New Orleans are: 1. redfish, 2. speckled trout, 3. black drum, and 4. flounder.
The most common fishing techniques in New Orleans are light tackle fishing, bottom fishing, and trolling but jigging and artificial lure fishing are popular as well.
How much do New Orleans fishing charters cost?
in New Orleans prices can range anywhere from an affordable $200 to $3,000 and up, but the average price for a half day trip in New Orleans is $700. The average price for a full day trip in New Orleans is $1,134.
What month is best for fishing in New Orleans?
The most popular season for fishing in New Orleans is fall, and most anglers book their trips 11 days in advance.
Do I need a New Orleans fishing license and what are the bag limits in New Orleans?
See here for more information on fishing licenses in New Orleans, bag limits for target species, and fishing season regulations in New Orleans. When in doubt, your fishing guide will always know the right rules and regulations in New Orleans.
New Orleans Fishing Overview
New Orleans is a prime destination for fishing enthusiasts seeking an unparalleled inshore fishing adventure. The city's bayous, marshes, and estuaries offer a diverse range of habitats for coveted Gulf fish species, including Redfish, Speckled Trout, Black Drum, Flounder, and Jack Crevalle. Additionally, New Orleans boasts some of the state's best Bass fishing lakes.

Thanks to its warm and humid climate, New Orleans fishing charters operate year-round, offering half-day and full-day trips to explore the area's world-famous inshore waters. Popular fishing locations include Lake Pontchartrain, Lake Borgne, and southern waterways such as the Breton Sound and Black Bay.

Before heading out on the water, anglers over the age of 16 must purchase a fishing license. Those planning to fish south of the ""saltwater line"" must obtain a Louisiana saltwater angler's license in addition to a basic Louisiana fishing license. Charter captains provide all necessary equipment for a successful day of fishing.
Lake Cataouatche Fishing
Being a freshwater lake this productive spot produces giant largemouth bass and blue catfish. The bass fishing in Lake Cataouatche is so good that the Bassmaster Classic was held here in 2011. Catfish are a classic in Lousiana and in Lake Cataouatche the blue catfish is king. Blue catfish are the largest catfish species and are known to grow over 100 pounds. Although their looks may not be appealing, catfish taste great and have become a staple of southern (and cajun) cuisine.
Lake Pontchartrain Fishing
Heading north of the city, Lake Pontchartrain is a brackish estuary connected to the Gulf. Not only home to the longest bridge in the united states (the causeway runs from New Orleans north across the lake), fishing Lake Pontchartrain you'll find the classic inshore options: redfish, trout, and flounder. You might also know that Pontchartrain is home to some massive sheepshead. The world record sheepshead was caught here weighing over 21 lbs.
Delacroix Fishing
You can also get these classic "big three" inshore fish if you follow the coast and marshes south of New Orleans or over by Shell Beach and Delacroix. Although Delacroix is difficult to navigate, the shallow marshes are home to quality redfish and speckled trout fishing as well as a great place to land flounder. Fly fishing has become popular here for those anglers looking for a challenge. The intricate maze of marshland surrounding Delacroix Island creates ideal places for giants to lurk and our damn good guides have the experience to put you on the fish.
Offshore Fishing New Orleans
If you're looking for offshore action, your best bet is to head down to Venice, LA, which is known for having short travel times to high-quality fishing. If you want to catch Yellowfin tuna in the Gulf of Mexico, this is where you should head hands down.

View All New Orleans Deep Sea Fishing Charters
Popular Types of Fishing In New Orleans
New Orleans fishing charters offer a variety of options for anglers of all levels. The most common types of fishing charters in New Orleans are inshore, offshore, and fly fishing. Inshore fishing charters are perfect for those who want to catch redfish, speckled trout, and flounder. Offshore fishing charters are ideal for those who want to catch tuna, marlin, and wahoo. Fly fishing charters are perfect for those who want to catch redfish and speckled trout using a fly rod.

Some of the most common landmarks that New Orleans fishing charters visit include the Mississippi River Delta, Lake Pontchartrain, and the Gulf of Mexico.

If you're looking to catch redfish, speckled trout, and flounder, inshore fishing charters are your best bet. For those who want to catch tuna, marlin, and wahoo, offshore fishing charters are the way to go. And if you're looking for a unique experience, fly fishing charters are perfect for catching redfish and speckled trout using a fly rod. Whatever your preference, New Orleans fishing charters have got you covered.
Other Things To Do In New Orleans
While New Orleans fishing charters are a popular attraction, there is so much more to do in this vibrant city. Take a stroll through the historic French Quarter, visit the iconic St. Louis Cathedral, or explore the unique architecture of the Garden District. For a taste of the city's famous cuisine, head to the bustling French Market or indulge in a beignet at Cafe Du Monde. Music lovers can catch a live jazz performance at Preservation Hall or the legendary Tipitina's. And of course, no trip to New Orleans is complete without experiencing the excitement of Mardi Gras, with parades, parties, and colorful costumes filling the streets.
Recent Reviews of Captain Experiences
★★★★★

Brad was great! The fishing was amazing. It was easy and convenient to set up the trip. My husband and son had a fantastic time. It was definitely the highlight of our trip!

Sarah E. with Brad D. of New Orleans, Louisiana
New Orleans Fishing Calendar
| Species | January | February | March | April | May | June | July | August | September | October | November | December |
| --- | --- | --- | --- | --- | --- | --- | --- | --- | --- | --- | --- | --- |
| Black Drum | Ideal | Ideal | Ideal | Ideal | Ideal | Ideal | Ideal | Ideal | Ideal | Ideal | Ideal | Ideal |
| Flounder | Great | Great | Ideal | Ideal | Ideal | Ideal | Ideal | Ideal | Ideal | Ideal | Ideal | Great |
| Jack Crevalle | Fair | Fair | Fair | Fair | Good | Great | Ideal | Ideal | Great | Good | Fair | Fair |
| Largemouth Bass | Great | Great | Ideal | Ideal | Great | Great | Great | Great | Great | Ideal | Ideal | Great |
| Redfish | Ideal | Ideal | Ideal | Ideal | Ideal | Ideal | Ideal | Ideal | Ideal | Ideal | Ideal | Ideal |
| Sheepshead | Ideal | Ideal | Ideal | Ideal | Ideal | Ideal | Ideal | Ideal | Ideal | Ideal | Ideal | Ideal |
| Speckled Trout | Great | Great | Great | Ideal | Ideal | Ideal | Ideal | Ideal | Ideal | Ideal | Ideal | Great |
| Tripletail | Fair | Fair | Fair | Fair | Fair | Great | Ideal | Ideal | Ideal | Great | Fair | Fair |
Other Fishing Charter Locations near New Orleans
Top Targeted Fishing Species in New Orleans
Top Fishing Techniques in New Orleans
;