4.94 / 5 Average Review Score
Team of Experts Available 24/7
Licensed and Insured Guides
Recently Booked Fishing Charters Near Marathon, Fl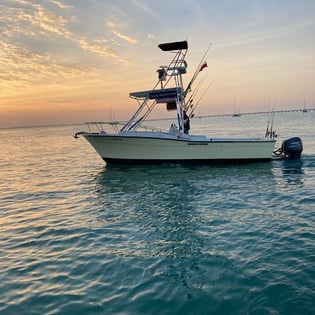 Get ready for an adventure of a lifetime with Captain Jake, on board his 29' Topaz sportfishing vessel! Imagine yourself casting your line into crystal clear waters, teeming with an abundance of game fish, including Black Grouper, Mahi Mahi, Mutton Snapper, Kingfish, and more! The sun will be shining, the breeze will be blowing, and you'll be surrounded by breathtaking views, all courtesy of the Florida Keys. Captain Jake is a seasoned pro who knows the best spots to find the fish, and he'll work tirelessly to ensure you have the perfect trip. He'll provide all the gear you need, including top-of-the-line rods, reels, and bait. You'll be fishing in comfort and style on his well-maintained Topaz. She's equipped with all the latest technology, including GPS, fish finders, and radar, to enhance your trip and help you bag some trophies! As you make your way to the fishing grounds, you'll watch the sun come up over the beautiful waters of the Florida Keys. Once you reach your destination, Captain Jake will give you a quick lesson on how to catch the fish of your dreams. You'll feel the adrenaline rush as you hook that big catch, fight it to the rail, and bring it onto the deck for some photos. Then, toss that fish on ice for a delicious dinner after the trip! Whether you're an experienced angler or a first-time fisherman, a trip with Captain Jake is guaranteed to be an unforgettable experience. Book your trip today and get ready to make memories that will last a lifetime! Read More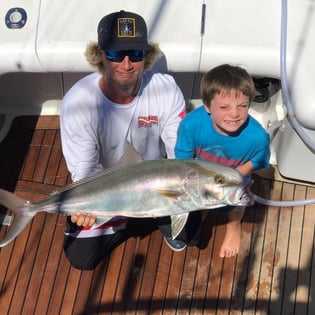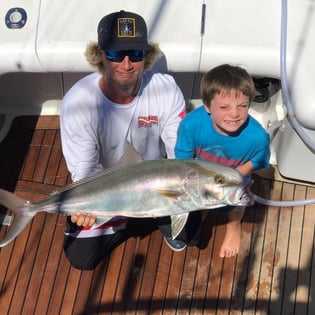 Come and explore a range of exciting fishing with Captain Brad. Based out of Marathon, FL you'll have access to several kinds of fishing. Flats, reefs, and wrecks in the close offshore waters are just on your doorstep. The fishing is hot year-round, and Captain Brad carried with him a lifetime's experience on the waters. On these shorter trips will see you head to the nearshore reefs and wrecks to reel yellowtail, mangrove, and mutton snapper, along with grouper, mackerel, and barracuda. With its beautiful coral reefs, Marathon is directly in the middle of 170 mile long natural reef. You can also motor a little further offshore to troll for some delicious species like Spanish and King Mackerel and maybe even a Blackfin Tuna! Note: for these shorter trips it's usually either-or. Whatever you choose, head out to sea aboard a 40' D&A Custom sportisher. A versatile vessel, she's suited to all kinds of fishing. While 4 people can fish at once, there's plenty of space for 2 more to relax and enjoy the tropical scenery. Bring your own drinks and snacks to put in the captain's cooler – just also bring an ice box for your catch. Powered by twin 480 HP Cummins engines, and with the onboard fishfinder and GPS, you'll hit the sweet spots right away. The Florida Keys are a beautiful location to catch some of the finest fish in the world, so get out there with Captain Brad for the trip of a lifetime! Read More
Join Captain Joel on his 30' Boca Grande sportfisher for an exciting offshore fishing charter out of Marathon, FL! n this epic trip, you'll be targeting some of the most prized gamefish in the area, including Blackfin Tuna, Mahi Mahi, and Wahoo! As you board the boat, you'll be greeted by Captain Joel and his experienced crew, who will provide you with a safety briefing and a rundown of the day's itinerary. Once everyone is ready, you'll set off from the dock and head out into the crystal-clear waters of the Florida Keys. As you make your way out to the fishing grounds, Captain Joel will share his knowledge of the area and give you some tips and techniques to maximize your chances of landing a big catch. You'll be fishing with top-of-the-line equipment, including high-quality reels and rods, and all bait and tackle will be provided. Once you arrive at the fishing grounds, the excitement will begin! Blackfin Tuna, Mahi Mahi, and Wahoo are all known for their fast and furious fighting style, and you'll need to be quick and agile to reel them in. With Captain Joel's expert guidance, you'll have the best chance of landing the catch of a lifetime. Throughout the day, you'll have the opportunity to relax and enjoy the beautiful scenery of the Florida Keys, soak up some sun, and spend some quality time with your fishing buddies! And, of course, you'll have plenty of opportunities to snap some photos of your impressive catches to share with your friends and family. At the end of the charter, Captain Joel and his crew will clean and fillet your fish, so you can take your catch home and enjoy it for dinner. Whether you're a seasoned angler or a first-time fisherman, this offshore fishing charter with Captain Joel is sure to be an unforgettable experience. Read More
Top Types of Trip in Marathon
Top Targeted Species in Marathon
Half Day and Full Day Fishing Trips in Marathon
Everything to Know About Booking a Fishing Charter in Marathon
What are the best fishing charters in Marathon?
Our guides in Marathon are rated a 4.87 out of 5 based on 9688 verified reviews on Captain Experiences.
All guides on Captain Experiences are licensed, insured, and vetted by our team. You can access their reviews, click through trip photos, read bios to get to know them, and preview trip details like species, techniques, group sizes, boat specs and more.
What types of fishing charters are common in Marathon?
Deep Sea fishing is the most popular in Marathon as well as inshore fishing, nearshore fishing, and flats fishing.
The most commonly sought after species in Marathon are: 1. tarpon, 2. mangrove snapper, 3. mahi mahi, and 4. yellowtail snapper.
The most common fishing techniques in Marathon are live bait fishing, light tackle fishing, and bottom fishing but artificial lure fishing and heavy tackle fishing are popular as well.
How much do Marathon fishing charters cost?
in Marathon prices can range anywhere from an affordable $375 to $3,000 and up, but the average price for a half day trip in Marathon is $783. The average price for a full day trip in Marathon is $1,196.
What month is best for fishing in Marathon?
The most popular season for fishing in Marathon is summer, and most anglers book their trips 31 days in advance.
Do I need a Marathon fishing license and what are the bag limits in Marathon?
You're in luck! Our fishing tours in Marathon don't require you to purchase a fishing license – your group is covered by your boat's captain. See here for more information on bag limits and fishing season regulations in Marathon.
Fishing In Marathon, FL
Marathon, Florida is a prime destination for fishing enthusiasts, boasting a vast network of reef systems and access to both the Gulf and Atlantic waters. With a plethora of species available, anglers can choose from a variety of fishing charters to suit their preferences. The shallow waters surrounding the 13 islands of Marathon are home to Tarpon, Snook, Redfish, and various Shark species, while the nearshore reefs and wrecks offer Mackerel, Barracuda, Snapper, and Grouper. For those seeking a more challenging experience, offshore waters provide opportunities to catch Marlin, Tuna, Wahoo, and Mahi Mahi.

Fishing charters in Marathon are readily available, with options for half-day, full-day, and extended full-day trips. Anglers need not worry about licenses or regulations, as the captain will provide all necessary permits and ensure compliance with fishing regulations. With fishing charters lining the islands, anglers can easily choose a charter that suits their needs and explore the waters of Marathon.
Marathon Deep Sea Fishing
In addition to being an inshore powerhouse, Marathon's location on the Keys island chain puts it in prime spot for some serious offshore and deep sea fishing tours. Just like the inshore fishing, something is biting in the deeper waters around the islands year round.

For the angler who prefers reef and wreck fishing, there are plenty of artificial reefs, sunken ships, and other shallow water structure that support a biodiverse tropical fish community. These trips are perfect for half day family trips, as you are pretty much guaranteed to catch something - the only question is what and how big! Year round the reefs are teeming with life, from Kingfish and Spanish Mackerel to Grouper and Snapper variants.

Further offshore, the bite never stops as well. In the winter months, deep sea trips for Sailfish are productive. Come springtime, the Marlin and Swordfish begin to show up in the bluewater depths. Throughout the summer and fall, Mahi-Mahi, Wahoo, Yellowfin, and Blackfin tuna can all be caught on deep sea charters.

View All Marathon Deep Sea Fishing Charters
Popular Types of Fishing In Marathon, Florida
Marathon fishing charters offer a variety of options for anglers of all levels. The most common types of fishing charters in Marathon include offshore, reef, and backcountry fishing.

Offshore fishing charters take you out to the deep waters of the Gulf of Mexico or the Atlantic Ocean in search of big game fish like marlin, sailfish, and tuna. Reef fishing charters stay closer to shore and target species like snapper, grouper, and amberjack.

Backcountry fishing charters explore the shallow waters of the Florida Bay and the Everglades, where you can catch tarpon, bonefish, and permit.

Some popular landmarks that Marathon fishing charters visit include the Seven Mile Bridge and the Marathon Humps.

The types of fish you can expect to catch on a Marathon fishing charter depend on the type of fishing you choose. Offshore fishing charters typically target pelagic species like mahi-mahi, wahoo, and kingfish. Reef fishing charters focus on bottom-dwelling species like snapper, grouper, and hogfish. Backcountry fishing charters offer the chance to catch game fish like tarpon, bonefish, and permit.
The Best Places To Fish In Marathon, Florida
Marathon, Florida is a prime destination for fishing enthusiasts. With its crystal-clear waters and diverse marine life, there are plenty of great spots to cast a line. Here are some of the best places to fish in Marathon, Florida:

1. Seven Mile Bridge - This iconic bridge offers some of the best fishing in the area, with plenty of tarpon, snapper, and grouper to be caught.

2. Sombrero Reef - A popular spot for fishing charters, Sombrero Reef is home to a variety of fish species, including yellowtail snapper, grouper, and kingfish.

3. Boot Key Harbor - This sheltered harbor is a great place to fish for snook, redfish, and tarpon, especially during the cooler months.

4. Curry Hammock State Park - This beautiful park offers both shore and boat fishing opportunities, with plenty of bonefish, permit, and tarpon to be caught.

5. Gulf of Mexico - Just a short boat ride from Marathon, the Gulf of Mexico is home to a variety of fish species, including snapper, grouper, and cobia.

Whether you're a seasoned angler or a beginner, Marathon, Florida has plenty of great fishing spots to explore. Book a fishing charter to experience the best of what the area has to offer.
Other Things To Do In Marathon, Florida
While Marathon fishing charters are a popular attraction, there are plenty of other things to do in this Florida city. Take a dip in the crystal-clear waters of Sombrero Beach or explore the natural beauty of Curry Hammock State Park. For a unique experience, visit the Turtle Hospital and learn about their conservation efforts. If you're feeling adventurous, take a helicopter tour of the area or go parasailing. And don't forget to indulge in some fresh seafood at one of the many local restaurants. Marathon offers something for everyone, whether you're a nature lover or thrill-seeker.
Recent Reviews of Captain Experiences
Marathon Fishing Calendar
| Species | January | February | March | April | May | June | July | August | September | October | November | December |
| --- | --- | --- | --- | --- | --- | --- | --- | --- | --- | --- | --- | --- |
| Amberjack | Good | Good | Ideal | Ideal | Ideal | Great | Good | Good | Great | Great | Great | Good |
| Barracuda | Great | Ideal | Ideal | Ideal | Ideal | Ideal | Ideal | Great | Great | Great | Great | Great |
| Black Grouper | Ideal | Ideal | Ideal | Great | Great | Great | Great | Good | Good | Great | Great | Ideal |
| Blackfin Tuna | Fair | Great | Ideal | Ideal | Ideal | Great | Great | Fair | Fair | Ideal | Ideal | Good |
| Blue Marlin | Good | Good | Ideal | Great | Good | Great | Ideal | Great | Good | Ideal | Great | Good |
| Bluefish | Ideal | Ideal | Great | Good | Fair | Fair | Fair | Fair | Fair | Fair | Fair | Good |
| Bonefish | Good | Good | Good | Great | Ideal | Ideal | Ideal | Great | Great | Ideal | Great | Good |
| Bonito | Great | Great | Great | Great | Great | Good | Good | Good | Good | Great | Great | Great |
| Cobia | Great | Ideal | Ideal | Ideal | Great | Good | Fair | Fair | Fair | Fair | Good | Good |
| Florida Pompano | Ideal | Ideal | Good | Fair | Fair | Fair | Fair | Fair | Fair | Fair | Fair | Ideal |
| Hogfish | Great | Great | Great | Great | Great | Great | Great | Great | Great | Great | Great | Great |
| Jack Crevalle | Ideal | Ideal | Ideal | Great | Great | Great | Great | Great | Great | Ideal | Ideal | Ideal |
| Kingfish | Ideal | Ideal | Ideal | Great | Great | Great | Good | Good | Good | Great | Great | Ideal |
| Ladyfish | Ideal | Ideal | Ideal | Great | Good | Fair | Fair | Fair | Fair | Fair | Fair | Good |
| Mahi Mahi | Good | Good | Great | Ideal | Ideal | Ideal | Great | Good | Good | Great | Good | Good |
| Mangrove Snapper | Ideal | Great | Great | Great | Ideal | Ideal | Ideal | Great | Great | Great | Great | Great |
| Mutton Snapper | Great | Great | Great | Ideal | Ideal | Ideal | Ideal | Great | Great | Ideal | Ideal | Great |
| Permit | Good | Great | Ideal | Ideal | Ideal | Ideal | Ideal | Great | Great | Great | Great | Good |
| Red Grouper | Ideal | Ideal | Ideal | Great | Great | Great | Good | Good | Great | Ideal | Ideal | Ideal |
| Redfish | Ideal | Ideal | Ideal | Ideal | Great | Great | Great | Great | Ideal | Ideal | Ideal | Fair |
| Sailfish | Great | Ideal | Ideal | Ideal | Great | Great | Great | Great | Fair | Fair | Fair | Ideal |
| Skipjack Tuna | Good | Good | Fair | Fair | Great | Great | Great | Great | Good | Fair | Fair | Good |
| Snook | Ideal | Ideal | Ideal | Great | Good | Good | Good | Good | Good | Good | Good | Great |
| Spanish Mackerel | Ideal | Ideal | Great | Great | Good | Fair | Fair | Fair | Fair | Good | Great | Ideal |
| Speckled Trout | Ideal | Ideal | Ideal | Great | Good | Good | Good | Good | Good | Great | Ideal | Good |
| Swordfish | Good | Good | Good | Good | Great | Great | Ideal | Ideal | Ideal | Ideal | Great | Good |
| Tarpon | Good | Great | Ideal | Ideal | Ideal | Ideal | Great | Great | Great | Good | Good | Great |
| Tripletail | Good | Good | Good | Great | Great | Great | Great | Great | Great | Ideal | Ideal | Great |
| Wahoo | Great | Great | Good | Good | Good | Great | Ideal | Great | Good | Great | Great | Ideal |
| Yellowfin Tuna | Fair | Fair | Fair | Fair | Fair | Fair | Fair | Fair | Fair | Fair | Fair | Good |
| Yellowtail Snapper | Great | Great | Great | Ideal | Ideal | Ideal | Ideal | Ideal | Ideal | Ideal | Great | Great |
Other Fishing Charter Locations near Marathon