4.94 / 5 Average Review Score
Team of Experts Available 24/7
Licensed and Insured Guides
Recently Booked Fishing Charters Near Naples, Fl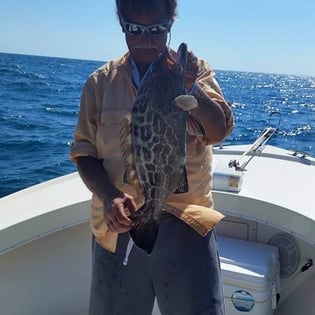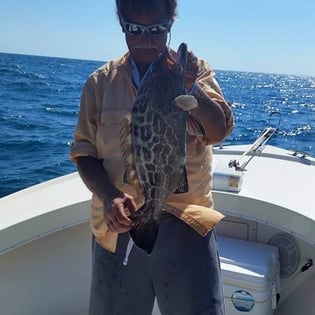 Captain Phil welcomes you aboard his brand new 24 Avenger with a tower on it for Tarpon fishing and Permit fishing on the nearshore wrecks! Captain Phil has been serving clients in the Naples area since 1996. He offers nearshore fishing adventures for the entire family and for serious anglers. These Nearshore fishing excursions can be day or night trips, fishing the Gulf of Mexico for grouper, snapper, cobia, permit, kingfish, barracuda, and giant Jewfish on the wrecks. Captain Phil will provide all the fishing gear (rods, reels, tackle, bait), fishing licenses, water, ice. Anything else you'd like to eat or drink you should bring along with you. Though there is usually ample room in our onboard coolers, you may bring a small cooler for your provisions if you'd prefer. Clothing is seasonal, but it's sunny down in South Florida and most often quite warm. Layering is recommended, especially utilizing anti-UV protective clothing. Captain Phil suggest sunblock, polarized sunglasses, and a hat. Shoes should be made for wet surfaces. Plan on memorable moments, so bring your favorite camera. No handheld GPS devices are allowed on board, thank you! Read More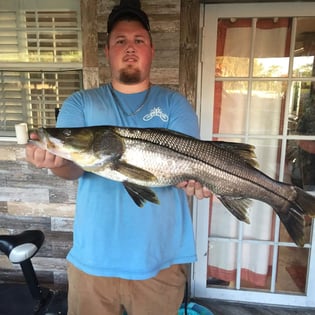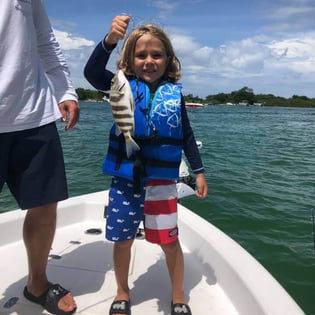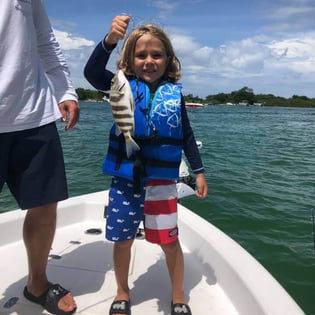 Climb aboard with Captain Brandon and experience an action-packed day of bay fishing around Naples and 10k Islands! Captain Brandon has been fishing these waters since he could talk and knows how the fish think in this area. You can expect to target Redfish, and Speckled Trout, Snook, Tarpon, and Black Drum. Occasionally Captain Brandon will target Goliath Grouper as well if you're looking to test your strength against the biggest fish you can find inshore! Captain Brandon likes to use live bait, cut bait, and, on some occasions, lures to attract the best and biggest fish. For these trips, Captain Brandon uses his 26' Sea Chaser center console that provides a wide, spacious, and stable deck that will serve as your fishing platform. The vessel can accommodate up to 6 anglers and have them fishing at the same time. Captain Brandon will provide everything you need for a productive day on the water. He will have an icebox for your day's catch as well as rods, reels, bait, and tackle and will cover your fishing licenses and fish cleaning! All you need to bring are your favorite snacks and drinks and get ready to fight some fish. Come on down and make some memories with Captain Brandon! Read More
Captain Brian runs charters for the love of the sport! Thus, he started his business to share his love and enthusiasm for saltwater fishing with you! With a fishy attitude and a birth of local knowledge, when you head out with Captain Brian you'll have an absolute blast out on the water around Naples and 10K Islands as you chase Snook, Redfish, Jacks, Grouper, and even Tarpon when they're around! Captain Brian runs half-day trips from Friday to Sunday. You can choose to start your trip early in the morning to catch the daybreak bite, head out for an afternoon trip if your looking to sleep in, or head out at dusk to catch the bite as the sun goes down! His 20' Pathfinder is the perfect vessel for maneuvering the beautiful mangroves to find untouched honey holes that hold tons of fish! Up to four people can fish with him, and he will try to get as many lines in the water as possible at each spot! Captain Brian provides all the gear you'll need for a successful day out on the water, from licenses to baiting your hooks! All you need to bring are your favorite snacks and drinks, and Captain Brian will show you a great time fishing Naples inshore waters! Read More
Top Types of Trip in Naples
Top Targeted Species in Naples
Half Day and Full Day Fishing Trips in Naples
Everything to Know About Booking a Fishing Charter in Naples
What are the best fishing charters in Naples?
Our guides in Naples are rated a 4.97 out of 5 based on 9688 verified reviews on Captain Experiences.
All guides on Captain Experiences are licensed, insured, and vetted by our team. You can access their reviews, click through trip photos, read bios to get to know them, and preview trip details like species, techniques, group sizes, boat specs and more.
What types of fishing charters are common in Naples?
Deep Sea fishing is the most popular in Naples as well as inshore fishing, flats fishing, and nearshore fishing.
The most commonly sought after species in Naples are: 1. redfish, 2. snook, 3. speckled trout, and 4. tarpon.
The most common fishing techniques in Naples are light tackle fishing, live bait fishing, and bottom fishing but artificial lure fishing and heavy tackle fishing are popular as well.
How much do Naples fishing charters cost?
in Naples prices can range anywhere from an affordable $250 to $3,000 and up, but the average price for a half day trip in Naples is $587. The average price for a full day trip in Naples is $1,360.
What month is best for fishing in Naples?
The most popular season for fishing in Naples is spring, and most anglers book their trips 11 days in advance.
Do I need a Naples fishing license and what are the bag limits in Naples?
If you're thinking about a saltwater trip, you're in luck! Our saltwater fishing tours in Naples don't require you to purchase a fishing license – your group is covered by your boat's captain. For freshwater trips, you'll still need to purchase a license. See here for more information on fishing licenses, bag limits, and fishing season regulations in Naples. When in doubt, your fishing guide will always know the right rules and regulations.
Naples Freshwater Fishing
Naples, Florida is a year-round fishery that offers a diverse range of fishing opportunities. The area is characterized by mangroves, shallow flats, inland canals, productive reefs, and wrecks, providing a variety of habitats for fish species. Backcountry charters are ideal for family adventures, targeting Snook, Redfish, Seatrout, Black Drum, Sheepshead, Sharks, and Flounder. Specialized fly fishing Tarpon trips are also available for those seeking a challenge. Full day trips offer access to deeper waters, where Snapper, Grouper, Cobia, Amberjack, King Mackerel, and Permit can be found. Extended deep sea charters provide opportunities to catch big game fish like Mahi Mahi, Tuna, and various big bottom dwellers.

Fishing charters in Naples provide fishing licenses and ensure compliance with Florida's strict fishing regulations. It is recommended to book with a reputable captain to ensure a safe and legal fishing experience. Naples Bay and Marco Island offer a variety of fishing charters to choose from.
Naples Inshore Fishing
Naples is surrounded by mangroves, flats, sandbars, jetties, and piers that harbor an abundance of inshore fish species. These are the perfect spots to target speckled trout, redfish, drum, ladyfish, pompano, snook, tarpon, and sheepshead. Many of these fish have a cult following or are on angler's bucket lists. If either is true for you then Naples is the perfect place for your next trip.

Head to the backwaters and experience some of the best snook, redfish, and seatrout fishing in the state. Although pompano is less of a glamorous fish than tarpon and snook, they provide some of the most exciting fishing you can have on light tackle. This hard-charging fish is a member of the jack family and is exceptionally good to eat. If you love to throw flies, Naples is a great place to test your skills and target inshore fish that will give you a run for your money.

In the summer, there is nothing better on the paradise coast of Florida than tarpon fishing. This is what everyone is after and Naples is one of the best places to catch one. You'll have a good chance to catch a tarpon over 100 pounds but if the tarpon won't bite, the snook will. Snook are a fantastic south Florida fish and this area has a ton of them in the mangroves. Both of these powerful fish can grow to giant proportions and are sought-after trophy fish.
Naples Nearshore Fishing
Naples, Florida is a beautiful city surrounded by mangroves and shallow flats for inshore anglers to explore, but while offshore, there are ample wrecks and reefs to troll or deep drop. This means the action is hot no matter what kind of angling you are after.

Further from shore, various species of grouper and snapper congregate near deep structures, and you can try your luck by dropping baited lines down to their feeding grounds. If you want something more fast-paced, head out and troll near reefs for Spanish mackerel, kingfish, and cobia. These fish explode on lures, fight hard, and grow into giants, all things that make the nearshore fishing in Naples second to none.
Popular Types of Fishing In Naples
Naples fishing charters offer a variety of options for anglers of all levels. The most common types of fishing charters in Naples include inshore, offshore, and backwater fishing. Inshore fishing charters are perfect for those who want to stay close to shore and catch species such as snook, redfish, and trout. Offshore fishing charters take anglers further out to sea to catch larger species such as grouper, snapper, and kingfish. Backwater fishing charters are ideal for those who want to explore the mangrove-lined estuaries and catch species such as tarpon, snook, and redfish.

Some of the most common fish to catch in Naples include snook, redfish, trout, tarpon, grouper, snapper, and kingfish. Depending on the type of fishing charter you choose, you may also have the opportunity to catch other species such as cobia, permit, and shark.

Naples fishing charters often visit landmarks such as the Naples Pier and the Ten Thousand Islands. These areas are known for their abundant fish populations and beautiful scenery. Whether you're a seasoned angler or a beginner, there's a Naples fishing charter that's perfect for you.
The Best Places To Fish In Naples
Naples, Florida is a prime destination for fishing enthusiasts. With its abundance of waterways and diverse marine life, there are plenty of great spots to cast a line. Whether you're looking for a peaceful day of fishing or an exciting fishing charter adventure, here are some of the best places to fish in Naples:

1. Naples Pier - A popular spot for both locals and tourists, Naples Pier offers great fishing opportunities for a variety of species, including snook, tarpon, and Spanish mackerel.

2. Gordon Pass - Located at the southern end of Naples Bay, Gordon Pass is a prime spot for catching snook, redfish, and trout. Fishing charters are available for those looking for a guided experience.

3. Ten Thousand Islands - This vast network of mangrove islands and shallow flats is home to a wide range of fish species, including snook, redfish, and tarpon. Fishing charters are highly recommended for navigating the area's complex waterways.

4. Rookery Bay Reserve - This protected estuary is a great place to fish for snook, redfish, and spotted seatrout. Guided fishing charters are available for those looking to explore the area's diverse ecosystem.

5. Marco Island - Just south of Naples, Marco Island offers excellent fishing opportunities for a variety of species, including snook, redfish, and tarpon. Fishing charters are available for those looking to explore the area's many waterways.
Other Things To Do In Naples
While Naples fishing charters are a popular attraction, there are plenty of other things to do in this vibrant Florida city. Take a stroll through the Naples Botanical Garden, explore the Naples Zoo at Caribbean Gardens, or visit the Naples Pier for stunning views of the Gulf of Mexico. For a taste of culture, check out the Baker Museum or the Naples Players at the Sugden Community Theatre. And of course, no trip to Naples is complete without a visit to the luxurious shops and restaurants on Fifth Avenue South.
Recent Reviews of Captain Experiences
Naples Fishing Calendar
| Species | January | February | March | April | May | June | July | August | September | October | November | December |
| --- | --- | --- | --- | --- | --- | --- | --- | --- | --- | --- | --- | --- |
| Amberjack | Ideal | Ideal | Great | Good | Fair | Fair | Fair | Fair | Fair | Good | Not Allowed | Not Allowed |
| Barracuda | Great | Great | Ideal | Ideal | Ideal | Ideal | Ideal | Ideal | Ideal | Ideal | Great | Great |
| Black Drum | Ideal | Ideal | Ideal | Great | Good | Fair | Fair | Good | Great | Ideal | Ideal | Ideal |
| Black Grouper | Great | Great | Great | Great | Great | Good | Good | Good | Great | Great | Ideal | Ideal |
| Blacktip Shark | Good | Good | Good | Great | Ideal | Ideal | Ideal | Ideal | Great | Good | Good | Good |
| Bull Shark | Good | Good | Good | Great | Ideal | Ideal | Ideal | Ideal | Great | Good | Good | Good |
| Cobia | Fair | Fair | Great | Ideal | Great | Good | Good | Great | Ideal | Ideal | Great | Fair |
| Florida Pompano | Ideal | Ideal | Ideal | Ideal | Ideal | Ideal | Great | Good | Good | Great | Ideal | Ideal |
| Flounder | Great | Great | Good | Good | Fair | Fair | Fair | Fair | Good | Good | Great | Great |
| Gag Grouper | Not Allowed | Not Allowed | Not Allowed | Good | Good | Good | Good | Good | Great | Great | Ideal | Ideal |
| Goliath Grouper | Great | Great | Great | Ideal | Ideal | Ideal | Ideal | Ideal | Ideal | Ideal | Great | Great |
| Hammerhead Shark | Good | Good | Good | Great | Ideal | Ideal | Ideal | Ideal | Great | Good | Good | Good |
| Hogfish | Good | Great | Great | Good | Good | Great | Great | Great | Good | Good | Good | Good |
| Jack Crevalle | Great | Great | Great | Ideal | Ideal | Ideal | Ideal | Ideal | Ideal | Ideal | Ideal | Great |
| Kingfish | Ideal | Ideal | Ideal | Great | Good | Fair | Fair | Fair | Great | Ideal | Ideal | Ideal |
| Ladyfish | Ideal | Ideal | Ideal | Ideal | Ideal | Ideal | Ideal | Ideal | Ideal | Great | Ideal | Ideal |
| Lane Snapper | Ideal | Ideal | Ideal | Ideal | Great | Good | Good | Great | Ideal | Ideal | Ideal | Ideal |
| Mangrove Snapper | Great | Great | Great | Ideal | Ideal | Ideal | Ideal | Ideal | Ideal | Ideal | Ideal | Great |
| Mutton Snapper | Fair | Fair | Fair | Good | Fair | Ideal | Ideal | Ideal | Ideal | Great | Fair | Fair |
| Peacock Bass | Good | Good | Good | Great | Ideal | Ideal | Ideal | Ideal | Great | Great | Good | Good |
| Permit | Fair | Fair | Good | Great | Ideal | Ideal | Ideal | Ideal | Great | Good | Fair | Fair |
| Red Grouper | Ideal | Great | Great | Ideal | Ideal | Ideal | Ideal | Ideal | Ideal | Great | Great | Great |
| Redfish | Fair | Fair | Good | Great | Ideal | Great | Great | Great | Ideal | Ideal | Ideal | Great |
| Sheepshead | Ideal | Ideal | Ideal | Great | Good | Fair | Fair | Fair | Good | Great | Ideal | Ideal |
| Snook | Good | Great | Ideal | Ideal | Ideal | Ideal | Ideal | Ideal | Ideal | Ideal | Great | Good |
| Spanish Mackerel | Ideal | Ideal | Ideal | Ideal | Great | Good | Good | Good | Good | Good | Good | Great |
| Speckled Trout | Great | Great | Great | Ideal | Ideal | Ideal | Great | Great | Great | Great | Good | Good |
| Tarpon | Fair | Fair | Good | Ideal | Ideal | Ideal | Ideal | Good | Fair | Fair | Fair | Fair |
| Tripletail | Fair | Good | Great | Ideal | Ideal | Ideal | Great | Great | Great | Great | Good | Fair |
| Yellowtail Snapper | Fair | Fair | Good | Great | Ideal | Ideal | Great | Great | Great | Great | Good | Fair |
Other Fishing Charter Locations near Naples
Top Targeted Fishing Species in Naples
Top Fishing Techniques in Naples
;