4.94 / 5 Average Review Score
Team of Experts Available 24/7
Licensed and Insured Guides
Recently Booked Fishing Charters Near Boynton Beach, Fl
With a fishing season that lasts 365 days a year, this crew offers an adventure that never ends. Join Captains Matt and Eric, who've been fishing these waters their whole lives. They easily adjust each trip to meet the needs of their guests, so both beginners and experienced anglers are welcome to join. You'll be fishing on a 33' Parker boat that accommodates up to 6 guests. The crew limited the capacity in order to make the fishing much more comfortable and enjoyable. You'll have plenty of room and won't have to wait for your turn. The boat is powered by twin Yamaha engines and features navigational and safety equipment. You'll find everything you'll need ready on the boat before you come on board. On a typical full day trip, you can target Tuna, Mahi Mahi, Sailfish, Wahoo, Grouper, King Mackerel, Snapper, Cobia, and Sharks. It all depends on the season and how far off the coast you go. There's a variety of fishing techniques you can use, such as jigging, trolling, kite fishing, etc. Let the captain know what you prefer or ask him for suggestions if you're not sure. He'll make sure to maximize the chance of putting fish on the deck! The crew covers almost everything you'll need during your time on the boat. The price includes your fishing licenses, equipment, snacks, and drinks. They'll even clean your catch after the trip, so start looking for recommended restaurants in the area and enjoy your fish fillets there. Deep Blue Fishing Charters has a trip for every angler. Which one is made for you? Read More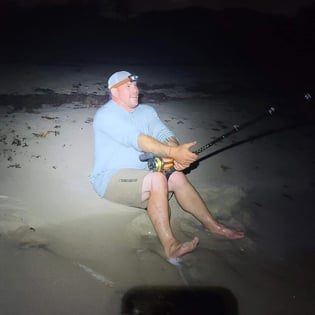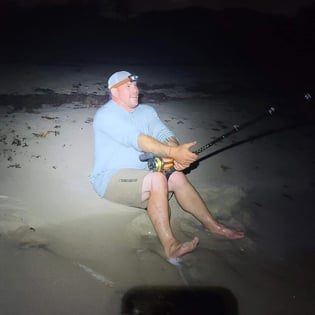 On these Monster Shark Fishing Adventures, you will meet up with Captain Mike in the Plantation area for introductions and trip orientation. After a quick chat you can either hop in Captain Mike's car or follow in your own to drive out to a designated surfside beach where Captain Mike will set up shop for the night. Feel free to lounge on the beach with your companions as he'll take care of setting up all the gear and getting the baits out past the incoming surf. Let the shark fishing begin! Once a shark hits the line, someone from your party will start reeling and cranking on him. These prehistoric beasts don't go quietly into the night and certainly don't go down without a fight as these battles typically take 1-3 hours! Make sure to bring some strong friends as these battles often take a group effort to win. Once the shark is to the shore, Captain Mike will enter the water, apply a tail rope, and remove the gear. At that point, he'll help you to tag the shack with a tag that allows you to name and locate it during future catches. After some quick pics, Captain Mike will release the shark back out into the surf. These trips are usually done at night, all gear is provided, and all trips are from the shore with an 80% success rate on a shark in the 5-8ft range. Read More
Off the coast of Fort Lauderdale, there are a couple different techniques for trolling: trolling the reefs for Kingfish and Bonitos and trolling offshore for Mahi Mahi, Wahoo, Tunas, and sometimes even a Blue Marlin! **Trolling the Reef** 90% of your bites will be on the deep lines, so Captain Taco will troll with 2 planner boards that take the bait about 45 feet down along with 3 baits skipping across the surface at about 5 to 6 knots. If you get a Kingfish bite 9 out of 10 times both deep rods will get hit at the same time. These fish like to travel in schools so Captain Taco will steer the boat in big circles dragging the baits around where you got the first bit and BAM every time you circle you should get another bite. (Well that's how it ideally would work of course) **Trolling Offshore** When trolling offshore Captain Taco will pump the gas a little to cover more ground. You'll usually troll 5 to 6 baits on the surface at 6 to 8 knots. He doesn't like trolling the planners offshore due to the resistance that the planners cause, but just about anything floating out there might hold some fish. And I mean anything if he spots a weed patch, grass line, or even a piece of driftwood, you know Captain Taco's gonna pull the baits past it to see if anybody's home. Both are great options, and you might even have enough time to try a little of both! No matter what, you are sure to have a great time fishing in Ft. Lauderdale with Captain Taco. His charter is not one of those stuffy Ft. Lauderdale fishing charters where the mate and captain are stuck on themselves and barely talk to you. They want you to party, relax, or do whatever you like to do. In his mind, his job is to make your time aboard the "Hooked Up" the most enjoyable time a person can have fishing in Ft Lauderdale. All Taco's trips come with his Full-Service Package which includes an experienced captain & mate, all necessary fishing licenses, top-of-the-line rods, reels & tackle, a cooler loaded with ice for your beers & sodas, and a lot of laughs & a great time! All he recommends you bring along with you is some food and drink for your voyage, sunscreen, sunglasses, and a little luck! Read More
Top Types of Trip in Boynton Beach
Top Targeted Species in Boynton Beach
Half Day and Full Day Fishing Trips in Boynton Beach
Everything to Know About Booking a Fishing Charter in Boynton Beach
What are the best fishing charters in Boynton Beach?
Our guides in Boynton Beach are rated a 4.92 out of 5 based on 9637 verified reviews on Captain Experiences.
All guides on Captain Experiences are licensed, insured, and vetted by our team. You can access their reviews, click through trip photos, read bios to get to know them, and preview trip details like species, techniques, group sizes, boat specs and more.
What types of fishing charters are common in Boynton Beach?
Deep Sea fishing is the most popular in Boynton Beach as well as nearshore fishing, inshore fishing, and lake fishing.
The most commonly sought after species in Boynton Beach are: 1. mahi mahi, 2. kingfish, 3. sailfish, and 4. blackfin tuna.
The most common fishing techniques in Boynton Beach are live bait fishing, trolling, and heavy tackle fishing but artificial lure fishing and bottom fishing are popular as well.
How much do Boynton Beach fishing charters cost?
in Boynton Beach prices can range anywhere from an affordable $175 to $3,000 and up, but the average price for a half day trip in Boynton Beach is $918. The average price for a full day trip in Boynton Beach is $1,162.
What month is best for fishing in Boynton Beach?
The most popular season for fishing in Boynton Beach is summer, and most anglers book their trips 12 days in advance.
Do I need a Boynton Beach fishing license and what are the bag limits in Boynton Beach?
If you're thinking about a saltwater trip, you're in luck! Our saltwater fishing tours in Boynton Beach don't require you to purchase a fishing license – your group is covered by your boat's captain. For freshwater trips, you'll still need to purchase a license. See here for more information on fishing licenses, bag limits, and fishing season regulations in Boynton Beach. When in doubt, your fishing guide will always know the right rules and regulations.
Boynton Beach Fishing Overview
Boynton Beach fishing charters offer a diverse range of fishing experiences for enthusiasts. The area is home to colorful reefs and wrecks, with the seafloor dropping 200 feet close to the shore, providing ample opportunities for a good catch. For those seeking a challenge, the famous ""Sailfish Alley"" is a must-visit, where big game pelagics dominate the waters.

Reef species such as Grouper, Snapper, and Triggerfish are abundant and can be caught within minutes of leaving the dock. Barracuda and Sharks are also present, making for an exciting catch. Big game fish such as Mahi Mahi, Wahoo, and Kingfish can be found further offshore, making full-day trips ideal for those seeking a more challenging experience. ""Sailfish Alley"" is a hotspot for Blue and White Marlin, Blackfin Tuna, and Sailfish, with dozens of hits per day almost guaranteed.

Boynton Beach has a variety of boats suitable for any fishing trip, from freshwater charters to offshore sportfishing boats. Fishing licenses are provided by certified Florida charter boats, but individuals over the age of 17 will need to purchase their own if fishing independently. It's important to bring a passport if crossing the border into the Bahamas.
Boynton Beach Freshwater Fishing
Lake Ida is on the Northside of Boynton Beach and is home to the usual freshwater species including largemouth bass, panfish, and carp. What makes the fishing on this lake so special is the exotic species that thrive in the tropical Florida climate. With incredible fish like peacock bass and clown knife fish which are usually found in Brazil or Cambodia respectively, this is truly a unique fishing experience.
Boynton Beach Inshore Fishing
The channels, cuts, and shoreline offer great opportunities to catch redfish and trout. Bucket list fish including tarpon and snook are also caught in the waters around Boynton Beach and provide anglers with the opportunity to catch the trophy fish that's been keeping them up at night. Mutton snapper also makes an exciting and delicious addition to the inshore lineup.
Boynton Beach Offshore Fishing
Head out to the reefs and drop bait for a variety of snapper and grouper species, or go offshore and troll for giants like sailfish, marlin, mahi-mahi, tuna, and wahoo. Yellowfin tuna and the far offshore bluefin tuna are exceptional fighters that crush bait and take line with ease. Big tuna can fight for hours and test even the best anglers. Fighting a tuna is well worth the effort because their meat packs a ton of flavor and is absolutely delicious. Offshore fishing from Boynton Beach is an experience that is sure to put a smile on any angler's face.
Other Things to Do In Boynton Beach
This is a vacation destination that has something for everyone from boardwalks to parks. For a beach day head to Boynton Municipal Beach for beautiful ocean views and relaxation. The Boynton boardwalk is perfect for nature lovers with a 1.5-mile walk through marshes and wetlands where you can see alligators, birds, and turtles. With a wide variety of restaurants and bars to choose from you will never run out of places to unwind after a day on the water.
Boynton Beach Fishing Calendar
| Species | January | February | March | April | May | June | July | August | September | October | November | December |
| --- | --- | --- | --- | --- | --- | --- | --- | --- | --- | --- | --- | --- |
| Barracuda | Ideal | Ideal | Ideal | Ideal | Great | Great | Ideal | Ideal | Ideal | Ideal | Ideal | Ideal |
| Blackfin Tuna | Great | Great | Ideal | Ideal | Ideal | Great | Good | Great | Great | Ideal | Ideal | Great |
| Bonito | Fair | Fair | Great | Great | Ideal | Ideal | Ideal | Ideal | Ideal | Ideal | Great | Good |
| Kingfish | Ideal | Ideal | Ideal | Fair | Great | Great | Ideal | Great | Fair | Fair | Fair | Ideal |
| Mahi Mahi | Fair | Good | Great | Ideal | Ideal | Ideal | Ideal | Ideal | Ideal | Great | Great | Fair |
| Mutton Snapper | Great | Great | Great | Great | Great | Great | Great | Great | Great | Great | Great | Great |
| Sailfish | Ideal | Ideal | Ideal | Fair | Ideal | Great | Good | Great | Ideal | Ideal | Ideal | Great |
| Tarpon | Good | Great | Ideal | Ideal | Ideal | Great | Great | Great | Good | Good | Good | Good |
| Wahoo | Great | Ideal | Fair | Great | Great | Great | Great | Ideal | Ideal | Ideal | Ideal | Fair |
Other Fishing Charter Locations near Boynton Beach
;