4.94 / 5 Average Review Score
Team of Experts Available 24/7
Licensed and Insured Guides
Recently Booked Fishing Charters Near Jensen Beach, Fl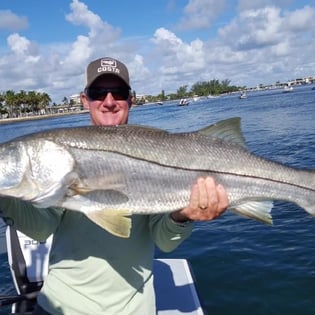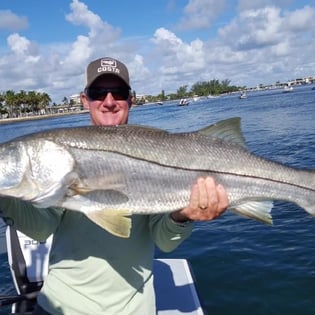 Head out with Captain Charlie to fish the beautiful Loxahatchee River estuary and/or Jupiter Inlet area chasing big Snook and Jacks. On this half day trip you can expect to site fish the shallows and drift the deeper shelves and docks. If your lucky, one of them big jokers will take off in a hurry with your bait in tow. To attract these picture-worthy fish you'll be using classic light tackle with bait or artificial lures. With years of experience, Captain Charlie is proficient in navigating the multitudes of Florida's shallow water tributaries, estuaries and unique waterways, and especially the Loxahatchee, so he'll take you to where the fish are biting! Captain Charlie values conservation and encourages "catch and release," but he will clean any keeper reds, trout, or pompano you end up catching if you so desire. Captain Charlie provides all rods, reels, tackle, and live bait. All you need to bring is sunglasses, sunscreen, and any snacks or drinks you might need. Have a day with Captain Charlie! Read More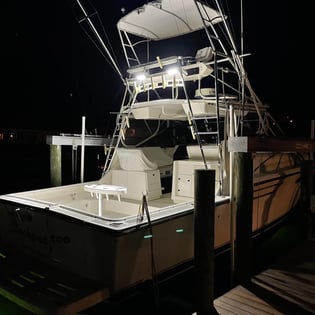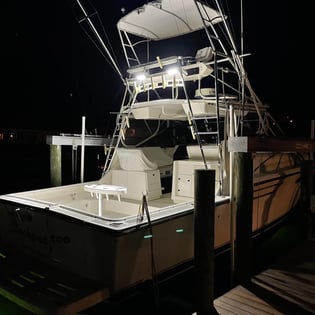 Whether you're an offshore angler looking to add some species to your collection, or a vacationer looking for a great experience on the deep blue, this trip is perfect for you! Captain Gil is an expert when it comes to deepwater bottomfishing and "deep dropping" and will make sure you get hooked up on some cool species, including Snowy Grouper and Tilefish. Both of these fish are famously delicious, and can only be caught in ultra-deep offshore water. One of the many great things about fishing in Fort Pierce, FL is that you can access this deep water just a short distance from the harbor! With the banks so close to shore and the rich waters of the Gulf Stream behind you, you'll spend more time fishing and less time getting out there. Once you're over the prime fishing grounds, you'll be dropping cut bait down to the ocean floor, where it will attract bites from cruising bottomfish. Once they're on, it's all you! You'll haul them up to the surface, where Captain Gil has iceboxes waiting to keep them fresh till you get back to the dock. You'll be fishing aboard Gil's 40' Tiara sportfisher, a beautiful boat designed to be a fishing machine. She features all kinds of gear and amenities, including a flybridge, full cabin, live wells for bait, ice boxes, and more! With this gear and Captain Gil's expertise, you'll be set up for an amazing day and a full cooler when you're finished. Read More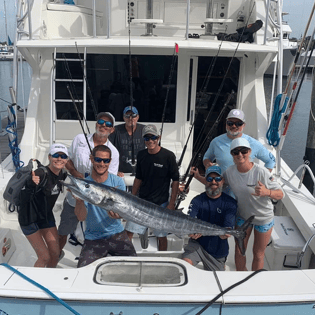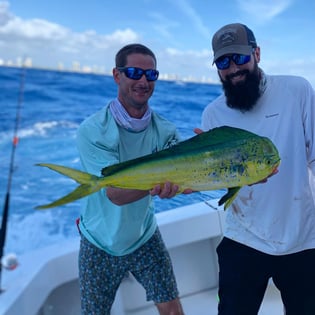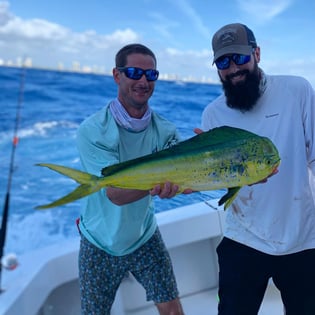 If you're looking for a fishing charter out of West Palm Beach, FL, look no further than Captain Ricky and his 38' Boston Whaler sportfisher! With years of experience fishing the waters off West Palm Beach, Captain Ricky knows all the best spots to catch trophy fish. On this offshore fishing charter, you can expect to target a variety of species, including Sailfish, Marlin, Mahi-Mahi, Blackfin Tuna, and more. Captain Ricky will provide all the necessary equipment, including top-quality rods, reels, and lures, so you can focus on reeling in the big one. His 38' Boston Whaler sportfisher is a sleek performance vessel, designed for comfort even in offshore waters. With triple outboard engines, you'll be able to reach the prime fishing grounds quickly and spend more time fishing! Captain Ricky is a skilled angler and will provide expert guidance and instruction throughout your trip. He'll work with you to cater the trip to your experience level and preferences, so you can make the most of your time on the water. Whether you're an experienced angler looking for a challenge or a beginner looking to learn the ropes, Captain Ricky and his 38' Boston Whaler sportfisher are the perfect choice for an unforgettable fishing charter out of West Palm Beach, FL! Read More
Top Types of Trip in Jensen Beach
Top Targeted Species in Jensen Beach
Half Day and Full Day Fishing Trips in Jensen Beach
Everything to Know About Booking a Fishing Charter in Jensen Beach
What are the best fishing charters in Jensen Beach?
Our guides in Jensen Beach are rated a 5 out of 5 based on 9637 verified reviews on Captain Experiences.
All guides on Captain Experiences are licensed, insured, and vetted by our team. You can access their reviews, click through trip photos, read bios to get to know them, and preview trip details like species, techniques, group sizes, boat specs and more.
What types of fishing charters are common in Jensen Beach?
Deep Sea fishing is the most popular in Jensen Beach as well as inshore fishing, nearshore fishing, and river fishing.
The most commonly sought after species in Jensen Beach are: 1. mahi mahi, 2. sailfish, 3. wahoo, and 4. kingfish.
The most common fishing techniques in Jensen Beach are trolling, live bait fishing, and heavy tackle fishing but artificial lure fishing and light tackle fishing are popular as well.
How much do Jensen Beach fishing charters cost?
in Jensen Beach prices can range anywhere from an affordable $345 to $3,000 and up, but the average price for a half day trip in Jensen Beach is $650. The average price for a full day trip in Jensen Beach is $1,507.
What month is best for fishing in Jensen Beach?
The most popular season for fishing in Jensen Beach is summer, and most anglers book their trips 13 days in advance.
Do I need a Jensen Beach fishing license and what are the bag limits in Jensen Beach?
If you're thinking about a saltwater trip, you're in luck! Our saltwater fishing tours in Jensen Beach don't require you to purchase a fishing license – your group is covered by your boat's captain. For freshwater trips, you'll still need to purchase a license. See here for more information on fishing licenses, bag limits, and fishing season regulations in Jensen Beach. When in doubt, your fishing guide will always know the right rules and regulations.
Jensen Beach Fishing Overview
Jensen Beach offers a diverse range of fishing charters for anglers seeking to catch a variety of fish species in the St. Lucie River, Indian River Lagoon, and Atlantic Ocean. The area is home to Snook, Redfish, and Spotted Sea Trout year-round, with Tarpon being a popular catch in the spring. The Atlantic Ocean and Gulf Stream offer opportunities to catch larger fish such as Sailfish, Mahi Mahi, and Snapper.

Fishing trips in Jensen Beach can accommodate any schedule, with inshore and offshore options available. Half-day trips are ideal for those with limited time, while full-day trips offer more extensive offshore action. Most charters launch from the Jensen Beach boat ramp, with Stuart being another nearby fishing hotspot.

It is important to note that the captain's license covers everyone on board during a charter fishing trip. However, those fishing from the beach or pier must purchase a license online or from a local tackle shop. Additionally, certain fish species such as Tarpon and Sailfish have strict catch and release regulations, and size and bag limits should be checked before heading out.
Jensen Beach Inshore Fishing
Inshore fishing Jensen Beach is the perfect place to hit up the countless mangroves and nearby inlets for jack crevalle, redfish, snook, pompano, and tarpon. The nearby Fort Pierce to the north is home to the world record 17 lb spotted sea trout! With jetties, channels, and plenty of backwaters also available the fishing opportunities are abundant and a bucket list fish is only one cast away.
Jensen Beach Offshore Fishing
As you head offshore into the Gulf Stream, there is a reason Palm Beach County is known as the Sailfish Capital of the World (or Sailfish Alley). offshore action stays good for most of the year with consistent bites and top-tier action. When you get tired of the sailfish action, there is no shortage of awesome game fish to catch including marlin, kingfish, swordfish, tuna, wahoo, and mahi-mahi, to name a few. These fish crush bait and fight for hours which is sure to put a smile on anyone's face.
Other Things to Do In Jensen Beach
Jensen Beach is an amazing place to fish but also the perfect vacation spot. While in Jensen Beach you can head to any of the nearby preserves or parks to take in nature and get away from the hustle and bustle of city life. To the North in Fort Pierce is the National Navy Seal Museum which is interesting for people of all age groups. If you want to have a beach day and get some relaxation in the sun, head out to Jensen Beach or any of the surrounding areas. With plenty of food and beverage options to keep you entertained, you will not go home unsatisfied.
Other Fishing Charter Locations near Jensen Beach
;