4.94 / 5 Average Review Score
Team of Experts Available 24/7
Licensed and Insured Guides
Recently Booked Fishing Charters Near Largo, Fl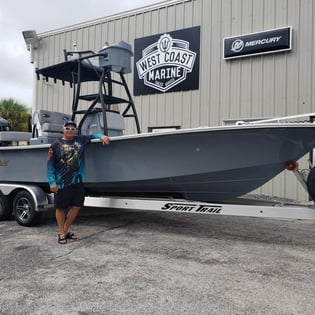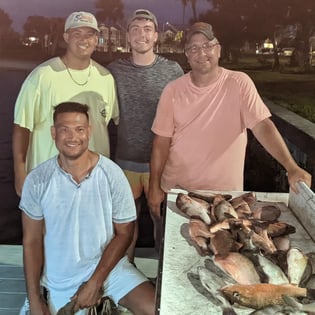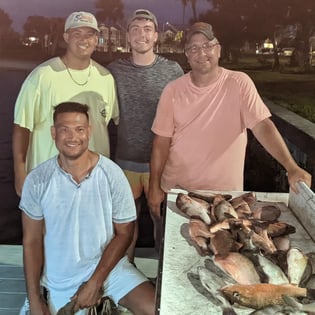 Join Captain Eric for an amazing Tampa Bay fishing experience! Tampa Bay is a world-class fishing destination that features a range of marine habitats and a rich variety of sportfish species, all the way from the backcountry to the deeper waters. Captain Eric has fished this area since 1979, and he has the knowledge, skills and experience to put you on amazing fish, whether that means hitting the ship channel (up to 50ft deep) for Grouper, chumming, and throwing cut bait for Tarpon (Summer months), Snapper, Tripletail, Spanish and King Mackerel, Reds, much more under the Bridges---Tampa Bay really has it all. When you fish with Captain Eric, you'll be totally taken care of aboard his 24' Blazer Bay center console. She's an ideal boat for this area, with a hull profile meant to cut through chop and a shallow draft that allows you to fish the backcountry. She sports a powerful 300-HP Suzuki engine, and is fully equipped with a GPS, fishfinder, live well for your bait, and an ice box for your keepers. Captain Eric is full of tips and tricks to help improve your fishing and send you home with great memories and awesome pictures, plus a delicious dinner! He'll keep your keepers on ice until you're back on the dock, where he'll clean them for you. He also supplies all the gear you'll need, including rods, reels, bait, and tackle. All you need to bring along is proper clothing and sunscreen, and you're in for a terrific trip. Read More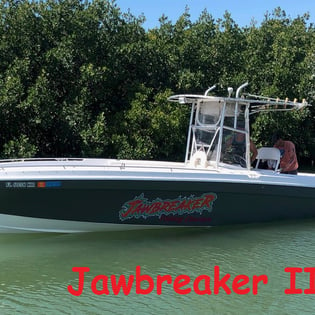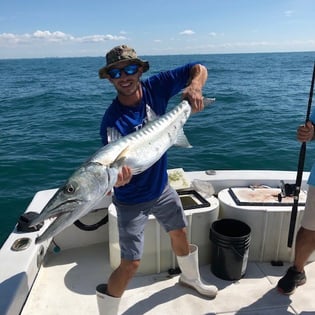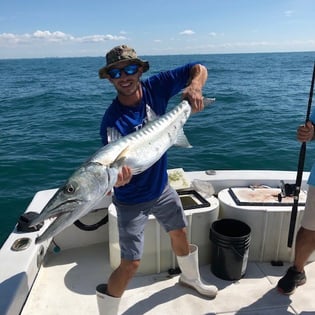 Climb aboard with Captain Chris for a true fish-bite bonanza! This nearshore adventure offers the opportunity to target many species off the coast of Gulfport, FL, including delicious eating fish such as Grouper and Snapper, alongside famous gamefish such as Amberjack, Barracuda, Mackerel and Bonito. Who knows, you may even catch a glimpse of the massive Goliath Groupers that patrol these waters. Captain Chris' 31' Wellcraft can comfortably fit up to six guests, and the twin Suzukis on the back provide a smooth ride as you glide through the waves. On this trip, you will employ a number of skills including Trolling, Bottom Fishing, Drift Fishing, Heavy Tackle, Jigging, and Light Tackle. Captain Chris is an experienced angler who can help perfect your technique if you are a beginner, making this a great family trip. Regardless, this adventure is open to anglers of all experience levels. Captain Chris will provide you with just about everything you need, including top-quality rods, reels bait, and tackle; the only things you need to bring are snacks, water, sunscreen, and proper clothing. This trip is an amazing opportunity and you're sure to have a blast! Read More
There's simply no better way to enjoy the water than a backcountry fishing trip with Captain T.J. He's fished the mangroves and around Tampa Bay for years, and you can be sure that he'll put you right where the fish are! This area provides the perfect habitat for several sportfish species, especially Snook, Redfish, Speckled Trout, and Mangrove Snapper! These species are perfect inshore opponents that fight hard and love to bite on a range of lures and baits. There's nothing like pulling some big ol' Snook out of the mangrove roots, whether it's your first fish or your hundredth! In addition to these inshore species, on a six-hour trip you'll be able to take a crack at nearshore gamefish including Blacktips, Bull Sharks, Gag Grouper, Jack Crevalle, and more! Strap in, because these fish are a challenge for any angler. On this trip, you'll be taken care of aboard Captain T.J.'s 22' BullsBay bay boat (say that three times fast!). She's a beauty, and is equipped with a 200-HP Suzuki engine to take you "dock to dock" smoothly and comfortable. She also features a full kit of electronics, a wireless trolling motor, and a live well for your bait. Captain T.J. will bring everything you need for a great day, including all the rods, reels, bait, and tackle. All you need to bring is proper clothing, sunscreen, and a pair of sunglasses to help you spot fish. Read More
Top Types of Trip in Largo
Top Targeted Species in Largo
Half Day and Full Day Fishing Trips in Largo
Everything to Know About Booking a Fishing Charter in Largo
What are the best fishing charters in Largo?
Our guides in Largo are rated a 4.96 out of 5 based on 9694 verified reviews on Captain Experiences.
All guides on Captain Experiences are licensed, insured, and vetted by our team. You can access their reviews, click through trip photos, read bios to get to know them, and preview trip details like species, techniques, group sizes, boat specs and more.
What types of fishing charters are common in Largo?
Deep Sea fishing is the most popular in Largo as well as inshore fishing, nearshore fishing, and flats fishing.
The most commonly sought after species in Largo are: 1. redfish, 2. gag grouper, 3. snook, and 4. mangrove snapper.
The most common fishing techniques in Largo are light tackle fishing, live bait fishing, and bottom fishing but trolling and heavy tackle fishing are popular as well.
How much do Largo fishing charters cost?
in Largo prices can range anywhere from an affordable $250 to $3,000 and up, but the average price for a half day trip in Largo is $670. The average price for a full day trip in Largo is $1,214.
What month is best for fishing in Largo?
The most popular season for fishing in Largo is spring, and most anglers book their trips 12 days in advance.
Do I need a Largo fishing license and what are the bag limits in Largo?
If you're thinking about a saltwater trip, you're in luck! Our saltwater fishing tours in Largo don't require you to purchase a fishing license – your group is covered by your boat's captain. For freshwater trips, you'll still need to purchase a license. See here for more information on fishing licenses, bag limits, and fishing season regulations in Largo. When in doubt, your fishing guide will always know the right rules and regulations.
Other Fishing Charter Locations near Largo
;