4.94 / 5 Average Review Score
Team of Experts Available 24/7
Licensed and Insured Guides
Recently Booked Fishing Charters Near Saint James City, Fl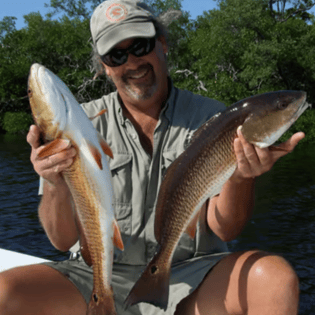 Attention all fishing fanatics and thrill-seekers! Get ready to embark on this unforgettable inshore fishing adventure in Fort Myers, Florida with Captain Alan! You'll join him on board his 20' Lake and Bay skiff, and set off in search of some of the most exciting inshore species in the region, including Snook, Redfish, and Speckled Trout. With Captain Alan at the helm, you're in for an adventure that you'll never forget. As you cast your line into the crystal-clear waters of the Gulf of Mexico, you'll feel the adrenaline pumping. Will you be the one to hook the biggest catch of the day? With top-of-the-line equipment and expert guidance from Captain Alan, you're sure to reel in a fish that will make your friends jealous. But it's not just about the fishing—the Gulf of Mexico is surrounded by stunning natural beauty, from the white sandy beaches to the mangrove forests. Keep an eye out for dolphins, manatees, and other marine life as you cruise along the coastline. Captain Alan is a seasoned expert who knows these waters like the back of his hand, and he'll take you to all the best spots to make the catch of a lifetime. Whether you're an experienced fisherman or a beginner, he'll provide expert guidance and support to ensure that you have an unforgettable experience on the water. So what are you waiting for? Book your inshore fishing charter with Captain Alan today and get ready for an adventure that you'll never forget. With the chance to catch some of the most exciting fish in Fort Myers, it's an opportunity that you won't want to miss! Read More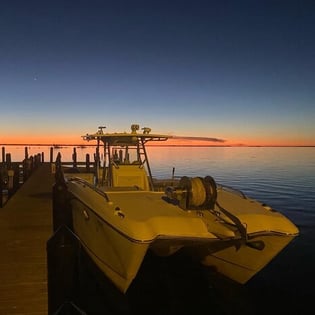 On this trip, you'll fish up to 40 miles offshore, targeting wrecks and reef structures for big-time fish such as Goliath Grouper, Amberjack, Barracuda, Red Grouper, and more! You'll be fishing comfortably aboard Captain Dan's 35' World Cat. This luxurious, "tournament edition" catamaran has an overall length of over 35 feet, with a generous 10' 6" beam that carries the full length of the boat. What this means for you is a large, wide and stable boat with lots of space. She also has plenty of storage, along with multiple fish boxes to keep your catch fresh on ice, plus two sizable live well's, a large T-top for shade, a toilet in the forward cabin area, and some of the most modern fish-finding electronics on the market. This boat is great for families with small children and the ladies, as it has a bathroom, shade to get out of the elements, and provides a super comfortable ride! With all the rods, reels, and tackle included, there's no excuse not to get out there and have a blast! Read More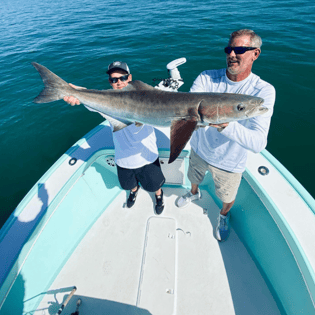 Embark on an immersive half-day flats and inshore fishing expedition under the seasoned guidance of Captain Andre, a distinguished mariner with an impressive 18-year tenure navigating the waters of Sanibel. Aboard his meticulously equipped 24ft Center Console vessel, fishing enthusiasts are invited to partake in an unparalleled journey that explores the diverse marine habitats of the region. Set against the picturesque backdrop of Sanibel's natural beauty, Captain Andre's unparalleled expertise guarantees an enriching experience for anglers of all skill levels. With an unwavering commitment to excellence, his adept leadership ensures that every participant is equipped with the essential techniques and tools required to pursue an array of prized species that inhabit the intricate tapestry of the flats and inshore areas. From the elusive Gag Grouper to the captivating Speckled Trout, the dynamic Jack Crevalle to the delectable Mangrove Snapper, and the elusive Snook, Captain Andre's profound knowledge ensures a captivating encounter with an assortment of marine life. Operating at the helm of the 24ft Center Console, participants can anticipate an expedition marked by professionalism, unwavering expertise, and a deep respect for the delicate coastal ecosystem. Whether a novice or an experienced angler, this half-day voyage encapsulates Captain Andre's commitment to delivering an immersive and educational fishing experience. Beyond the allure of remarkable catches, the excursion underscores the importance of sustainable fishing practices and environmental stewardship. The journey offers a unique opportunity to explore the vibrant waters of Sanibel, guided by a seasoned captain. Read More
Top Types of Trip in Saint James City
Top Targeted Species in Saint James City
Half Day and Full Day Fishing Trips in Saint James City
Everything to Know About Booking a Fishing Charter in Saint James City
What are the best fishing charters in Saint James City?
Our guides in Saint James City are rated a 4.86 out of 5 based on 9446 verified reviews on Captain Experiences.
All guides on Captain Experiences are licensed, insured, and vetted by our team. You can access their reviews, click through trip photos, read bios to get to know them, and preview trip details like species, techniques, group sizes, boat specs and more.
What types of fishing charters are common in Saint James City?
Deep Sea fishing is the most popular in Saint James City as well as inshore fishing, flats fishing, and nearshore fishing.
The most commonly sought after species in Saint James City are: 1. tarpon, 2. redfish, 3. snook, and 4. speckled trout.
The most common fishing techniques in Saint James City are light tackle fishing, live bait fishing, and bottom fishing but artificial lure fishing and heavy tackle fishing are popular as well.
How much do Saint James City fishing charters cost?
in Saint James City prices can range anywhere from an affordable $250 to $3,000 and up, but the average price for a half day trip in Saint James City is $592. The average price for a full day trip in Saint James City is $1,308.
What month is best for fishing in Saint James City?
The most popular season for fishing in Saint James City is summer, and most anglers book their trips 20 days in advance.
Do I need a Saint James City fishing license and what are the bag limits in Saint James City?
If you're thinking about a saltwater trip, you're in luck! Our saltwater fishing tours in Saint James City don't require you to purchase a fishing license – your group is covered by your boat's captain. For freshwater trips, you'll still need to purchase a license. See here for more information on fishing licenses, bag limits, and fishing season regulations in Saint James City. When in doubt, your fishing guide will always know the right rules and regulations.
Other Fishing Charter Locations near Saint James City
;