4.94 / 5 Average Review Score
Team of Experts Available 24/7
Licensed and Insured Guides
Recently Booked Fishing Charters Near Placida, Fl
Hop on board with Captain Scott for an exciting day of chasing "Silver Kings" in the stunning Florida inshores! Boca Grande is a fantastic spot to catch some of the sought-after inshore fish that Florida is known for, including elusive Tarpon! The opportunity to Tarpon fish in Florida is an awesome experience that is on most anglers' bucket lists. Boca Grande Tarpon are considered one of the greatest saltwater game fish. They are prized not only because of the great size but also because of the fight they put up and their spectacular leaping ability. This huge and majestic fish can weigh up to 200+ pounds and jump upwards of 8 feet out of the water. A typical tarpon season runs from about April to October but the best time in the Boca Grande area is May-July. On this 8-hour trip, Captain Scott will take you on a short trip to the inshore flats around Boca Grande Pass to target some hard-fighting Tarpon. You'll be drift fishing with light or heavy tackle and choosing from a selection of live bait or artificial lures. Anglers of all skill levels can benefit from Scott's tips and have a great day on the water! Captain Scott has dedicated his career to becoming an expert on finding the best fishing spots and having the best equipment to get the job done. You're sure to be in good hands when on board with him! You'll be fishing from Captain Scott's custom built 24' Proline which offers a super shallow draft to fish the flats and back country in this area. This stable platform also allows him to run up to 4 customers in comfort. She's powered by a reliable 2018 200hp Yamaha Four Stroke and equipped with Simrad electronics, a Powerpole, a Motor guide Wireless Trolling Motor, and a 60 gallon Live Bait Well to keep all baits alive for a productive day of fishing. Captain Scott will provide all rods, reels and quality tackle from Daiwa and AVET Reels, including fresh braided line and the most dependable hooks on the market. All you need to bring is any sun protection, food or drinks you might want while on the water. Book your trip today and get ready to bend some rods! Read More
Captain Mike Jr is ready for your experience to begin with the best experience a Boca Grande Fishing Charter can offer. Some of his client's favorite charter destinations include, Little Gasparilla Island, Boca Grande, Don Pedro Island, Knight's Island, Palm Island, Englewood, Pine Island, Cabbage Key, Venice, Port Charlotte and more! If you don't see your location listed, but you'd like a fishing charter in South West Florida, please feel free to reach out. If Captain Mike can't service the area you're interested we know tons of other guides that can! On these inshore trips you will mostly be using light tackle spinning gear (which Captain Mike will provide). You'll be throwing either live bait (pin fish, shrimp, blue crabs) or fishing artificial lures. From hammering the mangroves in the backwaters to stalking fish on off the beaches, Captain Mike is an expert at it all and will show you how to get on the fish. When Tarpon season is in, Tarpon trips become the most heavily desired trips Captain Mike runs, and for good reason. Between insane strength, aerial displays, and gianormous size, Tarpon are arguable one of the funnest species to chase. When the Tarpon have migrated elsewhere (October - April), your main targets for the day include Snook, Redfish, Trout, Sharks, a variety of Snapper species. Depending on the time of year don't be surprised if you catch Triple Tail, Permit, Barracuda, and Sheepsheadm and If you want to do battle with one of the biggest fish in the ocean, Captain Mike also know how to hook into Goliath Grouper! Local Hot Spots: TURTLE BAY Turtle Bay is a large bay with mostly shallow water. There are several deep spots in Turtle Bay as well, but navigation can be tricky if you don't have an experienced Captain. When in this area we will typically be catching Trout, Snook and Redfish. BULL BAY Bull Bay is an isolated, world famous fishing bay, surrounded by untouched land. Past Presidents have come to this area specifically to fish these waters. The bay is mostly shallow water, with deep pockets and pot holes. During the winter months large amounts of Snook rest in these pockets for high volume fishing. Captain Mike will provide expert advice on where the best fishing is and what species is hottest, but is most interested in doing whatever it is you'd like to do on your charter. So if there is a species you'd like to target or location you'd like to fish please leave notes when you book so Captain Mike can plan accordingly. No matter where you fish, Captain Mike has you covered with all the top-of-the-line rods, reels, tackle and lures you will need for a successful day out on the water. All he recommends you bring are your favorite snacks and drinks, sunglasses, and the desire to catch a pile of fish! Read More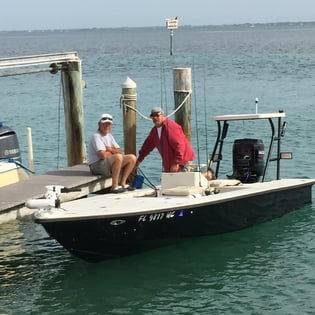 Get ready for an exciting day of inshore fishing with Captain Todd in Sarasota, Florida! On board his sleek 20' Willies skiff, you'll set out on the waters of the Gulf of Mexico in search of trophy Redfish, Snook, Spotted Trout, Bonito, and Tripletail. These fish are all great fighters, and have something for every type of angler. Tripletail and Redfish are known as top-notch table fare, while Snook and Bonito put up terrific fights on light tackle! As you make your way through the mangroves and shallow flats, you'll be treated to breathtaking views of the coast and a chance to spot a variety of marine life. With Captain Todd's expert guidance, you'll be casting your lines and reeling in these sought-after species in no time! Captain Todd's skiff is purpose-built for fishing in shallow water, so you'll be able to get back into the "skinny water" where trophy fish like to hang out. Whether you're a seasoned angler or a beginner, you'll have an unforgettable day on the water with Captain Todd. So come join him and experience the thrill of the catch with Captain Todd on this top-of-the-line inshore fishing adventure! Read More
Top Types of Trip in Placida
Top Targeted Species in Placida
Half Day and Full Day Fishing Trips in Placida
Everything to Know About Booking a Fishing Charter in Placida
What are the best fishing charters in Placida?
Our guides in Placida are rated a 4.9 out of 5 based on 9692 verified reviews on Captain Experiences.
All guides on Captain Experiences are licensed, insured, and vetted by our team. You can access their reviews, click through trip photos, read bios to get to know them, and preview trip details like species, techniques, group sizes, boat specs and more.
What types of fishing charters are common in Placida?
Deep Sea fishing is the most popular in Placida as well as inshore fishing, nearshore fishing, and flats fishing.
The most commonly sought after species in Placida are: 1. redfish, 2. snook, 3. tarpon, and 4. speckled trout.
The most common fishing techniques in Placida are light tackle fishing, live bait fishing, and bottom fishing but artificial lure fishing and heavy tackle fishing are popular as well.
How much do Placida fishing charters cost?
in Placida prices can range anywhere from an affordable $200 to $3,000 and up, but the average price for a half day trip in Placida is $583. The average price for a full day trip in Placida is $1,066.
What month is best for fishing in Placida?
The most popular season for fishing in Placida is summer, and most anglers book their trips 15 days in advance.
Do I need a Placida fishing license and what are the bag limits in Placida?
If you're thinking about a saltwater trip, you're in luck! Our saltwater fishing tours in Placida don't require you to purchase a fishing license – your group is covered by your boat's captain. For freshwater trips, you'll still need to purchase a license. See here for more information on fishing licenses, bag limits, and fishing season regulations in Placida. When in doubt, your fishing guide will always know the right rules and regulations.
Popular Types of Fishing In Placida
Placida fishing charters offer a variety of options for anglers of all levels. The most common types of fishing charters in Placida are inshore, offshore, and backcountry. Inshore charters are perfect for those who want to stay close to shore and catch species like snook, redfish, and trout. Offshore charters take you further out to sea to catch bigger game fish like grouper, snapper, and kingfish. Backcountry charters are great for those who want to explore the mangrove-lined waterways and catch species like tarpon, snook, and redfish.

Some of the most common fish to catch in Placida include tarpon, snook, redfish, trout, grouper, snapper, and kingfish. Depending on the type of fishing charter you choose, you may also have the opportunity to catch other species like shark, barracuda, and cobia.

Placida fishing charters often visit landmarks like Gasparilla Island, Boca Grande Pass, and the Charlotte Harbor Aquatic Preserve. These areas are known for their abundant fish populations and beautiful scenery. Whether you're a seasoned angler or a beginner, there's a Placida fishing charter that's perfect for you.
The Best Places To Fish In Placida
Placida, Florida is a prime destination for fishing enthusiasts. With its abundance of waterways and diverse marine life, there are plenty of great spots to cast a line. Here are some of the best places to fish in Placida, Florida:

1. Boca Grande Pass - Known for its world-class tarpon fishing, Boca Grande Pass is a must-visit spot for any angler. Fishing charters are available for those who want to maximize their chances of catching a trophy fish.

2. Gasparilla Sound - This shallow bay is home to a variety of fish species, including redfish, snook, and trout. Fishing charters can take you to the best spots and provide expert guidance.

3. Lemon Bay - With its clear waters and abundant sea grass beds, Lemon Bay is a popular spot for inshore fishing. Fishing charters can help you target species like snook, redfish, and spotted seatrout.

4. Charlotte Harbor - This expansive estuary is a haven for fish of all kinds, from tarpon and snook to grouper and snapper. Fishing charters can take you to the best spots and help you navigate the complex waterways.

5. Gulf of Mexico - For those who want to venture offshore, the Gulf of Mexico offers a wealth of opportunities. Fishing charters can take you to deepwater reefs and wrecks where you can target species like grouper, snapper, and amberjack.
Other Things To Do In Placida
While Placida fishing charters are a popular attraction, there are plenty of other things to do in this charming Florida city. Take a scenic boat tour of the surrounding islands, or rent a kayak and explore the mangrove tunnels. For a more relaxing day, head to the nearby Gasparilla Island State Park and soak up the sun on the pristine beaches. History buffs will enjoy visiting the Boca Grande Lighthouse Museum or the Military Heritage Museum. And for a unique experience, take a trip to the Peace River Wildlife Center to see rescued animals up close. No matter what your interests are, Placida has something for everyone beyond just fishing.
Placida Fishing Calendar
| Species | January | February | March | April | May | June | July | August | September | October | November | December |
| --- | --- | --- | --- | --- | --- | --- | --- | --- | --- | --- | --- | --- |
| Amberjack | Ideal | Ideal | Great | Good | Fair | Fair | Fair | Fair | Fair | Good | Great | Ideal |
| Barracuda | Great | Great | Ideal | Ideal | Ideal | Ideal | Ideal | Ideal | Ideal | Ideal | Great | Great |
| Black Drum | Ideal | Ideal | Ideal | Great | Good | Fair | Fair | Good | Great | Ideal | Ideal | Ideal |
| Black Grouper | Ideal | Ideal | Ideal | Great | Great | Great | Great | Great | Great | Great | Ideal | Ideal |
| Cobia | Fair | Good | Great | Ideal | Great | Great | Great | Great | Ideal | Ideal | Great | Fair |
| Gag Grouper | Ideal | Ideal | Ideal | Great | Great | Great | Great | Great | Great | Great | Ideal | Ideal |
| Goliath Grouper | Great | Great | Great | Ideal | Ideal | Ideal | Ideal | Ideal | Ideal | Ideal | Great | Great |
| Hogfish | Good | Great | Great | Good | Good | Great | Great | Great | Good | Good | Good | Good |
| Jack Crevalle | Great | Great | Great | Ideal | Ideal | Ideal | Ideal | Ideal | Ideal | Ideal | Ideal | Great |
| Kingfish | Ideal | Ideal | Ideal | Ideal | Great | Good | Fair | Good | Great | Ideal | Ideal | Ideal |
| Ladyfish | Ideal | Ideal | Ideal | Ideal | Ideal | Ideal | Ideal | Ideal | Ideal | Great | Ideal | Ideal |
| Mangrove Snapper | Great | Great | Great | Ideal | Ideal | Ideal | Ideal | Ideal | Ideal | Ideal | Ideal | Great |
| Mutton Snapper | Fair | Fair | Fair | Fair | Fair | Ideal | Ideal | Ideal | Ideal | Great | Fair | Fair |
| Permit | Fair | Fair | Good | Great | Ideal | Ideal | Ideal | Good | Fair | Fair | Fair | Fair |
| Red Grouper | Ideal | Ideal | Ideal | Ideal | Ideal | Ideal | Ideal | Ideal | Ideal | Great | Great | Great |
| Redfish | Fair | Fair | Good | Great | Ideal | Great | Great | Great | Ideal | Ideal | Ideal | Great |
| Speckled Trout | Great | Great | Great | Ideal | Ideal | Ideal | Great | Great | Great | Great | Good | Good |
| Tarpon | Fair | Fair | Good | Great | Ideal | Ideal | Ideal | Great | Good | Fair | Fair | Fair |
| Tripletail | Fair | Good | Great | Ideal | Ideal | Ideal | Great | Great | Great | Great | Good | Fair |
| Yellowtail Snapper | Fair | Fair | Good | Great | Ideal | Ideal | Great | Great | Great | Great | Good | Fair |
Other Fishing Charter Locations near Placida
Top Targeted Fishing Species in Placida
Top Fishing Techniques in Placida
;