4.94 / 5 Average Review Score
Team of Experts Available 24/7
Licensed and Insured Guides
Recently Booked Fishing Charters Near Hollywood, Fl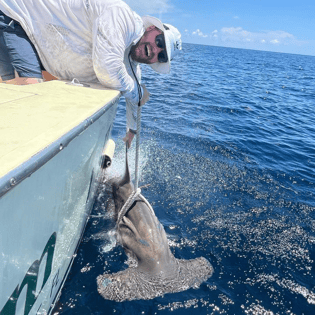 Calling all thrill-seekers and fishing enthusiasts! Are you ready to embark on an epic offshore fishing adventure out of Hollywood, Florida? Look no further than Captain David and his 48' Stapleton sportfisher! On this trip, you'll be reeling in some of America's most exciting and sought-after offshore species, including Sailfish, Barracuda, Mahi Mahi, Groupers, and Snappers. Captain David is an extremely experienced captain who knows these waters like the back of his hand, and he'll take you to all the best spots to make the catch of a lifetime. But it's not just about the fishing! On board his luxurious 48' Stapleton sportfisher, you'll be able to relax and enjoy the comfortable experience. With a spacious deck and all the latest fishing technology, you'll be equipped to catch even the most elusive fish. Captain David has kitted her out with a fighting chair, Tuna Tubes for your live bait, outriggers, live wells, and more-all to enhance your experience and give you the best shot at massive success! Captain David is passionate about fishing and loves nothing more than sharing his knowledge and expertise with his clients. Whether you're a seasoned angler or a beginner, he'll provide expert guidance and support to ensure that you have an unforgettable experience on the water. Gather your friends or family and book your offshore fishing trip with Captain David today! Read More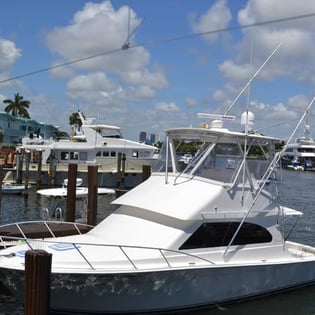 Head out with Captain Mark to Troll the deep blue sea for Wahoo, Dolphin, Sailfish, Tuna and much more! With over 29 years of experience fishing the waters from Fort Lauderdale to the Exumas, Captain Mark knows the best techniques for trolling for these offshore species. On the day of your trip, you will meet up with Captain Mark at the Winn-Dixie on Cordova Rd. Meeting at the Winn-Dixie allows you to collect some last minute Snacks and Drinks, Ice, and whatever else you think you might need in preparation for you trip. Captain Mark docks his boat behind one of his friends houses nearby so you can either hop in his truck or follow him in your own car to board the Off The Chart! The Off The Chart is a luxurious 37' Egg Harbour Sportfishing vessel equipped with all the latest electronics and navigation systems. It also provides a comfortable Cabin with seating and air conditioning so you can easily escape the relentless South Florida heat. On that vein, your more than welcome to get as involved as you would like with your adventure as you'd like. Whether you'd rather lounge in the AC until the reel starts screaming or if you want your hand on the rod the whole time, Captain Mark can make it happen! And if you'd rather cruise the inner-coastal, hang out at the sand bar, or go snorkeling at a near by reef, Captain Mark offers those trips as well for the same prices listed above! Beyond superior service and luxurious amenities, Captain Mark also provides the best rods, reels, tackle, bait, and fishing licenses you could possibly need for a successful day out on the water. The only things Captian Mark recommends you bring before meeting up at the Winn-Dixie is your sun protection and sunglasses, a rain coat/change of clothes, and a camera to document your trophies! Read More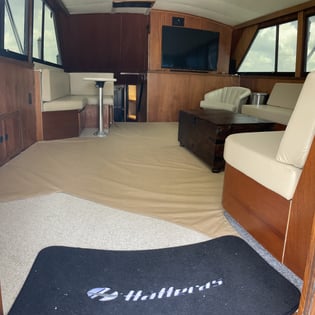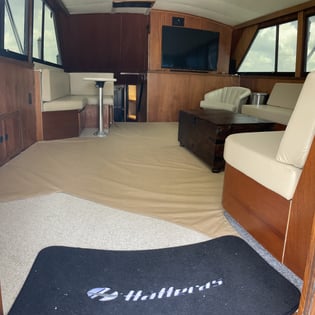 We are the obvious choice when it comes to luxury and VIP family deep sea fishing. Capt. Rafael and his crew cockpit manager, and Stewardes maintain and run one of the cleanest and biggest charter Sport Fish yachts in the industry, a custom Hatteras deep sea charter fishing boat. It is located only minutes away from the warm waters of the Gulf Stream where some of the best deep sea fishing is done! We are always at your service and ready to take you on a charter fishing trip of a lifetime. We are one of the most experienced and successful deep sea fishing charter services that operates in South Florida for more than 25 years! The owner and operator of this magnificent luxury sport fish is Capt. Rafael Mayans. When you come aboard, luxury will scream at you. The boat is a beautiful high-class sport fishing machine. Sea Cross is located in Miami Beach and offers to show you a memorable time in these waters. Capt. Rafael and his crew cockpit manager, and Stewardes will do his best to make sure you have a fun day full of fishing This involves 4-hour trips, mainly fishing for Dolphin, Barracuda, Wahoo, Amberjack, Grouper, and Cobia, depending on the season and conditions on the day. On these trips, you can expect to use techniques such as light tackle, heavy tackle, trolling, big game fishing, drift fishing, and spinning. Your fishing adventure starts on a 55' Hatteras boat that can safely take up to 6 anglers. This boat comes with a toilet, ac, an ice-box, a and fighting chair. All rods, reels, and terminal tackle are included in the price so you can focus on what really matters, fishing. Your trip will include all the necessary fishing licenses for the day. The crew will clean and fillet your catch for you to take home at the end of the trip. we are only 15 minutes away from lines in more fishing time from our location than from any other marina here in South Florida. This means more fishing time for you Read More
Top Types of Trip in Hollywood
Top Targeted Species in Hollywood
Half Day and Full Day Fishing Trips in Hollywood
Everything to Know About Booking a Fishing Charter in Hollywood
What are the best fishing charters in Hollywood?
Our guides in Hollywood are rated a 4.94 out of 5 based on 9688 verified reviews on Captain Experiences.
All guides on Captain Experiences are licensed, insured, and vetted by our team. You can access their reviews, click through trip photos, read bios to get to know them, and preview trip details like species, techniques, group sizes, boat specs and more.
What types of fishing charters are common in Hollywood?
Deep Sea fishing is the most popular in Hollywood as well as nearshore fishing, lake fishing, and inshore fishing.
The most commonly sought after species in Hollywood are: 1. mahi mahi, 2. kingfish, 3. sailfish, and 4. wahoo.
The most common fishing techniques in Hollywood are trolling, heavy tackle fishing, and live bait fishing but bottom fishing and light tackle fishing are popular as well.
How much do Hollywood fishing charters cost?
in Hollywood prices can range anywhere from an affordable $175 to $3,000 and up, but the average price for a half day trip in Hollywood is $1,059. The average price for a full day trip in Hollywood is $1,196.
What month is best for fishing in Hollywood?
The most popular season for fishing in Hollywood is spring, and most anglers book their trips 23 days in advance.
Do I need a Hollywood fishing license and what are the bag limits in Hollywood?
If you're thinking about a saltwater trip, you're in luck! Our saltwater fishing tours in Hollywood don't require you to purchase a fishing license – your group is covered by your boat's captain. For freshwater trips, you'll still need to purchase a license. See here for more information on fishing licenses, bag limits, and fishing season regulations in Hollywood. When in doubt, your fishing guide will always know the right rules and regulations.
Hollywood Beach Fishing Overview
Hollywood, Florida is a prime destination for fishing enthusiasts seeking a diverse range of angling opportunities. The area boasts a variety of inshore and offshore fishing grounds, with abundant underwater structure providing excellent habitats for species such as Snook, Redfish, Permit, Tarpon, Grouper, Snapper, Amberjack, Kingfish, Blackfin and Skipjack Tuna, Mahi Mahi, Wahoo, Sailfish, Marlin, and Swordfish.

Charter fishing is readily available in Hollywood, with marinas in Three Islands Park and Dania Beach offering a range of options for every group's needs. Half-day trips are ideal for casual fishing, while longer trips are recommended for targeting specific species.

Florida fishing regulations require anglers to be aware of seasons and bag limits for the species they intend to target. However, registered Hollywood fishing charters will handle licensing for saltwater fishing.
Hollywood Beach Inshore Fishing
The inshore fishing opportunities in Fort Lauderdale do not get the recognition they deserve. With Canals, backwaters, and waterways full of ideal habitat, the inshore fishing is excellent. Anglers can expect to find the usual inshore species like redfish, sheepshead, speckled trout, jack crevalle, and much more inhabiting these waters. Tarpon hang out in channels, flats, and under bridges as they fill up on schooling Menhaden and other baitfish. Throughout Biscayne Bay there are numerous islands, flats, cuts, canals, and channels that provide endless spots to explore while looking for fish.
Hollywood Beach Nearshore Fishing
With plenty of nearby reefs, structures, and baitfish, mackerel, kingfish, and various snapper species can be found in the waters just offshore. With various species of snapper like mutton, mangrove, and yellowtail you can drop bait deep year-round. Catching mackerel and kingfish is an action-packed experience with these aggressive predators. With big blowups, and pound for pound some of the hardest fighting fish, this is an experience that's hard to beat. With various species of snapper like mutton, mangrove, and yellowtail you can drop bait deep year-round.
Hollywood Beach Deep Sea Fishing
The fun doesn't stop in town. Only a short trip from the dock there are hundreds of reefs, wrecks, and shallow structure, all teeming with life. Reef & wreck trips are excellent for taking the family out because you can catch a variety of fish species with a relatively laid back fishing style. Fishing shallow structure can produce grouper, snapper, triggerfish, jacks, and an assortment of other reef fish.

For the offshore trips focused on trolling for pelagic species, the Gulf Stream is closer to shore than usual while fishing out of Hollywood Beach. The proximity to this famous ocean current means species that normally require long range or multi-day trips to target can be found on just a day trip. Running out to deep bluewater means taking a shot at tuna, sailfish, mahi-mahi, wahoo, and billfish. Serious anglers come from all over to take advantage of the offshore opportunities in Hollywood Beach. The blue marlin bite comes on strong in the summer months followed by the swordfish and sailfish in the winter. With mahi-mahi, tuna, and wahoo biting year-round, there's always giant fish to be caught.
Popular Types of Fishing In Hollywood Beach
The most common types of fishing charters in Hollywood, Florida are deep sea fishing charters, inshore fishing charters, and drift fishing charters.

Deep sea fishing charters take you out to the open ocean where you can catch big game fish like sailfish, marlin, and tuna. Inshore fishing charters stay closer to shore and target species like snook, redfish, and trout. Drift fishing charters are perfect for beginners and families, as they take you out to the reefs where you can catch snapper, grouper, and other bottom-dwelling fish.

Some of the most common fish to catch in Hollywood include mahi-mahi, kingfish, wahoo, and barracuda.

If you're looking for a Hollywood fishing charter, be sure to check out landmarks like the Hollywood Beach Boardwalk and the Anne Kolb Nature Center. These are popular spots for fishing charters to depart from and offer easy access to some of the best fishing in the area.
The Best Places To Fish In Hollywood Beach
Hollywood, Florida is a great destination for fishing enthusiasts. With its beautiful beaches and abundant waterways, there are plenty of opportunities to catch a variety of fish. Here are some of the best places to fish in Hollywood, Florida:

1. Hollywood Beach Fishing Pier - This iconic pier is a popular spot for both locals and tourists. It offers great views of the ocean and is home to a variety of fish, including snook, tarpon, and kingfish.

2. Anne Kolb Nature Center - This nature center offers a unique fishing experience, with access to both freshwater and saltwater fishing. Visitors can fish from the shore or rent a kayak or canoe to explore the waterways.

3. Dania Beach Fishing Pier - Just a short drive from Hollywood, this pier offers great fishing opportunities for both beginners and experienced anglers. It's also home to a bait and tackle shop and a restaurant.

4. Fishing charters - For those looking for a more guided fishing experience, there are several fishing charters available in Hollywood. These charters offer access to deeper waters and a wider variety of fish, including sailfish, marlin, and tuna.

5. West Lake Park - This park offers both freshwater and saltwater fishing, with access to a variety of fish species. It's also a great spot for birdwatching and hiking.
Other Things To Do In Hollywood Beach
While Hollywood fishing charters are a popular attraction, there are plenty of other things to do in this vibrant Florida city. Take a stroll down the Hollywood Beach Broadwalk, a 2.5-mile pedestrian promenade lined with restaurants, shops, and live entertainment. For a taste of Hollywood's art scene, visit the Art and Culture Center of Hollywood or the Hollywood Beach Theatre. If you're looking for family-friendly fun, head to the Anne Kolb Nature Center or the Young at Art Museum. And of course, no trip to Hollywood is complete without a visit to the iconic Hollywood Beach. With its crystal-clear waters and soft sand, it's the perfect place to relax and soak up the Florida sun.
Recent Reviews of Captain Experiences
★★★★★

This was an awesome fishing outing. They really helped us catch some big fishes while helping our sea sick passengers. Highly recommend this experience.

Chase V. with David I. of Hollywood, Florida

★★★★★

I can't say enough good things about Carl and Dom. What a great crew. They had us on fishing within 20 minutes of leaving the harbor and we were busy the entire trip! Their expertise and guidance helped us catch literally dozens of fish and we had the best time ever. Not only were they super friendly but also had complete control when the fish got close! I can't recommend them enough. I can't wait for my next trip with them!

Grayson R. with David I. of Hollywood, Florida

★★★★★

Amazing trip with an All-Star crew!!! Couldn't ask for a better day weather wise and company wise. From arrival to the dock to leaving after 8 hours of fun filled day of catching fish, having laughter and just enjoying an absolute best time of our life's. Mike and Dan are the best crew that anyone could ask. Strongly recommend anyone who wants to experience good fishing and knowledgeable personale to book with Lady Pamela II. Looking forward coming back and have another amazing trip with these guys….

Marcis P. with David I. of Hollywood, Florida
Hollywood Fishing Calendar
| Species | January | February | March | April | May | June | July | August | September | October | November | December |
| --- | --- | --- | --- | --- | --- | --- | --- | --- | --- | --- | --- | --- |
| Amberjack | Fair | Ideal | Ideal | Ideal | Ideal | Ideal | Fair | Fair | Fair | Fair | Fair | Fair |
| Barracuda | Ideal | Ideal | Ideal | Ideal | Great | Great | Ideal | Ideal | Ideal | Ideal | Ideal | Ideal |
| Black Grouper | Not Allowed | Not Allowed | Not Allowed | Not Allowed | Ideal | Ideal | Ideal | Ideal | Ideal | Ideal | Ideal | Ideal |
| Blackfin Tuna | Great | Great | Ideal | Ideal | Ideal | Great | Good | Great | Great | Ideal | Ideal | Great |
| Blue Marlin | Good | Good | Great | Great | Ideal | Ideal | Ideal | Great | Great | Great | Fair | Good |
| Bonefish | Fair | Fair | Fair | Ideal | Ideal | Great | Great | Great | Ideal | Ideal | Ideal | Great |
| Bonito | Fair | Fair | Great | Great | Ideal | Ideal | Ideal | Ideal | Ideal | Ideal | Great | Good |
| Cobia | Ideal | Ideal | Ideal | Ideal | Ideal | Great | Good | Good | Great | Ideal | Ideal | Ideal |
| Gag Grouper | Not Allowed | Not Allowed | Not Allowed | Not Allowed | Ideal | Ideal | Ideal | Ideal | Ideal | Ideal | Ideal | Ideal |
| Goliath Grouper | Good | Good | Good | Good | Great | Ideal | Ideal | Ideal | Great | Good | Good | Good |
| Hammerhead Shark | Ideal | Ideal | Ideal | Ideal | Ideal | Ideal | Ideal | Ideal | Ideal | Ideal | Ideal | Ideal |
| Hogfish | Not Allowed | Not Allowed | Not Allowed | Not Allowed | Great | Ideal | Ideal | Ideal | Great | Great | Not Allowed | Not Allowed |
| Jack Crevalle | Ideal | Ideal | Ideal | Ideal | Ideal | Great | Great | Great | Great | Great | Great | Great |
| Kingfish | Ideal | Ideal | Ideal | Fair | Great | Great | Ideal | Great | Fair | Fair | Fair | Ideal |
| Largemouth Bass | Ideal | Ideal | Ideal | Great | Good | Good | Good | Good | Great | Ideal | Ideal | Ideal |
| Mahi Mahi | Fair | Fair | Great | Ideal | Ideal | Ideal | Ideal | Ideal | Ideal | Great | Great | Fair |
| Mangrove Snapper | Ideal | Ideal | Ideal | Ideal | Ideal | Ideal | Ideal | Ideal | Ideal | Ideal | Ideal | Ideal |
| Mutton Snapper | Great | Great | Great | Great | Great | Great | Great | Great | Great | Great | Great | Great |
| Peacock Bass | Good | Good | Good | Great | Ideal | Ideal | Ideal | Ideal | Great | Good | Good | Good |
| Permit | Fair | Fair | Great | Great | Ideal | Ideal | Ideal | Great | Great | Ideal | Great | Fair |
| Red Snapper | Great | Great | Great | Great | Great | Great | Great | Great | Great | Great | Great | Great |
| Sailfish | Ideal | Ideal | Ideal | Fair | Ideal | Great | Good | Great | Ideal | Ideal | Ideal | Great |
| Snook | Good | Good | Good | Great | Ideal | Ideal | Ideal | Ideal | Ideal | Great | Great | Good |
| Swordfish | Great | Great | Good | Good | Good | Good | Great | Ideal | Ideal | Ideal | Ideal | Great |
| Tarpon | Good | Great | Ideal | Ideal | Ideal | Great | Great | Great | Good | Good | Good | Good |
| Wahoo | Great | Ideal | Fair | Great | Great | Great | Great | Ideal | Ideal | Ideal | Ideal | Fair |
| White Marlin | Fair | Fair | Fair | Fair | Great | Ideal | Great | Great | Fair | Fair | Fair | Fair |
| Yellowtail Snapper | Good | Good | Good | Great | Great | Ideal | Ideal | Ideal | Ideal | Great | Great | Good |
Other Fishing Charter Locations near Hollywood