4.94 / 5 Average Review Score
Team of Experts Available 24/7
Licensed and Insured Guides
Recently Booked Fishing Charters Near Edgewater, Fl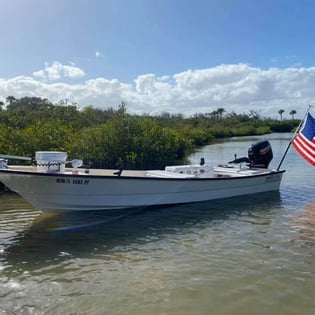 Booking with Captain Chris ensures you have an excellent time fishing and being out on the water. Captain Chris has over 10 years of experience fishing his home waters of the Mosquito Lagoon and Ponce Inlet. He is ready to put you on a world-class fish. When you go out with him you will target Monster Redfish, Black Drum, Trout, Snook, and Tarpon (May-July). Captain Chris welcomes anglers of all ages and experience levels! Whether you're experienced or not, he will ensure you have an enjoyable and educational adventure. He operates all his trips out of an 18' Panga Marine skiff which is versatile enough to run the coastlines for Cobia and Tarpon during the summertime and to catch tailing redfish on the flats. This skiff handles chop excellently and makes for a comfortable ride for up to 3 clients. This means you get the best of both worlds, so whether you want to catch a fish of a lifetime or go sightseeing, Captain Chris has got you covered. Chris will provide everything you need to get you started on the right foot. The skiff comes loaded with a Yeti cooler full of ice and water for clients. He also provides all the fishing licenses, premium gear, tackle, bait, and fish cleaning after you've loaded up the box. Captain Chris fishes under Temple Fork Outfitters Pro-Team and provides high-quality rods and reels made by TFO for his clients to use. Read More
In NE Florida, you can expect many shark species from Blacktip to Bulls and all their shark friends. Captain Chris will start you charter off by fishing for some of their favorite meals, fish! Easy targets are small Snapper and Jacks that will smash your bait and give you an incredible rush of rod bending action to start your day. You might even think this is two fishing trips in one! Next, you'll move on to the sharks and you'll be catching these predators of the sea with rod and reel. You can expect the excitement to build as you watch these carnivores swim up towards the boat, then be prepared for not only a fierce fight but also a fantastic show of arieal acrobatics and screaming drag. If you are ready to be put through the paces, clamp down on your rod, and haul in one of these beasts. NE Florida Shark fishing is where it's at! This unique trip is for the angler looking for a thrilling excursion. Captain Chris welcomes anglers of all ages and experience levels! Whether you're experienced or not, he will ensure you have an enjoyable and educational adventure. He operates all his trips out of an 18' Panga Marine skiff which is versatile enough to run the coastlines for to catch tailing Redfish on the flats and do battle with monster Sharks in both surf and nearshore waters. This skiff handles chop excellently and makes for a comfortable ride for up to 3 clients. This means you get the best of both worlds, so whether you want to catch the shark of a lifetime or go sightseeing, Captain Chris has got you covered. Chris will provide everything you need to get you started on the right foot. The skiff comes loaded with a Yeti cooler full of ice and water for clients. He also provides all the fishing licenses, premium gear, tackle, bait, and fish cleaning after you've loaded up the box. Captain Chris fishes under Temple Fork Outfitters Pro-Team and provides high-quality rods and reels made by TFO for his clients to use. Read More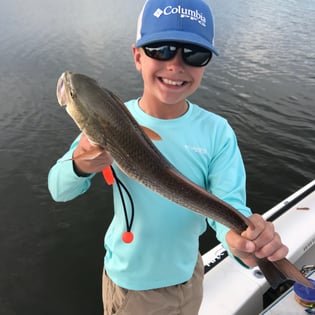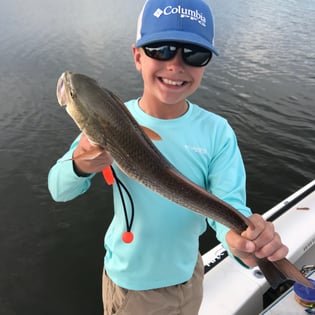 We will be fishing the world famous Mosquito Lagoon which is contained within the Merritt Island Wildlife Reserve. Whether we launch at Riverbreeze Park in Oak Hill or Beacon 42 Launch we will be fishing different sections of the 30 mile long 7 mile wide lagoon. Most of the fishing will be polling islands or shorelines casting at tailing or pushing fish. The species that we will be targeting will be Redfish & Sea Trout. Snook and Black Drum are also options depending upon where we fish. One of the options on the 4 hr. or 5 hr trip would be going to the famous JB's Fish Camp for lunch. JB's if famous for their Fishermans Lunch which is a 1/2" thick slice of fried Bologna and cheese on grilled bread with fries or chips. Read More
Top Types of Trip in Edgewater
Top Targeted Species in Edgewater
Half Day and Full Day Fishing Trips in Edgewater
Everything to Know About Booking a Fishing Charter in Edgewater
What are the best fishing charters in Edgewater?
Our guides in Edgewater are rated a 4.82 out of 5 based on 9688 verified reviews on Captain Experiences.
All guides on Captain Experiences are licensed, insured, and vetted by our team. You can access their reviews, click through trip photos, read bios to get to know them, and preview trip details like species, techniques, group sizes, boat specs and more.
What types of fishing charters are common in Edgewater?
Deep Sea fishing is the most popular in Edgewater as well as inshore fishing, nearshore fishing, and flats fishing.
The most commonly sought after species in Edgewater are: 1. redfish, 2. speckled trout, 3. snook, and 4. black drum.
The most common fishing techniques in Edgewater are light tackle fishing, live bait fishing, and artificial lure fishing but bottom fishing and sight casting are popular as well.
How much do Edgewater fishing charters cost?
in Edgewater prices can range anywhere from an affordable $250 to $3,000 and up, but the average price for a half day trip in Edgewater is $491. The average price for a full day trip in Edgewater is $1,126.
What month is best for fishing in Edgewater?
The most popular season for fishing in Edgewater is summer, and most anglers book their trips 23 days in advance.
Do I need a Edgewater fishing license and what are the bag limits in Edgewater?
If you're thinking about a saltwater trip, you're in luck! Our saltwater fishing tours in Edgewater don't require you to purchase a fishing license – your group is covered by your boat's captain. For freshwater trips, you'll still need to purchase a license. See here for more information on fishing licenses, bag limits, and fishing season regulations in Edgewater. When in doubt, your fishing guide will always know the right rules and regulations.
Popular Types of Fishing In Edgewater
Edgewater fishing charters offer a variety of options for anglers of all levels. The most common types of fishing charters in Edgewater are inshore, offshore, and backcountry. Inshore charters are perfect for those who want to stay close to shore and catch species like redfish, trout, and snook. Offshore charters take you further out to sea to catch bigger fish like mahi-mahi, tuna, and sailfish. Backcountry charters are great for those who want to explore the mangrove-lined waterways and catch species like tarpon, snook, and redfish.

Some of the most common fish to catch in Edgewater include redfish, trout, snook, tarpon, mahi-mahi, tuna, and sailfish. Edgewater fishing charters often visit landmarks like Mosquito Lagoon, Indian River Lagoon, and Ponce Inlet. These areas are known for their abundant fish populations and beautiful scenery. Whether you're a seasoned angler or a beginner, there's a fishing charter in Edgewater that's perfect for you.
The Best Places To Fish In Edgewater
Edgewater, Florida is a prime location for fishing enthusiasts. With its abundance of waterways and diverse fish species, there are plenty of great spots to cast a line. Here are some of the best places to fish in Edgewater:

1. Mosquito Lagoon: Known for its redfish and trout, Mosquito Lagoon is a popular spot for both shore and boat fishing. Fishing charters are available for those who want to explore the area's deeper waters.

2. Indian River: This expansive waterway is home to a variety of fish, including snook, tarpon, and redfish. Fishing charters are a great way to navigate the river's many channels and find the best spots.

3. Spruce Creek: This scenic creek is a great place to catch bass, bluegill, and other freshwater fish. Kayak and canoe rentals are available for those who want to explore the creek's quieter areas.

4. Turnbull Bay: This shallow bay is a prime spot for catching redfish, trout, and flounder. Fishing charters are available for those who want to explore the bay's many channels and flats.

5. New Smyrna Beach: This popular beach destination is also a great place to fish for pompano, whiting, and other surf species. Fishing charters are available for those who want to venture further offshore.

Overall, Edgewater offers a wide range of fishing opportunities for anglers of all skill levels. Whether you prefer freshwater or saltwater fishing, there's something for everyone in this beautiful Florida town.
Other Things To Do In Edgewater
While Edgewater fishing charters are a popular attraction, there are plenty of other things to do in this Florida city. Take a scenic boat tour of the Indian River Lagoon, explore the nearby Canaveral National Seashore, or visit the Marine Discovery Center to learn about local marine life. For thrill-seekers, Skydive New Smyrna Beach offers breathtaking views of the area from above. If you're looking for a more relaxed activity, head to the Sugar Mill Ruins and take a self-guided tour of the historic site. And of course, no trip to Edgewater is complete without a visit to the beautiful New Smyrna Beach.
Recent Reviews of Captain Experiences
★★★★★

Hadn't checked the fishing schedule and ended up booking on red snapper weekend. Was a super busy weekend for fishing but captain Brad got us set up and out on fish right away. Had great time out on the water and ended up limiting out. Would definitely recommend/go back.

Kevin D. with Christian R. of Edgewater, Florida
Edgewater Fishing Calendar
| Species | January | February | March | April | May | June | July | August | September | October | November | December |
| --- | --- | --- | --- | --- | --- | --- | --- | --- | --- | --- | --- | --- |
| Black Drum | Fair | Fair | Fair | Good | Great | Great | Good | Good | Good | Fair | Fair | Fair |
| Black Seabass | Not Allowed | Not Allowed | Great | Great | Ideal | Not Allowed | Not Allowed | Not Allowed | Ideal | Ideal | Not Allowed | Not Allowed |
| Bluefish | Fair | Fair | Fair | Fair | Great | Ideal | Ideal | Ideal | Ideal | Ideal | Great | Good |
| Bull Shark | Fair | Fair | Fair | Fair | Fair | Great | Great | Great | Fair | Fair | Fair | Fair |
| Carp | Great | Great | Great | Great | Great | Great | Great | Great | Great | Great | Great | Great |
| Cobia | Fair | Fair | Fair | Fair | Good | Ideal | Ideal | Good | Ideal | Good | Fair | Fair |
| Crab | Not Allowed | Not Allowed | Not Allowed | Great | Great | Great | Great | Great | Great | Great | Great | Great |
| Flounder | Good | Good | Great | Ideal | Ideal | Ideal | Ideal | Ideal | Ideal | Ideal | Ideal | Good |
| Kingfish | Fair | Fair | Fair | Fair | Fair | Good | Great | Great | Great | Great | Fair | Fair |
| Largemouth Bass | Good | Good | Not Allowed | Not Allowed | Not Allowed | Great | Great | Great | Great | Good | Good | Good |
| Perch | Fair | Fair | Good | Good | Great | Ideal | Ideal | Ideal | Ideal | Good | Fair | Fair |
| Redfish | Fair | Fair | Fair | Good | Great | Ideal | Great | Ideal | Great | Good | Fair | Fair |
| Sheepshead | Fair | Fair | Fair | Fair | Good | Great | Ideal | Great | Good | Good | Fair | Fair |
| Smallmouth Bass | Good | Good | Not Allowed | Not Allowed | Not Allowed | Great | Great | Great | Great | Great | Good | Good |
| Spadefish | Fair | Fair | Fair | Fair | Good | Great | Ideal | Great | Good | Fair | Fair | Fair |
| Spanish Mackerel | Fair | Fair | Fair | Fair | Fair | Great | Ideal | Ideal | Great | Good | Fair | Fair |
| Speckled Trout | Fair | Fair | Good | Good | Ideal | Ideal | Great | Ideal | Ideal | Ideal | Ideal | Great |
| Striped Bass | Not Allowed | Not Allowed | Not Allowed | Ideal | Ideal | Ideal | Ideal | Ideal | Ideal | Ideal | Ideal | Great |
| Tarpon | Fair | Fair | Fair | Fair | Fair | Good | Great | Great | Good | Fair | Fair | Fair |
| Tautog | Great | Ideal | Ideal | Ideal | Ideal | Not Allowed | Not Allowed | Not Allowed | Not Allowed | Not Allowed | Ideal | Not Allowed |
Other Fishing Charter Locations near Edgewater
;