4.94 / 5 Average Review Score
Team of Experts Available 24/7
Licensed and Insured Guides
Recently Booked Fishing Charters Near Milton, Fl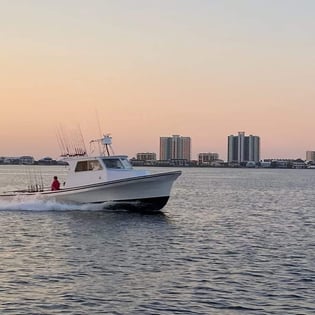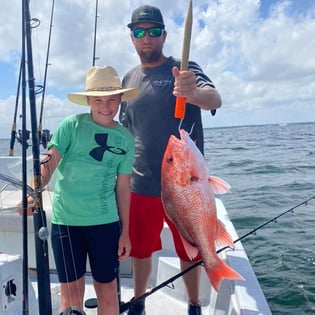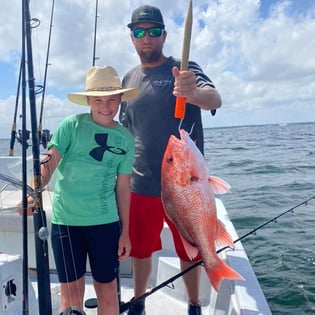 Come experience the thrill of inshore and nearshore fishing in Pensacola Beach, Florida with Captain Travis and his 26ft Twin Vee Center Console! This unforgettable fishing trip is perfect for both seasoned anglers and beginners looking to reel in their first catch. Captain Travis has years of experience fishing in the waters around Pensacola Beach, and his expertise will ensure that you have a safe and successful trip. The Twin Vee Center Console is a spacious and comfortable boat that can accommodate up to six passengers, making it perfect for a family outing or a day on the water with friends. During your trip, you'll have the chance to catch a variety of fish species, including Redfish, Trout, Flounder, Sheepshead, and more! Captain Travis will take you to the best fishing spots, where you can cast your line and feel the excitement of reeling in your catch. Whether you're looking for a half-day or full-day fishing trip, Captain Travis has you covered. He provides all the necessary fishing gear and bait, so you don't have to worry about a thing. Just bring your sense of adventure and get ready to experience the thrill of fishing in the beautiful waters of Pensacola Beach. Don't miss out on this incredible opportunity to fish with one of the best guides in Pensacola Beach. Book your inshore/nearshore fishing trip with Captain Travis today and get ready for an unforgettable adventure! Read More
There's no better way to enjoy Florida's Gulf Coast than a deep sea fishing charter! On this trip with Captain Lindley, you'll be in prime position to fill your cooler full of delicious table fish and make memories for years to come. The fishing trip is geared towards catching some of the most popular species in the Gulf. That includes Amberjack, Grouper, Triggerfish, and Kingfish, all of which are known to inhabit these waters. Captain Lindley has years of experience fishing in the area and knows the best spots to ensure a great day! Deep sea fishing is a unique experience that requires a combination of skill and patience, and with Captain Lindley's expert guidance, you'll soon be catching some of the biggest fish you've ever seen. To catch these species, you'll mostly be driving over underwater structure such as rocks and reefs. This kind of is great because you can relax and enjoy a beverage while you wait for the rods to start bending! Whether you're an experienced angler or still green, you'll have a blast on this trip. Read More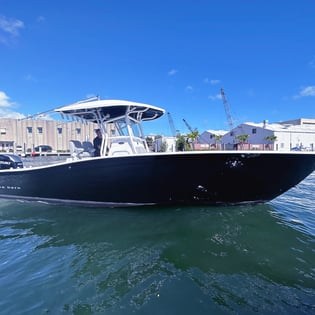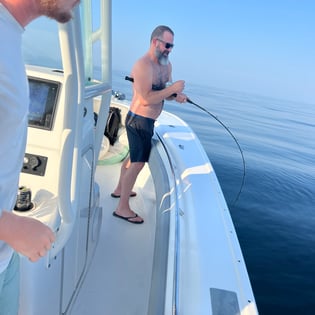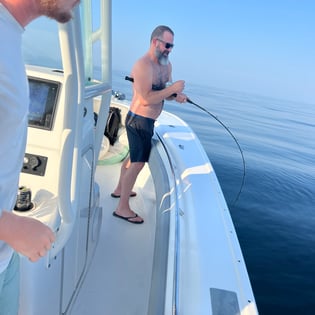 Your trip starts at the docks in the Harborwalk Village of Destin. Upon arrival you will meet with your captain or one of our associates. If your charter begins at 6am (for example) that is when your charter boat will set off from the docks. The charter service starts with a cruise through the Destin Harbor and out into the Destin Pass. After reaching the end of the Destin Pass we will set up to begin catching our Live Bait. This usually takes 30 mins (give or take) to catch enough Live Bait to fish with during your fishing trip. After we have enough Live Bait we head out into the Gulf of Mexico to begin catching reef fish. It all depends on how the fish are biting that day but we will either stay in one area for the rest of your trip or we will move to another fishing spot. After a few hours of fishing (depending on your hourly trip) we will then head back to the docks. This will usually be a 45 -60 minutes ride back (depending on your hourly trip) to the docks at the Destin Harbor. During this time you and your friends can crack open a cold one or relax on the quick trip back to the docks. Immediately after arriving at the docks your captain will pin up your fish on the fishing board. You and your friends and family can then take a group photo to help remember this special day. After the photos your captain will clean and dress all your fish in no time. You have the option to give your fresh caught fish to most (if not all) restaurants on the Destin Harbor. They will cook up your fish with one of their restaurant dishes for you. You can't beat this! This is a perfect way to top off the evening from a great time on the water! Read More
Top Types of Trip in Milton
Top Targeted Species in Milton
Half Day and Full Day Fishing Trips in Milton
Everything to Know About Booking a Fishing Charter in Milton
What are the best fishing charters in Milton?
Our guides in Milton are rated a 4.95 out of 5 based on 9606 verified reviews on Captain Experiences.
All guides on Captain Experiences are licensed, insured, and vetted by our team. You can access their reviews, click through trip photos, read bios to get to know them, and preview trip details like species, techniques, group sizes, boat specs and more.
What types of fishing charters are common in Milton?
Deep Sea fishing is the most popular in Milton as well as nearshore fishing, inshore fishing, and flats fishing.
The most commonly sought after species in Milton are: 1. red snapper, 2. kingfish, 3. spanish mackerel, and 4. amberjack.
The most common fishing techniques in Milton are bottom fishing, trolling, and light tackle fishing but heavy tackle fishing and live bait fishing are popular as well.
How much do Milton fishing charters cost?
in Milton prices can range anywhere from an affordable $300 to $3,000 and up, but the average price for a half day trip in Milton is $976. The average price for a full day trip in Milton is $2,803.
What month is best for fishing in Milton?
The most popular season for fishing in Milton is summer, and most anglers book their trips 15 days in advance.
Do I need a Milton fishing license and what are the bag limits in Milton?
If you're thinking about a saltwater trip, you're in luck! Our saltwater fishing tours in Milton don't require you to purchase a fishing license – your group is covered by your boat's captain. For freshwater trips, you'll still need to purchase a license. See here for more information on fishing licenses, bag limits, and fishing season regulations in Milton. When in doubt, your fishing guide will always know the right rules and regulations.
Other Fishing Charter Locations near Milton
;