4.94 / 5 Average Review Score
Team of Experts Available 24/7
Licensed and Insured Guides
Recently Booked Fishing Charters Near Bokeelia, Fl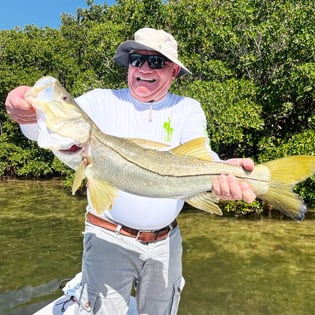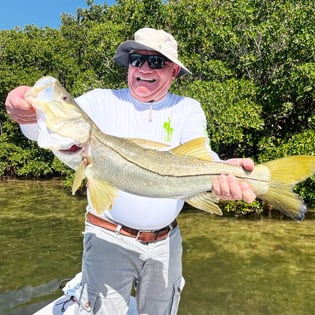 Southwest Florida is well known for it's natural richness, which includes mangrove islands, oyster beds, and plentiful grass flats! here, you can catch everything from Tarpon to Tripletail, Snook to Snapper—plus many more! On this trip with Captain Brandon, you'll set out from beautiful Bokeelia, FL and enjoy a short ride through the pristine estuaries and mangrove channels. These areas are prime territory for baitfish and the bigger, predatory species that feed on them, and a perfect place to start hooking trophy fish! You'll be riding comfortably aboard Brandon's 22' Pathfinder, which is powered by a 200-HP Yamama VMAX SHO engine. Once you in the right spot, you'll be casting out with light tackle for big sportfish. Depending on what you want to catch, Captain Brandon will make sure you're equipped with the proper bait and tackle to get some huge bites! There's no better way to experience the scenic beauty and exciting fishing in this area, so book a trip and get out there! Read More
If you're looking to reel in some big fish on the calm inshore waters off Bokeelia, FL, then this trip is your ticket! Join Captain Victor and chase classic Florida gamefish including Redfish, Snook, and Trout on the flats and in the river channels of this rich fishery. There will also be chances for Tripletail, Tarpon, Jack Crevalle, and other awesome Florida fish! Each of these species is widely known as a terrific gamefish that fights hard and will really test your strength, skill, and stamina. You'll go after these fish using light tackle techniques, so bring your A-game—when one of these aggressive fish hits the line, you'll feel it! Captain Victory has been fishing here for thirty years, and is full of expert tips and tricks to help you land that record fish, so whether you're a beginner or an advanced angler, you'll leave this trip a better fisherman than when you started. On this trip, you'll be fishing from the deck of Captain Victor's 20' Proline center console. She's ideal for these inshore areas, with a relatively shallow draft and a 150-HP Yamaha engine so you can get on the fish in a hurry. Captain Victor provides everything you need for a stellar trip, including rods, reels, bait, and tackle. All you need to remember is proper clothing, sunscreen, and a pair of polarized sunglasses to spot fish. You can also bring a cooler with some drinks and snacks. Get ready to whack 'em! Read More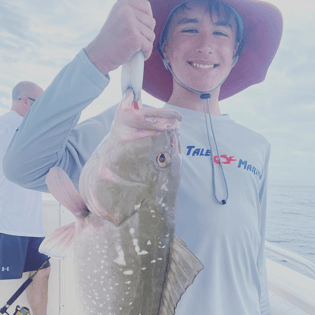 On this trip, you'll head up to 20 miles offshore, where you'll be able to fish all kinds of bottom, from rocky areas to offshore reefs, natural ledges, and more! You'll be fishing in around 70 feet of water, which is perfect of catching up a wide variety of Snappers, Grouper, Porgies, Grunts, Jacks, and more! The action can be fast and furious, with bites often coming within seconds of dropping down a bait. Captain Dan targets "keeper" sized fish on these trips, so that you can go home with a delicious dinner! However, these fish are generally not trophy size. For the chance at bigger and better quality, a longer trips are recommended as you have more time to get out further into deeper water. Read More
Top Types of Trip in Bokeelia
Top Targeted Species in Bokeelia
Half Day and Full Day Fishing Trips in Bokeelia
Everything to Know About Booking a Fishing Charter in Bokeelia
What are the best fishing charters in Bokeelia?
Our guides in Bokeelia are rated a 4.88 out of 5 based on 9637 verified reviews on Captain Experiences.
All guides on Captain Experiences are licensed, insured, and vetted by our team. You can access their reviews, click through trip photos, read bios to get to know them, and preview trip details like species, techniques, group sizes, boat specs and more.
What types of fishing charters are common in Bokeelia?
Deep Sea fishing is the most popular in Bokeelia as well as inshore fishing, flats fishing, and nearshore fishing.
The most commonly sought after species in Bokeelia are: 1. tarpon, 2. redfish, 3. snook, and 4. speckled trout.
The most common fishing techniques in Bokeelia are light tackle fishing, live bait fishing, and bottom fishing but artificial lure fishing and heavy tackle fishing are popular as well.
How much do Bokeelia fishing charters cost?
in Bokeelia prices can range anywhere from an affordable $200 to $3,000 and up, but the average price for a half day trip in Bokeelia is $586. The average price for a full day trip in Bokeelia is $1,073.
What month is best for fishing in Bokeelia?
The most popular season for fishing in Bokeelia is summer, and most anglers book their trips 15 days in advance.
Do I need a Bokeelia fishing license and what are the bag limits in Bokeelia?
If you're thinking about a saltwater trip, you're in luck! Our saltwater fishing tours in Bokeelia don't require you to purchase a fishing license – your group is covered by your boat's captain. For freshwater trips, you'll still need to purchase a license. See here for more information on fishing licenses, bag limits, and fishing season regulations in Bokeelia. When in doubt, your fishing guide will always know the right rules and regulations.
Popular Types of Fishing In Bokeelia
Bokeelia fishing charters offer a variety of options for anglers of all levels. The most common types of fishing charters in Bokeelia are inshore, offshore, and backwater. Inshore charters are perfect for those who want to stay close to shore and catch species like snook, redfish, and trout. Offshore charters take you further out to sea to catch bigger fish like grouper, snapper, and kingfish. Backwater charters are great for those who want to explore the mangrove-lined waterways and catch species like tarpon, snook, and redfish.

Some of the most common fish to catch in Bokeelia include tarpon, snook, redfish, trout, grouper, snapper, and kingfish. Depending on the type of fishing charter you choose, you may also have the opportunity to catch other species like shark, cobia, and barracuda.

Bokeelia fishing charters often visit landmarks like Pine Island Sound, Charlotte Harbor, and Boca Grande Pass. These areas are known for their abundant fish populations and beautiful scenery. Whether you're a seasoned angler or a beginner, there's a Bokeelia fishing charter that's perfect for you.
The Best Places To Fish In Bokeelia
Bokeelia, Florida is a prime destination for fishing enthusiasts. With its abundant waterways and diverse marine life, there are plenty of great spots to cast a line. Here are some of the best places to fish in Bokeelia, whether you're going on a fishing charter or just casting from shore:

1. Boca Grande Pass - Known for its tarpon fishing, Boca Grande Pass is a popular spot for fishing charters and experienced anglers alike.

2. Pine Island Sound - This expansive body of water is home to a variety of fish species, including redfish, snook, and trout.

3. Matlacha Pass - With its shallow waters and mangrove-lined shores, Matlacha Pass is a great place to catch snook, redfish, and tarpon.

4. Charlotte Harbor - This massive estuary is a top destination for fishing charters, offering opportunities to catch everything from snook and redfish to grouper and snapper.

5. Jug Creek - This quiet creek is a hidden gem for fishing enthusiasts, offering a chance to catch snook, redfish, and trout in a peaceful setting.

No matter where you choose to fish in Bokeelia, you're sure to have a memorable experience.
Other Things To Do In Bokeelia
While Bokeelia fishing charters are a popular attraction, there are plenty of other things to do in this Florida city. Take a trip to the nearby Pine Island, where you can explore the Matlacha Pass Aquatic Preserve or visit the Randell Research Center. For a more relaxing day, head to the Bokeelia Beach Park or the nearby Cayo Costa State Park for some sun and sand. If you're looking for a bit of history, check out the Calusa Heritage Trail or the Museum of the Islands. And for a unique experience, take a tour of the local farms and orchards, where you can pick your own fresh produce. With so much to see and do, Bokeelia is the perfect destination for a fun-filled vacation.
Bokeelia Fishing Calendar
| Species | January | February | March | April | May | June | July | August | September | October | November | December |
| --- | --- | --- | --- | --- | --- | --- | --- | --- | --- | --- | --- | --- |
| Amberjack | Ideal | Ideal | Great | Good | Fair | Fair | Fair | Fair | Fair | Good | Great | Ideal |
| Barracuda | Great | Great | Ideal | Ideal | Ideal | Ideal | Ideal | Ideal | Ideal | Ideal | Great | Great |
| Black Drum | Ideal | Ideal | Ideal | Great | Good | Fair | Fair | Good | Great | Ideal | Ideal | Ideal |
| Black Grouper | Ideal | Ideal | Ideal | Great | Great | Great | Great | Great | Great | Great | Ideal | Ideal |
| Cobia | Fair | Good | Great | Ideal | Great | Great | Great | Great | Ideal | Ideal | Great | Fair |
| Gag Grouper | Ideal | Ideal | Ideal | Great | Great | Great | Great | Great | Great | Great | Ideal | Ideal |
| Goliath Grouper | Great | Great | Great | Ideal | Ideal | Ideal | Ideal | Ideal | Ideal | Ideal | Great | Great |
| Hogfish | Good | Great | Great | Good | Good | Great | Great | Great | Good | Good | Good | Good |
| Jack Crevalle | Great | Great | Great | Great | Ideal | Ideal | Ideal | Ideal | Ideal | Ideal | Ideal | Great |
| Kingfish | Ideal | Ideal | Ideal | Ideal | Great | Good | Fair | Good | Great | Ideal | Ideal | Ideal |
| Ladyfish | Ideal | Ideal | Ideal | Ideal | Ideal | Ideal | Ideal | Ideal | Ideal | Great | Ideal | Ideal |
| Mangrove Snapper | Great | Great | Great | Ideal | Ideal | Ideal | Ideal | Ideal | Ideal | Ideal | Ideal | Great |
| Mutton Snapper | Fair | Fair | Fair | Fair | Fair | Ideal | Ideal | Ideal | Ideal | Great | Fair | Fair |
| Permit | Fair | Fair | Good | Great | Ideal | Ideal | Ideal | Good | Fair | Fair | Fair | Fair |
| Red Grouper | Ideal | Ideal | Ideal | Ideal | Ideal | Ideal | Ideal | Ideal | Ideal | Great | Great | Great |
| Redfish | Fair | Fair | Good | Great | Ideal | Great | Great | Great | Ideal | Ideal | Ideal | Great |
| Speckled Trout | Great | Great | Great | Ideal | Ideal | Ideal | Great | Great | Great | Great | Good | Good |
| Tarpon | Fair | Fair | Good | Great | Ideal | Ideal | Ideal | Great | Good | Fair | Fair | Fair |
| Tripletail | Fair | Good | Great | Ideal | Ideal | Ideal | Great | Great | Great | Great | Good | Fair |
| Yellowtail Snapper | Fair | Fair | Good | Great | Ideal | Ideal | Great | Great | Great | Great | Good | Fair |
Other Fishing Charter Locations near Bokeelia
Top Targeted Fishing Species in Bokeelia
Top Fishing Techniques in Bokeelia
;