4.94 / 5 Average Review Score
Team of Experts Available 24/7
Licensed and Insured Guides
Recently Booked Fishing Charters Near Steinhatchee, Fl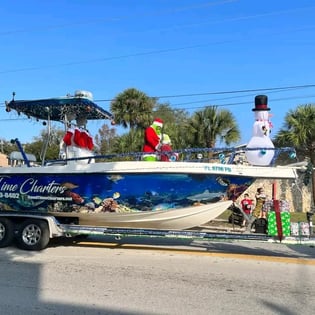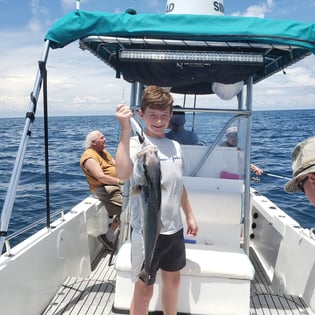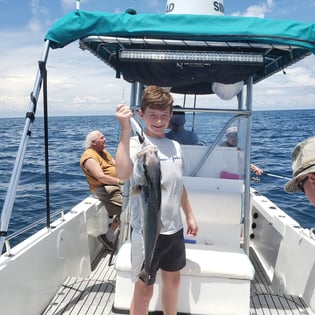 On this trip, you'll head out with Captain Melissa and bag some delicious Red Snappers! These fish are a blast to catch and are world-famous for their flaky fillets. Due to the highly limited season, these trips fill up fast, so book ahead of time for the best chances. In addition to the Red Snapper, you'll be able to hook a variety of nearshore species, including a bunch of Snappers and Groupers, Jacks, Mackerels, Tripletail, Hogfish, Grunts, Sheepshead, and more! You'll chase these fish with different techniques, from trolling to jigging to bottomfishing. Captain Melissa will point you in the right direction, tackle-wise, and do everything she can to help you reel in a personal best. Captain Melissa grew up on the Gulf and is extremely experienced; she knows how to put you on the fish fast, so with some luck you'll be hooking up almost as soon as you leave the dock. Everything you need for a successful day is included: rods, reels, bait, tackle, and most importantly, your Captain's expertise. On the morning of the trip, you'll head out aboard Melissa's sleek 35' Donzi center console, powered by twin Suzuki 350s. This vessel is perfect for tackling nearshore and offshore waters, and includes all the necessary safety gear and navigation electronics needed for a productive and comfortable trip. All you need to bring is a smile, proper clothing, a hat, and sunscreen, drinks and snacks—Captain Melissa will do the rest! Read More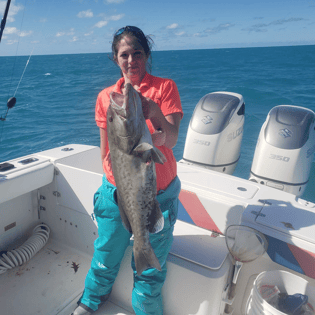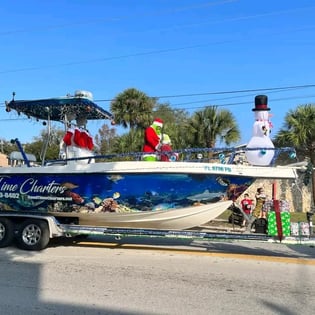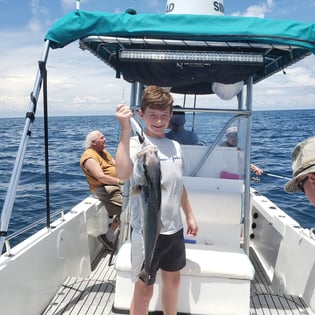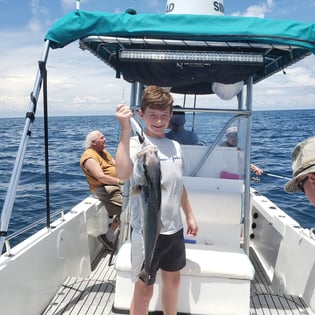 On this trip, head out with Captain Melissa and take a crack at the wide variety of nearshore species that Steinhatchee, FL has to offer! You can try your hand at hooking many different species, including a bunch of Snappers and Groupers, Jacks, Mackerels, Tripletail, Hogfish, Grunts, Sheepshead, and more! You'll chase these fish with different techniques, from trolling to jigging to bottomfishing. Captain Melissa will point you in the right direction, tackle-wise, and do everything she can to help you reel in a personal best. Captain Melissa grew up on the Gulf and is extremely experienced; she knows how to put you on the fish fast, so with some luck you'll be hooking up almost as soon as you leave the dock. Everything you need for a successful day is included: rods, reels, bait, tackle, and most importantly, your Captain's expertise. On the morning of the trip, you'll head out aboard Melissa's sleek 35' Donzi center console, powered by twin Suzuki 350s. This vessel is perfect for tackling nearshore and offshore waters, and includes all the necessary safety gear and navigation electronics needed for a productive and comfortable trip. All you need to bring is a smile, proper clothing, a hat, and sunscreen, drinks and snacks—Captain Melissa will do the rest! Read More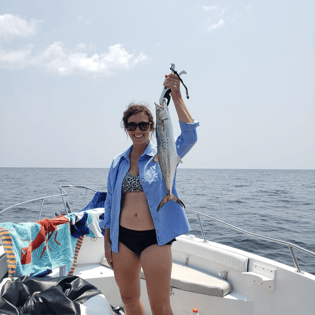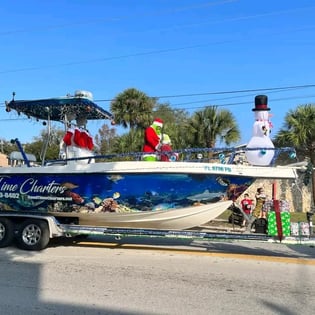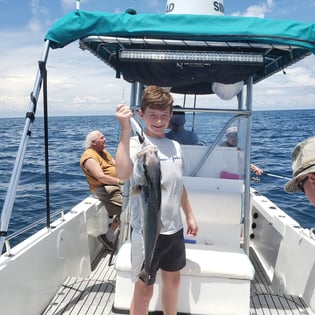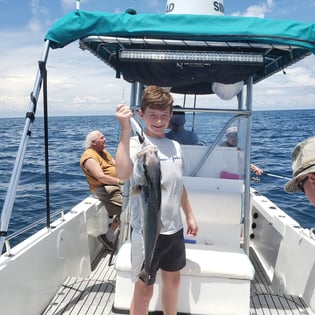 On this trip, head out with Captain Melissa and take a crack at the wide variety of nearshore species that Steinhatchee, FL has to offer! You can try your hand at hooking many different species, including a bunch of Snappers and Groupers, Jacks, Mackerels, Tripletail, Hogfish, Grunts, Sheepshead, and more! You'll chase these fish with different techniques, from trolling to jigging to bottomfishing. Captain Melissa will point you in the right direction, tackle-wise, and do everything she can to help you reel in a personal best. Captain Melissa grew up on the Gulf and is extremely experienced; she knows how to put you on the fish fast, so with some luck you'll be hooking up almost as soon as you leave the dock. Everything you need for a successful day is included: rods, reels, bait, tackle, and most importantly, your Captain's expertise. On the morning of the trip, you'll head out aboard Melissa's sleek 35' Donzi center console, powered by twin Suzuki 350s. This vessel is perfect for tackling nearshore and offshore waters, and includes all the necessary safety gear and navigation electronics needed for a productive and comfortable trip. All you need to bring is a smile, proper clothing, a hat, and sunscreen, drinks and snacks—Captain Melissa will do the rest! Read More
Top Types of Trip in Steinhatchee
Top Targeted Species in Steinhatchee
Half Day and Full Day Fishing Trips in Steinhatchee
Everything to Know About Booking a Fishing Charter in Steinhatchee
What are the best fishing charters in Steinhatchee?
All guides on Captain Experiences are licensed, insured, and vetted by our team. You can access their reviews, click through trip photos, read bios to get to know them, and preview trip details like species, techniques, group sizes, boat specs and more.
Another popular city nearby for booking a charter is Old Town.
What types of fishing charters are common in Steinhatchee?
Nearshore fishing is the most popular in Steinhatchee as well as inshore fishing.
The most commonly sought after species in Steinhatchee are: 1. sheepshead, 2. spanish mackerel, 3. strawberry grouper, and 4. grunt.
The most common fishing techniques in Steinhatchee are light tackle fishing, live bait fishing, and drift fishing but bottom fishing and trolling are popular as well.
How much do Steinhatchee fishing charters cost?
in Steinhatchee prices can range anywhere from an affordable $250 to $2,300, but the average price for a half day trip in Steinhatchee is $467. The average price for a full day trip in Steinhatchee is $1,095.
What month is best for fishing in Steinhatchee?
The most popular season for fishing in Steinhatchee is spring, and most anglers book their trips 26 days in advance.
Do I need a Steinhatchee fishing license and what are the bag limits in Steinhatchee?
If you're thinking about a saltwater trip, you're in luck! Our saltwater fishing tours in Steinhatchee don't require you to purchase a fishing license – your group is covered by your boat's captain. For freshwater trips, you'll still need to purchase a license. See here for more information on fishing licenses, bag limits, and fishing season regulations in Steinhatchee. When in doubt, your fishing guide will always know the right rules and regulations.
Popular Types of Fishing In Steinhatchee
Steinhatchee fishing charters offer a variety of options for anglers of all levels. The most common types of fishing charters in Steinhatchee are inshore, offshore, and scalloping. Inshore charters are perfect for those who want to catch redfish, trout, and flounder. Offshore charters are for those who want to catch grouper, snapper, and amberjack. Scalloping charters are for those who want to harvest their own scallops.

When booking a Steinhatchee fishing charter, be sure to ask about the landmarks that the charter visits. Some popular landmarks include the Steinhatchee River, Deadman Bay, and the Gulf of Mexico. These areas are known for their abundance of fish and are sure to provide an exciting and memorable fishing experience.

No matter which type of fishing charter you choose, you're sure to have a great time in Steinhatchee. So grab your gear and get ready to reel in some big catches!
The Best Places To Fish In Steinhatchee
Steinhatchee, Florida is a prime destination for fishing enthusiasts. With its abundance of waterways and diverse marine life, there are plenty of great spots to cast a line. Here are some of the best places to fish in Steinhatchee:

1. Steinhatchee River: This river is a popular spot for fishing charters, as it is home to a variety of fish species including redfish, trout, and flounder.

2. Gulf of Mexico: The Gulf of Mexico is a great place to fish for grouper, snapper, and other deep-sea species. Fishing charters are available for those looking to venture out into deeper waters.

3. Deadman Bay: This bay is known for its abundant scallop population, making it a popular spot for both fishing and scalloping.

4. Rocky Creek: This creek is a prime spot for catching redfish and trout, and is easily accessible by boat or kayak.

5. Dallus Creek: This creek is a hidden gem for fishing enthusiasts, with its calm waters and plentiful fish population. Fishing charters are available for those looking to explore this area.

6. Hagen's Cove: This secluded cove is a great spot for fishing and crabbing, with its shallow waters and diverse marine life.

7. Keaton Beach: This beach is a popular spot for both fishing and boating, with its clear waters and abundance of fish species.

Whether you're a seasoned angler or a beginner, Steinhatchee has plenty of great fishing spots to explore. Fishing charters are available for those looking to make the most of their time on the water.
Other Things To Do In Steinhatchee
While Steinhatchee fishing charters are a popular attraction, there are plenty of other things to do in this charming Florida city. Take a dip in the crystal-clear waters of Steinhatchee Falls, explore the natural beauty of the Steinhatchee Wildlife Management Area, or hike the trails at Big Shoals State Park. For a taste of local culture, visit the Steinhatchee River Chamber of Commerce and learn about the city's history. And if you're looking for a little adventure, try your hand at kayaking or paddleboarding on the Steinhatchee River. With so much to see and do, Steinhatchee is the perfect destination for a fun-filled vacation.
Steinhatchee Fishing Calendar
| Species | January | February | March | April | May | June | July | August | September | October | November | December |
| --- | --- | --- | --- | --- | --- | --- | --- | --- | --- | --- | --- | --- |
| Amberjack | Great | Great | Ideal | Ideal | Ideal | Great | Great | Great | Great | Ideal | Ideal | Ideal |
| Black Drum | Good | Great | Ideal | Ideal | Great | Great | Great | Great | Ideal | Ideal | Ideal | Good |
| Black Grouper | Ideal | Great | Great | Great | Ideal | Ideal | Ideal | Great | Great | Great | Ideal | Ideal |
| Bluefish | Ideal | Ideal | Great | Great | Great | Great | Great | Great | Great | Great | Good | Good |
| Cobia | Fair | Fair | Good | Great | Ideal | Ideal | Great | Great | Great | Ideal | Great | Good |
| Flounder | Ideal | Ideal | Great | Great | Great | Good | Good | Good | Good | Good | Good | Great |
| Gag Grouper | Not Allowed | Not Allowed | Not Allowed | Not Allowed | Not Allowed | Good | Good | Good | Great | Great | Great | Great |
| Jack Crevalle | Good | Good | Great | Great | Ideal | Ideal | Ideal | Ideal | Ideal | Great | Great | Great |
| Kingfish | Fair | Fair | Great | Ideal | Great | Good | Good | Good | Great | Ideal | Great | Fair |
| Mahi Mahi | Fair | Fair | Fair | Fair | Fair | Great | Ideal | Great | Fair | Fair | Fair | Fair |
| Permit | Fair | Fair | Good | Great | Ideal | Ideal | Ideal | Ideal | Ideal | Great | Good | Fair |
| Red Grouper | Ideal | Not Allowed | Not Allowed | Great | Good | Good | Good | Good | Great | Great | Ideal | Ideal |
| Red Snapper | Not Allowed | Not Allowed | Not Allowed | Not Allowed | Not Allowed | Ideal | Ideal | Not Allowed | Not Allowed | Not Allowed | Not Allowed | Not Allowed |
| Redfish | Great | Great | Ideal | Ideal | Great | Great | Great | Great | Ideal | Ideal | Ideal | Great |
| Scallop | Not Allowed | Not Allowed | Not Allowed | Not Allowed | Not Allowed | Not Allowed | Ideal | Ideal | Ideal | Not Allowed | Not Allowed | Not Allowed |
| Sheepshead | Ideal | Ideal | Great | Good | Good | Good | Good | Good | Good | Good | Great | Ideal |
| Snook | Good | Good | Good | Great | Ideal | Ideal | Ideal | Ideal | Ideal | Great | Ideal | Good |
| Spanish Mackerel | Fair | Fair | Good | Great | Ideal | Ideal | Ideal | Ideal | Ideal | Great | Good | Fair |
| Speckled Trout | Great | Great | Ideal | Ideal | Great | Great | Great | Great | Great | Ideal | Ideal | Great |
| Tarpon | Good | Good | Good | Great | Ideal | Ideal | Ideal | Ideal | Great | Great | Good | Good |
| Tripletail | Ideal | Ideal | Ideal | Ideal | Ideal | Great | Fair | Fair | Fair | Fair | Fair | Great |
Top Targeted Fishing Species in Steinhatchee
Top Fishing Techniques in Steinhatchee
;