4.94 / 5 Average Review Score
Team of Experts Available 24/7
Licensed and Insured Guides
Recently Booked Hunting Charters Near Lakeland, Fl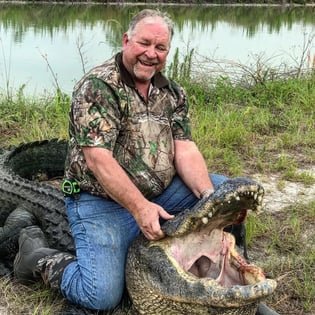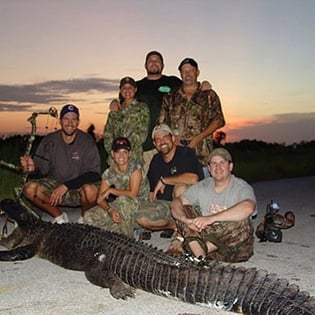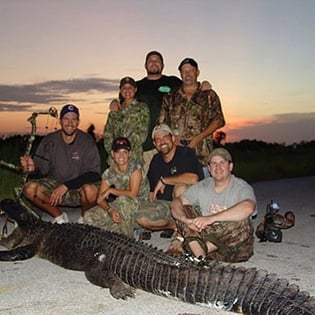 We hunt only private properties giving us access to vast wetlands, canals and marshes. This allows for incredible alligator habitat. The most exciting, adrenaline pumping, hunts are on the water at night, using a bow/cross bow and harpoon. Once you hit your target, hold on because the fight is just beginning……. If you prefer, you can hunt on land during the day (stalk & shoot). But no matter how we go about it, it will be awesome. Our alligator hunts take place March through December with the best time of year being late summer, early fall and the best time of month is the dark of the moon or (new moon). Read More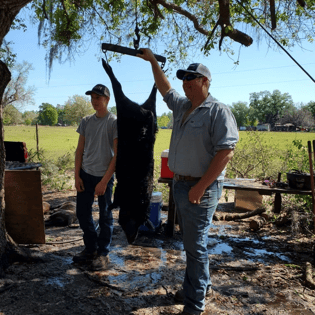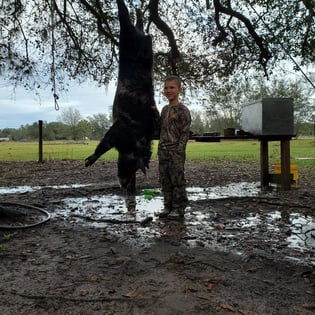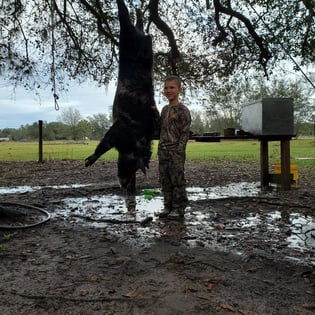 Experience the Thrill of Wild Boar Hunting in Central Florida with Robin's Adventure! Calling all thrill-seekers and hunting enthusiasts, get ready for an adrenaline-pumping adventure like no other! Join Robin's Wild Boar Hunting Adventure in the heart of Central Florida for an exhilarating and unforgettable experience. Daytime and Nighttime Hunts: At Robin's Adventure, we cater to all types of hunters and schedules. Choose between our exciting daytime and nighttime hunting trips to suit your preferences. Our daytime hunts offer a fantastic opportunity to observe the natural behavior of wild boars as they roam through their habitats. If you're seeking a more intense and action-packed experience, our nighttime hunts will get your heart pounding as you navigate the darkness in pursuit of these elusive creatures. Stalking on Foot and by Buggie: We believe in providing our guests with an authentic and immersive hunting experience. That's why most of our wild boar hunts involve stalking on foot, allowing you to truly connect with nature and embrace the challenge of tracking these intelligent and cunning animals. For added convenience and access to remote locations, we also offer buggie hunts, providing a comfortable and efficient way to explore the wilderness. Professional Guides and Safety First: Your safety and satisfaction are our top priorities. Our team of professional guides are seasoned experts in wild boar hunting, with a deep understanding of the local terrain and wildlife. They will accompany you every step of the way, ensuring you have the best chance of success and a safe, enjoyable adventure. The Thrill of Wild Boar Hunting: Central Florida's vast and diverse landscapes offer the perfect setting for wild boar hunting. As you venture into the untamed wilderness, be prepared to test your skills, agility, and instincts. Wild boars are known for their keen senses and quick reflexes, making every encounter a heart-racing experience. Bring Home the Trophy: Capture the moment of triumph as you bring down your trophy wild boar! Not only will you create lasting memories, but you'll also have a unique opportunity to savor the delicious flavors of wild game, a reward that comes from the sweat and determination of the hunt. Read More
Join us for the ultimate duck hunting adventure in the picturesque wetlands of Tampa, FL, led by the renowned Captain Phil! Prepare to embark on an unforgettable expedition, immersing yourself in the heart of nature's bounty. Our Duck Hunt in Tampa promises an adrenaline-pumping experience as we pursue a diverse range of waterfowl species, including the majestic Mallard, the striking mottled ducks, and the elusive wood ducks. With Captain Phil at the helm, a seasoned expert in duck hunting and the region's waterways, you'll be guided to the most prime hunting spots, ensuring you have the best chance of bagging your prized ducks. Whether you're a seasoned hunter looking to add to your collection or a first-time enthusiast eager to experience the thrill of the hunt, this trip caters to all skill levels. As you explore the tranquil marshes and pristine swamps, you'll also have the opportunity to witness Florida's stunning wildlife and breathtaking landscapes up close. The sunrise over the marshes is a sight to behold, casting a golden glow upon the waters as flocks of ducks take to the skies. Safety is our top priority, and our experienced guides will provide all necessary instructions and precautions, ensuring a secure and responsible hunting experience. So, gather your fellow hunters and come join us for an extraordinary Duck Hunt in Tampa, FL, a true paradise for waterfowl enthusiasts. Make memories, forge bonds, and revel in the thrill of the hunt as you create tales to be shared around the campfire for years to come. Book your spot now and let Captain Phil lead you on an unparalleled hunting adventure! Read More
Duck Hunting Tampa Bay
24 ft
4 People
From $88 per person
Top Types of Trip in Lakeland
Top Targeted Species in Lakeland
Everything to Know About Booking a Hunting Guide in Lakeland
What are the best hunting trips in Lakeland?
Our guides in Lakeland are rated a 4.86 out of 5 based on 9604 verified reviews on Captain Experiences.
All guides on Captain Experiences are licensed, insured, and vetted by our team. You can access their reviews, click through trip photos, read bios to get to know them, and preview trip details like species, techniques, group sizes, and more.
What types of hunting trips are common in Lakeland?
Hog hunting is the most popular in Lakeland as well as duck hunting, invasive species hunting, and alligator hunting.
The most commonly sought after species in Lakeland are: 1. hog, 2. mallard, 3. mottled duck, and 4. wood duck.
The most common hunting techniques in Lakeland are shotgun hunting, rifle hunting, and calling but decoy hunting is popular as well.
How much do Lakeland hunting trips cost?
in Lakeland prices can range anywhere from an affordable $200 to $3,000 and up, but the average price for a half day trip in Lakeland is $509. The average price for a full day trip in Lakeland is $908.
What month is best for hunting in Lakeland?
The most popular season for hunting in Lakeland is spring, and most hunters book their trips 11 days in advance.
Where can I look through all Captain Experiences trips?
See here to browse all the trips we offer.
Other Hunting Charter Locations near Lakeland
;