4.94 / 5 Average Review Score
Team of Experts Available 24/7
Licensed and Insured Guides
Recently Booked Fishing Guides Near Clermont, Fl
Head out with Gator God Zac to hunt public waters around Central Florida. These gator hunts are super exciting and involved hunts targeting and stalking the right specimen, fighting him back to the boat with multiple rods, and taking home a trophy unlike any other! Captain Zac spends most of his time hunting the St. John's River estuary honing in on flow through laks like Lake Monroe, Lake Harney and others. In the state of Florida guns are not allowed to use a firearm at anypoint when killing a gator, and any bait used to attract a gator has to be attached to the boat in the state of Florida so there are no lines set over night. That's where having a profesional guide like Zac comes in handy: Knowledge of the water and the right equipment for the job are essential! He's been doing it for well over 10 years and is the best of the best. Depending on what you want to do Captain Zac either likes to sight cast on them with treble hooks or bait them from afar with beef lung or floating chickens at the end of a rod and reel. Baiting them on rod and reel is especially fun since you get to see the gator wallop your bait! This method is especially productive later in the season when the gators have grown wise to the boats in the area and all too often go under when you get within 300yds. After the gator has crushed and swallowed that beef lung or chicken, you and captain Zac will stalk up on him and throw an initial hook into him to act as an indicator. Applying to much pressure on that first hook will all too often break him off. Once the indicator is secured you and Captain Zac will throw a couple more treble hooks into him and fight him up to the boat. Once he is boat side Captain Zac will use his Bang Stick to dispatch the beast and haul him aboard to head back to the dock! Captain Zac has a handful of tags for these trips, but he highly reccomends his clients bring their own Alligator tag for these trips as well. **If you have you're own tag he will cut out the price you paid for your tag and give you a discounted rate!** Everything else is provided on board like rods, reels, baits, Bang Sticks, ropes, and a cooler for your beverages and snacks. Read More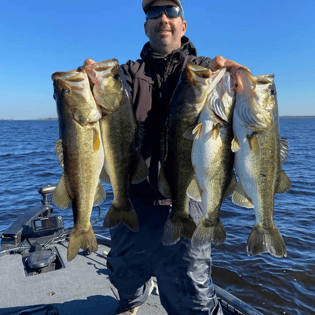 If you've been wanting to hook some massive Largemouth Bass on one of America's great fishing lakes, look no further—this trip with Captain Jeanine has everything you need for a blue-ribbon day on the water. Lake Tohopekaliga—affectionately known as Lake Toho—is an ideal habitat for Bass, with warm temperatures, lots of food, and plenty of cover. It's also a great place for anglers, with miles of shoreline and plenty of structure to cast towards. Whether you're an experienced angler or just looking to try something fun on your vacation, this is a perfect trip to hook a new personal best! Captain Jeanine runs these trips aboard her 20' Javelin bass boat, which is an ideal vessel for this water. Cast out with live shiner or an artificial lure, and get ready for the fight of your life! These big Bass love to eat, but hate to get caught. Captain Jeanine will provide everything you need for a great trip, including top-dollar rods and reels. All you need to bring is sunscreen, sun protection, and a smile! You can purchase a Florida fishing license before leaving the dock. Read More
Are you ready to hammer some incredible Largemouth in some of America's most productive bassfishing territory? Look no further—this trip with Captain David has everything you need for a great day, and is open to everyone, regardless of your experience level. Captain David is a highly successful tournament angler with several years of experience fishing this area, so you can be confident that you're in capable hands. You'll chase fish from the deck of Captain David's 20' Ranger bay boat, a perfect craft for fishing calm lakes and rivers. Cast out with a wide variety of artificial lures and bait, and get ready for the fight of your life! Bass here love to go after a huge variety of gear, from classic Ned and Texas rigs to mouse lures, live bait, and more. Captain David will provide everything you need for a great trip, including high-quality, rods, reels, and tackle. All you need to bring is sunscreen, sun protection, and a smile! Read More
Top Types of Trip in Clermont
Top Targeted Species in Clermont
Half Day and Full Day Fishing Trips in Clermont
Everything to Know About Booking a Fishing Guide in Clermont
What are the best fishing trips in Clermont?
Our guides in Clermont are rated a 5 out of 5 based on 9448 verified reviews on Captain Experiences.
All guides on Captain Experiences are licensed, insured, and vetted by our team. You can access their reviews, click through trip photos, read bios to get to know them, and preview trip details like species, techniques, group sizes, boat specs and more.
What types of fishing trips are common in Clermont?
Lake fishing is the most popular in Clermont as well as river fishing and inshore fishing.
The most commonly sought after species in Clermont are: 1. largemouth bass, 2. crappie, 3. snook, and 4. redfish.
The most common fishing techniques in Clermont are light tackle fishing, sight casting, and artificial lure fishing but trolling and live bait fishing are popular as well.
How much does a Clermont fishing trip cost?
in Clermont prices can range anywhere from an affordable $200 to $3,000 and up, but the average price for a half day trip in Clermont is $837. The average price for a full day trip in Clermont is $866.
What month is best for fishing in Clermont?
The most popular season for fishing in Clermont is spring, and most anglers book their trips 14 days in advance.
Do I need a Clermont fishing license and what are the bag limits in Clermont?
If you're thinking about a saltwater trip, you're in luck! Our saltwater fishing tours in Clermont don't require you to purchase a fishing license – your group is covered by your boat's captain. For freshwater trips, you'll still need to purchase a license. See here for more information on fishing licenses, bag limits, and fishing season regulations in Clermont. When in doubt, your fishing guide will always know the right rules and regulations.
Other Fishing Guide Locations near Clermont
;