4.94 / 5 Average Review Score
Team of Experts Available 24/7
Licensed and Insured Guides
Recently Booked Hunting Charters Near Orangetree, Fl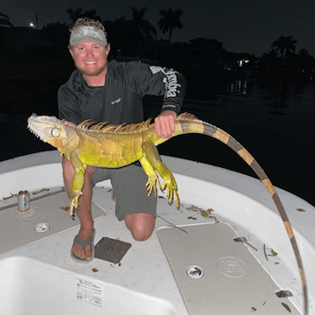 If you've never been iguana hunting here in Cape Coral, FL, then you've been missing out! This type of hunt is a blast. It's great for beginners, and good for the environment; iguanas are invasive here in Florida, and the ecosystem will thank you for bagging a few! Plus, iguanas are actually great eating! On this trip, you'll be exploring the inland canal system on board Captain Roland's 21' Tidewater bay boat. You'll be keeping your eyes peeled to spot iguanas, then potting them with air rifles. You're also free to jump out and grab them! This trip is a great time, and super flexible; you can get out there in the AM, PM , or at night. Book a trip now and experience this unique type of Florida hunting! Read More
Embark on an unforgettable adventure with Todd's Iguana Hunting Trips in Cape Coral! Step aboard Todd's specially designed 16 ft aluminum bottom boat and get ready for an exhilarating experience like no other. Whether you're a seasoned hunter or a first-timer, Todd's expert guidance ensures an exciting and safe journey through the mesmerizing canal system of Cape Coral. Join Todd on either a 2-hour or 4-hour trip as you delve deep into the heart of iguana hunting in Cape Coral. With the capacity to accommodate up to 3 guests, these trips promise an intimate and personalized adventure. As you navigate the scenic waterways, keep your sights locked on these elusive reptiles while wielding a powerful .22 caliber air rifle. Feel the adrenaline surge through you as you take aim and skillfully snipe iguanas under Todd's experienced supervision. Immerse yourself in the unique ecosystem of Cape Coral as you engage in a vital conservation effort. Iguanas, while fascinating, can disrupt the local environment, and your participation in iguana hunting plays a crucial role in maintaining the ecological balance this invasive species threatens to break. So, are you ready for an extraordinary iguana hunting Cape Coral experience? Book your trip with Todd now and create memories that will last a lifetime. Unleash your inner hunter, marvel at the stunning surroundings, and contribute to the preservation of Cape Coral's natural beauty – all while enjoying an action-packed Cape Coral Iguana Hunt! Read More
**This trip is for up to 10 people, but its really priced per hog. Must pay for two hogs to go. For example, if 1 person wants to shoot 3 hogs then you need to select the 3 person option or if 2 people want to shoot 6 total hogs then select 6 people** *Lodging option available* Join us for an exhilarating hunting expedition in the heart of Florida's wilderness, where the hunt for meat hogs promises adventure, excitement, and delicious rewards. Our exclusive package includes the opportunity to harvest one meat hog per person, making this an unforgettable hunting experience. Our seasoned guides, well-versed in Florida's diverse terrain, will lead you to the prime hunting spots, ensuring an authentic and successful hunting encounter. Whether you're an experienced hunter or new to the sport, we provide all the necessary equipment and expert guidance to ensure your adventure is both memorable and rewarding. Why choose our Florida Meat Hog Hunt? In addition to the thrilling hunting experience and expert guidance, you'll have the chance to explore the beauty of Florida's wilderness. Our experienced guides ensure your journey is safe and enjoyable, leaving you with cherished memories. Whether you're seeking the thrill of the hunt, quality time with fellow hunters, or a deep connection with nature, our Florida Meat Hog Hunt offers it all. Secure your spot today, and prepare for an adventure that blends the excitement of hunting with the comforts of a cozy retreat. Don't miss this opportunity – book now and embark on a hunting journey that will provide you with lasting memories and a delicious reward. Read More
Top Types of Trip in Orangetree
Top Targeted Species in Orangetree
Everything to Know About Booking a Hunting Guide in Orangetree
What are the best hunting trips in Orangetree?
Our guides in Orangetree are rated a 4.96 out of 5 based on 9635 verified reviews on Captain Experiences.
All guides on Captain Experiences are licensed, insured, and vetted by our team. You can access their reviews, click through trip photos, read bios to get to know them, and preview trip details like species, techniques, group sizes, and more.
Another popular city nearby for booking a trip is Cape Coral.
What types of hunting trips are common in Orangetree?
Hog hunting is the most popular in Orangetree as well as invasive species hunting.
The most commonly sought after species in Orangetree are: 1. hog and 2. iguana.
The most common hunting techniques in Orangetree are rifle hunting, hunting from a blind, and archery.
How much do Orangetree hunting trips cost?
in Orangetree prices can range anywhere from an affordable $250 to $3,000 and up, but the average price for a half day trip in Orangetree is $571. The average price for a full day trip in Orangetree is $1,374.
What month is best for hunting in Orangetree?
The most popular season for hunting in Orangetree is spring, and most hunters book their trips 11 days in advance.
Where can I look through all Captain Experiences trips?

See here to browse all the trips we offer.

;