4.94 / 5 Average Review Score
Team of Experts Available 24/7
Licensed and Insured Guides
Recently Booked Hunting Guides Near Dodd City, Tx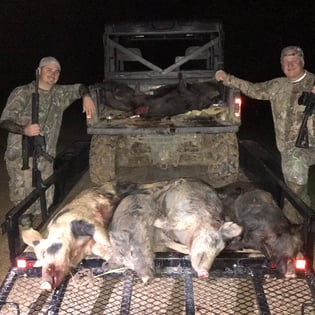 We provide fully guided thermal pig hunts in North Texas. We supply all guns, thermals, and ammunition. There is no limit on the number of pigs you can harvest with us and there are no hidden fees. Our thermal hunts will normally be a spot and stalk style hunt to ensure a higher success rate. We do offer stand and feeder hunts for hogs as well which will either be with a feeder light or during daylight hours. Read More
Thermal Pig Hunts
4 People
From $150 per person
Everything to Know About Booking a Hunting Guide in Dodd City
What are the best hunting trips in Dodd City?
All guides on Captain Experiences are licensed, insured, and vetted by our team. You can access their reviews, click through trip photos, read bios to get to know them, and preview trip details like species, techniques, group sizes, and more.
What types of hunting trips are common in Dodd City?
Hog hunting is the most popular in Dodd City.
The most commonly sought after species in Dodd City is hog
The most common hunting technique in Dodd City is thermal hunting.
How much does a Dodd City hunting trip cost?
in Dodd City prices can range anywhere from an affordable $400 to $1,200, but the average price for a half day trip in Dodd City is $600.
What month is best for hunting in Dodd City?
The most popular season for hunting in Dodd City is summer, and most hunters book their trips 39 days in advance.
Where can I look through all Captain Experiences trips?

See here to browse all the trips we offer.

;