4.94 / 5 Average Review Score
Team of Experts Available 24/7
Licensed and Insured Guides
Recently Booked Fishing Guides In Arkansas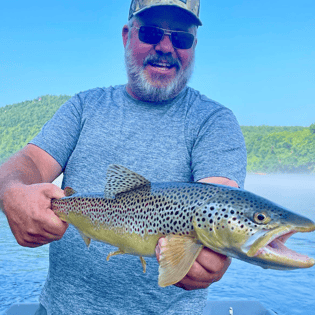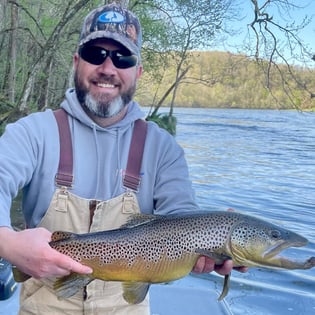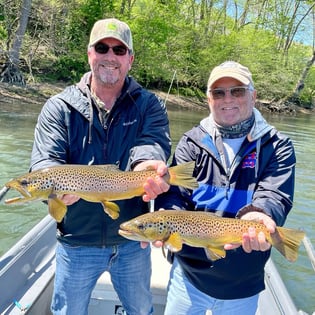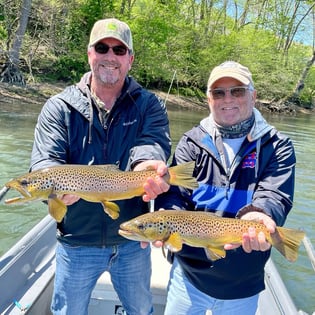 Head out on the White River in Arkansas for an epic day chasing big browns and good time with your professional guide Dan the Man! The White is a well known trout stream across the globe. Arkansans like Dan feel lucky to have such a fishery in their backyard. Visitors flock to it for the experience of catching trophy trout. While fishing with spinning rods from johnboats has always been popular, fly anglers are increasing in numbers and Dan here is leading the charge! Dan spends most of his time and efforts focusing on the tail-waters below Bull Shoals Dam. This 30-40 miles stretch is known for producing big rainbows and more prevalently monster browns! The season never closes for the Trout, and thus never stops for Dan either! On the day of your trip, you will meet up with Dan either at a local fly shop or at one of the many boat launches that line the stretch of river below Bull Shoals. You'll load your gear and belongings aboard Dan's John boat which will already be loaded with all the necessary gear for your trip. Dan likes to do some drifting down this tale water but also has a Mercury outboard strapped to the back of his John boat to give you easy access to the best water whether that's way downstream or back upstream! Dan will take care of everything for his full-day trip offerings, from rods, reels, tackle, flies, expert instruction, and even a lunch and beverages. For half-day trips, all is the same only lunch will not be provided. Usually you'll be off the water by noon, but if you'd like to bring some snacks to hold you over, you are more than welcome! Read More
White River Fly Fishing
21 ft
2 People
From $200 per person
Everything to Know About Booking a Fishing Guide in Arkansas
What are the best fishing trips in Arkansas?
Our guides in Arkansas are rated a 5 out of 5 based on 9692 verified reviews on Captain Experiences.
All guides on Captain Experiences are licensed, insured, and vetted by our team. You can access their reviews, click through trip photos, read bios to get to know them, and preview trip details like species, techniques, group sizes, boat specs and more.
The most popular city to book a charter in Arkansas is Cotter.
What types of fishing trips are common in Arkansas?
River fishing is the most popular in Arkansas.
The most commonly sought after species in Arkansas are: 1. brook trout, 2. brown trout, 3. cutthroat trout, and 4. rainbow trout.
The most common fishing technique in Arkansas is fly fishing.
How much does an Arkansas fishing trip cost?
in Arkansas prices can range anywhere from an affordable $400 to $525, but the average price for a half day trip in Arkansas is $400. The average price for a full day trip in Arkansas is $525.
What month is best for fishing in Arkansas?
The most popular season for fishing in Arkansas is fall, and most anglers book their trips 26 days in advance.
Do I need a Arkansas fishing license and what are the bag limits in Arkansas?
See here for more information on fishing licenses in Arkansas, bag limits for target species, and fishing season regulations in Arkansas. When in doubt, your fishing guide will always know the right rules and regulations in Arkansas.
Recent Reviews of Captain Experiences
★★★★★

This is a truly world class fishery. We caught 20+ fish on fly and lost a lot more (including a couple of really nice ones dammit). Dan was a great guide, a great host and we had a great day. I highly recommend this trip, I will be doing again.

Simon S. with Dan R. of Cotter, Arkansas
Arkansas Fishing Calendar
| Species | January | February | March | April | May | June | July | August | September | October | November | December |
| --- | --- | --- | --- | --- | --- | --- | --- | --- | --- | --- | --- | --- |
| Brown Trout | Ideal | Great | Great | Great | Great | Great | Ideal | Ideal | Great | Good | Good | Great |
| Crappie | Good | Good | Ideal | Great | Great | Ideal | Ideal | Ideal | Ideal | Good | Good | Good |
| Hybrid Striped Bass | Great | Ideal | Ideal | Ideal | Ideal | Great | Great | Ideal | Great | Good | Great | Ideal |
| Largemouth Bass | Good | Great | Ideal | Ideal | Ideal | Ideal | Ideal | Ideal | Ideal | Ideal | Ideal | Good |
| Rainbow Trout | Ideal | Ideal | Good | Good | Good | Good | Great | Ideal | Great | Great | Great | Ideal |
| Smallmouth Bass | Good | Good | Good | Good | Great | Ideal | Ideal | Ideal | Ideal | Ideal | Ideal | Good |
| Striped Bass | Great | Great | Great | Great | Great | Ideal | Ideal | Great | Great | Great | Great | Great |
| Sunfish | Great | Great | Great | Great | Great | Great | Great | Great | Great | Great | Great | Great |
| Walleye | Fair | Fair | Great | Good | Good | Great | Great | Ideal | Great | Great | Good | Fair |
The Best Places to Fish in Arkansas
;