4.94 / 5 Average Review Score
Team of Experts Available 24/7
Licensed and Insured Guides
Recently Booked Fishing Charters Near Port O'connor, Tx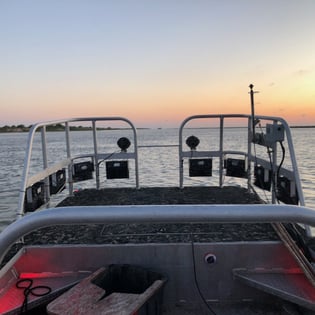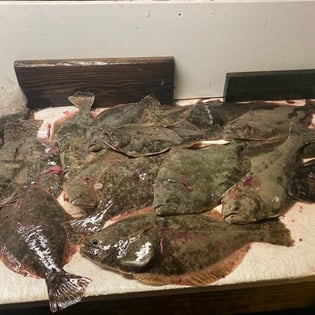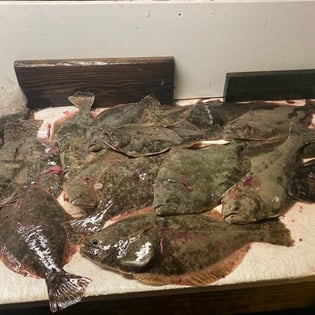 Join Captain Pat on the flounder gigging trip of a lifetime! Captain Pat is offering 4 hour nighttime Flounder Gigging trips out of Port O'Connor, Texas for up to 5 anglers. Flounder fishermen often say that a slow night of gigging is better than a slow day of rod and reel fishing. Flounder gigging is a primitive yet exciting form of fishing where lights on the front of the boat illuminate the shallow bay floor to reveal the outline or the red eyes of the flounder below. You then use a forked spear - a flounder gig - to secure your catch! Try your hand at this awesome form of fishing that's sure to bring hours of entertainment. Enter your Date, Duration, Group Size, and Start Time above to Book Now with Captain Pat and Captain Experiences! Read More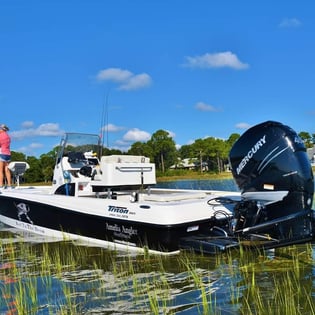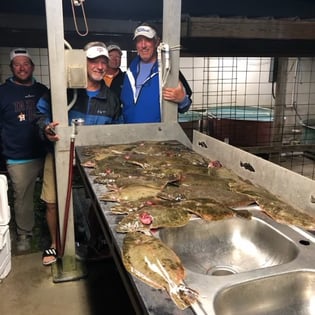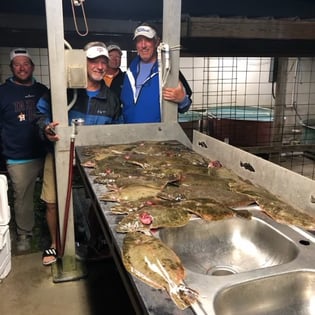 Loosen up those shoulders and get ready for an action-packed night of flounder gigging with Captain Mike! If you've never been flounder gigging, don't worry! Captain Mike loves teaching beginners the tips and tricks of flounder gigging. No matter if you are a beginner or expert gigger, you will be in great hands. Captain Mike custom-built boat is specially designed for flounder gigging. She is equipped with special underwater lights that illuminate the flounder that burrow themselves in the sand. These trips last 4-hours and take place in the cool of the night, usually hitting 1-2 feet of water. Capt. Mike will provide all the gigging equipment and will clean your catch at no additional cost. Prepare for an exciting night on the water with Captain Mike wearing out the Flounder! Read More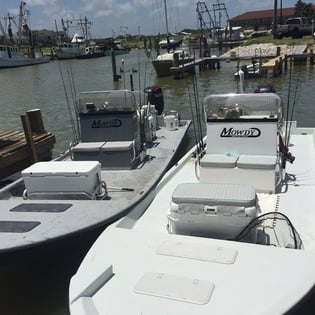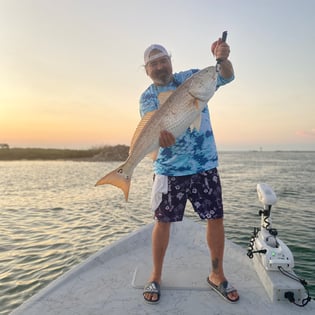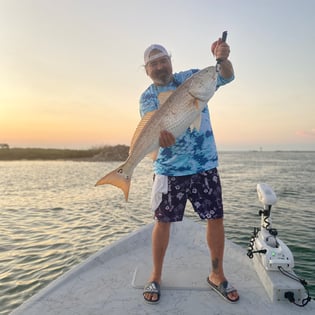 Climb aboard with Captain Pat and experience an action-packed day of fishing in Port O'Connor, Texas! Having fished these waters for quite some time now, Captain Pat knows the ins and outs of catching the trophy-sized Black Drum and Redfish that call POC home. Make sure you bring a valid Texas saltwater fishing license, food and drinks for the day, and some good company! Read More
Top Types of Trip in Port O'Connor
Top Targeted Species in Port O'Connor
Half Day and Full Day Fishing Trips in Port O'Connor
Everything to Know About Booking a Fishing Charter in Port O'Connor
What are the best fishing charters in Port O'Connor?
Our guides in Port O'Connor are rated a 4.84 out of 5 based on 9688 verified reviews on Captain Experiences.
All guides on Captain Experiences are licensed, insured, and vetted by our team. You can access their reviews, click through trip photos, read bios to get to know them, and preview trip details like species, techniques, group sizes, boat specs and more.
What types of fishing charters are common in Port O'Connor?
Deep Sea fishing is the most popular in Port O'Connor as well as inshore fishing, flats fishing, and nearshore fishing.
The most commonly sought after species in Port O'Connor are: 1. redfish, 2. flounder, 3. speckled trout, and 4. black drum.
The most common fishing techniques in Port O'Connor are light tackle fishing, artificial lure fishing, and wading but drift fishing and bottom fishing are popular as well.
How much do Port O'Connor fishing charters cost?
in Port O'Connor prices can range anywhere from an affordable $200 to $3,000, but the average price for a half day trip in Port O'Connor is $619. The average price for a full day trip in Port O'Connor is $936.
What month is best for fishing in Port O'Connor?
The most popular season for fishing in Port O'Connor is fall, and most anglers book their trips 26 days in advance.
Do I need a Port O'Connor fishing license and what are the bag limits in Port O'Connor?
See here for more information on fishing licenses in Port O'Connor, bag limits for target species, and fishing season regulations in Port O'Connor. When in doubt, your fishing guide will always know the right rules and regulations in Port O'Connor.
Port O'Connor Fishing Charter Overview
Port O'Connor, a resilient fishing village situated between Matagorda Bay and Espiritu Santo Bay, offers a diverse range of fishing opportunities. The area boasts abundant natural resources and water, making it a prime location for fishing. Inshore waters are rich with Speckled Trout, Redfish, Flounder, and Black Drum, while offshore waters offer Snapper, Grouper, Tuna, Mahi Mahi, Amberjack, Wahoo, and Billfish.

Fishing guides are readily available at Port O'Connor harbor, making it easy to find the perfect charter for your needs. However, it is important to note that fishing licenses and Redfish tags are not typically provided by guides, so it is recommended to obtain them prior to your trip.

For those seeking a unique experience, a Flounder gigging trip is a must-try. Half-day trips are ideal for family gatherings, while full-day trips offer more serious action. With a strong fishing culture and a can-do attitude, Port O'Connor is the perfect destination for fishing enthusiasts looking to immerse themselves in the beauty and culture of this waterfront community.
Port O'Connor Inshore Fishing
Just looking at an aerial view of Port O'Connor is enough to get the inshore angler excited. Bays, backwaters, and barrier islands make up a legendary fishery that's inspired stories for generations. There are plenty of great places to fish on the Texas coast, but few are in such a great spot. Located at the southern end of Matagorda Bay, Port O'Connor is surrounded by top-notch inshore fishing opportunities. Access to multiple bays and barrier islands is just a short boat ride away.

Whether you're wade fishing for (Gator Trout)[https://captainexperiences.com/blog/fishing-for-monster-speckled-trout-in-texas] in the shallows, or hopping around on a bay boat, the fishing here is awesome. Trophy Redfish and Speckled Trout are caught here year round, and in the summer there's the opportunity to fish for Tarpon. The Texas state record Tarpon was caught here, measuring just over 80 inches and just under 250 pounds.
Jetty Fishing in Port O'Connor
Jetty fishing charters in Port O'Connor are known for pulling in a variety of fish. The jetty sits at the passage between Espiritu Santo Bay and Matagorda Bay making it no surprise that tons of fish stack up here. Redfish, speckled trout, sheepshead, and flounder are all regularly caught at the jetty. With so many fish in the same spot, you can enjoy a laidback trip full of reeling in fish and most likely dinner.
Nearshore Fishing Charters Port O'Connor
With easy access to prime nearshore waters, it's no wonder such a quaint bayside town has so many modern sportfishing boats. Nearshore trips often return with a mixed bag of snapper and grouper species, with opportunities for kingfish and amberjack. The best time to catch amberjack is when the waters are warming up in the spring while the summer months produce amazing snapper opportunities. Kingfish are both a trophy and a treat for these nearshore waters and are biting year round.
Port O'Connor Deep Sea Fishing
Port O'Connor provides some of the best charters without having to be in a bigger city. For offshore extended and multi-day trips, you have the opportunity to land wahoo, Mahi-Mahi, and even billfish if you're lucky.

These fish are a fantastic duo that provides a year round bite in offshore waters. Mah-Mahi is red hot in warm water temperatures during the summer months, while wahoo turns on with cooler waters in the winter months. With tuna, sailfish, and other bluewater species always lurking in these waters, you may end up hooked into a monster.

View All Port O'Connor Deep Sea Fishing Charters
Popular Types of Fishing In Port O'Connor
Port O'Connor fishing charters offer a variety of options for anglers of all levels. The most common types of fishing charters in Port O'Connor include bay fishing, offshore fishing, and wade fishing. Bay fishing is perfect for families and beginners, while offshore fishing is for the more experienced angler looking for a bigger catch. Wade fishing is a unique experience where you can walk along the shallow waters and cast your line.

The types of fish you can catch in Port O'Connor vary depending on the type of fishing you choose. For bay fishing, you can expect to catch redfish, trout, and flounder. Offshore fishing offers the chance to catch bigger fish like kingfish, snapper, and grouper. Wade fishing is perfect for catching redfish and trout.

When booking a Port O'Connor fishing charter, be sure to ask about landmarks like the Matagorda Island Wildlife Management Area and the Port O'Connor Jetty. These are popular spots for fishing charters to visit and offer some of the best fishing in the area.
The Best Places To Fish In Port O'Connor
Port O'Connor, Texas is a prime destination for fishing enthusiasts. With its abundance of waterways and diverse marine life, there are plenty of great spots to cast a line. Here are some of the best places to fish in Port O'Connor, whether you're going on a fishing charter or just casting from the shore:

1. Espiritu Santo Bay - This bay is known for its excellent redfish and trout fishing, and is a popular spot for fishing charters.

2. Matagorda Bay - With its shallow waters and plentiful oyster reefs, Matagorda Bay is a great place to catch flounder, redfish, and speckled trout.

3. Port O'Connor Jetties - The jetties are a popular spot for anglers looking to catch a variety of fish, including redfish, black drum, and sheepshead.

4. Port O'Connor Piers - The piers in Port O'Connor offer easy access to the water and are a great place to catch a variety of fish, including speckled trout, redfish, and flounder.

5. San Antonio Bay - This bay is known for its excellent fishing year-round, with redfish, trout, and flounder being the most commonly caught species.

Whether you're a seasoned angler or just starting out, Port O'Connor has plenty of great fishing spots to explore. Book a fishing charter or head out on your own to experience the thrill of catching fish in this beautiful coastal town.
Other Things To Do In Port O'Connor
While Port O'Connor fishing charters are a popular attraction, there are plenty of other things to do in this charming Texas city. Take a scenic drive down the Matagorda Bay Nature Park, where you can hike, bike, and birdwatch. For a more adrenaline-fueled adventure, head to the Texas Water Safari, a 260-mile canoe race that starts in San Marcos and ends in Seadrift. If you're looking for a more laid-back activity, visit the Port O'Connor Community Center, which offers a variety of classes and events throughout the year. And of course, no trip to Port O'Connor is complete without a visit to the Matagorda Island Wildlife Management Area, where you can see a variety of wildlife and enjoy the beautiful Gulf Coast scenery.
Recent Reviews of Captain Experiences
Port O'Connor Fishing Calendar
| Species | January | February | March | April | May | June | July | August | September | October | November | December |
| --- | --- | --- | --- | --- | --- | --- | --- | --- | --- | --- | --- | --- |
| Amberjack | Ideal | Great | Great | Great | Ideal | Ideal | Not Allowed | Not Allowed | Not Allowed | Not Allowed | Not Allowed | Not Allowed |
| Black Drum | Great | Ideal | Ideal | Ideal | Ideal | Great | Great | Great | Great | Great | Great | Great |
| Blackfin Tuna | Great | Great | Good | Good | Fair | Fair | Great | Great | Ideal | Ideal | Ideal | Ideal |
| Blue Marlin | Great | Good | Fair | Fair | Fair | Fair | Fair | Good | Good | Great | Great | Great |
| Bonito | Fair | Fair | Fair | Fair | Good | Great | Great | Great | Good | Good | Good | Fair |
| Cobia | Fair | Fair | Good | Great | Ideal | Ideal | Great | Good | Fair | Fair | Fair | Fair |
| Flounder | Great | Good | Good | Good | Good | Good | Good | Good | Great | Ideal | Ideal | Ideal |
| Jack Crevalle | Good | Fair | Good | Great | Ideal | Ideal | Ideal | Great | Great | Great | Great | Great |
| Kingfish | Good | Good | Good | Great | Great | Ideal | Ideal | Ideal | Great | Good | Good | Good |
| Mahi Mahi | Fair | Fair | Fair | Good | Great | Great | Great | Ideal | Ideal | Ideal | Great | Good |
| Mako Shark | Ideal | Ideal | Great | Great | Good | Good | Fair | Fair | Good | Good | Great | Ideal |
| Red Snapper | Great | Great | Great | Great | Good | Ideal | Ideal | Good | Good | Good | Great | Great |
| Redfish | Great | Great | Great | Great | Ideal | Ideal | Great | Great | Ideal | Ideal | Great | Great |
| Sheepshead | Ideal | Ideal | Ideal | Ideal | Great | Great | Good | Good | Good | Good | Great | Great |
| Spanish Mackerel | Fair | Good | Good | Great | Great | Ideal | Ideal | Ideal | Ideal | Great | Great | Good |
| Speckled Trout | Ideal | Ideal | Ideal | Ideal | Great | Great | Great | Great | Great | Great | Good | Good |
| Tarpon | Good | Fair | Fair | Good | Good | Good | Great | Ideal | Ideal | Ideal | Ideal | Good |
| Yellowfin Tuna | Great | Good | Fair | Fair | Fair | Fair | Fair | Good | Great | Ideal | Ideal | Great |
Other Fishing Charter Locations near Port O'Connor
Top Targeted Fishing Species in Port O'Connor
Top Targeted Hunting Species in Port O'Connor
Top Fishing Techniques in Port O'Connor
Top Hunting Techniques in Port O'Connor
Top Types of Hunting in Port O'Connor
;