4.94 / 5 Average Review Score
Team of Experts Available 24/7
Licensed and Insured Guides
Recently Booked Fishing Charters Near Port Mansfield, Tx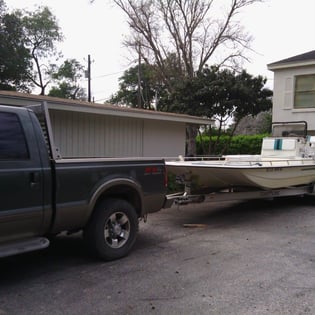 Embark on an unforgettable outdoor adventure with Captain Burt where you'll be targeting the Texas "Big Three": Flounder, Redfish, and Speckled Trout. Captain Burt has fished the waters of Port Mansfield for over three decades and loves showing people of all skill levels how to fish the local waters. No matter if you're a beginner or a seasoned professional, you'll be in good hands! You'll be fishing aboard his 24' Dargel Skout center console, which can accommodate 5 anglers. Make sure you bring a valid Texas saltwater fishing license, food and drinks, a hat, sunscreen, and some good company! Captain Burt will provide all rods, reels, tackle, lures, water, and ice for your upcoming trip. Captain Burt will also clean and fillet your catch back at the marina, so make sure you bring a large cooler to get your fish home. Captain Burt likes to launch out of Port Mansfield, but will also launch out of Arroyo City and South Padre Island. Read More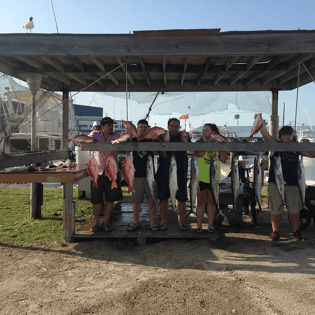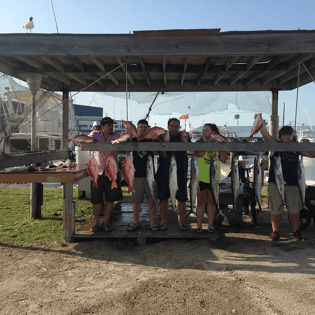 Captain JW runs his charters out of beautiful South Padre Island, Texas offering a variety of different options and experiences. JW and his crew are a tenured bunch that equally love running tips for first-timers and families as they do they're most experienced clientele. JW is flat-out an experienced fisherman and avid outdoorsman, he's you're man if you're looking to venture out past the state water (9 mile) threshold to explore the open ocean! This 8-hour trip allows you to fish toll the deep-water for delicious and hard fighting fish like Wahoo, King Mackerel, Cobia, Red Snapper and much more! Being out in deeper water allows you to bottom fish for amberjack and several types of grouper as well. But an 8-hour trip rarely allows time to do both trolling and deep water bottom fishing for long. If you're looking to do both in one day, Captain JW would recommend his 10-hour trip at least. Everything is provided by Captain JW and his Crew From rods and tackle to expert guidance and tips. All the deckhands and responsible crew members tirelessly work around the clock to ensure that you as guests are accompanied by professionalism and are comfortable on the boat while catching your favorite fish. All deckhands will help you with rigging your lines, baiting your hook, teaching those with less experience proper fishing techniques, offering those who may get sick small comforts, cleaning your fish, and so much more. Your gratuity is how they get paid, so please show them, love, if you are happy or satisfied with the service they provided you! Read More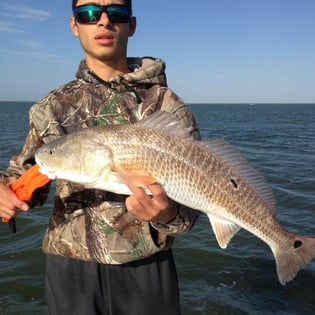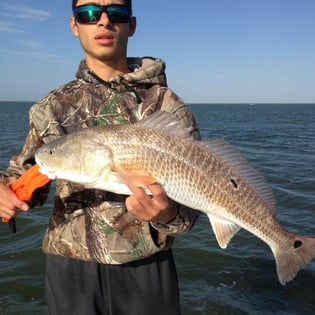 Come and experience the Lower Laguna Made (LLM) like never before. The LLM is a bay system that has an average depth of 1 foot of crystal clear water. It offers great fishing for Speckled trout, Redfish, Flounder, Snook, and Black drum. Whether it's artificial, bait, or sight casting for Reds or Trout, you will want to come back for more. Make sure to bring a valid Texas Fishing License as well as food and drinks of your choice. Other than that, Captain Ruben will provide the rest. He will provide all lures, rods, reels, tackle, and fishing knowledge to get you hooked into the fish! Bring your kids or your angling buddies and head out to a fishing adventure to remember with Captain Ruben! Read More
Top Types of Trip in Port Mansfield
Top Targeted Species in Port Mansfield
Half Day and Full Day Fishing Trips in Port Mansfield
Everything to Know About Booking a Fishing Charter in Port Mansfield
What are the best fishing charters in Port Mansfield?
Our guides in Port Mansfield are rated a 4.79 out of 5 based on 9688 verified reviews on Captain Experiences.
All guides on Captain Experiences are licensed, insured, and vetted by our team. You can access their reviews, click through trip photos, read bios to get to know them, and preview trip details like species, techniques, group sizes, boat specs and more.
What types of fishing charters are common in Port Mansfield?
Deep Sea fishing is the most popular in Port Mansfield as well as inshore fishing, flats fishing, and jetty fishing.
The most commonly sought after species in Port Mansfield are: 1. redfish, 2. speckled trout, 3. flounder, and 4. black drum.
The most common fishing techniques in Port Mansfield are light tackle fishing, artificial lure fishing, and live bait fishing but drift fishing and bottom fishing are popular as well.
How much do Port Mansfield fishing charters cost?
in Port Mansfield prices can range anywhere from an affordable $250 to $2,453, but the average price for a half day trip in Port Mansfield is $570. The average price for a full day trip in Port Mansfield is $938.
What month is best for fishing in Port Mansfield?
The most popular season for fishing in Port Mansfield is summer, and most anglers book their trips 11 days in advance.
Do I need a Port Mansfield fishing license and what are the bag limits in Port Mansfield?
See here for more information on fishing licenses in Port Mansfield, bag limits for target species, and fishing season regulations in Port Mansfield. When in doubt, your fishing guide will always know the right rules and regulations in Port Mansfield.
Port Mansfield Fishing Overview
Port Mansfield is a prime destination for fishing enthusiasts seeking a serene and natural environment. This small town offers access to the crystal clear waters of Laguna Madre and the Gulf of Mexico, making it one of the most prolific fishing towns in the region. Inshore fishing yields species such as Redfish, Speckled Trout, Flounder, Black Drum, and Sheepshead, while offshore fishing offers the opportunity to catch big game such as Marlin, Tuna, Sailfish, Amberjack, Snapper, Grouper, and Mahi Mahi.

For families on vacation, half-day trips are recommended to explore the area without causing restlessness in children. For more serious anglers or those seeking offshore beasts, full-day trips are available. Specialized trips like Flounder gigging are also offered.

To comply with Texas state laws, all individuals aged 17 or over must possess a Texas fishing license, regardless of whether they are fishing on their own or on a fishing charter. Charters are readily available at the docks in Port Mansfield, as well as in nearby Arroyo City and Port Isabel.
Port Mansfield Inshore Fishing
The Lower Laguna Madre and the shallow grasses of the Intracoastal are a hotbed for inshore action that will provide tons of opportunities for redfish, speckled trout, flounder, and black drum. The current state record speckled trout was caught in the nearby Baffin Bay which is proof that giant fish frequent the area.

Starting in the Spring, the speckled trout bite is in full swing with flounder coming on strong in the warmer summer water. Heading into Fall, redfish get red hot while migrating for their annual spawn, and as the water cools off in the winter, sheepshead group up around structures and start biting. Whether you want to wade or drift, you'll see plenty of action in the pristine waters surrounding Port Mansfield.
Port Mansfield Offshore Fishing
Port Mansfield is one of the closest cities in Texas to deep water, meaning the distance and time, and time you need to spend getting to quality offshore action is much shorter than it might be further to the north. This means that if you want to take an overnight trip to the floaters you'll have hours more fishing time and much less running time. Head out and troll to target species including wahoo, cobia, kingfish, blackfin tuna, yellowfin tuna, marlin, and sailfish. If you would rather drop bait deep you can catch various grouper and snapper species near structures on the ocean floor.

View All Port Mansfield Deep Sea Fishing Charters
Popular Types of Fishing In Port Mansfield
The most common types of fishing charters in Port Mansfield, Texas are bay fishing, offshore fishing, and wade fishing. Bay fishing is perfect for beginners and families, as it involves fishing in the calm waters of the bay for species such as redfish, trout, and flounder. Offshore fishing is for the more experienced angler, as it involves venturing out into the Gulf of Mexico for larger species such as tuna, marlin, and sailfish. Wade fishing is a unique experience where you fish while standing in the shallow waters of the bay.

The most common fish to catch in Port Mansfield depends on the type of fishing. For bay fishing, redfish, trout, and flounder are the most common. For offshore fishing, tuna, marlin, and sailfish are the most sought after. For wade fishing, redfish and trout are the most common.

When booking a Port Mansfield fishing charter, be sure to check out landmarks such as the Mansfield Cut and the East Cut. These areas are known for their abundance of fish and are popular spots for fishing charters to visit.
The Best Places To Fish In Port Mansfield
Port Mansfield, Texas is a prime destination for fishing enthusiasts. With its abundance of waterways and diverse marine life, there are plenty of great spots to cast a line. Here are some of the best places to fish in Port Mansfield, whether you're going on a fishing charter or just casting from the shore:

1. East Cut - This narrow channel is a popular spot for catching redfish and trout, especially during the fall and winter months.

2. Laguna Madre - This expansive lagoon is home to a variety of fish species, including flounder, snook, and tarpon. Fishing charters are available for those who want to explore the deeper waters.

3. Port Mansfield Jetties - These rock formations provide a natural habitat for fish and are a great place to catch red snapper, grouper, and other species.

4. South Bay - This shallow bay is a prime spot for wade fishing, with plenty of redfish and trout to be caught.

5. Land Cut - This man-made channel connects the Gulf of Mexico to the Laguna Madre and is a popular spot for catching speckled trout and redfish.

Whether you're a seasoned angler or a beginner, Port Mansfield has something to offer. Book a fishing charter or explore the local waters on your own to experience the thrill of catching some of the Gulf Coast's most sought-after fish.
Other Things To Do In Port Mansfield
While Port Mansfield fishing charters are a popular attraction, there are plenty of other things to do in this charming Texas city. Take a scenic drive down the Laguna Madre Nature Trail, where you can spot a variety of wildlife and enjoy stunning views of the Gulf of Mexico. For a bit of history, visit the Port Mansfield Historical Museum or take a tour of the historic Port Mansfield Lighthouse. If you're looking for outdoor adventure, head to the Padre Island National Seashore for hiking, birdwatching, and beachcombing. And for a taste of local flavor, be sure to stop by one of the city's many seafood restaurants for a delicious meal.
Recent Reviews of Captain Experiences
Port Mansfield Fishing Calendar
| Species | January | February | March | April | May | June | July | August | September | October | November | December |
| --- | --- | --- | --- | --- | --- | --- | --- | --- | --- | --- | --- | --- |
| Amberjack | Good | Good | Good | Good | Great | Great | Ideal | Ideal | Ideal | Great | Good | Good |
| Black Drum | Good | Ideal | Great | Fair | Fair | Fair | Fair | Fair | Fair | Good | Good | Good |
| Blackfin Tuna | Great | Good | Good | Good | Good | Great | Ideal | Ideal | Ideal | Ideal | Great | Great |
| Blue Marlin | Good | Good | Good | Good | Great | Great | Ideal | Ideal | Great | Great | Good | Good |
| Cobia | Good | Good | Good | Good | Good | Great | Ideal | Ideal | Ideal | Great | Good | Good |
| Florida Pompano | Great | Great | Good | Fair | Fair | Fair | Fair | Fair | Fair | Fair | Good | Great |
| Flounder | Fair | Good | Good | Good | Good | Great | Great | Great | Great | Ideal | Great | Great |
| Jack Crevalle | Great | Great | Great | Great | Ideal | Ideal | Fair | Fair | Fair | Great | Ideal | Great |
| Kingfish | Good | Good | Great | Great | Great | Ideal | Ideal | Ideal | Great | Great | Good | Good |
| Mahi Mahi | Good | Good | Good | Good | Great | Great | Ideal | Ideal | Ideal | Great | Good | Good |
| Mangrove Snapper | Great | Great | Great | Great | Great | Great | Great | Fair | Fair | Fair | Great | Good |
| Red Snapper | Good | Good | Good | Great | Great | Great | Ideal | Ideal | Ideal | Ideal | Great | Great |
| Redfish | Great | Great | Good | Good | Great | Great | Great | Great | Ideal | Ideal | Great | Good |
| Sailfish | Good | Good | Good | Good | Great | Ideal | Ideal | Ideal | Ideal | Great | Great | Good |
| Snook | Great | Great | Great | Great | Great | Great | Ideal | Ideal | Ideal | Great | Great | Great |
| Spanish Mackerel | Good | Good | Good | Good | Great | Great | Great | Great | Ideal | Great | Good | Good |
| Speckled Trout | Good | Great | Great | Great | Ideal | Ideal | Ideal | Ideal | Ideal | Great | Great | Great |
| Tarpon | Fair | Fair | Fair | Good | Great | Ideal | Ideal | Ideal | Ideal | Great | Fair | Fair |
| Wahoo | Good | Good | Good | Good | Great | Ideal | Ideal | Ideal | Ideal | Great | Great | Good |
| Yellowfin Tuna | Great | Good | Good | Good | Great | Ideal | Ideal | Ideal | Ideal | Ideal | Great | Great |
Other Fishing Charter Locations near Port Mansfield
Top Targeted Fishing Species in Port Mansfield
Top Targeted Hunting Species in Port Mansfield
Top Fishing Techniques in Port Mansfield
Top Hunting Techniques in Port Mansfield
Top Types of Hunting in Port Mansfield
;