4.94 / 5 Average Review Score
Team of Experts Available 24/7
Licensed and Insured Guides
Recently Booked Hunting Guides Near Devol, Ok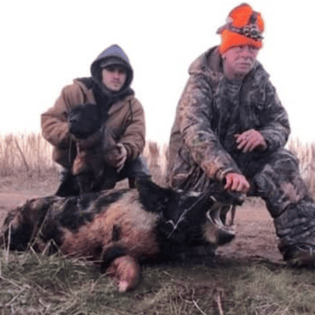 Unleash the Thrill of Hunting Hogs with Dogs in North Texas and Oklahoma! Calling all avid hunters and adventure seekers! Experience the age-old tradition of hunting hogs with dogs in the wilds of North Texas and Oklahoma. This unique hunting expedition will take you back to the roots of hunting, where the bond between man and canine is essential. Picture yourself amidst the rugged landscapes, the eager dogs by your side, as you track down these swift and elusive creatures. The adrenaline rush as the dogs pick up the scent and set off on the chase is incomparable. Feel the excitement build as you anticipate the moment of the hunt, knowing that you and your loyal hunting companions are in sync, working together as a team. North Texas and Oklahoma offer some of the best hog hunting terrains, and our experienced guides know the ins and outs of these vast lands. They will lead you to the prime hunting grounds, maximizing your chances of an unforgettable and successful hunt. This isn't just a hunt; it's an opportunity to connect with nature and experience the thrill of the chase in its rawest form. The hogs in this region are smart and fast, making every pursuit a true test of skill and determination. Whether you're a seasoned hunter with a passion for the sport or a newcomer looking to try something new, this adventure is for you. Our skilled guides will ensure your safety and provide valuable tips and insights to enhance your hunting experience. So, if you're ready for an authentic hunting adventure that combines the excitement of the chase with the companionship of loyal dogs, look no further. Book your hog hunting trip in North Texas and Oklahoma today and get ready for a heart-pounding experience that will leave you with lasting memories for years to come! *Lodging available at an additional cost upon request* Read More
Hog Doggin' TX/OK
10 People
From $90 per person
Welcome to the ultimate duck hunting adventure in the heart of North Texas and Southern Oklahoma! Join Kyle, a seasoned outdoorsman with a deep passion for waterfowl hunting, as he takes you on an authentic journey through pristine lands. As you step onto the rugged terrain, you'll be transported to a world where the skies are painted with the graceful wings of ducks. Kyle has dedicated countless hours to scouting the best spots, strategically positioning blinds, and fine-tuning the gear, ensuring you have the best chance at success. With his intimate knowledge of the lands, Kyle will guide you to the sweet spots where the ducks flock and the action is red-hot. The early morning air is crisp and filled with anticipation as you settle into the carefully crafted blinds, perfectly camouflaged to blend with the surrounding landscape. It's a waiting game, but Kyle's experience and instincts guarantee high shot counts and a trophy wall to be proud of. But it's not just about the hunt – it's about the experience. Witness breathtaking sunrises over endless fields, listen to the echoing calls of waterfowl, and share stories around a crackling fire that warm the soul. The camaraderie, connection to nature, and shared love for this timeless tradition make Kyle's duck hunts truly unforgettable. If you're yearning for a genuine Texas adventure, book your spot now and embark on a duck hunting experience that will leave you with memories as vast as the Lone Star State. Together with Kyle, chase dreams, harvest memories, and revel in the bountiful treasures that North Texas and Southern Oklahoma have to offer. Don't miss out on this extraordinary opportunity! Read More
Duck Hunting TX/OK
4 People
From $275 per person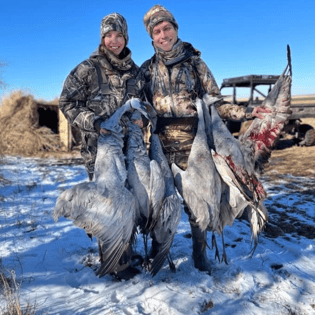 Welcome to the ultimate Sandhill Crane hunting adventure in the heart of North Texas and Southern Oklahoma! Join Kyle, a seasoned outdoorsman with a deep passion for waterfowl hunting, as he takes you on an authentic journey through pristine lands. As you step onto the rugged terrain, you'll be transported to a world where the skies are painted with the graceful wings of Cranes. Kyle has dedicated countless hours to scouting the best spots, strategically positioning blinds, and fine-tuning the gear, ensuring you have the best chance at success. With his intimate knowledge of the lands, Kyle will guide you to the sweet spots where the ducks flock and the action is red-hot. The early morning air is crisp and filled with anticipation as you settle into the carefully crafted blinds, perfectly camouflaged to blend with the surrounding landscape. It's a waiting game, but Kyle's experience and instincts guarantee high shot counts and a trophy wall to be proud of. But it's not just about the hunt – it's about the experience. Witness breathtaking sunrises over endless fields, listen to the echoing calls of waterfowl, and share stories around a crackling fire that warm the soul. The camaraderie, connection to nature, and shared love for this timeless tradition make this hunt truly unforgettable. If you're yearning for a genuine Texas adventure, book your spot now and embark on a Crane hunting experience that will leave you with memories as vast as the Lone Star State. Together with Kyle, chase dreams, harvest memories, and revel in the bountiful treasures that North Texas and Southern Oklahoma have to offer. Don't miss out on this extraordinary opportunity! Read More
Crackin' Cranes!
20 People
From $98 per person
Top Types of Trip in Devol
Top Targeted Species in Devol
Everything to Know About Booking a Hunting Guide in Devol
What are the best hunting trips in Devol?
All guides on Captain Experiences are licensed, insured, and vetted by our team. You can access their reviews, click through trip photos, read bios to get to know them, and preview trip details like species, techniques, group sizes, and more.
What types of hunting trips are common in Devol?
Hog hunting is the most popular in Devol as well as crane hunting and duck hunting.
The most commonly sought after species in Devol are: 1. hog, 2. sandhill crane, 3. mallard, and 4. gadwall.
The most common hunting techniques in Devol are hunting from a blind, calling, and shotgun hunting but rifle hunting and decoy hunting are popular as well.
How much does a Devol hunting trip cost?
in Devol prices can range anywhere from an affordable $900 to $3,000 and up.
What month is best for hunting in Devol?
The most popular season for hunting in Devol is summer, and most hunters book their trips 0 days in advance.
Where can I look through all Captain Experiences trips?
See here to browse all the trips we offer.
Top Targeted Hunting Species in Devol
Top Hunting Techniques in Devol
;