4.94 / 5 Average Review Score
Team of Experts Available 24/7
Licensed and Insured Guides
Recently Booked Hunting Guides Near Bowie, Tx
The Hunting areas are approximately 1 to 1 ½ hours drive from DFW airport and offers quality hunts with guns or bows at affordable prices. The Ranches cover prime Texas hunting land with quality blinds, corn filled feeders, game camera reports, heavy brush, open fields, water filled stock tanks, and MORE. Some of the properties border hundreds of acres of NON hunted land. We have quality pictures from our game cameras that show the abundance of wildlife that are located on the properties. 6 or more hunters get 360 acres of property in the Bridgeport area to themselves with feeders and blinds plus stalk hunting around several ponds. There are many ways to hunt Feral Hogs but it is like fishing – everybody has a different way to do it. Most hunters get on the computer and google different aspects of hunting Feral Hogs and read about them because Hogs are woods savvy and can smell and hear very well. All our feeders go off twice daily (unless there is a malfunction) to distribute corn and we have solar powered, motion activated, LED hog lights on all feeders on hog hunting property to help you spot the hogs. We have single and double blinds located 30 yards for the bow, black powder and shotgun hunter or up to 75 yards away for those that prefer a longer shot. PLUS Free camping and hunting for other Non-game animals that include (but are not limited to) the following: armadillos, bobcats, coyotes, flying squirrels, frogs, ground squirrels, mountain lions, porcupines, prairie dogs, rabbits, and turtles. There is no closed season on these animals and a valid hunting license is required. Read More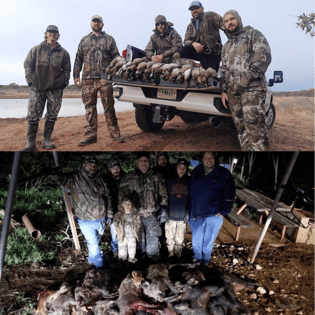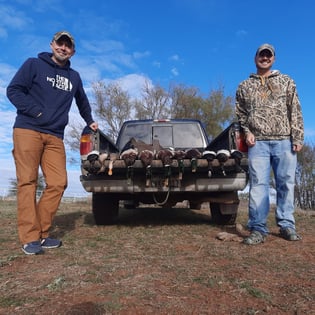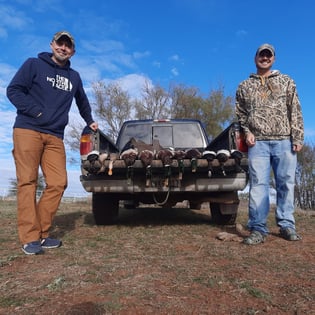 Get ready for an action packed day up in North Texas! Blake's combo duck and hog hunts combine the excitement of duck hunting in the morning with the thrill of hog hunting in the evening, for a garrunteed unforgettable adventure in the heart of North Texas. Blake and his team are based in Montague county in North Texas, and offer these badass duck hunting/hog hunting combo trips on their surrounding properties and leases. The duck hunts start at legal shooting time and are usually wrapped-up by 9:00 or so but you can hunt till 10:00 if you haven't reached your limit. They hunt only private lakes, most of which are on farms and hold lots and lots of ducks and geese. They have access to and hunt over 60 lakes, starting in the Bowie/Bellevue area and headed north to the Red River. Blake and his team will take care of the decoys, the dogs, and the blinds. All you need to bring is your camo, shotguns, shells and snacks and drinks. Feel free to bring your own duck calls as well if you'd like. Never hurts to bring them! After wrapping up the morning duck hunt, they extend the adventure to include an evening hog-hunting leg of the trip, so you can make the most out of your time in North Texas. Blake and his team will guide you to prime hog hunting locations in the same area. North Texas is known for its abundant hog population, providing an excellent opportunity to add some thrilling hog hunting to your trip. For this hog hunting portion, Blake's team will continue to provide the necessary equipment and expertise. They will ensure you have access to well-maintained blinds and an experienced guide who knows the best hog hunting spots. To participate in the combo duck and hog hunts, you'll still need to bring your own camo, shotguns, ammunition, and any personal preferences for snacks and drinks. Read More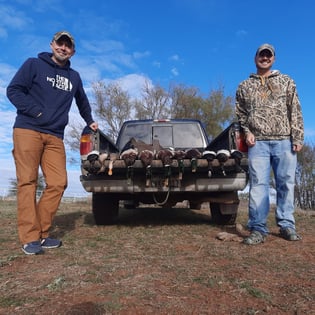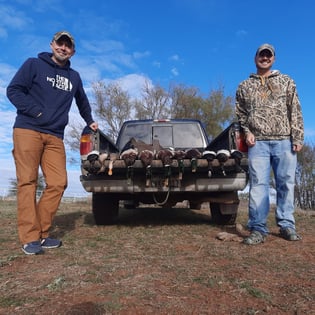 Experience the Ultimate Texas Duck Hunting Adventure! Welcome to the heart of duck hunting paradise in Montague County, North Texas, where we embark on thrilling hunts across the neighboring Jack and Clay counties. Our passion for duck hunting knows no bounds, and we guarantee an adventure like no other! From the break of dawn, we start our hunts at legal shooting time, ensuring you have the maximum opportunity to experience the thrill of the hunt. Typically, our hunts wrap up by 9:00 AM, but we won't stop until 10:00 AM if we haven't reached our limit. Your satisfaction is our top priority, and we'll go the extra mile to make your hunting experience unforgettable. We exclusively hunt on private lakes, most of which are nestled on scenic farms, providing the ideal habitat for an abundance of ducks and geese. With over 60 lakes at our disposal, our journey takes us from the picturesque Bowie/Bellevue area, heading north towards the majestic Red River. You'll be mesmerized by the diverse landscapes and incredible waterfowl population that awaits you. Rest assured, we take care of all the details. From setting up the decoys to handling the expertly trained dogs and crafting the perfect blinds, our seasoned team has got it covered. All you need to do is come prepared to savor the moment and focus on the thrill of the hunt. Our dedication to conservation and sustainable hunting practices ensures that these pristine lands and their wildlife are preserved for generations to come. Together, we create memories that last a lifetime while respecting the natural beauty of the Texas wilderness. So, whether you're an experienced waterfowler or a beginner eager to try your hand at duck hunting, our guided trips offer an unrivaled experience. Book your Texas duck hunting trip today, and get ready for a captivating journey that will leave you with stories to tell and a passion for waterfowl hunting like never before! Read More
Texas Duck Destruction
10 People
From $30 per person
Top Types of Trip in Bowie
Top Targeted Species in Bowie
Everything to Know About Booking a Hunting Guide in Bowie
What are the best hunting trips in Bowie?
Our guides in Bowie are rated a 5 out of 5 based on 9637 verified reviews on Captain Experiences.
All guides on Captain Experiences are licensed, insured, and vetted by our team. You can access their reviews, click through trip photos, read bios to get to know them, and preview trip details like species, techniques, group sizes, and more.
Another popular city nearby for booking a trip is Bridgeport.
What types of hunting trips are common in Bowie?
Hog hunting is the most popular in Bowie as well as duck hunting.
The most commonly sought after species in Bowie are: 1. hog, 2. blue-winged teal, 3. bluebill, and 4. gadwall.
The most common hunting techniques in Bowie are hunting from a blind, calling, and shotgun hunting but rifle hunting and decoy hunting are popular as well.
How much does a Bowie hunting trip cost?
in Bowie prices can range anywhere from an affordable $300 to $3,000 and up, but the average price for a full day trip in Bowie is $2,100.
What month is best for hunting in Bowie?
The most popular season for hunting in Bowie is fall, and most hunters book their trips 13 days in advance.
Where can I look through all Captain Experiences trips?

See here to browse all the trips we offer.

;