4.94 / 5 Average Review Score
Team of Experts Available 24/7
Licensed and Insured Guides
Recently Booked Hunting Guides Near Lindale, Tx
*Up to 15 Chukar Per Person* Conquer the Wild with Guide Zach on a Texas Chukar Hunting Adventure! Join us for an adrenaline-pumping hunting expedition in pursuit of the elusive Texas Chukar. Led by the expert Guide Zach, you'll experience the thrill of the chase, where the first hunt is all about fun, but every return trip becomes a personal quest for revenge against these cunning mid-sized birds. A Challenge Like No Other: Skill and Luck Required Be prepared to test your hunting prowess as these chukars prove to be surprisingly formidable targets. Bagging them requires an astonishing combination of skill and luck, making each successful shot a triumph to be cherished. Double the Adventure: Free Pig Hunt Included! As an extra bonus, your paid bird hunt includes a free pig hunt, adding even more excitement and variety to your Texas hunting experience. Two thrilling pursuits in one unforgettable trip! Create Lasting Memories With Guide Zach's expert guidance and knowledge of the land, you'll have the opportunity to forge enduring memories in the picturesque Texas wilderness. Gather your hunting companions and embark on a journey of camaraderie, challenge, and adventure. Book Your Texas Hunting Experience Today! Don't miss out on the chance to encounter the Texas Chukar, the bird that ignites the hunter's spirit. Reserve your spot now and get ready to embark on an unforgettable journey with Guide Zach. Experience the thrill of the hunt, the joy of success, and the camaraderie that comes with conquering the wild. Read More
Texas Chukar Thrills
4 People
From $350 per person
10 Quail; 4 Pheasant; 6 Chukar Embark on the Ultimate Hunting Adventure with Guide Zach! Get ready for the hunt of a lifetime as we offer our most sought-after experience - a thrilling combination of quail, pheasant, and chukar hunting in a single outing. Led by the expert Guide Zach, this action-packed trip promises to keep you on your toes, rapidly shifting from one hunting style to the next as these beautiful birds flush from the scrub. A Hunter's Dream Come True Immerse yourself in the thrill of the chase as you pursue quail, pheasant, and chukar, each requiring unique strategies and skills. Guide Zach's expertise and knowledge of the land ensure you'll have the best chance of success, making this hunting adventure truly unforgettable. Experience the Perfect Challenge The diverse mix of game birds provides the perfect challenge for both seasoned hunters and beginners alike. Sharpen your instincts, refine your techniques, and savor the excitement of tracking these elusive targets. Double the Adventure: Free Pig Hunt Included! But wait, there's more! As an added bonus, your paid bird hunt includes a free pig hunt, expanding the adventure even further. After bagging your feathered trophies, take on the wild pigs and put your hunting skills to the test once again. Create Lifelong Memories This hunting trip promises not only to be exhilarating but also a bonding experience like no other. Share the camaraderie with fellow hunters, revel in the beauty of nature, and return home with unforgettable memories to cherish for a lifetime. Book Your Multi-Game Hunting Experience Today! Spaces are limited for this popular hunting package. Don't miss your chance to experience the thrill of quail, pheasant, and chukar hunting, complemented by a free pig hunt for added excitement. Reserve your spot now and join Guide Zach for an extraordinary hunting expedition you'll be talking about for years to come. Read More
Upland Birds Combo Hunt
4 People
From $375 per person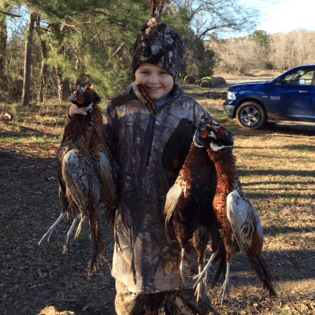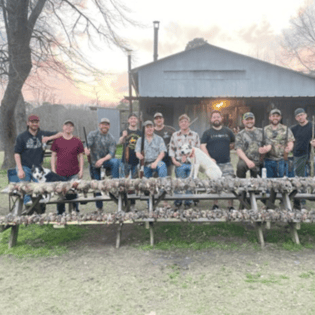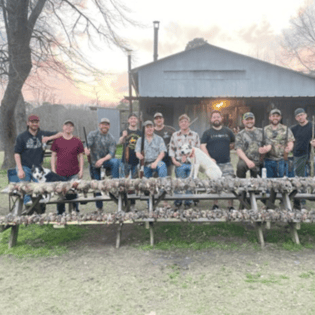 *Up to 12 Pheasant Per Person* Embark on a Texas Chinese Ringneck Pheasant Hunt with Guide Zach! Step into the heart of Texas for a hunting experience like no other, as we venture into the wild with Guide Zach on a thrilling Chinese Ringneck Pheasant hunt. These magnificent birds are renowned for their size and strength, making each encounter an adrenaline-pumping adventure you won't soon forget. A Hunter's Dream: Big, Beautiful Birds and Incredible Flight The Texas Chinese Ringneck Pheasants are true marvels of the sky, boasting stunning plumage and a powerful wingspan. While they may not match the quail's speed, their aerial agility is awe-inspiring. With Guide Zach's expert guidance, you stand a great chance of hitting your target with your first shot, making every moment count in this heart-pounding pursuit. Challenges and Rewards Await Hunting these elusive beauties requires skill, precision, and quick reflexes. As you immerse yourself in the hunt, the camaraderie among fellow hunters and the thrill of the chase will create unforgettable memories. Be prepared for an authentic Texas hunting experience like no other. Two for the Price of One: Free Pig Hunt! But wait, there's more! As an added bonus, your paid bird hunt includes a free pig hunt. After taking on the pheasants, set your sights on wild pigs, testing your prowess as a versatile hunter. Double the excitement, double the adventure - this is the ultimate hunting package you've been searching for. Create Lasting Memories As the day unfolds, and the Texas landscape surrounds you, you'll forge lasting memories and stories to share for generations. With Guide Zach's deep knowledge of the land and wildlife, your hunting trip promises to be not only rewarding but also an educational journey into the heart of Texas. Book Your Texas Hunting Experience Today! Seize the opportunity to encounter the Texas Chinese Ringneck Pheasant and claim your free pig hunt. Spaces are limited, and this one-of-a-kind adventure is in high demand. Don't miss out on this chance to challenge yourself and revel in the beauty of the Texas wilderness. Book now for an unforgettable hunting experience with Guide Zach at your side. Read More
Pheasant Frenzy!
4 People
From $350 per person
Top Types of Trip in Lindale
Top Targeted Species in Lindale
Everything to Know About Booking a Hunting Guide in Lindale
What are the best hunting trips in Lindale?
Our guides in Lindale are rated a 5 out of 5 based on 9603 verified reviews on Captain Experiences.
All guides on Captain Experiences are licensed, insured, and vetted by our team. You can access their reviews, click through trip photos, read bios to get to know them, and preview trip details like species, techniques, group sizes, and more.
Another popular city nearby for booking a trip is Gilmer.
What types of hunting trips are common in Lindale?
Upland hunting is the most popular in Lindale as well as hog hunting.
The most commonly sought after species in Lindale are: 1. quail, 2. pheasant, 3. chukar, and 4. hog.
The most common hunting techniques in Lindale are shotgun hunting, hunting with dogs, and rifle hunting.
How much does a Lindale hunting trip cost?
in Lindale prices can range anywhere from an affordable $350 to $1,500, but the average price for a half day trip in Lindale is $688. The average price for a full day trip in Lindale is $631.
What month is best for hunting in Lindale?
The most popular season for hunting in Lindale is spring, and most hunters book their trips 35 days in advance.
Where can I look through all Captain Experiences trips?

See here to browse all the trips we offer.

;