4.94 / 5 Average Review Score
Team of Experts Available 24/7
Licensed and Insured Guides
Recently Booked Hunting Guides Near Zolfo Springs, Fl
Join us for an exhilarating hunting experience like no other—a Meat Hog Harvest adventure with an unlimited size limit! Delve into the heart of the wild with our expert guide, Brian Lemelin, as we embark on a thrilling journey to hunt these formidable creatures. Our Meat Hog Harvest trip offers you the chance to showcase your hunting skills while contributing to conservation efforts. Each hog harvested brings you a reward of $300, making this not only a thrilling adventure but also a fantastic opportunity to make a tangible impact. Forget the worries of transportation; we've got you covered! Our package includes convenient transportation to and from your hunting stand, ensuring you can focus on the hunt without any hassle. Plus, once you've claimed your prized kill, we'll take care of transporting it to the skinning station, so you can savor the excitement of your achievement. Under the guidance of Captain Lemelin, a seasoned hunting expert with extensive knowledge of the region, you'll explore the most promising hunting spots, guaranteeing an exhilarating and rewarding experience. Brian's expertise and passion for hunting will enhance your journey, making it an unforgettable adventure you'll cherish for years to come. Read More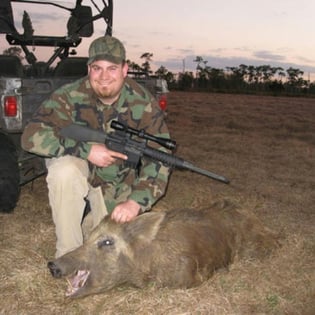 *1 Hog Included per Person* More hogs may be shot at an additional fee! Experience the thrill of Florida's Wild Hog Hunting and Trophy Boar Hunts on our vast, privately-owned land within easy reach of Tampa or FT. Myers. With a remarkable 98.6% success rate since 1999, our hunting excursions promise an unforgettable adventure. No Florida hunting license is required, and we welcome hunters of all skill levels – whether you're a seasoned veteran or a first-timer. We offer much more than just a hog hunt. Roaming our expansive property, you'll encounter an array of fascinating wildlife, including Axis Deer, Water Buffalo, Black Buck Antelope, Fallow Deer, Siki Deer, Turkey, Bison, Rams, Wild Island Goats, Red Stag, and many more incredible species. Safety is our top priority, and as experienced outfitters, you can trust in our expertise to provide a secure hunting experience during the thrilling pursuit of wild boars, considered a dangerous game. Our knowledgeable guides will ensure your safety while offering various hunting methods, including stand hunting, spot & stalk, or the excitement of a 6-passenger ATV safari ride. Embrace the true essence of hunting by choosing your preferred weapon – be it a rifle, pistol, bow, spear, or knife – to either challenge yourself or increase your chances of success. Rest assured, this is an authentic hunting experience; we do not use small cages, tie up, or release hogs. Our wild hogs are genuinely wild and free to roam their natural habitat. Our services cater to all types of hunters, from veterans to families and first-timers. Whether you're well-seasoned or new to the experience, our hunting guides will be there to assist and make your trip unforgettable. After a successful hunt, take a moment to relax and enjoy Florida's splendid weather while we handle the skinning & quartering, capping, taxidermy prep, and meat processing of your game meat. Discover why hunters choose us for the ultimate Florida Wild Hog and Trophy Boar Hunting experience. Come join us on this extraordinary journey and create memories that will last a lifetime. Don't waste your time and money anywhere else – hunt the biggest, baddest, tusked wild hogs in Florida with us! Read More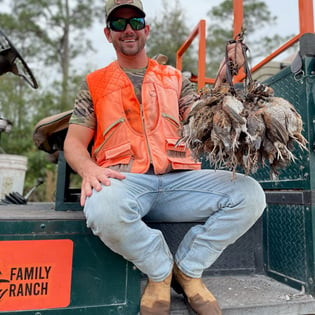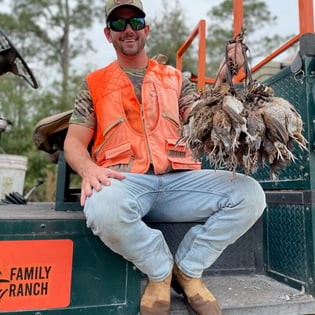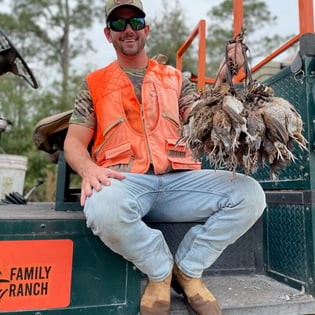 *Half day hunt includes lunch and up to 12 birds, Full day hunt includes lunch and up to 24 birds* A true southern tradition , quail hunting is non-stop wing shooting action along with the enjoyment of watching a great dog work! Our quail fields are meticulously burned and chopped to ensure the best conditions for our Bobwhite quail. Whether a pair of hunting buddies, or a corporate retreat of up to 20 guests we can assure you the finest quail shooting in North America. South Georgia may be known as the quail plantation capital, but we feel our wire grass, palmetto flats, with scattered pines and grandfather oaks are unparalleled! This with our newly built 9000sq ft. lodge, where our chef will amaze you with one of our signature meals such as fried quail, tomato gravy and rice, collard greens, followed by the best bread pudding ever built, gives us the confidence to guarantee you an experience unrivaled!!This with our newly built 9000sq ft. lodge, where our chef will amaze you with one of our signature meals that gives us the confidence to guarantee you an experience unrivaled!! Read More
Bobwhite Quail Hunting Adventure
6 People
From $150 per person
Top Types of Trip in Zolfo Springs
Top Targeted Species in Zolfo Springs
Everything to Know About Booking a Hunting Guide in Zolfo Springs
What are the best hunting trips in Zolfo Springs?
Our guides in Zolfo Springs are rated a 5 out of 5 based on 9635 verified reviews on Captain Experiences.
All guides on Captain Experiences are licensed, insured, and vetted by our team. You can access their reviews, click through trip photos, read bios to get to know them, and preview trip details like species, techniques, group sizes, and more.
Another popular city nearby for booking a trip is Lake Wales.
What types of hunting trips are common in Zolfo Springs?
Hog hunting is the most popular in Zolfo Springs as well as invasive species hunting and upland hunting.
The most commonly sought after species in Zolfo Springs are: 1. hog and 2. quail.
The most common hunting techniques in Zolfo Springs are rifle hunting and shotgun hunting.
How much does a Zolfo Springs hunting trip cost?
in Zolfo Springs prices can range anywhere from an affordable $300 to $3,000 and up, but the average price for a half day trip in Zolfo Springs is $971. The average price for a full day trip in Zolfo Springs is $2,104.
What month is best for hunting in Zolfo Springs?
The most popular season for hunting in Zolfo Springs is fall, and most hunters book their trips 23 days in advance.
Where can I look through all Captain Experiences trips?

See here to browse all the trips we offer.

;