Wearing 200mm waders into the thigh deep 30 degree marsh to wait 5 hours for ducks? Only a dumb Texas resident would do such a thing for the sake of shooting a few gadwall and greenheads. Such are the things we do to shoot a few birds.
My buddies and I try to take one destination duck hunt each year and this year was no different. We landed on Stuttgart, Arkansas, the mecca of American waterfowl. How could we resist? We heard tale after tale of unlimited birds, clouded skies, and full straps.
Not to mention this style of hunting was completely new to all of us and we were eager to give it a try. We've done a lot of hunting out of pit blinds, A-frames, and makeshift mangrove blinds on the coast, but I'd never hidden behind a tree waiting for a bird to fall wings-cupped through a hole in the canopy.
We drove from Austin and Dallas and Atlanta through Friday night to get to the lodge in the classic "drive late and wake up early so you get absolutely zero sleep". We stayed at the Old Post Lodge which was in nearby Gillet AR (well known for its annual barbecued Coon Fest).
We woke up at 330a to head out for day 1 and hunt a swamped lake near Tichnor that usually is a haven for ducks. We were hunting a bit early in the season, but given the cold front that pushed in two days before we were optimistic.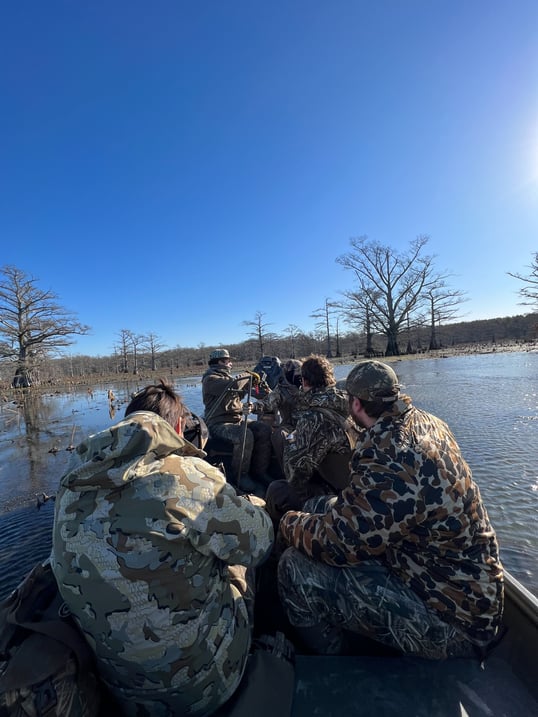 Our blind for the morning was incredible (by our standards); it was basically an entire covered boathouse with an attached double-wide blind with headroom to spare. We stood behind individual ghillie canopies and watched the skies with ease.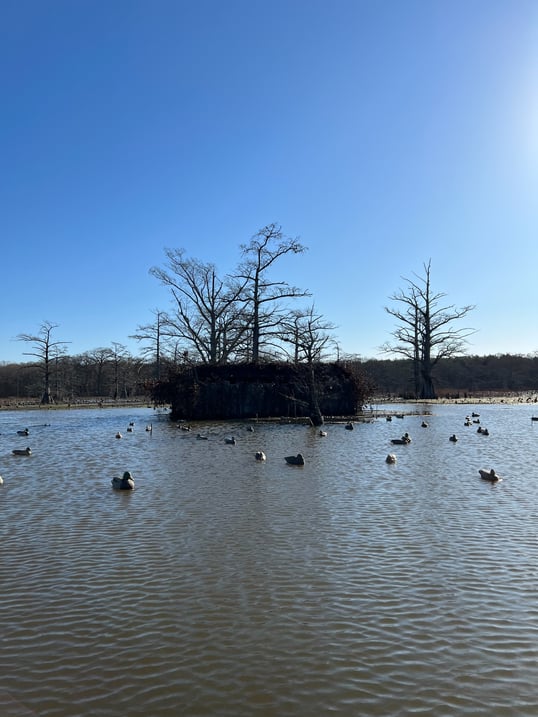 Unfortunately, our comfort did not translate to bird action. We didn't see a single thing except a million coots for the first 3 hours or so. At the end of the morning, our tally was 2 groups spotted, 13 total ducks seen, 0 birds in range to even get a shot at.
Dejected we had traveled so far to see so little, we began to have doubts: is Arkansas really the duck mecca it's made out to be?
After a quick lunch we try to drown our duck woes in some goose hunting - a few specklebellies never let anyone down!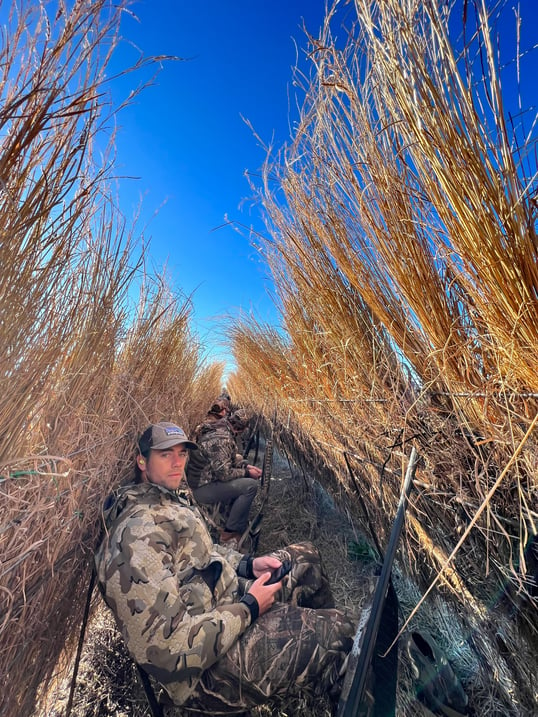 We set up in a big makeshift A-frame blind on a berm between two flooded fields. We're sitting about 15 people wide in the blind but the geese don't seem to care. We see plenty, shoot some, and have ourselves overall a decent hunt, including one banded bird.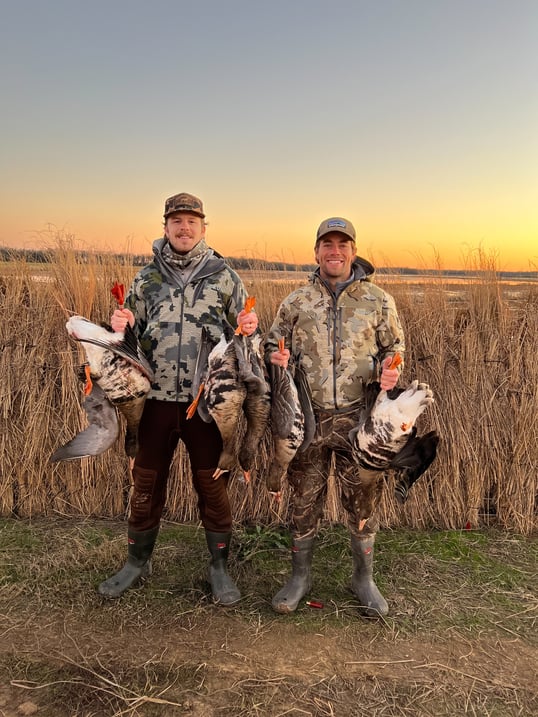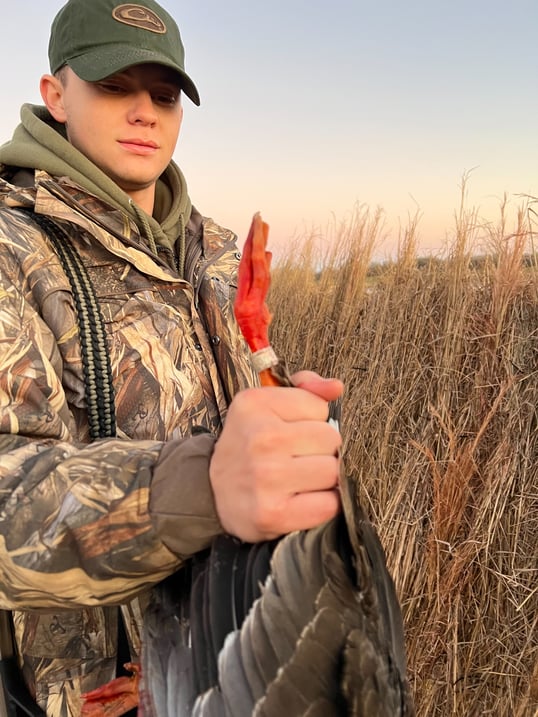 The next morning we are up at 330 again to try our luck at a new spot, this time true timber. Having never stood behind a tree before, we're excited and have a bit of adrenaline to keep us going.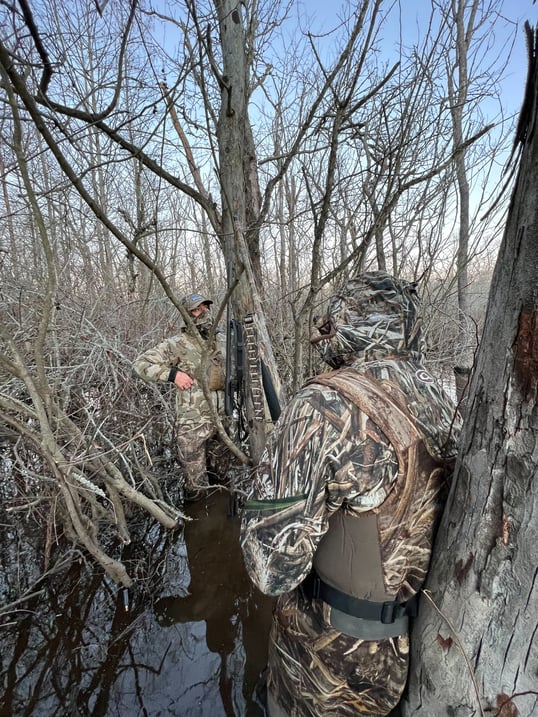 The hole is small, and we hide two to a tree ready to bust out on either side. We use a little rowboat (that keeps leaking as we row, meaning we need one person to bail while the other works) to throw out decoys. We have a dog with us, but she's still getting her legs under her so we use her for the short retrieves and keep the rowboat for the blind retrieves.
We hear a ton of action and see a ton of birds before shooting light. If legal shooting hours were 15 minutes earlier, we could have hit limits easily. But rules are rules, and its as if the birds know how to read a clock better than we do, and they skedaddle away right as the clock hits legal.
The day starts slow, and we wonder once again whether we have chosen the wrong place to take our talents for the year. But soon we start to see ducks. It starts in ones and twos, and gradually we are getting sixes and sevens dropping down.
We call even more that seemingly circle for ages. We talked with some groups that would circle 20+ times around the hole. Some dropped in, and many stayed away warily. The big groups generally needed much more convincing.
I can say confidently that timber hunting is a true joy to experience. The calm water meant I could stare down at the water to avoid my face flashing the ducks in the morning sun, and I could see the ducks working through their reflection in the water.
We ended the day just shy of limits, with a handful of greenheads and many more gadwall. The state of Arkansas had redeemed itself.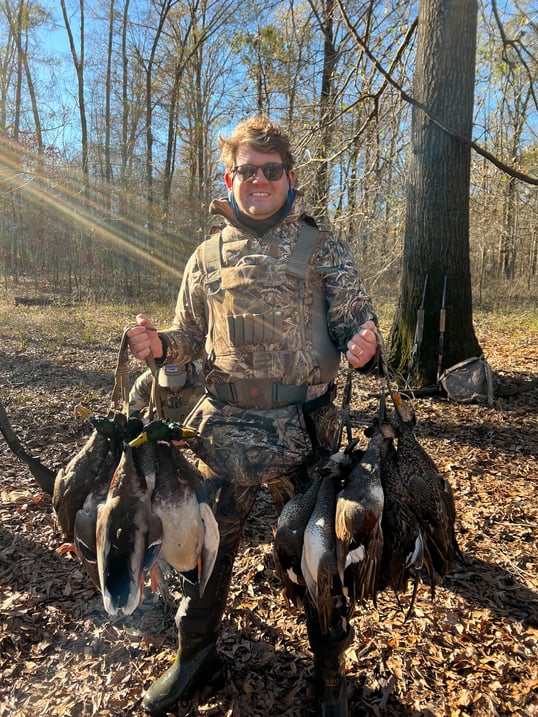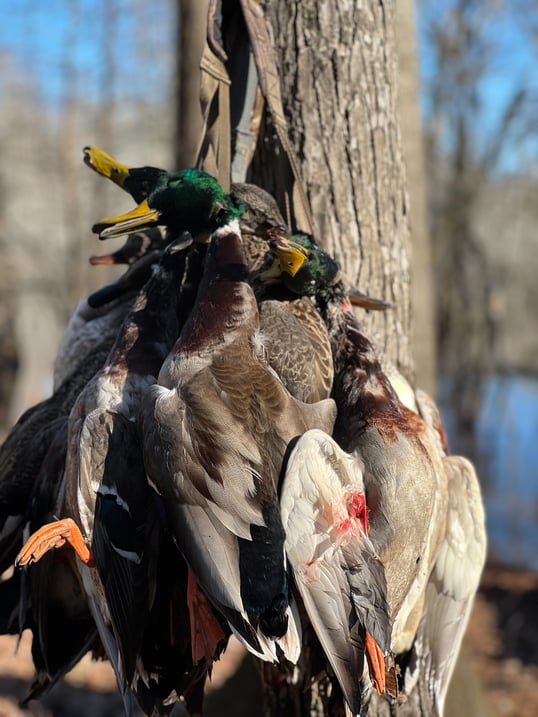 Book Your Next Duck Hunt With Captain
Looking to add a duck hunt to your list of adventures this year? Create your own story and book your duck hunt with one of Captain's vetted guides.