4.94 / 5 Average Review Score
Team of Experts Available 24/7
Licensed and Insured Guides
Recently Booked Fishing Guides Near Roscommon, Mi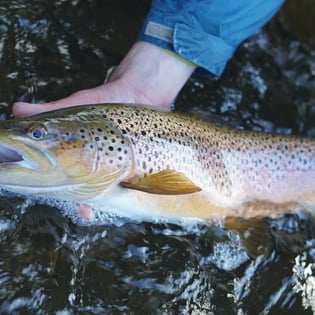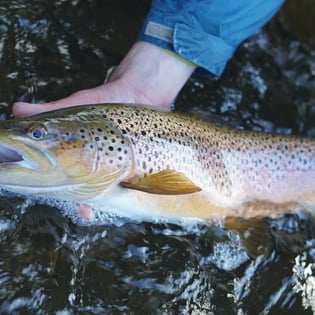 If you've gotten used to nymphing and dry-fly fishing, try this streamer trip with Casey on for size! This trip is a perfect way to expand your fly-fishing repertoire while going after some absolutely massive Trout on the rivers of northern Michigan. Brown Trout in particular love to hit fast-moving streamers, and if you want to hook a personal best, this trip is for you. Casey is an extremely knowledgeable and experienced guide when it come to fishing streamers, especially large ones. He's obsessed with catching trophy Browns, and will put you on the fish like none other! Fishing streamers is quite different from other types of fly fishing, because instead of looking for a perfect surface drift or trying to imitate a worm washing downstream, you're trying to match the action of a small baitfish or other prey item moving across or even against the current. You'll practice stripping in line and setting effectively on this trip, and you'll walk away a better angler with some epic memories and amazing pictures to boot! You'll be fishing the deck of Casey's 16' Stealthcraft jet boat, which is ideal for maneuvering on the river. She's powered by a 40 HP Mercury, so you'll have no trouble getting where the fish are. A half day trip does not include lunch, but on a full day Casey will put together a great midday meal. Casey will supply everything you need for an awesome trip, including rods, reels, tackle, and flies. Just bring a good attitude, a Michigan fishing license, and some sun protection and you'll be good to go! Read More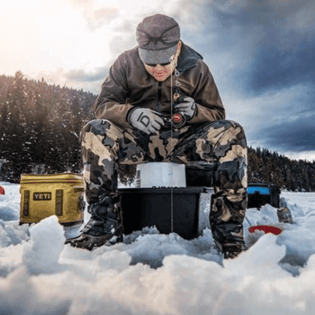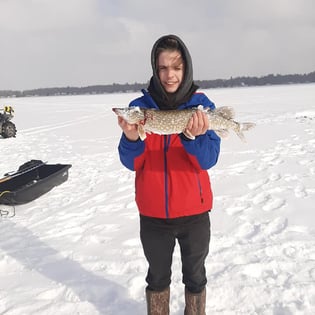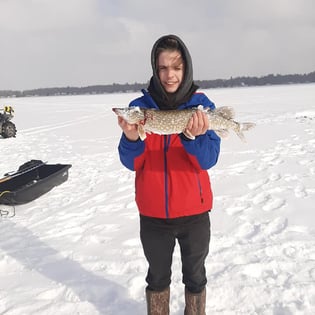 This is a full day (8-10 hours) guided Ice Fishing Trip on Lake Houghton. You can catch a wide range of fish including crappie, perch, walleye, and pike. Your pro guide Derek will provide you with all the necessary fishing gear, equipment, and techniques to get you on the fish. Don't forget to bundle up! While Ice fishing might be a cold-weather endeavor it is a super productive way to catch fish and a great outing to spend quality time with your friends and family! Read More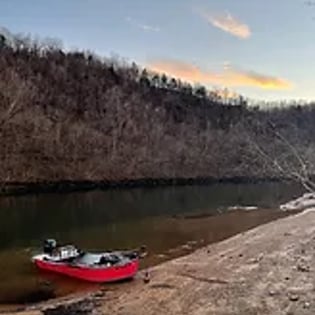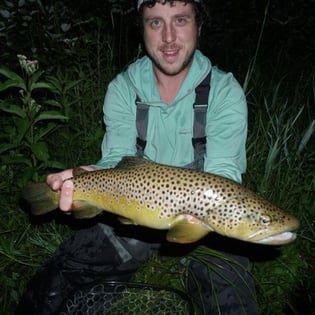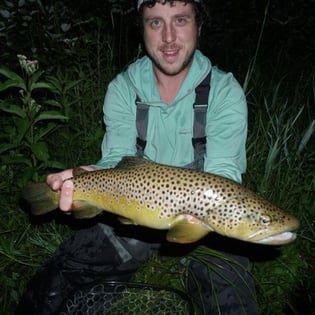 If you're an angler who thinks you've done it all, go no further. This nighttime mousing trip with Casey is a truly exceptional fly-fishing experience that shouldn't be missed—especially if you're on the hunt for a trophy Brown! This is not your average nymphing or dry-fly trip, so come prepared to go after trophy Trout in a truly unique way! Casey guides these trips for one purpose: hooking the single biggest, most predacious Trout in a given river system. You'll fish for these giants on abnormally large mouse and rat patterns, looking for the most aggressive fish out there. With Casey as your guide, you'll be mousing up absolutely massive Browns, and fishing at a time when they have no fear of predators and are just waiting to whack prey. Where most guides aim to put their clients on as many fish as possible, Casey does the opposite; he's looking to create just one or two opportunities for his clients to score a personal best fish, a true monster. In order to accomplish that goal, you'll fish the fastest, most technical, and least-crowded rivers—and there are no guarantees! You'll be fishing from a 16' Stealthcraft drift boat, which is perfect for maneuvering in shallow water. She's powered by a 40 HP Mercury, so you'll have no trouble getting where the fish are. Casey will supply everything you need for an awesome nighttime trip, including rods, reels, and flies. Bring proper clothing, a Michigan fishing license, and some bug spray, and you'll be ready to bag some personal records! Read More
Top Types of Trip in Roscommon
Everything to Know About Booking a Fishing Guide in Roscommon
What are the best fishing trips in Roscommon?
Our guides in Roscommon are rated a 5 out of 5 based on 9637 verified reviews on Captain Experiences.
All guides on Captain Experiences are licensed, insured, and vetted by our team. You can access their reviews, click through trip photos, read bios to get to know them, and preview trip details like species, techniques, group sizes, boat specs and more.
What types of fishing trips are common in Roscommon?
River fishing is the most popular in Roscommon as well as lake fishing.
The most commonly sought after species in Roscommon are: 1. brown trout, 2. crappie, 3. northern pike, and 4. perch.
The most common fishing techniques in Roscommon are fly fishing, heavy tackle fishing, and light tackle fishing but live bait fishing and ice fishing are popular as well.
How much does a Roscommon fishing trip cost?
in Roscommon prices can range anywhere from an affordable $350 to $500, but the average price for a half day trip in Roscommon is $400. The average price for a full day trip in Roscommon is $442.
What month is best for fishing in Roscommon?
The most popular season for fishing in Roscommon is summer, and most anglers book their trips 27 days in advance.
Do I need a Roscommon fishing license and what are the bag limits in Roscommon?

See here for more information on fishing licenses in Roscommon, bag limits for target species, and fishing season regulations in Roscommon. When in doubt, your fishing guide will always know the right rules and regulations in Roscommon.

;