4.94 / 5 Average Review Score
Team of Experts Available 24/7
Licensed and Insured Guides
Recently Booked Fishing Charters Near Newport, Ri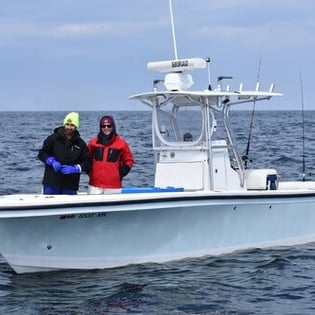 Get out there and hammer the inshore waters off of Falmouth, Mass. with Captain Jeff, an expert guide with decades of experience fishing the East Coast. You'll be casting for a variety of inshore species, Including Black Seabass, Bluefish, Fluke, Haddock, Tautog, and in particular, Striped Bass! Captain Jeff will put you on these fish, but once the rod is in your hands, it's up to you to fight them and land them! You'll go after these species using a variety of techniques, including jigging and trolling, to get the best chance. Get ready to fight some exciting—and tasty—fish, guided by one of the best guides in the area. On the morning of the trip, you'll set off aboard Captain Jeff's 26' Albin sportfisher, an ideal boat for these highly variable waters. You'll be set up with everything you need, including rods, reels, and tackle, as well as some creature comforts to make your trip as comfortable as possible. To maximize your experience, bring proper clothing, hat, sunscreen, and a camera! Read More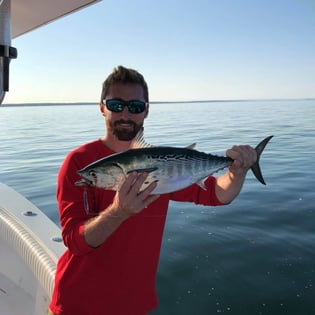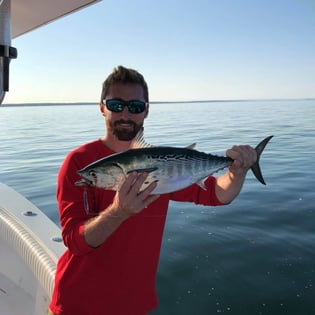 Get out there and hammer the inshore waters off of Falmouth, Mass. with Captain Jeff, an expert guide with decades of experience fishing the East Coast. You'll be casting for Bonito, False Albacore, and Tautog, a New England eating fish related to wrasses. Captain Jeff will put you on these fish, but once the rod is in your hands, it's up to you to fight them and land them! You'll go after these species using a variety of techniques, including jigging and trolling, to get the best chance. Although they aren't the largest fish, Tuna relatives such as Bonito and False Albacore can put up a terrific battle, so get ready to pit your strength, stamina, and skills against these sleek predators. On the morning of the trip, you'll set off aboard Captain Jeff's 26' Albin sportfisher, an ideal boat for these highly variable waters. You'll be set up with everything you need, including rods, reels, and tackle, as well as some creature comforts to make your trip as comfortable as possible. To maximize your experience, bring proper clothing, hat, sunscreen, and a camera! Read More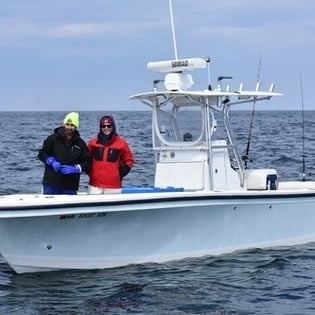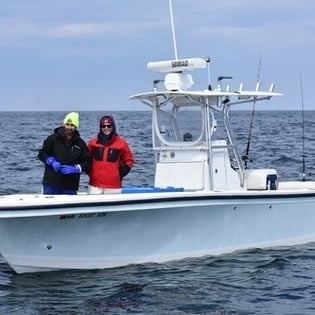 The waters between North Carolina and Massachusetts are prime habitat for Fluke (also known as Summer Flounder) a fish that is as fun to catch as it is delicious! Captain Jeff will guide you to the best spots and secret honey-holes, where you'll have the chance to cast out for these prime eating fish. Although their flat bodies look a little strange out of the water, in their natural habitat Fluke are actually aggressive predators of small baitfish as well as shrimp, squid, and small crabs. You'll fish them on live bait, cut bait, and lures, enticing these bottomfish to bite with jigging and trolling techniques. On the day of the trip, you'll set out aboard Captain Jeff's 26' Albin, a centerconsole built to handle the waters off the East Coast. It has all the right gear, plus some extra amenities to make your trip more comfortable. Cross your fingers for a beautiful day, but come prepared with proper clothing, a hat, sunscreen, and a pair of polarized sunglasses. Captain Jeff will bring everything else you need, including rods, reels, bait, tackle, and most importantly—his expertise! Get ready to get out there and get fishing with Captain Jeff. Read More
Top Types of Trip in Newport
Top Targeted Species in Newport
Half Day and Full Day Fishing Trips in Newport
Everything to Know About Booking a Fishing Charter in Newport
What are the best fishing charters in Newport?
All guides on Captain Experiences are licensed, insured, and vetted by our team. You can access their reviews, click through trip photos, read bios to get to know them, and preview trip details like species, techniques, group sizes, boat specs and more.
What types of fishing charters are common in Newport?
Deep Sea fishing is the most popular in Newport as well as inshore fishing, nearshore fishing, and river fishing.
The most commonly sought after species in Newport are: 1. fluke, 2. striped bass, 3. tautog, and 4. black seabass.
The most common fishing techniques in Newport are bottom fishing, jigging, and light tackle fishing but trolling and live bait fishing are popular as well.
How much do Newport fishing charters cost?
in Newport prices can range anywhere from an affordable $300 to $1,100, but the average price for a half day trip in Newport is $567. The average price for a full day trip in Newport is $929.
What month is best for fishing in Newport?
The most popular season for fishing in Newport is summer, and most anglers book their trips 7 days in advance.
Do I need a Newport fishing license and what are the bag limits in Newport?

You're in luck! Our fishing tours in Newport don't require you to purchase a fishing license – your group is covered by your boat's captain. See here for more information on bag limits and fishing season regulations in Newport.

;