4.94 / 5 Average Review Score
Team of Experts Available 24/7
Licensed and Insured Guides
Recently Booked Fishing Charters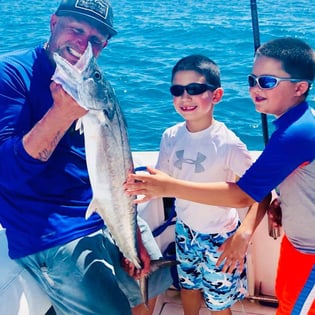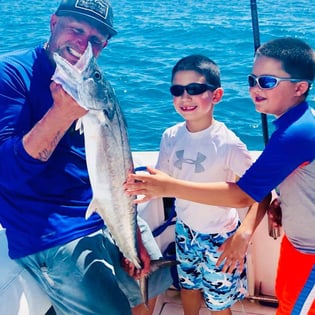 Private groups up to 6 guests max. Launch with Captain Bryan to chase down Miami's offshore big game! Please note that the full day 8 hour trips require a 1 hour travel time to and from the fishing grounds offshore, but the fihsing is well worth the wait! You will be fishing aboard Captain Bryan's 42' Sea Ray sportfisher, equipped with twin 350 Cummins Diesel engines capable of running from Miami to Bimini in a couple of hour. You won't be ripping it to Bimini on this 5-hour adventure, but you will be getting out to the fishing grounds as quickly as possible! Miami is known for its outstanding populations of Sailfish, Blackfin Tuna, Mahi Mahi, Wahoo, Mackerel, Amberjack, and Grouper. All of which require a slightly different technique or location to catch so make sure you tell your captain what species you'd like to target most! The price includes Captain, Mate, boat, fuel, live bait, dead bait, fishing licenses, all necessary tackle, bottled waters and ice. Feel free to bring any food or drinks you want. Alcohol and glass bottles are perfectly fine too! Read More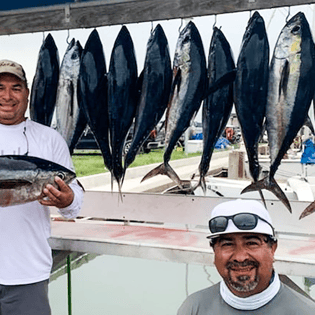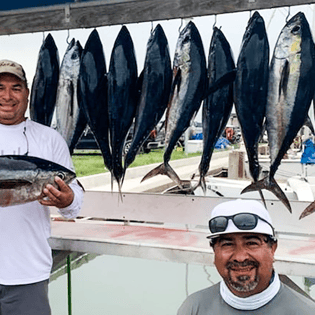 Captain Emilio invites you on a deep-sea fishing adventure in the productive waters of South Padre Island, Texas. For these 6, 8, 10 and 12-hour adventures, Captain Emilio uses a 35' Bertram offshore sportfishing boat that can seat up to 6 anglers. The vessel has a powerful twin Caterpillar 450 HP engine and modern navigation technology which guarantees you a safe and quick trip to your destination. You can expect to reel in some Tripletail, Snapper, Skipjack Tuna, Mahi Mahi, Blue Marlin, and Sailfish. Emilio will provide live bait, rods, reels, and tackle. **Fuel surcharges are included in the price of the trip so there are no surprises at the end of your trip!** There will also be a first mate at your disposal all the time. All you need to bring is a valid Texas Fishing License, food and drinks of your choice, and an ice chest for your day's catch. Come and explore this fishing paradise and make some everlasting memories with Captain Emilio! Read More
Head out with Captain Gage for the perfect day out on the beautiful Florida waters. Whether you're looking for a 4 hour near-shore trip, a 12 hour off-shore trip, or anything in between, Captain Gage will put you where you need to be! Enjoy bottom fishing reefs for Red Snappers, Gag Groupers, Red Grouper and more. Or relax and let Captain Gage and his 27' Grady White take control to do some nearshore trolling and chase the coveted King Mackerel. All you have to do is let Captain Gage know which species you want to target, and he can make it happen! His boat comes loaded with all the gear you could possibly need for a successful day out on the water including all the rods, reels, tackle, bait and fishing licenses. So all you have to do is bring your favorite snack and drinks, your sun protection, and your camera and Captain Gage will take care of the rest! Read More
Top Types of Trip
Half Day and Full Day Kingfish Fishing Trips
Everything to Know About Booking a kingfish fishing charter
What are the best kingfish fishing charters?
Our guides are rated a 4.88 out of 5 based on 9692 verified reviews on Captain Experiences.
All guides on Captain Experiences are licensed, insured, and vetted by our team. You can access their reviews, click through trip photos, read bios to get to know them, and preview trip details like species, techniques, group sizes, boat specs and more.
What types of kingfish fishing charters are common?
Deep Sea fishing is the most popular for kingfish as well as nearshore fishing, inshore fishing, and jetty fishing.
The most common fishing techniques are trolling, bottom fishing, and heavy tackle fishing but light tackle fishing and live bait fishing are popular as well.
How much do kingfish fishing charters cost?
for kingfish prices can range anywhere from an affordable $250 to $3,000 and up, but the average price for a half day trip for kingfish is $1,001. The average price for a full day trip for kingfish is $2,155.
What month is best for kingfish fishing?
The most popular season for kingfish fishing is summer, and most anglers book their trips 20 days in advance.
Do I need a fishing license for kingfish and what are the bag limits for kingfish?
See here for more information on kingfish fishing licenses, kingfish bag limits, and fishing season regulations for kingfish. When in doubt, your fishing guide will always know the right kingfish rules and regulations.
What is a King Mackerel / Kingfish?

The king mackerel, commonly known as kingfish, uncommonly known as Scomberomorus cavalla, is a migratory member of the mackerel family and is native to the Atlantic Coast of the United States and the Gulf of Mexico down to the coast of Brazil.


Kingfish are one of the largest members of the mackerel family (smaller than its cousin the wahoo, for instance). They are a popular fish to target in the summer months and are great for nearshore fishing - you don't need to head out too far from shore to catch them and they are usually around in good numbers.

The kingfish is similar in appearance to some other members of the mackerel family and at first glance have few distinct characteristics. They are a grey/silver fish with minuscule scales and small dorsal and pelvic fins. Juvenile fish can show yellow spots on their rear end similar to a spanish mackerel.

Kings are a popular fish for both sport and commercial operations, as it is both a powerful fish to catch that sometimes jumps and can go on some tough runs, and is also fairly abundant. They are also schooling fish, so once you're on them, you're on them.



### How big do King Mackerel / Kingfish get?


While they are known to get to be huge reaching 100 pounds, 70+ inches, and almost 20 years. Giant kingfish are sometimes called smokers because of their ability to peel line off of a reel so fast that it starts smoking. Kingfish are generally caught at much more reasonable weights between 10 and 30 pounds. Females are the bigger of the two genders, with males generally maxing out at around 15 pounds.

To spawn, females will shed between 50,000 and millions of eggs over the course of the spawning season and males will simultaneously release sperm, whose union is entirely by chance in the sea. Yearling fish can be 3-4 pounds and 24 inches fork length (the length from head to the split in their tail).
What's the biggest King Mackerel ever caught?
The current IGFA all tackle world record kingfish is 93 pounds, caught out of San Juan in 1999 by Steve Graulau. The Florida record stands at 90 pounds, and its not unusual for 70+ pound fish to be caught off Key West.
Where is the best place to catch Kingfish?

Kingfish can be found both inshore and offshore, but are frequently fished within a few miles in depths between 50 and 150 ft. They can be found around reefs, wrecks, and buoys, but can also swim solo when older and are frequently caught from the surf or around inlets.

They range all over the western Atlantic Ocean and are found from about North Carolina (although they can be found up to the Gulf of Maine) on the north end to Rio de Janeiro on the southern end. Florida is a great place to fish them because this is where stocks from both the Atlantic and the Gulf mingle, and they can both be found in good numbers.


Because kingfish are migratory, their numbers will vary based on the season and location, but the big kingfish generally return to the same areas year over year (for those curious, generally Texas, Louisiana, and Florida).
When should I catch Kingfish?
In the US, the season is always open for king mackerel, assuming you can find them! That being said, there is often a size limit of between 24 and 27 inches depending on the state, and a bag limit per angler per day of 2 for Florida, Texas, Louisiana, Alabama, and Mississippi, and 3 for the Carolinas and Georgia.

Since kingfish prefer warmer waters, they can be year round on the southern half of Florida but across the Gulf and further up the Atlantic the fishing will be best in the summer months.


There are two big groups of migratory kings that have been identified, with one preferring the Texas coast in summer to mid-Florida November to March. An Atlantic group engages in a similar pattern, spending time in the Carolinas and Virginia in the summer months and the other side of Florida in the winter.
How do you catch Kingfish?

Kingfish are schooling fish so when the bite heats up, you're liable to get a number of fish to the boat, but its important to make sure you have the right gear - many an angler has gotten broken off by their sharp teeth. You also want to make sure you have enough line so you don't get spooled by a particularly large king as they are known to go on big runs.

Most king mackerel are caught trolling, and often bite the tail, so make sure you set a hook in the back of your lure. Kingfish have not only sharp teeth but also good eyesight, meaning you want some sort of wire leader to avoid getting broken off but you want to keep it thin enough so it doesn't spook any fish. Kingfish can be caught on live bait or lures. 

Are Kingfish good to eat? What are the best King Mackerel recipes?

Kingfish meat is commonly eaten but is not known to be a great food option. The meat is darker and leaner, and falls somewhere in the middle on the taste scale. Plenty are taken and eaten, but it is not particularly sought out as a dinner option. The meat tends to be a bit oily, so can be smoked well. It is also frequently marinated and grilled.
Recent Reviews of Captain Experiences
More Fishing Charters
Showing 1 to 24 of 610 results
See all trips
---
Top Fishing Charter Locations for Kingfish Fishing