4.94 / 5 Average Review Score
Team of Experts Available 24/7
Licensed and Insured Guides
Recently Booked Trolling Charters Near Lihue, Hi
Top Types of Trolling Trips in Lihue
"Our Damn Good Guides go above and beyond to provide you an incredible trip, and we've handpicked every single one. We're passionate about the outdoors and about empowering people to find the perfect-match guide for the trip of a lifetime, every time."
Jonathan and Attison | Co-founders | Austin, Texas
Trolling Charters Near Lihue, Hi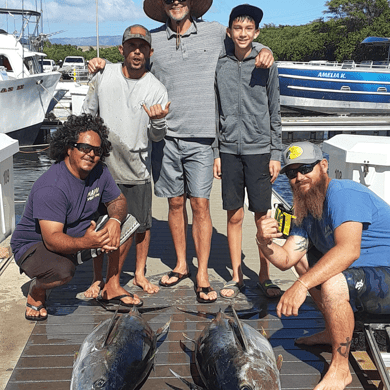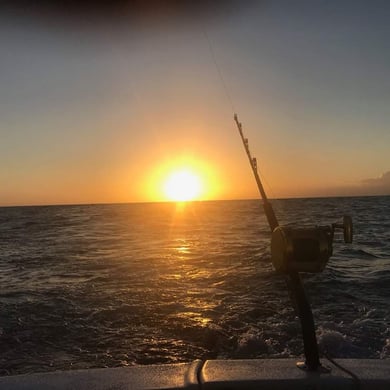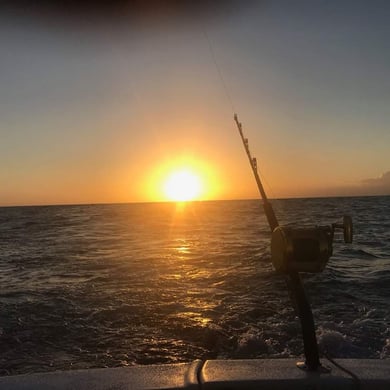 If you've been hunting for a classic offshore sportfishing trip here in Hawaii, this is your ticket! Join Captain Rob on a thrilling fishing charter in Eleele, Hawaii, where you'll have the opportunity to catch some of the most sought-after fish in the Pacific Ocean, including Wahoo (known here as Ono), yellowfin Tuna, Striped Marlin, and Mahi Mahi! Wahoo, known for their incredible speed and fighting power, can be found year-round in the waters around Eleele, and are a popular target for anglers. yellowfin Tuna, another prized species, can be caught from June to November, and are known for their delicious meat and high value as a game fish. Striped Marlin, a powerful billfish species, can be caught from April to November, and are a challenging and exciting species to target. Mahi Mahi, also known as Dorado, are a brightly-colored fish that can be caught year-round, and are considered one of the best-tasting fish in the ocean. All of these species are excellent on the grill, but you should also consider preparing your catches as poke, a traditional Hawaiian dish made using raw fish and a huge variety of seasonings and sauces. Captain Rob is a seasoned vet when it comes to offshore fishing, and runs his charters on a decked-out 42' Uniflite sportfisher. She has all the necessary gear for trolling, plus live wells for bait, ice boxes, and full cabin, and more. Rob will provide you with all the necessary instructions and guidance throughout the charter, making sure that you have a fun and successful fishing experience. All you need to bring is your sunscreen, and a cooler to take home your catch. Book your trip now and experience the thrill of catching these amazing fish in the beautiful waters of Eleele, Hawaii with Captain Rob! Read More
See all trips in Lihue
Everything to Know About Booking a Lihue trolling charter
What are the best trolling charters in Lihue?
Our guides in Lihue are rated a 5 out of 5 based on 9603 verified reviews on Captain Experiences.
All guides on Captain Experiences are licensed, insured, and vetted by our team. You can access their reviews, click through trip photos, read bios to get to know them, and preview trip details like species, techniques, group sizes, boat specs and more.
What types of trolling charters are common in Lihue?
Deep Sea fishing is the most popular for trolling in Lihue as well as nearshore fishing.
The most commonly sought after species for trolling in Lihue are: 1. mahi mahi, 2. wahoo, 3. yellowfin tuna, and 4. blue marlin.
How much do Lihue trolling fishing charters cost?
for trolling in Lihue prices can range anywhere from an affordable $600 to $1,508, but the average price for a half day trip for trolling in Lihue is $1,020. The average price for a full day trip for trolling in Lihue is $1,189.
What month is best for on a trolling charter in Lihue?
The most popular season to go on a trolling charter in Lihue is spring, and most anglers book their trips 27 days in advance.
Do I need a Lihue fishing license and what are the bag limits in Lihue?
You're in luck! Our fishing tours in Lihue don't require you to purchase a fishing license – your group is covered by your boat's captain. See here for more information on bag limits and fishing season regulations in Lihue.
Recent Reviews of Captain Experiences
★★★★★

These guys made for a great fishing trip. Very hospitable, friendly, and knowledgeable. Boat was clean and comfortable. Would definitely recommend.

Thomas H. with Ikena H. of Lihue, Hawaii
Other Fishing Techniques in Lihue
;