4.94 / 5 Average Review Score
Team of Experts Available 24/7
Licensed and Insured Guides
Recently Booked Fishing Charters In Bermuda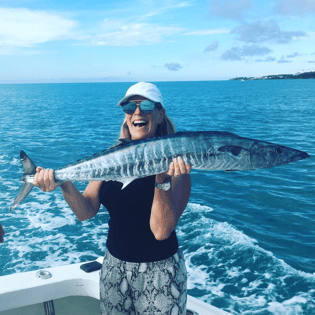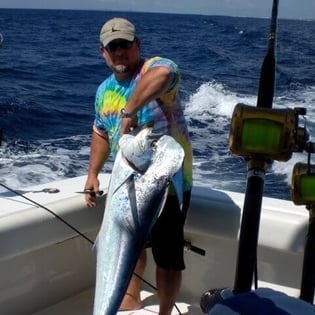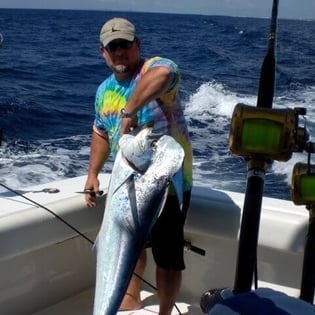 Climb aboard with Captain Russell and experience an action-packed day of fishing in Bermuda! On these 4, 6, and 9-hour trips, you can expect to target Almaco Jack, Blue Marlin, Bluefin Tuna, Mahi Mahi / Dorado, Tiger Shark, Wahoo, Yellowfin Tuna, Yellowtail Snapper, and many more species! Don't forget: the longer you go, the farther out you travel. And the farther out you travel, the bigger the fish get! You'll be fishing aboard Captain Russell's 35' Bruno and Stillman sportfisher, which is equipped with one 560 HP engine. She can accommodate up to 6 people! This a luxury vessel made specifically for sportfishing. Captain Russell is happy to pick you up within a 20-minute radius of the port. He enjoys cleaning and filleting your day's catch after your trip, which you can enjoy right away at a nearby beachside restaurant. Captain Russell will provide all fishing licenses, live bait, as well as rods, reels, and tackle. Don't forget to bring food and drinks for the day. Get ready for a thrilling day out as you go after a range of exciting and delicious fish that call these waters home! Read More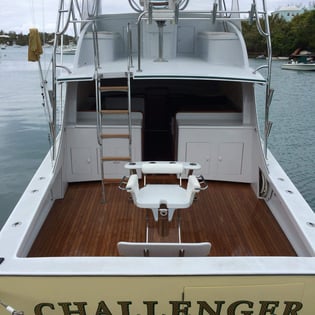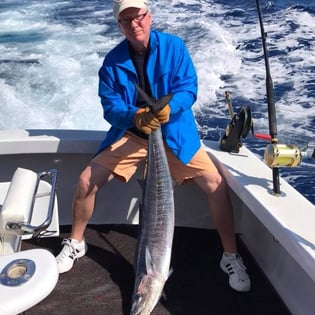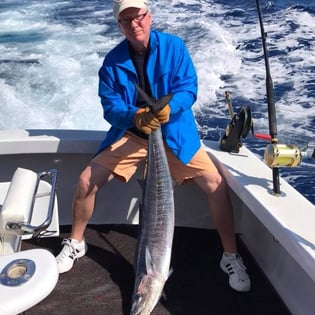 Learn to fish new techniques and create lasting memories on the water while reeling in your personal best with Captain Alan! Captain Alan will help you target the Barracuda, Blue Marlin, Mahi Mahi / Dorado, Mako Shark, Wahoo, White Marlin, and Yellowfin Tuna that call these waters home. You can choose between a 4, 6, or 8-hour trip. Remember, the longer you fish the deeper you can go. The deeper the water, the bigger the fish get! You'll be fishing on Captain Alan's 40-foot sportfisher equipped with a fighting chair, fishfinder, and live bait well, among other amenities. This boat can accommodate up to 6 anglers, so make sure you bring some good company! Captain Alan will provide all rods, reels, tackle, lures, and drinks. You may bring drinks of your own as well as snacks of your choice. Don't forget to bring a cooler to take home your day's catch, as well as a hat and sunscreen. Get ready for an action-packed day on the water with Captain Alan! Read More
Everything to Know About Booking a Fishing Charter in Bermuda
What are the best fishing charters in Bermuda?
Our guides in Bermuda are rated a 5 out of 5 based on 9637 verified reviews on Captain Experiences.
All guides on Captain Experiences are licensed, insured, and vetted by our team. You can access their reviews, click through trip photos, read bios to get to know them, and preview trip details like species, techniques, group sizes, boat specs and more.
What types of fishing charters are common in Bermuda?
Deep Sea fishing is the most popular in Bermuda.
The most commonly sought after species in Bermuda are: 1. barracuda, 2. blue marlin, 3. mahi mahi, and 4. wahoo.
The most common fishing techniques in Bermuda are live bait fishing, light tackle fishing, and trolling but jigging and heavy tackle fishing are popular as well.
How much do Bermuda fishing charters cost?
in Bermuda prices can range anywhere from an affordable $980 to $1,800, but the average price for a half day trip in Bermuda is $1,135. The average price for a full day trip in Bermuda is $1,500.
What month is best for fishing in Bermuda?
The most popular season for fishing in Bermuda is fall, and most anglers book their trips 31 days in advance.
Do I need a Bermuda fishing license and what are the bag limits in Bermuda?
You're in luck! Our fishing tours in Bermuda don't require you to purchase a fishing license – your group is covered by your boat's captain. See here for more information on bag limits and fishing season regulations in Bermuda.
Recent Reviews of Captain Experiences
★★★★★

Trip was awesome! Captain Russell and his deck hand, Daniel, were super pleasant to be around and are experts at their craft. They were just as into the experience as we were and they kept our fishing lines out in the water until the final bell rang to head back home. Great fishing and good laughs along the way.

Anes C. with Russell Y. of Sandys, Sandys Parish
Bermuda Fishing Calendar
| Species | January | February | March | April | May | June | July | August | September | October | November | December |
| --- | --- | --- | --- | --- | --- | --- | --- | --- | --- | --- | --- | --- |
| Almaco Jack | Great | Great | Great | Great | Great | Great | Great | Great | Great | Great | Great | Great |
| Amberjack | Fair | Fair | Fair | Good | Great | Ideal | Ideal | Ideal | Ideal | Great | Good | Good |
| Barracuda | Fair | Fair | Fair | Good | Great | Ideal | Ideal | Ideal | Ideal | Great | Good | Good |
| Black Grouper | Good | Good | Good | Great | Great | Great | Great | Great | Great | Great | Great | Great |
| Blackfin Tuna | Good | Good | Good | Good | Great | Ideal | Ideal | Ideal | Ideal | Ideal | Great | Good |
| Blue Marlin | Fair | Fair | Fair | Good | Great | Ideal | Ideal | Ideal | Great | Good | Good | Fair |
| Bonefish | Good | Good | Good | Great | Great | Ideal | Ideal | Ideal | Ideal | Great | Good | Good |
| False Albacore | Good | Good | Good | Great | Great | Great | Great | Ideal | Ideal | Great | Great | Great |
| Florida Pompano | Great | Great | Great | Great | Great | Great | Great | Great | Great | Great | Great | Great |
| Lane Snapper | Good | Good | Good | Great | Great | Great | Great | Great | Good | Great | Great | Great |
| Mahi Mahi | Fair | Fair | Fair | Good | Great | Great | Great | Great | Ideal | Ideal | Great | Good |
| Rainbow Runner | Fair | Fair | Fair | Good | Great | Ideal | Ideal | Ideal | Ideal | Great | Good | Good |
| Triggerfish | Good | Good | Good | Great | Great | Great | Great | Great | Good | Great | Great | Great |
| Wahoo | Good | Good | Good | Great | Ideal | Great | Great | Great | Ideal | Ideal | Great | Good |
| White Marlin | Fair | Fair | Fair | Good | Great | Great | Great | Good | Good | Good | Good | Good |
| Yellowfin Tuna | Good | Good | Good | Great | Ideal | Ideal | Ideal | Ideal | Great | Great | Fair | Fair |
| Yellowtail Snapper | Good | Good | Good | Great | Great | Ideal | Ideal | Ideal | Good | Great | Great | Great |
Top Fishing Charter Locations in Bermuda
The Best Places to Fish in Bermuda
;