4.94 / 5 Average Review Score
Team of Experts Available 24/7
Licensed and Insured Guides
Recently Booked Fishing Charters Near Spring Arbor, Mi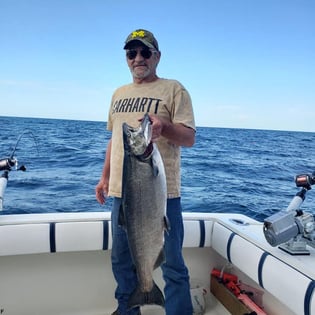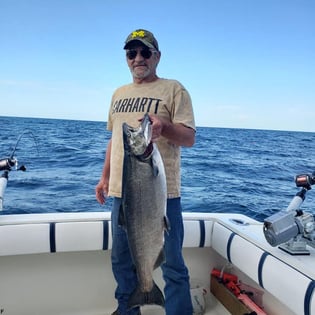 Get on out to Lake Michigan and enjoy the best sportfishing the Great Lakes has to offer! Join Captain John for an action-packed adventure targeting massive freshwater Salmon and Lake Trout. Salmon aren't native to Lake Michigan, but they can grow to epic proportions here, so this is your chance to hook the catch of a lifetime. Captain John can fit up to 6 guests on his 31' Tiara Yacht. The vessel is powered by twin engines and will get you out there smoothly and comfortably. The spacious deck can comfortably fit many anglers casting at once, so everyone on your trip should have a blast! You will be using light tackle to try and reel in a trophy catch, and Captain John is happy to provide tips and tricks to improve your fishing experience. Besides his wealth of knowledge, Captain John will provide all the rods, reels, bait, and tackle once on board. You do need a valid Michigan fishing license, which is easy to get online before your trip. Other than that, you should bring appropriate clothing and your own snacks. Check the weather forecast before your trip to determine what to bring. Finally, you will need a cooler if you want to keep your catch, which Captain John will clean and fillet for you. This trip is an incredible opportunity for anglers of all experience levels, so come on out. It's a great day to have a day! Read More
Top Types of Trip in Spring Arbor
Everything to Know About Booking a Fishing Charter in Spring Arbor
What are the best fishing charters in Spring Arbor?
All guides on Captain Experiences are licensed, insured, and vetted by our team. You can access their reviews, click through trip photos, read bios to get to know them, and preview trip details like species, techniques, group sizes, boat specs and more.
What types of fishing charters are common in Spring Arbor?
Deep Sea fishing is the most popular in Spring Arbor as well as nearshore fishing and lake fishing.
The most commonly sought after species in Spring Arbor are: 1. chinook salmon, 2. coho salmon, and 3. lake trout.
The most common fishing techniques in Spring Arbor are light tackle fishing and trolling.
How much do Spring Arbor fishing charters cost?
in Spring Arbor prices can range anywhere from an affordable $825 to $1,075, but the average price for a full day trip in Spring Arbor is $950.
What month is best for fishing in Spring Arbor?
The most popular season for fishing in Spring Arbor is summer, and most anglers book their trips 0 days in advance.
Do I need a Spring Arbor fishing license and what are the bag limits in Spring Arbor?

See here for more information on fishing licenses in Spring Arbor, bag limits for target species, and fishing season regulations in Spring Arbor. When in doubt, your fishing guide will always know the right rules and regulations in Spring Arbor.

;