Texas has a wide range of fishing opportunities. Everything from largemouth bass to tarpon to rainbow trout can be caught across the Lone Star State. Captain Kevin McConnell has been fishing from one end of Texas to the other for more than 30 years. With decades of fishing experience as both a recreational angler and now a licensed USCG captain and professional fishing guide, we asked Captain Kevin to share some of his favorite things about fishing across the State of Texas.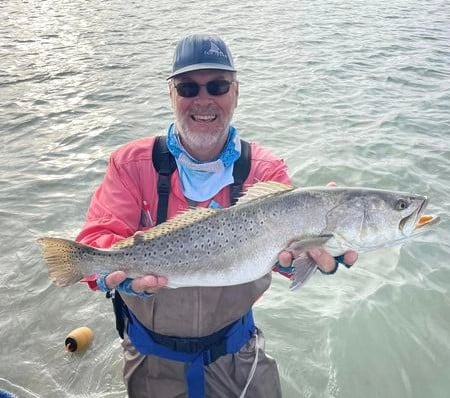 Types of Game Fish in Texas
Texas has dozens of types of fish for anglers to target. First as a recreational fisherman and now as a professional fishing guide, Captain Kevin has done his fair share of pursuing some of the best fish sought by anglers at all levels. Captain Kevin is equally at home fishing both saltwater and freshwater destinations. During his years of fishing along the Texas Coast, Captain Kevin has caught many inshore and offshore species including:
Redfish
Speckled Trout
Flounder
Black Drum
Sheepshead
Red Snapper
Mahi Mahi
Kingfish
Ling or Cobia
Shark
Tuna
Crevalle Jack
Amberjack
Freshwater Species
In freshwater, Captain Kevin has caught the following species (and more) while fishing Texas waters:
Largemouth Bass
Crappie
White Bass
Hybrid Bass
Striper
Various Types of Perch
Catfish
Alligator Gar
That is a big list of fish to catch in any state, but Texas has even more fish available for anglers. Every serious angler has a bucket list of fish they still want to catch, and Captain Kevin is no different. Captain Kevin's Texas bucket list still includes a few more fish that he would love to catch including snook and tarpon. Captain Kevin has caught nice snook fishing in Central America, but he still would like to catch one in his own state.
Favorite Fishing Locations in Texas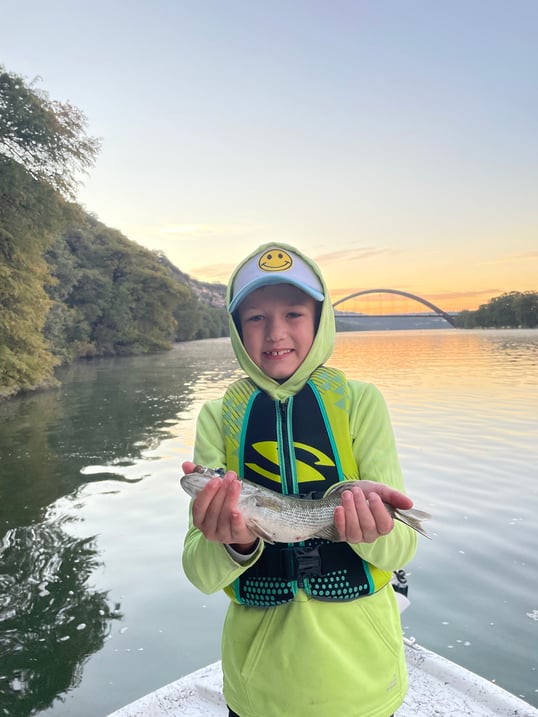 As a professional fishing guide living in Austin, most of Captain Kevin's guided fishing trips today take place in Central Texas. Captain Kevin has been concentrating his guiding efforts on fishing for crappie, white bass, hybrids, stripers, and black bass in the many freshwater lakes within a one-hour drive from Austin, Texas including Lake Buchanan, Lake Travis, Lake Austin, Fayette County Reservoir, and Decker Lake.
The Highland Lakes chain of freshwater reservoirs along with other Central Texas lakes offer anglers a chance to catch a mixed bag of fish including striper, crappie, and black bass. Captain Kevin has a unique guiding business in that he is willing to travel to fish at several popular fishing destinations and target different species depending on his clients' fishing preferences.
In addition to freshwater, Captain Kevin has enjoyed fishing the entire Texas coast from Port Isabel to Sabine Lake. Now that he is a professional fishing guide, Captain Kevin has guided inshore saltwater fishing trips mainly along the middle coast of Texas in areas such as Port Aransas and Port O'Connor. Captain Kevin has also run a few trips in the Upper Laguna Madre.
For recreational saltwater fishermen, the entire Texas coast offers opportunities to catch popular species such as speckled trout, redfish, red snapper, and tuna. With so many choices along the Texas Coast, it is hard to pick a favorite fishing spot. We asked Captain Kevin to tell us his favorite couple of bay systems to fish in Texas, and he listed the Lower Laguna Madre and Baffin Bay as two of his top fishing destinations along the Texas coast.
Fishing Methods for Texas Waters
No matter what your style of fishing, Texas has a fishing opportunity to meet your needs. For saltwater anglers, you have your choice of inshore or offshore fishing. Offshore typically includes trolling around shrimp boats or bottom fishing over structure. Inshore fishing includes anchoring along the jetties, drifting over reefs, wade fishing on grass flats, and similar fishing techniques.
For freshwater fishermen, there are as many ways to catch fish as there are fish to catch. Largemouth bass can be caught in dozens of different ways ranging from using a topwater lure on the surface to dragging a Carolina-rigged worm along the bottom of the lake. Striper, white bass, and crappie are often found in deeper water, and many professional fishing guides including Captain Kevin use electronics to locate and catch these fish. One of the newer innovations in fishing electronics is the Live Scope, and this is one of Captain Kevin's favorite new tools for targeting both freshwater and saltwater gamefish.
Using a Live Scope to Find Fish
Live Scope is a new type of scanning sonar created by Garmin. Garmin has a video showing how Live Scope differs from and compliments conventional sonar products. Using Live Scope is Captain Kevin's standard approach for targeting crappie, white bass, and more throughout the Highland Lakes. Captain Kevin also utilizes a thumping device to attract white bass and striped bass resulting in many days catching as many as 100 of these popular and abundant fish species.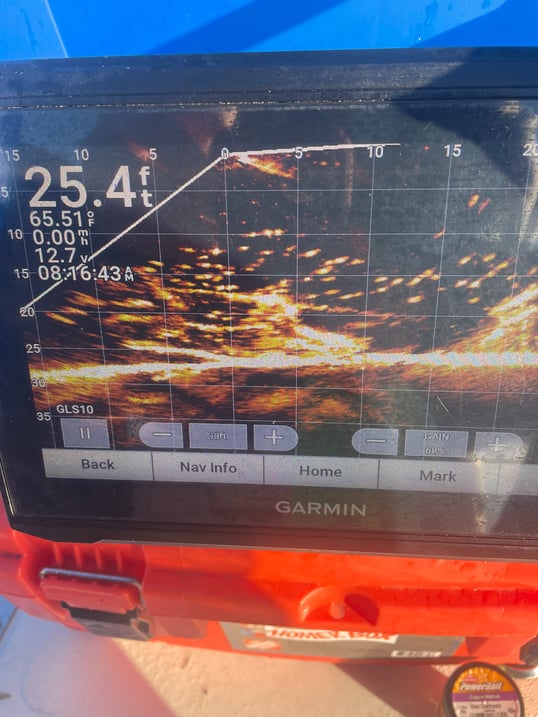 With a Live Scope, Captain Kevin is able to see structure and the position of the fish swimming around the structure. Moreover, Live Scope allows anglers to see both your lure and the fish as they approach the bait. Captain Kevin calls it "video game fishing" because he can see his clients' lures in real time as they approach the schools of hungry fish hanging around brush piles in 20 feet of water.
Captain Kevin spent 33 years as an IT professional before changing careers to become a full-time professional fishing guide in 2020. Using the latest technology to target fish comes naturally to Captain Kevin following his long career as a technology expert. Not only does he use a Live Scope for freshwater species, but Captain Kevin will also use a Live Scope when pursuing redfish and other saltwater species along the jetties and other structure.
Hiring a Fishing Guide to Learn Electronics
There are many reasons to hire a fishing guide. Enjoying a day on the water with the opportunity to catch great fish is one of the main reasons anglers hire professional guides. Learning new skills that help make us better anglers is another good reason to hire a fishing guide. Captain Kevin enjoys teaching anglers about the latest fishing technologies available and sharing his tips for how to set up a Live Scope to find more fish.
Using a Live Scope is just one of the many fishing techniques available to Texas anglers. Captain Experiences offers professional fishing guides who are well versed in all the techniques you need to have a great day on the water. No matter how experienced you are as an angler, there are always new types of fish to catch and exciting new methods to find and land bigger fish.
Book Your Next Texas Fishing Trip With Captain Kevin McConnell
Ready to discover some of the best fishing destinations in Texas? Join Captain Kevin on a fishing trip around the Central Texas area.