4.94 / 5 Average Review Score
Team of Experts Available 24/7
Licensed and Insured Guides
Recently Booked Fishing Guides In Colorado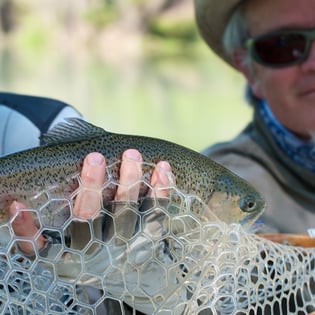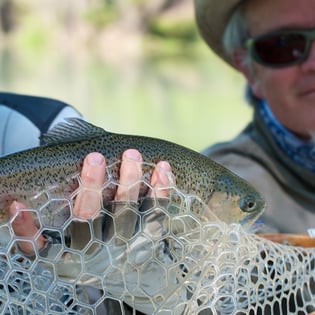 Head out for a memorable 4 or 6-hour adventure in the Colorado Rocky Mountains with Chris! On this fly-fishing trip you'll be going after Brown Trout, Cutthroat Trout, and Rainbow Trout on the aptly-named Roaring Fork River. The Roaring Fork River is a Gold Medal Stream, which means that it supports at least 1000 pounds of fish per mile of river. This float and wade river is known for its large Rainbow and Brown Trout, averaging from 12 to 18 inches in length. Whether you're new to fly fishing or not, Chris is eager to help. He has been fly fishing all over the country for over 30 years, so expect to get some bites! Chris will provide the rods and reels, and any waders you might need at an additional cost. He will even provide a tasty lunch for you, so all you need to bring is a valid Colorado Fishing License. Enjoy your day out on the river with Chris! Read More
Roaring Fork River Fly Fishing
2 People
From $250 per person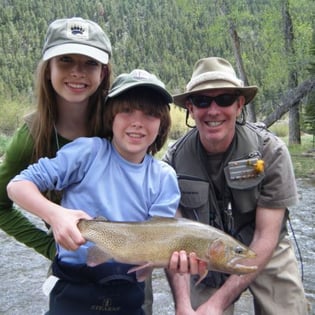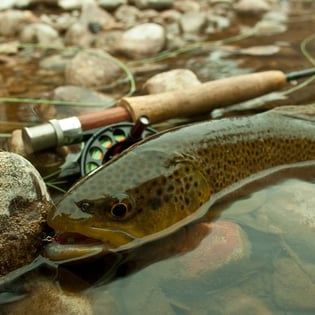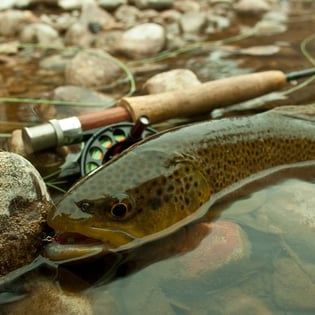 Wade your way into the water with Ken and prepare for an action-packed day of Trout fishing on the fly! Ken offers a couple of exciting options to best tailor your trip to your needs. Depending on what you want to do and how much time you have, you can opt for a half or full day on the water with Ken: **Half-Day:** This trip is 4 hours. A great introductory trip, you'll have the opportunity to learn to cast, tie some knots and then have plenty of time to practice your new skills. Advanced anglers will enjoy a morning or afternoon of great fishing as well! You will drive to one of Ken and his team's best fishing spots to target some Rainbow and Brown Trout. The price for this trip is $220 for the first angler and $55 for the second angler with a maximum of two anglers per guide. Flies, snacks/drinks and equipment are provided. (A third angler may be added, but please call for price). **Full-Day:** This trip is 7-8 hours. On this trip, you will get to go to some of the premier fishing spots in the area. The South Platte, Clear Creek, Williams Fork and Blue River are a few of the rivers you may fish, where you'll be going after some impressive Rainbow and Brown Trout. It is not uncommon to land a fish over 20 inches on these trips! The drives are as scenic as they get. If you are a beginner, you will learn to cast, tie some knots and much more throughout the day. With the whole day, you will have plenty of time to practice your new found skills, and the possibilities are endless. As an experienced angler, you will get to fish to your heart's content all day long! Book your trip and get ready to catch some Trout! Read More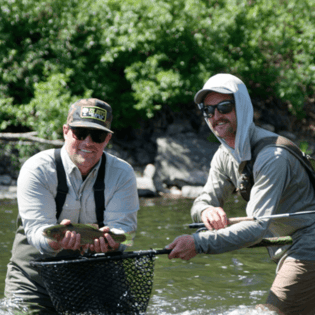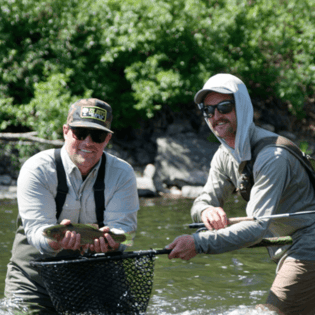 Charlie and Conner specialize in guided Fly Fishing trips in the Vail Valley. Specifically, Walk-and-Wade trips on the Eagle River. With guides all over the Valley, they have the opportunity to put you on fish in multiple different spots along the Eagle River. As stewards of their water, your guides focus especially on Catch and Release fishing. This helps us keep the ecosystem strong, and allows many generations of Fly Fishing Anglers to continue to use these resources. Their half-day trips last 4 hours and trips focus on getting on the water early and getting fish. Charlie and Conner provide Rods, Reels, Line, Tippit, Flies, Waders, and Boots. All you need to bring is a valid Colorado Fishing license, hat, sunglasses,or sun protection and a good attitude! Their full-day trips are 8 hours, and give you the time needed to work A LOT of water. These days are long, but they will provide lunch from Smiling Moose Deli, water, and snacks with the full day trip! A valid Colorado Fishing license and a great attitude are required. Read More
Eagle River Fly Fishing
4 People
From $75 per person
Top Targeted Species in Colorado
Half Day and Full Day Fishing Trips in Colorado
Everything to Know About Booking a Fishing Guide in Colorado
What are the best fishing trips in Colorado?
Our guides in Colorado are rated a 5 out of 5 based on 9688 verified reviews on Captain Experiences.
All guides on Captain Experiences are licensed, insured, and vetted by our team. You can access their reviews, click through trip photos, read bios to get to know them, and preview trip details like species, techniques, group sizes, boat specs and more.
What types of fishing trips are common in Colorado?
River fishing is the most popular in Colorado.
The most commonly sought after species in Colorado are: 1. brown trout, 2. rainbow trout, 3. cutthroat trout, and 4. brook trout.
The most common fishing techniques in Colorado are fly fishing and wading.
How much does a Colorado fishing trip cost?
in Colorado prices can range anywhere from an affordable $100 to $1,440, but the average price for a half day trip in Colorado is $600. The average price for a full day trip in Colorado is $812.
What month is best for fishing in Colorado?
The most popular season for fishing in Colorado is summer, and most anglers book their trips 55 days in advance.
Do I need a Colorado fishing license and what are the bag limits in Colorado?
See here for more information on fishing licenses in Colorado, bag limits for target species, and fishing season regulations in Colorado. When in doubt, your fishing guide will always know the right rules and regulations in Colorado.
Recent Reviews of Captain Experiences
Colorado Fishing Calendar
| Species | January | February | March | April | May | June | July | August | September | October | November | December |
| --- | --- | --- | --- | --- | --- | --- | --- | --- | --- | --- | --- | --- |
| Brook Trout | Great | Good | Good | Good | Great | Ideal | Ideal | Ideal | Ideal | Ideal | Ideal | Great |
| Brown Trout | Great | Good | Good | Great | Ideal | Ideal | Ideal | Ideal | Ideal | Ideal | Ideal | Great |
| Crappie | Good | Good | Great | Great | Ideal | Ideal | Ideal | Ideal | Great | Good | Good | Good |
| Hybrid Striped Bass | Good | Good | Great | Ideal | Ideal | Ideal | Ideal | Great | Good | Good | Good | Good |
| Largemouth Bass | Good | Good | Ideal | Ideal | Ideal | Ideal | Ideal | Ideal | Great | Good | Good | Good |
| Perch | Good | Good | Great | Ideal | Ideal | Ideal | Great | Great | Good | Good | Good | Good |
| Smallmouth Bass | Good | Good | Ideal | Ideal | Ideal | Ideal | Ideal | Ideal | Ideal | Great | Great | Great |
| Striped Bass | Good | Good | Great | Ideal | Ideal | Ideal | Ideal | Great | Good | Good | Good | Good |
| Walleye | Ideal | Ideal | Great | Good | Good | Good | Good | Good | Good | Good | Great | Ideal |
Top Fishing Guide Locations in Colorado
The Best Places to Fish in Colorado
Top Targeted Fishing Species in Colorado
Top Fishing Techniques in Colorado
Top Types of Fishing in Colorado
;