4.94 / 5 Average Review Score
Team of Experts Available 24/7
Licensed and Insured Guides
Recently Booked Fishing Guides Near Riggins, Id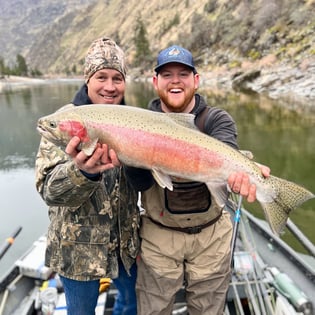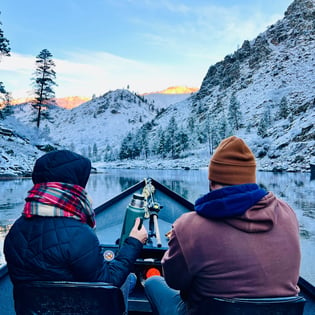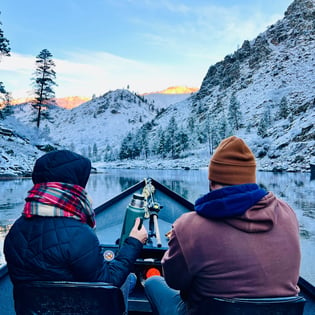 Catching Steelhead is what Captain Fred lives for, and he strives to provide the highest quality Idaho steelhead fishing adventures available on the Salmon River. Get out there and catch some of these beautiful, delicious Salmonids! Born and raised on the Salmon River, Fred is a professional and experienced Steelhead fisherman that will give you the best opportunity to safely hook into that Steelhead or Salmon you have always wanted. With over 70 miles of Idaho's best steelhead fishing directly accessible from his headquarters in Riggins, Idaho, he can offer the best in Idaho guided Steelhead fishing. All of Fred's trips are guided in a drift boat. Fred is not only an expert at navigating the river, but is also extremely knowledgeable about the history surrounding this area. A good lunch, quality rods and Steelhead fishing equipment are all provided, along with a propane heater for your comfort. Read More
Salmon River Steelhead - 17' Willie
17 ft
3 People
From $167 per person
Everything to Know About Booking a Fishing Guide in Riggins
What are the best fishing trips in Riggins?
All guides on Captain Experiences are licensed, insured, and vetted by our team. You can access their reviews, click through trip photos, read bios to get to know them, and preview trip details like species, techniques, group sizes, boat specs and more.
What types of fishing trips are common in Riggins?
River fishing is the most popular in Riggins.
The most commonly sought after species in Riggins is steelhead
The most common fishing techniques in Riggins are drift fishing, light tackle fishing, and trolling.
How much does a Riggins fishing trip cost?
in Riggins prices can range anywhere from an affordable $500 to $700, but the average price for a full day trip in Riggins is $567.
What month is best for fishing in Riggins?
The most popular season for fishing in Riggins is summer, and most anglers book their trips 0 days in advance.
Do I need a Riggins fishing license and what are the bag limits in Riggins?

See here for more information on fishing licenses in Riggins, bag limits for target species, and fishing season regulations in Riggins. When in doubt, your fishing guide will always know the right rules and regulations in Riggins.

;