4.94 / 5 Average Review Score
Team of Experts Available 24/7
Licensed and Insured Guides
Recently Booked Fishing Guides Near Sheridan, Mt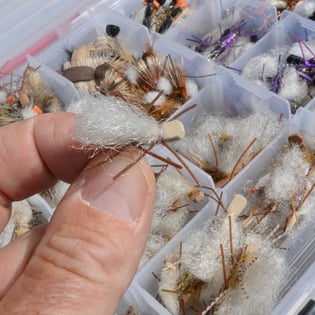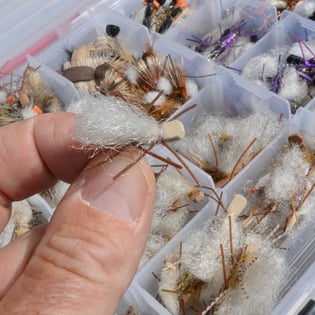 Missoula Montana offers a slew of incredible blue-ribbon rivers within a short distance from downtown. Mike and his guides know the Bitterroot, the Blackfoot, and the Clarks Fork rivers like the back of their hands and fish them all based on what river is fishing best. Generally, the hatches on each of the rivers rotate and trade-off perfectly so there is always action to chase in the vicinity. Mike's outfit and his slew of incredible guides are committed to offering you the highest quality Montana fly fishing experience available. He and his experienced guides will row the extra mile to ensure this fishing trip is one you'll remember for a lifetime. They will provide all the terminal tackle (flies, tippet, floatant, etc). They've got you covered on rods and reels if you need them and will provide a gourmet on the river lunch for you as well. Rivers in the Area: **The Bitterroot River** in southwest Montana is a dry fly fishery. Not many rivers in the west can claim such a statement, but the "Root" is a unique stream. The fact that the infamous Purple Haze dry fly pattern was developed/invented by a long-time Bitterroot guide tells you that it's a special place. A float trip down the Bitterroot River never disappoints and the scenery and caliber of fishing are hard to beat. Although the Root can fish well in the winter months the real start to the season here is March and April with the world-famous Skwala stonefly hatch. This event is one of the few places in the west that offers the angler a chance at catching nice-sized trout on size 10 or bigger dry flies in early spring. March Browns and Blue Winged Olive Mayflies also make a daily appearance and can offer outstanding topwater action. The river is characterized by cobblestone runs, deep pools, and woody debris that hold large Rainbow, Cutthroats, and Brown trout. Summer See's the usual hatches of PMD's, Sallies, and Tricos with Grasshoppers keeping trout looking up well into October. The fall is also a special time on the Root, with cooler weather and Mahogany dun mayflies and Hecuba drake's offering the last substantial meal for trout before winter sets in. **The Blackfoot** is on every fly fisherman's bucket list, and deservedly so. Blackfoot River Fly Fishing is an angler's dream come true. A true classic western freestone river and its hatches are impressive: the Giant Salmon Fly, Golden Stones, PMDs, terrestrials, are just some of the hatches you'll find on the Blackfoot. Come fish the Blackfoot River with Fishtales Outfitting and you'll want to come back every year! The Blackfoot River or as it's sometimes called the Big Blackfoot as to distinguish it from the Little Blackfoot in western Montana near Missoula is a truly special place. The Nez Perce of Idaho found this route as the way to the Upper Missouri Basin to hunt buffalo. The Nez Perce name for the Blackfoot is Cokahahalishkit which means river of the road to buffalo. A diverse and dynamic fishery fed by snowpack and springs with all of the main trout species present. Depending on the time of year, you have a shot at a Blackfoot "Grand Slam" catching a rainbow, cutthroat, brown, brook, cut-bow. The Blackfoot is characterized by large boulders and pocket water that's stuffed with wild trout and offers an exciting float trip with outstanding hopper/dropper fishing throughout the summer. Many reaches of the Blackfoot River offer a beautiful wilderness setting with little development on its banks, plenty of wildlife, great trout fishing, and gorgeous scenery to add to the experience! **The Clark Fork River** is one of Montana's best-kept secrets, hidden in plain sight. Many anglers drive by it on their way to fish other famous Montana rivers like the Bitterroot or Blackfoot. We at Fishtales Outfitting love elbow room and great trout fishing, we think you'll agree! The largest river in Montana by volume it begins its 310-mile journey near the town of Butte MT, and as it meanders its way towards its terminus at Lake Pend Oreille it offers hundreds of miles of floatable water. The upper river is a smaller stream with many diverse types of water that mostly holds Brown trout and the occasional Westslope Cutthroat. This is fantastic streamer water with a legitimate shot at a trophy Brown. As the river heads west along I-90 towards Missoula it gains volume from many tributaries and becomes a large freestone river in a heavily forested corridor. This lower zone is a dry fly fishery that can rival the best hatches on the Missouri River. Large Rainbow, Cutthroats, and hybrid Cut-bows dominate the water here and eagerly come to the surface to devour the many species of mayflies that hatch here. The lower river also offers the added bonus of being a trophy Northern Pike fishery with some research showing fish of 45″ or better, which can be an exciting change of pace from trout fishing. The Clark Fork is typically pretty low on the visiting anglers' list of rivers to float fish which makes it one of the lesser crowded in all of western Montana. Read More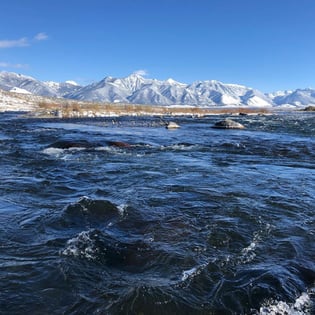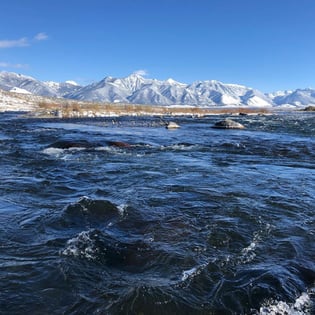 Float from Pine Butte down to Lyons Bridge on the Upper Madison to get away from the crowds and access lower-pressure sections of the river. They call the Madison river "The 50 Mile Riffle" as it babbles smoothly down out of Reynolds pass, offering fantastic wading opportunities for the entire stretch of river. The upper portion of the river stays cool throughout the hot summer months as cold water is released from the Hegben Lake Dam, attracting tons of recreational (solo) fishermen to this area. Thus most of the pedestrian access points see a lot of traffic. This trip combines the best of both worlds for those looking to dissect sections of the river on foot. The section of the river above Lyons Bridge cannot actually be fished from the boat and can only be fished on foot; thus, your guide will float you down the river to the best spots and anchor up the drift boat to hone in on the best sections of the river! The Madison River hosts wild rainbow and brown trout ranging in size from 10″ to monsters reaching up to 28″ with an average length of 15″. The Fall spawning run out of Hebgen Lake will give you some of the best fish. In October through November, expect to see big Browns and Rainbows averaging 19 inches with the occasional 28″ Brown Trout. If you go fishing out here in the fall, be ready for winter conditions where temperatures can drop below zero on any given day, and in the summer, be sure to prepare for rain showers as they can pop up out of nowhere! But as they say in Montana: "If you don't like the weather, wait 10 minutes!" Regardless of where you are staying – Bozeman, Ennis, Cameron, Helena, Livingston, West Yellowstone or Fort Smith, Montana – Trout On The Fly has you covered. Their guides will be able to pick you up at your vacation rental, lodge, hotel, campsite, or the airport. If your place of lodging is out of the way, just meet your guide at a convenient location for your day(s) on the water. The guides will provide all the rods, reels, flies and tippet you need to get out on the water and catch some fish. They will even have a tasty lunch for all guests. Let Trout On The Fly know when booking if you will need to rent waders and wading boots, which they will provide at an additional cost. All you need to bring is a valid Montana Fishing license. A hat, sunscreen, polarized sunglasses, and a rain jacket are recommended. Enjoy your day out on the water with one of Trout On The Fly's guides! **Nate has several listings for float trips at nearby locations in the Bozeman / Yellowstone National Park area. He wants you to have the best experience possible, so if the fishing is better in another lake or river he may recommend another location. Whether you want to stick with this spot or hear about other spots, feel free to book your float trip on this listing and he will get in contact with you about the details!** Read More
Madison River Float
2 People
From $250 per person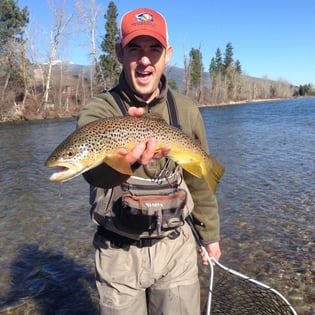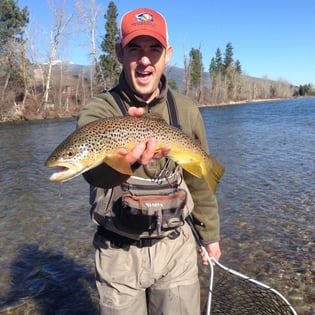 Wade your way into the water with your guide and get ready for an action-packed day of Montana fishing from one of the best guides around! On this fly-fishing trip, you'll be wading into the Ruby River to target some Brown Trout and Rainbow Trout. The Ruby River is one of the smaller rivers offered by Trout On The Fly and is ideal for a half-day walk-n-wade trip, but full-day trips are available for those who want some after-hours catches! Expect to target wild Brown and Rainbow Trout averaging 12"-16" in size with shorter casts. The best times to fish here are in the winter and spring months before runoff (January-April), and just after runoff (mid-June through July). TOTF recommends having a small group for this trip to get the most out of it! On this half or full-day excursion, your guide will wade you into the river from one of the public access points. From here, your guide will give you expert fly-fishing tips and let you try your luck. Whether you're new to fly fishing or not, your guide is eager to teach and will get some fish on your line! Regardless of where you are staying – Bozeman, Ennis, Cameron, Helena, Livingston, West Yellowstone, or Fort Smith, Montana – Trout On The Fly has you covered. Your guide(s) will be able to pick you up at your vacation rental, lodge, hotel, campsite, or the airport. If your place of lodging is out of the way, just meet your guide at a convenient location for your day(s) on the water. Your guide will provide all the rods, reels, flies, and tippet you need to get out on the water and catch some fish. They will even have a tasty lunch for all guests. Let them know when booking if you will need to rent waders and wading boots, which they will provide at an additional cost. All you need to bring is a valid Montana Fishing License. A hat, sunscreen, polarized sunglasses, and a rain jacket are recommended. Enjoy your day out on the water with your legendary guide! ** TOTF has several listings for wade fishing trips at nearby locations in the Bozeman / Yellowstone National Park area. They want you to have the best experience possible, so if the fishing is better in another lake or river, they may recommend another location. Whether you want to stick with this spot or hear about other spots, feel free to book your wade fishing trip on this listing, and they will get in contact with you about the details!** Read More
Ruby River Walk-n-Wade
2 People
From $250 per person
Top Types of Trip in Sheridan
Top Targeted Species in Sheridan
Half Day and Full Day Fishing Trips in Sheridan
Everything to Know About Booking a Fishing Guide in Sheridan
What are the best fishing trips in Sheridan?
All guides on Captain Experiences are licensed, insured, and vetted by our team. You can access their reviews, click through trip photos, read bios to get to know them, and preview trip details like species, techniques, group sizes, boat specs and more.
What types of fishing trips are common in Sheridan?
River fishing is the most popular in Sheridan as well as lake fishing.
The most commonly sought after species in Sheridan are: 1. brown trout, 2. rainbow trout, 3. cutthroat trout, and 4. brook trout.
The most common fishing techniques in Sheridan are fly fishing, drift fishing, and wading.
How much does a Sheridan fishing trip cost?
in Sheridan prices can range anywhere from an affordable $500 to $3,000 and up, but the average price for a half day trip in Sheridan is $514. The average price for a full day trip in Sheridan is $1,708.
What month is best for fishing in Sheridan?
The most popular season for fishing in Sheridan is fall, and most anglers book their trips 1 days in advance.
Do I need a Sheridan fishing license and what are the bag limits in Sheridan?
See here for more information on fishing licenses in Sheridan, bag limits for target species, and fishing season regulations in Sheridan. When in doubt, your fishing guide will always know the right rules and regulations in Sheridan.
Other Fishing Guide Locations near Sheridan
;