4.94 / 5 Average Review Score
Team of Experts Available 24/7
Licensed and Insured Guides
Recently Booked Fishing Charters Near Rincon, Puerto Rico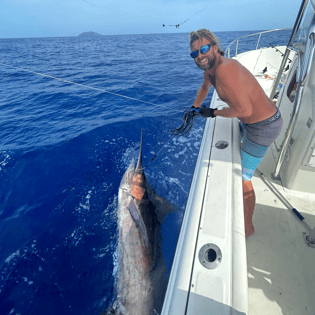 A Guided Fishing Trip targeting the Blue Marlin Fishery around the west coast of Puerto Rico. With 25 years of experience chasing Blue Marlin and giant Bluefin Tuna, captain Frank excels at heavy drag and bent rods. Join us for a day of pulling big lures to see what all the hype is about. Read More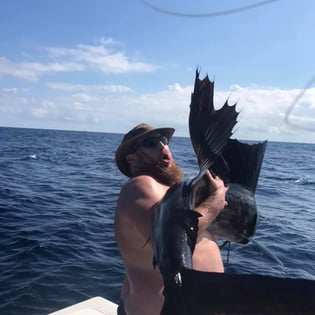 Simply Caught Charters offers friendly customer based professional fishing charters for Marlin, Sailfish, Tuna, Mahi, Wahoo, swordfish and much more. Owned and operated on the west coast of Puerto Rico we fish year around. Weather you live here or are on vacation in Cabo Rojo, Puerto Real, Mayaguez, Rincon, Isabela, or Aguadilla we have you covered. We specialize in Blue Marlin fishing. With extremely deep water only a mile or two offshore the fishing grounds are never far away. Mayaguez and the west coast of Puerto Rico have been mentioned in numerous articles from Marlin Magazine to Sportfishing Magazine about the quality of the marlin fishery during the summer Months. We also run Tuna, Wahoo, Mahi, Sword, and inshore trips on a daily basis. We can live bait for blackfin and Rainbow Runners or troll for Wahoo and Mahi on the close ledges around Rincon and Aguadilla. With Simply Caught Charters you can also hire our vessel and captain for any combination of trip you can think off. We routinely take clients on snorkel trips, sunset cruises, sight seeing tours, and private surf trips. Reach out today to learn more. Read More
Top Types of Trip in Rincon
Everything to Know About Booking a Fishing Charter in Rincon
What are the best fishing charters in Rincon?
All guides on Captain Experiences are licensed, insured, and vetted by our team. You can access their reviews, click through trip photos, read bios to get to know them, and preview trip details like species, techniques, group sizes, boat specs and more.
What types of fishing charters are common in Rincon?
Deep Sea fishing is the most popular in Rincon as well as nearshore fishing and inshore fishing.
The most commonly sought after species in Rincon are: 1. blue marlin, 2. squid, 3. mahi mahi, and 4. mangrove snapper.
The most common fishing techniques in Rincon are trolling, artificial lure fishing, and sight casting but spearfishing and light tackle fishing are popular as well.
How much do Rincon fishing charters cost?
in Rincon prices can range anywhere from an affordable $700 to $1,150, but the average price for a full day trip in Rincon is $1,000.
What month is best for fishing in Rincon?
The most popular season for fishing in Rincon is summer, and most anglers book their trips 0 days in advance.
Do I need a Rincon fishing license and what are the bag limits in Rincon?

You're in luck! Our fishing tours in Rincon don't require you to purchase a fishing license – your group is covered by your boat's captain. See here for more information on bag limits and fishing season regulations in Rincon.

;