4.94 / 5 Average Review Score
Team of Experts Available 24/7
Licensed and Insured Guides
Recently Booked Fishing Charters Near Estero Bay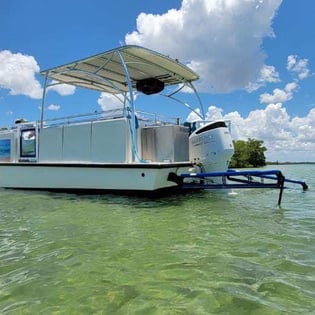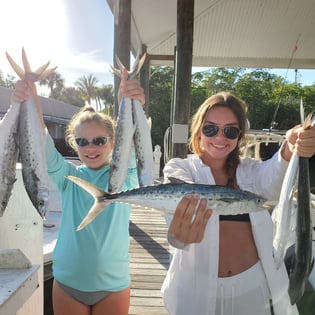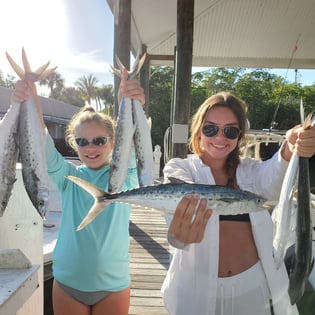 On this fishing trip with Captain Rob, you'll fish the inshore waters of Estero Bay, Matanzas Pass, and Southern Pine Island Sound, looking for a variety of species including Mangrove Snapper, Sheepshead, Seatrout, Spanish Mackerel, Pompano, and Gag Grouper (when in season). There's a little bit of everything on this trip; you'll get the enjoy the beautiful scenery, catch fun fighting fish, and take home an excellent dinner! You'll mix it up on this trip, using a combination of trolling and light-tackle fishing, changing your baits and lures depending on the weather, season, and target species. Captain Rob will take you out on his 25' SeaQuest center console, powered by a 300HP Suzuki engine. This boat is perfect for navigating the costal waters you'll be fishing. You will need to bring your sun protection, a hat, and some sunglasses and you'll be ready to hit the water. Be sure to pack an ice chest so that you can take home the tasty fish you'll catch! Read More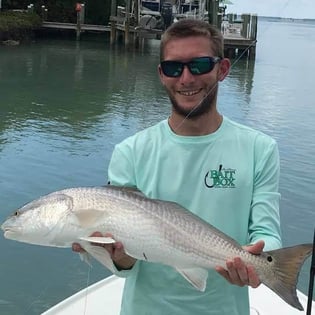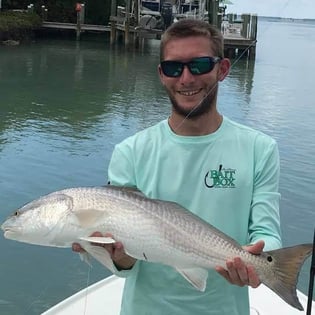 Fishing in the back-bay/inshore waters is what Southwest Florida is known for around the world. These are Captain Jack's most popular trips across all his clients, from veteran anglers to children! When fishing from Boca Grande to Estero Bay there are dozens of species that can end up on the end of your line. Some of the more common species include **Snook, Redfish, Trout, Tripletail, Tarpon, Spanish Mackeral, Sheepshead, and Various Species of Sharks.** There is nothing quite as fun as stalking fish along mangrove islands, floating across grass flats, pitching live-baits into structure or drifting baits through passes. Captain Jack mostly uses live-bait and spinning reels. With proven success, he finds this is the most effective way to put fish into the boat! Capt. Jack pilots a beautiful, 23' vessel that can handle rough days and get into shallow fishing holes making it perfect for plying the waters of Southwest Florida. Its T-top gives plenty of shade from Florida's brutal sun complete with a tower and second station. An extra-wide beam and clutter-free deck give his clients plenty of room to move around, fight fish or lay back & relax. With a brand new Minn Kota trolling motor, massive bait-well, state-of-the-art GPS/SONAR, Bluetooth sound system, and more to help our clients increase their chances of landing fish as comfortably as possible. Since everything is provided aboard Captain Jack's boat, all you need to bring are your favorite snacks and drinks and you'll be all set! Read More
Captain Pete is the ultimate fishing guide for anyone who wants to experience the thrill of inshore fishing in Fort Myers, Florida. Aboard his 22' AquaSport bay boat, you'll be able to explore the beautiful backcountry waters between Estero Bay and Pine Island Sound. These waters are rich with a variety of classic species, but on this charter, you'll be focused on hooking Tarpon, Florida's most famous inshore sportfish. These "Silver Kings" are known worldwide for their incredible fighting ability, strength, and beauty, and are are a true test for any angler. In the summers, these impressive fish move up and down the coast, hunting for food. Tides, weather, and the phases of the moon play essential roles in Tarpon behavior, but in the spring and early summer these kings of the inshore are always hungry, biting on both live and artificial bait. In addition to their strength and speed, they're one of the most photogenic fish in the ocean, with bright silver scales covering a sleek, aggressive body built for hunting down baitfish. These qualities put Tarpon right in Captain Pete's wheelhouse—he's a talented photographer who will capture stunning pictures of your catch that you can treasure forever. With his passion for fishing and photography, you're guaranteed an unforgettable day on the water with Captain Pete! Read More
Top Types of Trip in Estero Bay
Top Targeted Species in Estero Bay
Half Day and Full Day Fishing Trips in Estero Bay
Everything to Know About Booking a Fishing Charter in Estero Bay
What are the best fishing charters in Estero Bay?
Our guides in Estero Bay are rated a 5 out of 5 based on 9692 verified reviews on Captain Experiences.
All guides on Captain Experiences are licensed, insured, and vetted by our team. You can access their reviews, click through trip photos, read bios to get to know them, and preview trip details like species, techniques, group sizes, boat specs and more.
What types of fishing charters are common in Estero Bay?
Inshore fishing is the most popular in Estero Bay as well as nearshore fishing and flats fishing.
The most commonly sought after species in Estero Bay are: 1. speckled trout, 2. redfish, 3. snook, and 4. sheepshead.
The most common fishing techniques in Estero Bay are live bait fishing, sight casting, and light tackle fishing but topwater fishing and artificial lure fishing are popular as well.
How much do Estero Bay fishing charters cost?
in Estero Bay prices can range anywhere from an affordable $500 to $1,300, but the average price for a half day trip in Estero Bay is $596. The average price for a full day trip in Estero Bay is $882.
What month is best for fishing in Estero Bay?
The most popular season for fishing in Estero Bay is summer, and most anglers book their trips 5 days in advance.
Do I need a Estero Bay fishing license and what are the bag limits in Estero Bay?
See here for more information on fishing licenses in Estero Bay, bag limits for target species, and fishing season regulations in Estero Bay. When in doubt, your fishing guide will always know the right rules and regulations in Estero Bay.
Recent Reviews of Captain Experiences
★★★★★

Awesome trip went out with Captain Kenny did a great job put us on fish right away. My wife went along on the trip and she is not a fisher person Kenny did a great job with her and she caught her first shark. Thanks for the great time and unforgettable memories.

Christopher J. with Rob J. of Fort Myers Beach, Florida
Other Fishing Charter Locations near Estero Bay
Top Targeted Fishing Species in Estero Bay
Top Fishing Techniques in Estero Bay
;