4.94 / 5 Average Review Score
Team of Experts Available 24/7
Licensed and Insured Guides
Recently Booked Fishing Charters Near Florida Bay
Top Types of Trips in Florida Bay
"Our Damn Good Guides go above and beyond to provide you an incredible trip, and we've handpicked every single one. We're passionate about the outdoors and about empowering people to find the perfect-match guide for the trip of a lifetime, every time."
Jonathan and Attison | Co-founders | Austin, Texas
Fishing Charters Near Florida Bay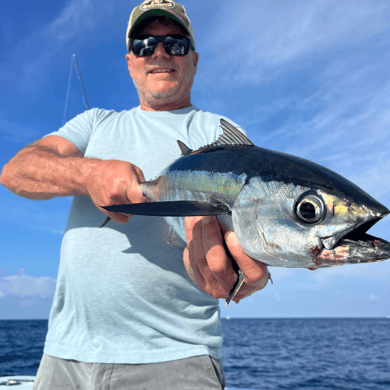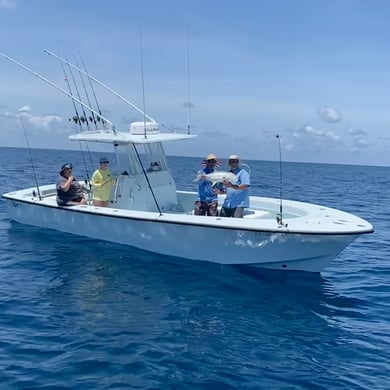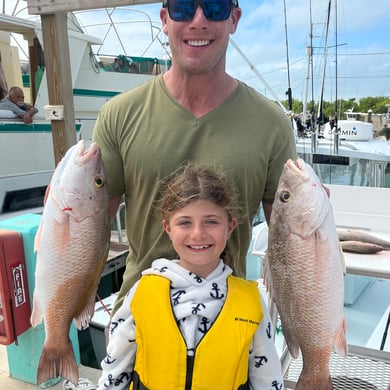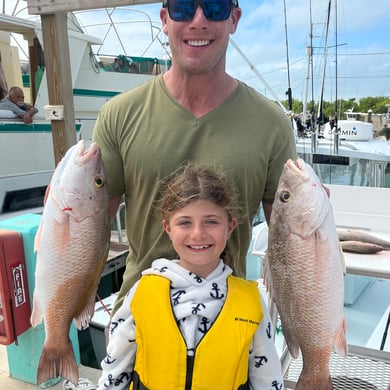 Fishing reefs, wrecks, or in the bay, you and the captain will target various types of Grouper, Snapper, Jack, Mackerel, Trout, as well as sharks. Be ready to depart at 7:30a.m. or 12:30 p.m. The captain provides everything you need for this 4-hour fishing adventure Read More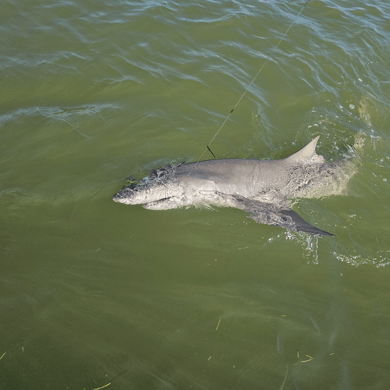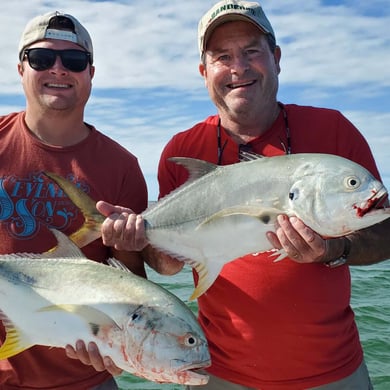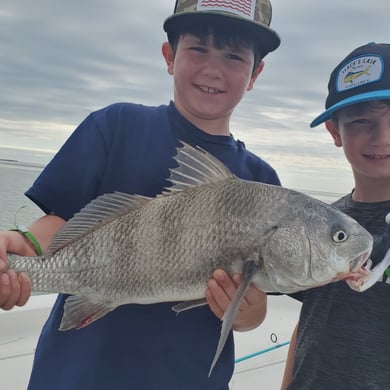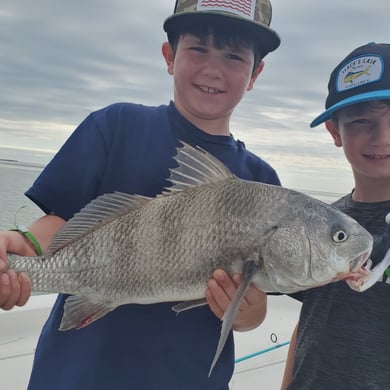 Explore the immaculate flats and beautiful backcountry with Captain Mark to chase Redfish, Snook, Trout, Tarpon, Shark, Snapper, and Permit down in the Florida Keys! These trips start at a beacon of the sportfishing world, the World Widesportsman in Islamorada (You'll know what I mean when you meet up with Captain Mark if you don't already). From the Dock behind World Wide, you will hop aboard Captain Mark's 17' Mako skiff that comes ready with all the fishing gear you will need, a cooler with some ice, and waters for you as well. Depending on weather conditions, time of the year, and your preferences of course, Captain Mark will take you either up and down the strings of keys to explore the abounding flats for Permit, Bonefish, Jacks, and Tarpon (when they're in the area), or back into the everglades to explore the seemingly endless maze of mangroves and backwater flats for Redfish, Trout, Baby Tarpon, and Sharks. Both are awesome options and Captain Mark will be there, either way, to lend his knowledge of tides, share his secret spots, and show you his favorite techniques for each species! Captain Mark is a pleasure to fish with and looks forward to taking you out on your next Florida Key's inshore adventure! Read More
See all trips in Florida Bay
Everything to Know About Booking a Fishing Charter in Florida Bay
What are the best fishing charters in Florida Bay?
Our guides in Florida Bay are rated a 5 out of 5 based on 9588 verified reviews on Captain Experiences.
All guides on Captain Experiences are licensed, insured, and vetted by our team. You can access their reviews, click through trip photos, read bios to get to know them, and preview trip details like species, techniques, group sizes, boat specs and more.
What types of fishing charters are common in Florida Bay?
Deep Sea fishing is the most popular in Florida Bay as well as inshore fishing, nearshore fishing, and flats fishing.
The most commonly sought after species in Florida Bay are: 1. mangrove snapper, 2. redfish, 3. permit, and 4. snook.
The most common fishing techniques in Florida Bay are light tackle fishing, artificial lure fishing, and live bait fishing but cut bait fishing and sight casting are popular as well.
How much do Florida Bay fishing charters cost?
in Florida Bay prices can range anywhere from an affordable $550 to $1,200, but the average price for a half day trip in Florida Bay is $725. The average price for a full day trip in Florida Bay is $919.
What month is best for fishing in Florida Bay?
The most popular season for fishing in Florida Bay is summer, and most anglers book their trips 17 days in advance.
Do I need a Florida Bay fishing license and what are the bag limits in Florida Bay?
See here for more information on fishing licenses in Florida Bay, bag limits for target species, and fishing season regulations in Florida Bay. When in doubt, your fishing guide will always know the right rules and regulations in Florida Bay.
Florida Bay Fishing Calendar
| Species | January | February | March | April | May | June | July | August | September | October | November | December |
| --- | --- | --- | --- | --- | --- | --- | --- | --- | --- | --- | --- | --- |
| Amberjack | Fair | Fair | Great | Great | Great | Good | Fair | Fair | Fair | Fair | Fair | Fair |
| Barracuda | Great | Ideal | Ideal | Ideal | Ideal | Ideal | Ideal | Great | Great | Great | Great | Great |
| Blackfin Tuna | Ideal | Ideal | Great | Good | Fair | Fair | Fair | Fair | Fair | Good | Great | Ideal |
| Blue Marlin | Fair | Fair | Good | Great | Ideal | Ideal | Ideal | Great | Great | Great | Fair | Fair |
| Bonefish | Good | Good | Great | Ideal | Ideal | Great | Great | Great | Ideal | Ideal | Great | Good |
| Bonito | Ideal | Ideal | Ideal | Ideal | Ideal | Ideal | Ideal | Ideal | Ideal | Ideal | Ideal | Ideal |
| Cobia | Ideal | Ideal | Ideal | Great | Good | Good | Fair | Fair | Fair | Fair | Great | Ideal |
| Gag Grouper | Not Allowed | Not Allowed | Not Allowed | Not Allowed | Not Allowed | Great | Great | Great | Great | Great | Ideal | Ideal |
| Jack Crevalle | Ideal | Ideal | Ideal | Great | Great | Great | Great | Great | Great | Great | Ideal | Ideal |
| Kingfish | Ideal | Ideal | Ideal | Great | Good | Fair | Fair | Fair | Good | Great | Great | Ideal |
| Lobster | Great | Great | Good | Not Allowed | Not Allowed | Not Allowed | Not Allowed | Ideal | Ideal | Ideal | Great | Great |
| Mahi Mahi | Good | Good | Good | Great | Ideal | Ideal | Ideal | Ideal | Ideal | Great | Good | Good |
| Mangrove Snapper | Ideal | Ideal | Ideal | Ideal | Ideal | Ideal | Ideal | Ideal | Ideal | Ideal | Ideal | Ideal |
| Mutton Snapper | Ideal | Ideal | Ideal | Ideal | Ideal | Ideal | Ideal | Ideal | Ideal | Ideal | Ideal | Ideal |
| Permit | Great | Great | Ideal | Ideal | Great | Great | Great | Ideal | Ideal | Ideal | Ideal | Great |
| Redfish | Ideal | Ideal | Ideal | Ideal | Great | Great | Great | Great | Great | Ideal | Ideal | Ideal |
| Sailfish | Ideal | Ideal | Ideal | Ideal | Great | Fair | Fair | Fair | Fair | Good | Great | Ideal |
| Snook | Fair | Good | Great | Great | Ideal | Ideal | Great | Good | Great | Great | Good | Fair |
| Spanish Mackerel | Ideal | Ideal | Ideal | Great | Great | Great | Great | Great | Ideal | Ideal | Ideal | Ideal |
| Speckled Trout | Great | Ideal | Ideal | Ideal | Great | Fair | Fair | Fair | Good | Great | Great | Great |
| Swordfish | Fair | Fair | Good | Great | Ideal | Ideal | Ideal | Ideal | Ideal | Great | Good | Fair |
| Tarpon | Good | Good | Great | Ideal | Ideal | Ideal | Ideal | Ideal | Ideal | Good | Good | Good |
| Wahoo | Great | Great | Good | Good | Great | Ideal | Ideal | Great | Great | Ideal | Ideal | Ideal |
| Yellowfin Tuna | Great | Great | Good | Good | Fair | Fair | Fair | Fair | Fair | Good | Great | Ideal |
| Yellowtail Snapper | Great | Great | Great | Great | Ideal | Ideal | Ideal | Ideal | Great | Great | Great | Great |
Recent Reviews of Captain Experiences
Top Targeted Fishing Species in Florida Bay
;