4.94 / 5 Average Review Score
Team of Experts Available 24/7
Licensed and Insured Guides
Recently Booked Fishing Guides Near Niagara River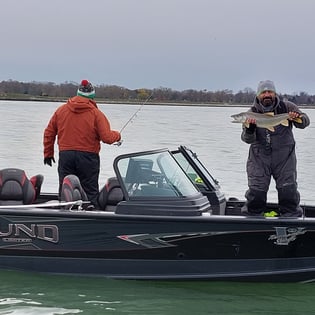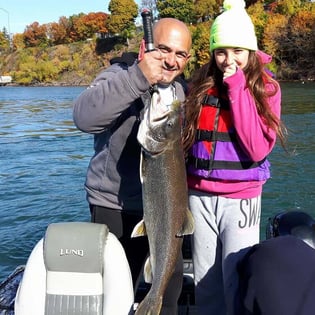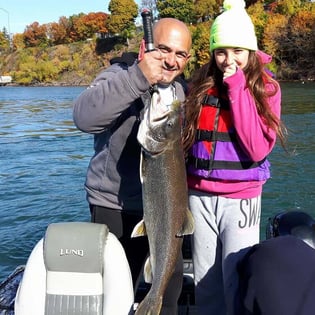 Half-day trips are 4 hours. Maximum of 4 Clients to a boat. All rods, reels, bait and tackle are included. Clients must bring a valid New York State fishing license, proper clothing for weather conditions along with rain gear as well as snacks food and drinks. All clients must sign a waiver before boarding our vessel. Full day trips are 8 hours. Maximum of 4 Clients to a boat. All rods, reels, bait and tackle are included. Clients must bring a valid New York State fishing license, Proper clothing for weather conditions along with rain gear as well as snacks food and drinks. Like half day trips, All clients must sign a waiver before boarding our vessel. For half-day sportfishing trips, Joe recommends bringing your favorite snacks and drinks and for full-day fishing charters, he suggests lunches along with extra snacks and drinks to keep you full and hydrated throughout the day. Joe is on the water year round and loves to fish the transition between warm water and cold water (or vice versa) when the fish get most active. Target fish species include Bass, Walleye, Salmon, Steelhead, Brown Trout and Lake Trout. He provides all his Clients with rods, reels, bait, and tackle but you are more than welcome to bring your own gear if you'd like. Each person aboard will be provided with a type 1 life jacket. There are certain times of the year where a life jacket must be worn at all times aboard our boat, especially in the winter. Coldwater fishing is extremely fun but must be done in a safe manner. You'll be fishing from a 2019 Lund 2175 Pro V Limited powered by a 350 horsepower Mercury Verado L6 Supercharged. The Boat Features a beamwidth of 8 feet 6 inches wide and a length of 21 feet 10 inches long. It's capable of speeds up to 65 mph. Lund Boats and Mercury Outboards have been around forever and are time tested and trusted by expert guides all over the United States The boat offers a comfortable ride--and the interior says it all: Beautiful charcoal bow carpet along with detachable sea deck mats that cover an all vinyl floor. Makes cleaning after some very fishy trips an absolute breeze. Walkthrough windshield provides our clients a break from the wind on colder days. Aft and Bow live wells along with a high-pressure wash down station. 4 Pro Ride limited seats. This rig is spacious and stable in even the roughest of water. A valid New York State fishing license is required for any person aboard our boat participating in fishing charters. Guided fishing trips include most of the fishing equipment you will need but there are some things you will be responsible for bringing. New York State Sportfishing License can be purchased online at. You may also want to consider buying a Canadian fishing license in order to fish both sides of the Niagara River as well as Lake Erie and Lake Ontario. Fishing charters are year-round, Please dress Sportfishing during our cold season can be very rewarding as long as proper fishing equipment and clothing are used. Water and windproof outerwear is a must, wool socks and insulated waterproof boots will aid in keeping your feet warm and dry. Good quality hat and gloves will help heat loss and the gloves will ensure that you don't lose dexterity in your fingers In the event that you decide to keep some of their catch of the day Joe is more than happy to prep and filet them for you. All he asks is that you bring your own Ziploc bags (preferably gallon-sized) and a cooler with ice in it to keep them cold on your ride home. As a part of sportfishing, Joe tries to practice catch and release, however, clients are welcome to keep fish to enjoy, please consider releasing half your daily limit as a way of giving back to our fishery. Joe has a zero-tolerance drug policy on our boat. No drugs including Marijuana will be allowed aboard our vessel. We understand that Marijuana is legal in New York State but we will on multiple occasions be transiting through Canadian water. Possession in Canadian water is not allowed and puts all on board especially the Guide in jeopardy. Alcohol products are allowed in moderation at the Guide's discretion. Any intoxicated individuals will be asked to leave the vessel. Passengers safety is Guide Joe's first priority Read More
Top Types of Trip in Niagara River
Everything to Know About Booking a Fishing Guide in Niagara River
What are the best fishing trips in Niagara River?
All guides on Captain Experiences are licensed, insured, and vetted by our team. You can access their reviews, click through trip photos, read bios to get to know them, and preview trip details like species, techniques, group sizes, boat specs and more.
The most popular city to book a charter in is Lewiston.
What types of fishing trips are common in Niagara River?
River fishing is the most popular in Niagara River as well as lake fishing.
The most commonly sought after species in Niagara River are: 1. brown trout, 2. chinook salmon, 3. coho salmon, and 4. lake trout.
The most common fishing techniques in Niagara River are bottom fishing, jigging, and light tackle fishing but trolling is popular as well.
How much does a Niagara River fishing trip cost?
in Niagara River prices can range anywhere from an affordable $425 to $675, but the average price for a full day trip in Niagara River is $550.
What month is best for fishing in Niagara River?
The most popular season for fishing in Niagara River is summer, and most anglers book their trips 345 days in advance.
Do I need a Niagara River fishing license and what are the bag limits in Niagara River?
See here for more information on fishing licenses in Niagara River, bag limits for target species, and fishing season regulations in Niagara River. When in doubt, your fishing guide will always know the right rules and regulations in Niagara River.
Niagara River Fishing Calendar
| Species | January | February | March | April | May | June | July | August | September | October | November | December |
| --- | --- | --- | --- | --- | --- | --- | --- | --- | --- | --- | --- | --- |
| Brown Trout | Good | Great | Great | Ideal | Fair | Fair | Fair | Fair | Fair | Fair | Great | Great |
| Chinook Salmon | Fair | Fair | Fair | Fair | Great | Great | Great | Ideal | Ideal | Ideal | Fair | Fair |
| Coho Salmon | Fair | Fair | Fair | Fair | Fair | Fair | Ideal | Ideal | Ideal | Ideal | Fair | Fair |
| Lake Trout | Good | Great | Great | Great | Great | Ideal | Ideal | Ideal | Ideal | Not Allowed | Good | Not Allowed |
| Muskie | Not Allowed | Not Allowed | Not Allowed | Not Allowed | Not Allowed | Not Allowed | Great | Great | Great | Fair | Ideal | Not Allowed |
| Northern Pike | Great | Great | Good | Fair | Good | Good | Good | Good | Great | Great | Great | Great |
| Rainbow Trout | Ideal | Ideal | Great | Great | Great | Fair | Fair | Fair | Fair | Fair | Ideal | Ideal |
| Smallmouth Bass | Fair | Fair | Good | Great | Ideal | Ideal | Great | Great | Great | Ideal | Great | Good |
| Walleye | Great | Great | Not Allowed | Not Allowed | Not Allowed | Ideal | Ideal | Ideal | Great | Great | Great | Great |
;