4.94 / 5 Average Review Score
Team of Experts Available 24/7
Licensed and Insured Guides
Recently Booked Fishing Guides Near Comstock, Tx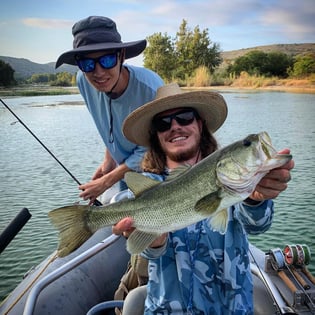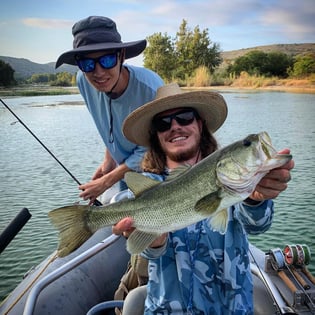 Welcome to the ultimate luxury fishing experience on the Devil's River, where adventure and relaxation meet in perfect harmony. This all-inclusive trip is designed for the avid angler looking to catch the biggest Bass of their life while indulging in top-notch amenities and tons of scenic beauty! Your guide for the journey is none other than Tyler, a seasoned angler with years of experience on the Devil's River. He knows every inch of the river and will take you to the most productive fishing spots where you can cast your line and reel in the big one. The Bass that live here in the Devil's are eating machines, and they love to hammer all kinds of flies, especially topwater poppers and streamers. Whether you're relatively new to fly fishing or an old pro, Tyler will offer tons of tips and tricks to improve your cast, perfect your fighting techniques, and help you land a new personal best! But it's not just about the fishing. The Devil's River is a hidden gem in Texas, with pristine waters, breathtaking landscapes, and abundant wildlife. During the trip, you'll have the opportunity to soak in the natural beauty of the river while enjoying the luxurious accommodations of this all-inclusive package. In the evenings, you can unwind with a drink in hand and swap fish tales with fellow anglers around the campfire. Or, if you prefer, you can take in the peacefulness of the river under the stars. This is not your typical fishing trip. It's an immersive experience that combines the thrill of fishing with the luxury of a five-star resort. Book your all-inclusive trip today and get ready to catch the fish of a lifetime on the Devil's River with Tyler! Read More
Devil's River Rafting Rodeo
13 ft
2 People
From $1,000 per person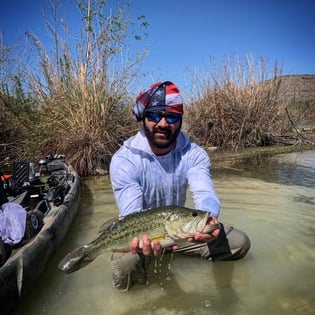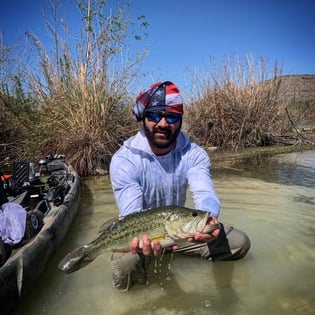 This trip is a 3 or 4 day down river fishing trip led by your guide extraordinaire Tyler. You will easily cover 15 to 20 miles of river. Each person will be fully guided in an oar raft. All fishing gear, camping gear, river permits, meals & shuttle provided in trip package. *Trip balance must be paid in full 3 days prior to the trip date. *A portion of each Devils River trip fee will be donated to the Devils River Conservancy & Texas Parks & Wildlife to help protect this beautiful river* Read More
This trip is a 3 or 4 day down river fishing trip led by your guide extraordinaire Tyler. You will easily cover 15 to 20 miles of river. Each person will be fully guided in an oar raft. All fishing gear, camping gear, river permits, meals & shuttle provided in trip package. *Trip balance must be paid in full 3 days prior to the trip date. *A portion of each Devils River trip fee will be donated to the Devils River Conservancy & Texas Parks & Wildlife to help protect this beautiful river* Read More
Top Types of Trip in Comstock
Top Targeted Species in Comstock
Everything to Know About Booking a Fishing Guide in Comstock
What are the best fishing trips in Comstock?
Our guides in Comstock are rated a 5 out of 5 based on 9692 verified reviews on Captain Experiences.
All guides on Captain Experiences are licensed, insured, and vetted by our team. You can access their reviews, click through trip photos, read bios to get to know them, and preview trip details like species, techniques, group sizes, boat specs and more.
What types of fishing trips are common in Comstock?
River fishing is the most popular in Comstock as well as lake fishing.
The most commonly sought after species in Comstock are: 1. largemouth bass and 2. smallmouth bass.
The most common fishing techniques in Comstock are fly fishing, artificial lure fishing, and light tackle fishing but sight casting and wading are popular as well.
How much does a Comstock fishing trip cost?
in Comstock prices can range anywhere from an affordable $1,750 to $3,000 and up, but the average price for a full day trip in Comstock is $3,763.
What month is best for fishing in Comstock?
The most popular season for fishing in Comstock is spring, and most anglers book their trips 160 days in advance.
Do I need a Comstock fishing license and what are the bag limits in Comstock?
See here for more information on fishing licenses in Comstock, bag limits for target species, and fishing season regulations in Comstock. When in doubt, your fishing guide will always know the right rules and regulations in Comstock.
Other Fishing Guide Locations near Comstock
;