4.94 / 5 Average Review Score
Team of Experts Available 24/7
Licensed and Insured Guides
Recently Booked Hunting Guides Near Leakey, Tx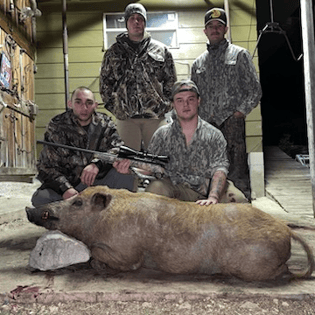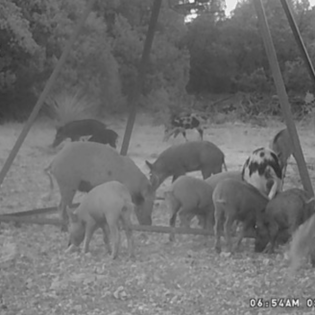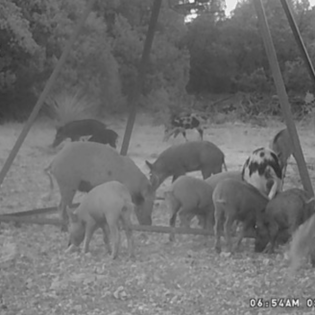 Embark on the ultimate adrenaline-pumping adventure with Ranon's Hog Hunts in the rugged landscapes of the Texas Hill Country. Gather your fellow enthusiasts, as Ranon welcomes a 2-man minimum to join the thrill of the hunt. Whether you're a seasoned hunter or a newcomer to the sport, our expert team guarantees an unforgettable experience that's bound to ignite your passion for the chase. Weekends become the epitome of excitement as we open our gates exclusively for Pig hunts. No night minimum, no more than 6 hunters per outing – just the perfect formula for an intimate and personalized expedition. Picture this: perched atop our strategically placed blinds, you'll have a front-row seat to the mesmerizing dance of the hogs over the feeder. Green motion lights will turn on when pigs hit the feeder so while thermal equipment is a nice perk to have, it's not required to kill pigs with Ranon! Each blind comfortably accommodates 2 people, creating the ideal setting for camaraderie and shared experiences. For those seeking the complete package, dive into our optional meal plan. At just $50 per person per night, you'll refuel your energy with hearty meals that keep you geared for the excitement ahead. Worried about equipment? Fret not! Gun rentals are at your disposal for up to 4 people at just $50 per gun. Ranon ensures you're armed and ready for the encounter of a lifetime. And here's the game-changer – the use of thermal gear or night vision isn't necessary. Lay your eyes on as many hogs as you desire. In fact, the record stands at 3 in a single night – a testament to the thriving hog population in Leakey, Texas. Are you ready to claim your spot in this heart-pounding tale of man versus beast? Reserve your weekend now and immerse yourself in the wild allure of Ranon's Hog Hunts. Discover the thrill, camaraderie, and memories that await amidst the rugged beauty of the Texas Hill Country. Read More
Hog Hunting The Hill County
6 People
From $58 per person
Top Types of Trip in Leakey
Everything to Know About Booking a Hunting Guide in Leakey
What are the best hunting trips in Leakey?
All guides on Captain Experiences are licensed, insured, and vetted by our team. You can access their reviews, click through trip photos, read bios to get to know them, and preview trip details like species, techniques, group sizes, and more.
What types of hunting trips are common in Leakey?
Big Game hunting is the most popular in Leakey as well as hog hunting.
The most commonly sought after species in Leakey are: 1. aoudad and 2. hog.
The most common hunting techniques in Leakey are rifle hunting, hunting from a blind, and archery.
How much does a Leakey hunting trip cost?
in Leakey prices can range anywhere from an affordable $350 to $3,000 and up, but the average price for a full day trip in Leakey is $2,228.
What month is best for hunting in Leakey?
The most popular season for hunting in Leakey is summer, and most hunters book their trips 0 days in advance.
Where can I look through all Captain Experiences trips?

See here to browse all the trips we offer.

;